Advanced SystemCare is one of the leading PC cleaning and boosting software with ease of use. It was in the second place of  top 10 downloads of 2011 on CNET.  Their new product with Antivirus is an ideal software with combined products to keep your PC clean and fast. Here is the maximum discount coupon on Advanced SystemCare with Antivirus 2013 for October, it is valid till 31st October 2012 only.
Click here to use 30% discount coupon code ASCAV2013OCT (Coupon already embedded).  SystemCare Antivirus is powered by famous BitDefender technology. So, you get known top Antivirus protection too. The good thing is, it is combined with multiple tools and utilities. You do not need to have separate applications for every PC maintenance and clean up tasks.
Along with Antivirus, their 'Care' system helps to remove malware, fix windows registry issues, optimize system with several ways and few disk optimizations utilities also.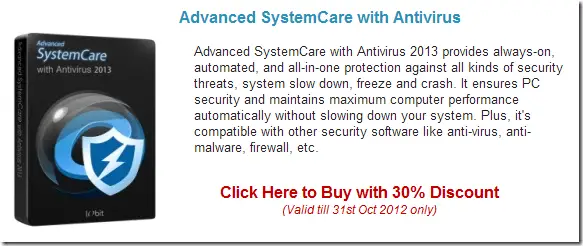 You can find a complete and genuine review of Advanced SystemCare 2013 here at famous ghacks blog.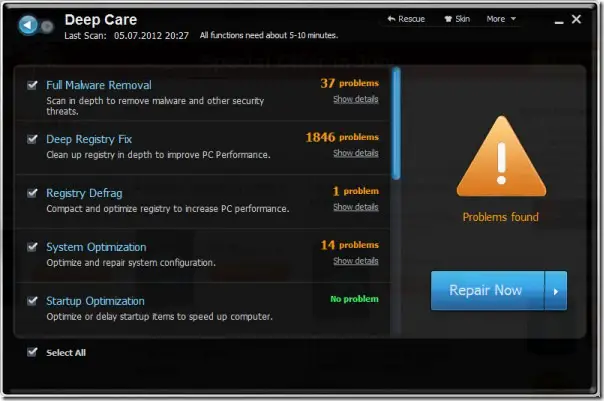 Basically these types of utility software will be useful to monitor, maintain and optimize the Windows PC with single application. But SystemCare 2013 with Antivirus will be more useful and worthful for your money to have Virus and Malware protection from same single PC utility software.
The top ten downloads in 2011 on CNET shows that how much this software was famous, and I'm sure it will be hit in 2012 also as it comes with Antivirus protection.
Click here to download Advanced SystemCare with Antivirus 2013 with maximum 30% discount (Coupon already embedded).
If you do not require Antivirus component and you like to go with your existing AV software, still you can download Advanced SystemCare 2013 without Antivirus.