The latest Windows 8 is having a new Metro UI desktop and the older version of desktop also, but My Computer icon is missing on it.  In earlier Operating Systems like Windows 7 or Windows Vista you can go to start menu and select 'Show on Desktop' option for My Computer. But, Windows 8 is missing the normal start menu also by default, so you don't have option to select 'Show on Desktop' anymore. Here is the simple way on how to show my computer on desktop in Windows 8.
This will really make the life easy for accessing disk drives, computer management, device manager and properties in Windows 8.
Sysprobs already covered two guides on install Windows 8 on Desktop Virtualization software.
To Show My Computer Icon on Windows 8 Desktop,
1) Click on the Desktop in Metro UI (as shown below). This will bring the normal old desktop.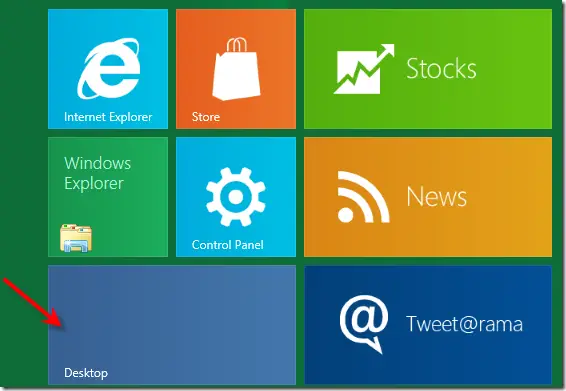 2) Right Click on the blank space in desktop, select Personalize.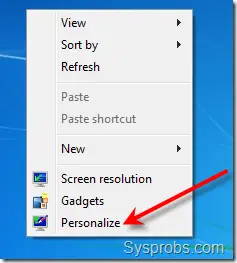 3) In next screen Click on 'Change desktop icons'.  Here you can select the icons wanted to display in Windows 8 desktop. Select the tick box for 'Computer'. Control Panel and Network icons also can be displayed on Windows 8 desktop by this method.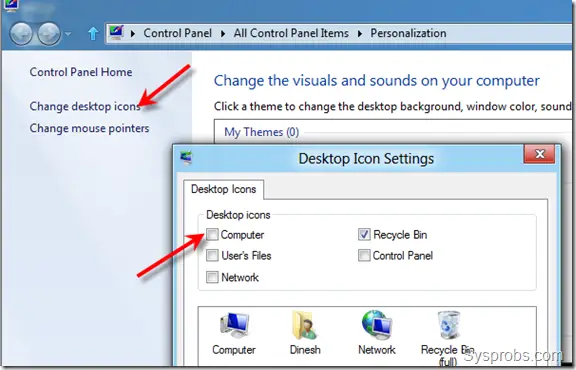 That's it. Now you should have My computer icon on the desktop.