Are laptops of regular use good for graphic designing? Our answer to this question is "NO". If you are a new graphic designer, then you would think of using a regular laptop for graphic designing in order to save a few bucks. But believe us; this will not work at all.
Now when you are reading this post, means definitely you are keen to be a graphic designer and so start looking for the best laptops for graphic design and animation that support 2D as well as 3D designs. Picking up the right laptop for graphics is a tricky job, unlike picking up a gamer's laptop. The correct laptop model for graphic design students is the one that offers proper display size and screen resolution. It should also meet your CPU and RAM requirements.
We're usually quite adept at picking out gaming laptops and putting together gaming PCs. We know what types of games we want and what sort of specifications the device needs to have but unfortunately, we aren't as skilled at picking out laptops for design. Even though they follow almost the same criteria as gamers, picking out laptops for designers can be a bit tricky as the display size and resolution also come into play along with the regular RAM and CPU requirements.

What kind of laptops generally do graphic designers prefer? Most designers consider using the iMac or MacBook because these are the powerful devices available in the market. Even Windows machines can perform better if you know the right picks. When you are a newbie in this field, there are several other options available for you which you can further find in this article.
The graphic design applications are intensive and to successfully run them over a laptop, you need a device with enough processing power. Have a look at the technical specifications related to the graphic card and also take care of the screen size.
What do Graphic Designers and Animators Need in a Laptop?
There are a few things that a graphic designer should keep in mind before buying a laptop for designing. Most designers usually end up buying a machine that is underpowered and doesn't have much processing power to render things quickly.
CPU and RAM
These are the two crucial things you need to check when buying a laptop for designing. Graphics designing is a very resource-intensive task and having less RAM or processing power can lead to slow render times, system hangs and overall unwanted delay. Usually, it's better to invest more in a laptop with better specs because the device will start to pay itself over time.
For modern-day designers such as designer students, it's suggested that designers have at least a quad-core processor along with 8 GB of RAM. More RAM can be added later if 8GB simply doesn't cut it. For professional designers, more powerful laptops are recommended, preferably the extreme series processors and 12+GB of RAM.
Graphics Card
Unlike in gaming, the graphics card on a designing laptop is basically used to process the image/video to be displayed on the screen. The GPU should be carefully selected keeping in mind the type of display your laptop has. A laptop with a higher resolution and a higher pixel density will require a GPU to match.
If you're just creating 2D work, you can save money by not getting a high-end GPU. What you get with a high-end graphics card is the ability to move around a highly detailed or textured 3D model with no lag. Such a GPU can handle detailed textured 3D scenes and move around without lag.
Display
The most important part of selecting the best laptop for a designer is its display. A display with a higher resolution would mean more detailed images with proper depth and clarity. A resolution of 1920×1080 pixels should provide ample working space and still be able to show menus and control palettes. The next consideration is screen size. A larger screen will enable you to see details clearer (if the resolution is high enough) and make it easier to click on the menus and control palettes. In our opinion, a 15-inch screen with a resolution of 1920×1080 is the minimum requirement for a laptop to be efficiently used for graphics design.
These were the points we looked for in selecting suitable laptops for graphic designers/students. By the way, if you are a gaming addict, you can use these laptops for graphic design and gaming too. The laptops mentioned below are a balanced compromise between specifications and cost and are perfect for both professional graphic designers and novices who are just starting out.
List of 10 Best Laptops for Graphic Designers/Students
1. Apple MacBook Pro
The Apple MacBook Pro doesn't need much introduction. This laptop has proved that it is one of the best machines available on the market year after year. This year brought in the new model of this machine that surpassed everything else on the market.
It comes with a 14-inch screen that is crystal clear, and this is one of the main reasons why this laptop is an ideal choice for graphic design.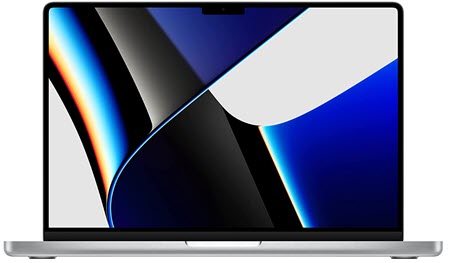 This laptop features an M1 Pro chip that is extremely powerful, and it can handle heavy graphics pretty well. It also comes with an 8-core CPU and a 14-core GPU that allows the machine to handle heavy software and applications pretty well.
This machine also has a powerful 16 GB RAM and a 512 GB SSD. You can also go for a 1 TB SSD if you want more memory on your access. It comes in handy if you deal with heavy graphics and apps.
This laptop is a pretty good option for gaming. And that goes to show that it can conveniently handle heavy graphics software. Of course, it is an Apple product, so it runs on Mac OS.
It also comes with an integrated graphics card which is pretty powerful. This laptop is equipped with the latest Bluetooth and wifi technology.
This laptop also comes with a pretty decent battery life that can last up to 17 hours. You can comfortably work on your projects for as sling as possible without charging your laptop.
Pros
Exceptional 14.2-inch display.
Integrated graphics card.
Extendable hard disk size to provide you with more space.
16 GB RAM to handle multitasking effectively.
Features fast Bluetooth and Wi-Fi.
Cons
A bit on the expensive side.
Sale
2. Razer Blade 15
As all know, Razer Blade laptops are best suited for gaming, which means that these laptops are pretty good for graphic design. These machines can handle graphics pretty well.
Moreover, they come with enough space for you to save those heavy files and even process heavier files while using those graphics designing apps and software.
This laptop is equipped with NVIDIA GeForce RTX 3070, so it can handle even those minute details in the display pretty well. The best thing is to go for a different graphics card according to your needs and requirements.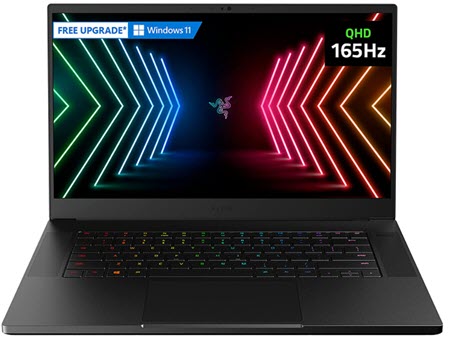 The laptop is equipped with the 11th Generation 8-Core Intel i7 processor chip, and it runs on Windows 10, which you can later upgrade to Windows 11 on your own. It is a pretty big laptop that features a massive 15.6-inch QHD screen.
Therefore, this machine is suitable for working on those minute details while creating your artwork. Moreover, this machine comes with 16 GB RAM for handling all tasks efficiently, and you will also have access to a massive 1 TB SSD to save all those files.
The laptop is also pretty durable as it features a CNC aluminum casing. You will also have access to Thunderbolt 3, allowing you to transfer your files no matter how large they are.
Thunderbolt makes sure your data transfer remains fast. You can go for a smaller graphics card or a smaller screen option.
But it all depends upon what your graphic design needs. With this much power under the hood, you will conveniently get those fast uploads and download speeds, and you will also have to deal with less lag time while creating your designs.
Pros
Large 15.6-inch QHD screen.
Features a large space of 1 TB SSD with 16 GB RAM.
11th Generation Intro Core i7 processor.
Faster data processing and sharing.
Handles graphics and animation pretty well.
Cons
This laptop is not very portable.
Sale
Razer Blade 15 Gaming Laptop: NVIDIA GeForce RTX 3070-11th Gen...
NVIDIA GeForce RTX 30 Series Graphics for Stunning Visuals: Built on NVIDIA's award-winning 2nd-gen RTX architecture, these GPUs provide the most realistic ray-traced graphics and cutting-edge AI features for the most powerful graphics for gamers and creators.
3. Microsoft Surface Pro 8
The Microsoft Surface Pro 8 is the latest of the endeavors by the company to compete in the tablet market. And we must say that they have done a pretty good job.
The most stunning aspect of this device is that you can use it as your laptop and then convert it into your tablet by detaching the keyboard section.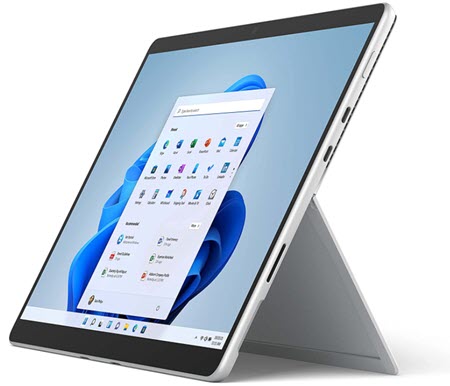 The device comes with a 13-inch touchscreen. The best thing about this device is its versatility. You can use it as your laptop and then convert it to use it as your tablet and directly draw using a stylus. So you have the option to use a mouse pad or stylus and work accordingly.
It is equipped with an Intel Core i7 processor chip and is backed up with 16 GB RAM coupled with 256 GB SSD. There are other options available, when it comes to RAM and hard disk capacity, you can make the right choice based on your requirements and needs.
Another Huge benefit of this device is that it's pretty lightweight, and you can conveniently move it around while using it. Portability and storage are one of the biggest plus points of this device.
However, one of the disadvantages you will have to deal with is purchasing the keyboard and stylus separately for your Surface Pro 8.
It means that you will only get the tablet itself in your purchase. So, going for the complete package will need more investment for you. Still, this machine is worth your extra money as it will provide you with the convenience you are looking for.
Pros
Different hard disk and RAM options are available.
Equipped with Windows 11 inbuilt.
Pretty decent screen size.
Convertible design from tablet to laptop.
Extremely portable and lightweight.
Cons
The keyboard section and the stylus are not included in the purchase of this tablet.
4. Asus ROG Zephyrus S Ultra Slim Laptop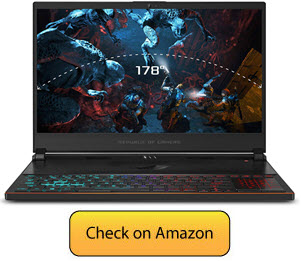 The powerful performance, smooth display, and a thin body are what this Asus ROG Zephyrus S can offer you. It contains the latest Intel Core i7-9750h Hexa-Core processor.
In order to assist in graphic designing, it comes equipped with an Nvidia GeForce RTX card. It also offers ample space with 16GB DDR4 RAM and 512GB PCIe SSD.
Its display size is 15.6". With its IPS and type Full HD (1920×1080), it gives in-depth clarity and details of graphics. Basically, the ASUS ROG Zephyrus S has all the essentials to provide strong designing power.
Besides, it comes with a very thin body with only 0.62 inches in thickness. It weighs 4.6 pounds. So, you won't need to worry about carrying bulky systems around.
The Zephyrus S is durable too. It contains a military-grade magnesium alloy body along with a first-class metal cover. So, it is capable of enduring everyday life stresses.
Moreover, it comes with dual speakers. They are positioned in a way to deliver a louder output and more bass. It also comes with expansive connectivities. Thus, it possesses two Type C USB 3.1 ports, one Type-A USB 3.0 port, and two USB 2.0 ports.
It also contains a 3.5 mm audio Jack and HDMI 2.0 video input. In order to keep the performance of the system consistent, it comes with upgraded 12v fans and anti-dust tunnels. So, your system won't stop you while you are touching the heights of creativity.
The Good
Slim Chassis
9th Gen Hexa-Core i7
16GB RAM
Multiple ports
Could Be Better
Slightly uncomfortable keyboard
Low battery life
5. Dell XPS 15
Here is another laptop with a massive 15,6-inch display screen to help you create your design more effectively. This laptop comes with an FHD screen that emphasizes minute details and colors.
This laptop is also equipped with the 10th Generation Core i7 Intel processor chip that is pretty efficient in dealing with different tasks. This machine also comes with 16GB RAM and 512 GB SSD to handle different tasks effectively and handle those files as conveniently as possible.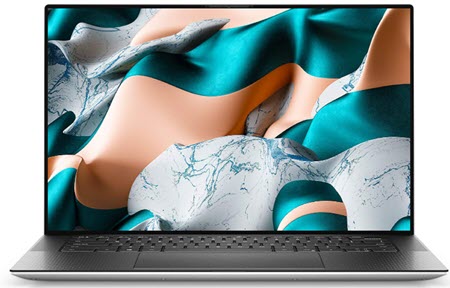 To make everything even better, this laptop also features the NVIDIA GeForce GTX 1650, which is excellent in handling heavy graphics and animations. However, this machine comes with an inbuilt Windows 10, and you will have to upgrade it to Windows 11.
If you want an even bigger screen size, the XPS 17 is also available that features a humongous 17-inch screen for dealing with details even more effectively.
It also comes with Dolby Vision, which means that the display of this laptop is extraordinary as it enhances all the details to a remarkable level.
Moreover, Dell has equipped the large screen with their Safe technology to keep your eye protected from harmful rays of the screen. It is an extraordinary machine that looks stunning and will handle your graphics extremely well.
You can use any graphic design software or program, and the laptop will handle the programs pretty smoothly. However, on the downside, this machine is large and heavy.
So, you are getting all the details and clarity at the cost of portability and storage. Therefore, it is a much better option to use it on the desk and don't move it too much.
Pros
Large 15.6-inch screen (17-inch also available).
Multiple RAM and SSD options are available too.
Upgradable to Windows 11.
Large accessible keys and smooth option.
Cons
It's a pretty massive laptop, and portability is its biggest downside.
Sale
6. Asus TUF Dash 15
The TUF Dash 15 by Asus is a pretty exceptional laptop when it comes to handling graphics and animation. It has an extremely slim form factor making it look quite an extraordinary machine.
The laptop features a large 15.6-inch FHD screen with a pretty clear display. You won't have to deal with any blurs or color-outs at any stage.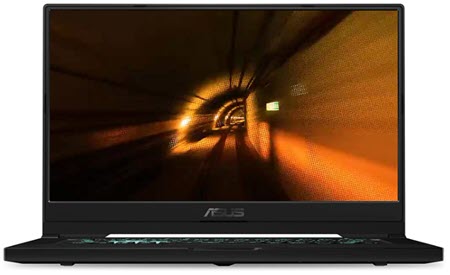 This machine also features the NVIDIA GeForce RTX 3050. Hence, it can handle pretty heavy graphics and animations quite comfortably. It is advertised or marketed as a gaming laptop, and it goes to show that it can deal with graphics pretty nicely. All the transitions will pre pretty smooth.
The machine also features 8 GB DDR4 and 512 GB SSD., so the machine is extremely fast regarding responsiveness, refresh rate, and handling. It runs on Windows 10, and you can upgrade it to Windows 11 on your own if you want.
The laptop is also equipped with super-fast wifi 6 and Bluetooth 5 for faster data transfer. And the best part is that it comes at a pretty affordable price if you cover it with other machines we already mentioned on our list. So, its price tag is a unique selling point as the laptop is a complete package.
Furthermore, this machine is slightly bigger as it comes with a huge 15.6-inch screen. The display will be crystal clear, but you will have to compromise on features like portability and lightweight design. So, it's a better option for you to use on your desk rather than using on the go.
Pros
Different RAM and SSD options are available.
Larger and crystal-clear display.
LED-lit keyboard.\equipped with a powerful graphics card.
Excellent responsiveness and refresh rates.
Cons
This laptop is slightly on the heavier side and not ideal for use on the go.
7. Lenovo IdeaPad 3 Laptop
Lenovo is one of the most popular companies in the field of technology. The IdeaPad 3 laptop is the best for graphic design. The high-definition LCD comes with a 120-Hz refresh rate that increases the laptop's performance, especially for graphic designers. Additionally, the response rate of the laptop also increases with the higher refresh rate.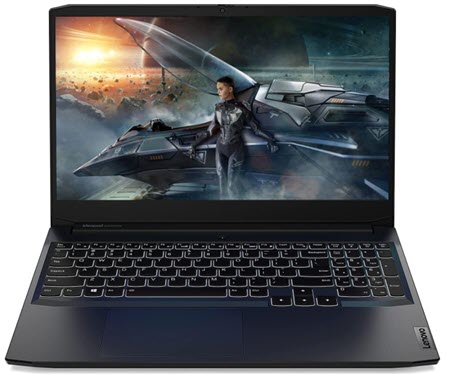 This is the best laptop in terms of multimedia handling. You can create multiple animations on this 15.6-inch screen. The media transfer and handling are also effortless. You can transfer your data through upgraded Bluetooth or USB or create any network through Ethernet LAN.
This is the best value for money than the other laptops. Four options available on this laptop vary in terms of RAM and HDD. You can opt according to your working level.
It will be heavier if you want highly equipped professional 32GB RAM with a 1TB SSD. Therefore, you have to use it on your desk, and it will not be a good portable option. Meanwhile, if you choose 8GB RAM with 512 SSD, this option is best for travel purposes.
Pros
Excellent multimedia handling through a wide range of applications.
Ideal for multitasking due to 16GB RAM.
Equipped with GeForce RTX-3050 Ti.
Multiple upgrade options are available for SSD and RAM.
Cons
A heavier design makes it a non-portable device.
8. Microsoft Surface Laptop 2 
Again the Microsoft Surface series takes place on our list, this time their newest version of the Surface Laptop 2 model. It is popular among graphic designers because of its sleek design and portable feature.
Graphic designers love to operate the 13.5 inches touch screen offered by Microsoft. The battery life is impressive, it can work all-day 14.5 hours without charge. Their optimized hardware makes this laptop work for a longer time at its maximum power. Easy to carry. Ideal for the graphics designers who are on the move all the time.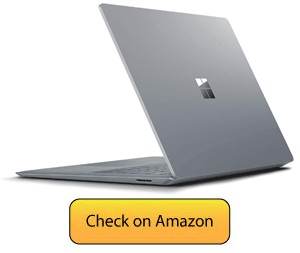 The 8th Gen Intel Core i7 processor offers a speed of 1.3 GHz. The RAM size is 16 GB DDR4 and the hard drive size is 512 GB flash memory solid state. You have various models to select and buy. The PixelSense touchscreen provides extraordinary screen quality and touch response. Having the SurfacePen will allow you to draw superbly on this great touch response laptop. Surface Dock will help you to connect your TV or Monitor and extend your workstation when you do studio-type graphics design work.
The Good
Great Touchscreen
All-Day Battery Life
Could Be Better
Non-Upgradable
Bit Expensive
9. Lenovo ThinkPad X1 Laptop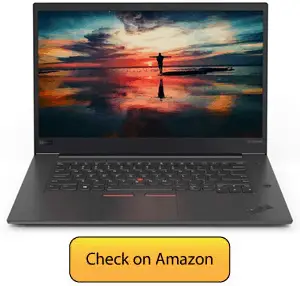 The Lenovo ThinkPad X1 Extreme Laptop is made to give an extreme performance for graphic designing. To ensure powerful processing, it comes equipped with an 8th Generation Intel Core i7-8750H 6 Core processor.
It is capable of handling heavier data and complicated projects without any lag. Moreover, it contains the memory of 16GB DDR4 RAM along with a 512GB SSD. This space is enough to execute high-level graphics projects that involve 2D and 3D models.
As far as its display is concerned, it comes with a 15.6" IPS anti-glare screen. The screen resolution is 1920 x 1080. It delivers 300nits brightness.
In order to process graphics better, it comes equipped with an NVIDIA GeForce GTX 1050Ti card. Considering all these attributes, we can say, ThinkPad X1 Extreme is capable of delivering high-class performance to graphic designers.
Besides, this fast ThinkPad also comes with full-fledged ports. It has two Thunderbolt 3 ports along with two regular USB-A ports and HDMI 2.0 video input. You can also charge this system with a USB-C port.
The ThinkPad X1 also supports all WiFi standards and Bluetooth 5.0.
To ensure user convenience, the X1 Extreme comes with a full-sized keyboard. It means its keys have an equivalent size and it won't feel confined. Moreover, the keyboard is backlit and spill-resistant.
The Good
512GB SSD
Lightweight body
Could Be Better
Battery Life
Not for higher designing
10. Lenovo Ideapad L340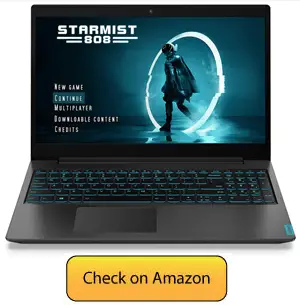 This Lenovo Ideapad L340 Laptop comes with various features that make it an excellent choice for graphic designers. However, it is better to mention here that it could be a good budget laptop option. There are many other high-class laptops available with more robust features, but with higher price tags.
This Ideapad L340 offers mighty processing power with its 9th-Generation Intel Core i5 processor. It gives you the strength to carry out your design project without any lag.
In order to compensate for its processing power, it comes with 8GB DDR4 RAM and 512GB NVMe SSD. The 8GB RAM is enough to do designing without facing system hanging and slow render time problems.
Another feature that makes it suitable for graphic designing is the latest NVIDIA GeForce GTX 1650 graphics card. It will allow you to move around a detailed image without lagging.
What's more? It has 15.6 inches screen. It comes equipped with full HD IPS Display along with 1920 x 1080 resolutions. These traits are essential to provide proper depth and clarity to the processing images.
All these features were crucial to carrying out extensive graphic designing. Besides, this laptop also possesses advanced Dolby Audio Technology. This system also allows you to adjust the machine according to the requirements. Thus, it comes with 'Quick' and 'Quiet' modes.
The Ideapad L340 also gives a full-size keyboard along with ambient back-lighting. Moreover, the system has a sleek and elegant design. Thus, L340 is suitable for both powerful processing and influential appearance too.
Overall, Lenovo Ideapad L340 could be the best affordable laptop option for graphic designers.
The Good
Lightweight
Not very expensive
Could Be Better
Fingerprints suspected on screen
No Thunderbolts
FAQs
1. What do I need in a laptop for graphic design?
You would need to buy a laptop with high performance for graphic designing. The performance of a system is defined by its processor, RAM, and storage drive.
The processor is a vital part of any system. It allows you to operate multiple applications simultaneously.
There are numerous processor options available in the market, but any of the following processors can do well for graphic designing. It includes Core i5, Core i7, AMD Ryzen, and Intel Xeon.
After the processor, you would need to have adequate RAM and Storage Drive. The screen size and resolution are other important thing to consider for designing laptops. A large screen with a higher resolution can give better details and clarity of images.
So, a laptop with 15 inches screen size and FHD could be the best laptop option for graphic designers.
Is a MacBook air good for graphic design?
Yes, a MacBook air can be a good option for graphic designing. It contains an i5 processor with 4GB RAM and 128GB SSD storage. It also contains integrated Intel graphics 6000.
Combining all these features, the MacBook Air can perform well in graphic design.
How much RAM do I need for graphic design?
RAM stands for Random Access Memory. This memory is temporary and the system uses it while performing any function. As graphic designing involves extensive processing, your system will need more RAM.
Usually, RAM between 16 and 32GB gives optimal performance. However, higher-end applications might need RAM above 32GB.
Why do designers use Macs?
Though the choice of Windows or Macs depends on personal preferences, many designers prefer Macs. Why? Here are some of the possible reasons involved:
Mac has an old history of performing outstandingly as a designing tool. Back in the '80s, it was known to render fonts in a better way.
It is also known for having a good user experience for years.
The Macs are consistent and well-made.
These laptops are good looking too.
These were the possible reasons that designers usually prefer Macs.
What graphics card is best for graphic design?
It could be hard to declare anyone's graphic card as the best for graphic designing. It is because; the market is saturated with graphic cards. There are several brands and numerous models. Moreover, the 'best' item also depends majorly on the user.
Different customers have different choices for graphic cards. It depends on their budget and system specifications too.
However, NVIDIA GeForce and AMD Radeon graphic cards stand at the top position. A few of the top-class graphics cards include GeForce GTX 1080 Ti, AMD Radeon VII, and GeForce GTX 1660 Ti.
Final Words
We have picked up a few of these best laptops for graphic design and animation that can allow you to perform your targeted task successfully. We hope our collection will help you to identify a suitable laptop for graphic design and animation basic to advanced work. There are many other laptops supporting graphics available in the market and you should select the one that can meet your quality as well as financial needs.