A computer's desktop is where a user keeps all his important files and it's what the user looks at most of the time so why not cover it with a wallpaper that suits his/her taste. Not everyone likes the same backgrounds for computers/wallpapers. We are going to share with you 10 great websites for stunning and cool HD Mac Desktop Backgrounds where you can get wallpapers worth keeping as the desktop background for your macOS. The following websites provide free downloads of desktop backgrounds for Mac that can be used on your macOS and Yosemite Mac OS X desktops or laptops.
Apple computers are famous for their display quality and higher resolutions. Their retina HD display enhances the viewing experience of Mac users. Therefore, having higher resolution backgrounds and cool wallpapers will give the pleasant experience of your Apple computer. We discussed installing Mac OS X on a normal Windows PC by using VMware and VirtualBox here.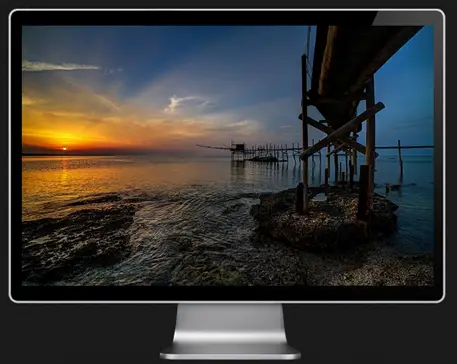 10 Websites for Stunning HD Mac Desktop Backgrounds
HD Wallpapers offers a lot of full HD wallpaper with different catalogs and each catalog offers pages of wallpaper so there is a lot for the user to select from for their Mac desktop. Note that all the wallpaper found here have 1920×1080 resolution.
VladStudios is one of my all-time favorites as it offers the kind of wallpaper I would like to have on my desktop. The website is full of wallpaper that has an old look to it and that's not it there are also hand-drawn illustrations available as well which are not overdone and would look good on your desktop. The website also offers different kinds of resolutions that max out up to 2k resolution.
Simple Desktops as the titles imply include a lot of wallpaper that offers a normal design and not something that looks too bizarre or fancy. The website offers a lot of innovative and creative type of wallpaper that is suitable for users with a simple touch and also updates fairly regularly with new ones.

Unsplash is one the fastest growing desktop background wallpaper provider for macOS and Windows OS with many wallpapers for every device and every size. You can download their apps from the App store to browse the collection of wallpapers and change the background easily.  You will see many nature-related wallpapers.
Mandolux is a website that is not easy to get through as there are no thumbnails provided for any of the wallpaper that the website has to offer but what's good about this website is the wallpaper that it offers which are photographed and are wide that will fit perfectly along with multiple screens. So if you are a user will a multiple screen desktop then this is where you should be looking for high-resolution backgrounds.
DevianArt is one of the biggest websites for Mac wallpapers and offers tons and tons of different genres of wallpaper. The user won't be disappointed as whatever genre of wallpaper they prefer they would surely get some good ones in it, though due to the large catalog that the website offers users might have to do a little digging before they could find the kind of wallpaper that they like.
If you are a photographed wallpaper fan then Interface Lift is the place for you, though it won't be easy to get good wallpaper here, the website offers filter options that users can go through to get their desired wallpapers at high resolutions.
Also Read: How to install Xcode on Windows OS
Wallpapershome has high-quality wallpapers for Apple devices such as iPhone and Mac computers.  Ultra HD wallpapers site is having a great collection of cool desktop backgrounds for all kinds of Mac OS X. They have UHD wallpapers with a higher resolution of 4K (3840×2160 pixels). If you have the 4K monitor, this would be a great site to download UHD wallpapers for Mac OS X. There are other sizes of wallpapers also available including 1080p 1920×1080 and lower resolutions to match your requirement.

Getwallpapers is a site having most of the original Mac OS wallpapers from old to new. It has a few collections of 1920×1080 HD wallpapers from original macOS and modernly styled landscapes.  Downloading the wallpapers is simple and free without any registration. If you think that you are missing some old Mac wallpapers from the year 2000, better visit this site to get them.
HDW got plenty of wallpapers under each category. You can see the number of downloads to identify the famous wallpaper.  The search functionality is good, you can search based on the OS and the size of the wallpaper. Once you select a wallpaper, it picks up similar wallpapers for your choice. Easy browsing and search functionality are the best features of this website.
As of writing, the Wallpaperswide site has around 560 Mac desktop background wallpapers. Excellent themed wallpapers for Mac and Apple users are available. If you do not like colorful wallpapers, then go for less colored or black/white wallpapers.  Once you selected your desired image, you will see many sizes to suit your screen size including Mac laptops, desktops, iPhones and iPad. It generates the size on the fly and allows you to download without any registration.
We hope one of the above websites to download UHD and HD Mac desktop backgrounds with high resolution would be very useful and exciting. If you find any more useful websites with great and cool wallpapers for Mac users, feel free to share them in the comments field. We will be happy to add them to the list.