Writers and bloggers require a portable device, most importantly a laptop, to be with them at all times so that they can write their ideas as soon as possible. As writing doesn't require a high-end laptop, we have filtered the affordable laptops. And they have been selected based on portability and keyboard functionality. For writing and blogging, an Intel Core i5 processor and 4 to 8GB RAM are enough to get your job done. Portability is an excellent feature on the laptops we have selected. This list includes a slim, lightweight design with long battery life.
Writers and bloggers have some specific requirements for their laptops, so looking closely at these requirements, we have gathered the eight best laptops for writers and bloggers in 2020.
Looking for a simple touchscreen laptop for your writing? here is the list for you.
Things to Consider:
No matter whether you are a writer or blogger, both activities demand typing words. When it comes to choosing a perfect laptop for these activities you don't require a costlier laptop with great specifications. What you need is a lightweight, fast working laptop with a better keyboard.
Here are a few things you need to consider while purchasing a laptop for writing & blogging purpose.
Keyboard –

Writer spend a lot of time typing the words, so a keyboard that has enough space between keys and sufficient space to rest the wrist should be your preferred choice. Also, avoid laptops that have congested keys.

Lightweight

– Laptop should be lightweight so you can carry it anywhere. Often, blogger or writer prefers to seat outside wherever they find a quiet space like a garden, cafeteria etc.

Cost factor

– Unless you are going to use it for other purposes like playing graphics extensive games, you won't need a costlier laptop. If your main aim is to writing, blogging, watching videos and surfing the internet, then you should look for the budget laptop. All these activities don't demand costlier laptop with great specifications.

Other factors –

Though keyboard, portability, and cost play an important role while choosing the correct model for blogging. We shouldn't be ignoring other factors like the processor, RAM size, storage capacity, graphics & display.
Laptop with higher RAM size and latest processor perform better. Also, SSD works better than a mechanical hard drive as later includes moving platters which may cause noise, vibrations and take a bit longer time to perform the writing/reading data.
Here is a list of the Best Laptops for Writers and Bloggers
8. Lenovo Premium ThinkPad E580 – Laptop with sturdy keyboard for Writers and Bloggers
For the last 25+ years, Lenovo's Thinkpad's are ruling the market for a laptop with the best keyboard. Its keyboard provides a fantastic typing experience. When you look at the keyboard of this laptop, it stands out prominently than its all other competitors. Gently curved at the top, sturdy keycaps has 2mm vertical travel which provides better tactile feedback. Trackpoint nub is a common feature of ThinkPads, and it helps users to navigate the cursor while keeping the fingers on the keyboard. It removes the necessity to move your hand away from the keyboard to use the mouse which eventually results in faster typing speed.

Apart from the classy keyboard, this 15.6-inch laptop is available in various RAM sizes. As per your need, you can have options to choose from 4GB to 32GB RAM. It built with Intel i5 processor with storage capacity ranging from 128Gb to 1TB SSD.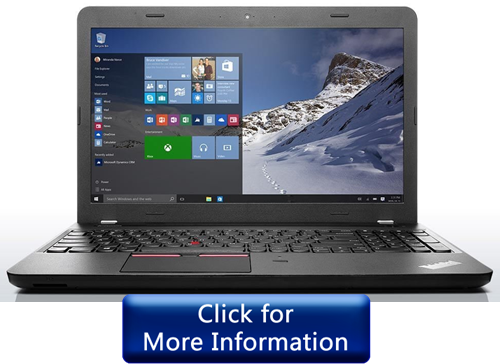 Key features:
15.6-inch display with anti-glare feature & 1366×768 pixels resolution.

Processor – Intel i5-7200U (up to 3.10GHz)

RAM – ranges from 4GB to 32GB

Storage – 1st HDD (boot) 128GB/256GB/512GB/1TB SSD

OS – Windows 10 professional

Weight – 4.7 pounds

Battery life – up to 13 hours
Pros
Sturdy keyboards with great tactile feedback.

The anti-glare display helps to increase work performance of the writer by reducing eye strain.

Better battery life.
Cons
Little heavy to carry around.

Should have the backlit keyboard
7. ASUS Chromebook Flip C302CA
Microsoft Windows or macOS is probably not the requirements for most writers for an operating system. Because you can also write on tablets or even phones now. But if you are still looking for a lightweight laptop, with an easy to use Operating System, the Chrome OS is for you. Specifically, the ASUS Chromebook Flip C302CA is the best Chromebook 2-in-1 laptop for writers and bloggers. With Chrome OS, you can use Google Docs and Microsoft Office Online on the cloud without having you install extra software. The aluminum chassis of the ASUS Chromebook Flip C302CA is made from aluminum which is pleasant to look at and feels good to hold. The build quality is durable and the hinges are sturdy for switching into tablet mode. This Chromebook has the best-backlit keyboard of all other Chromebooks that is why it is good for writers and bloggers.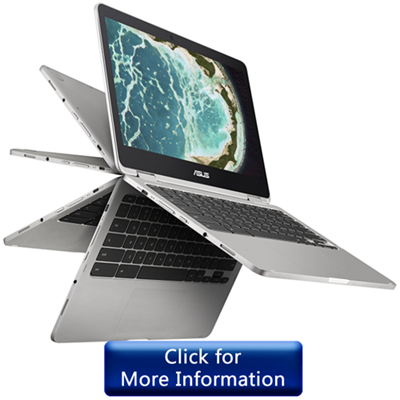 The ASUS Chromebook Flip C302CA comes with an Intel Core m3-6Y30 processor, 4GB RAM, 64GB flash storage and a 12.5-inch 1080p display. The display is very clear and colors look very good. The performance is adequate enough for watching videos, browsing the web, writing, and blogging. If you do all of your work in a browser window while rarely opening other software, then this is for you. So watch the below review of the ASUS Chromebook Flip C302CA.
Key Features:
Intel Core Processor (2.2GHz)
RAM – 4 GB 4GB DDR3
Storage – 64GB SSD
Weight – 2.65 pounds
Battery life – Up to 10 hrs
Pros
The amazing battery life of up to 10 hours
Incredible metal lightweight build quality
Support for Google Play Store and Android Apps natively
Cons
Chrome OS might not be the preferred option for everyone
The touchscreen can get greasy easily
Sale
6. HP Envy 13-ab016nr
The HP Envy 13-ab016nr is the newest HP Envy laptop that is slim, lightweight, has an all-metal body and is very ergonomic which makes it a good laptop for writers and bloggers. The slim and all-metal design makes it very appealing and it is also very ergonomic. The lid has a "lift hinge design" which lifts the laptop to an ergonomic angle so that it makes typing much comfortable and with that, the keyboard itself is also very comfortable to type on.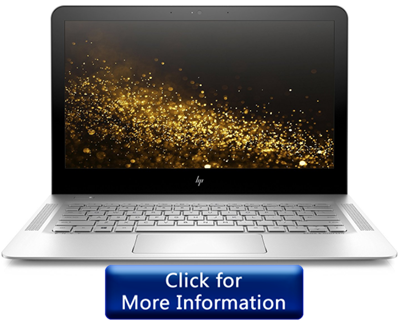 The HP Envy 13-ab016nr comes with an Intel Core i5-7200U processor, 8GB RAM, 256GB solid-state drive and a 13.3-inch 1080p display which is a great size to make this laptop portable. The screen is very clear and bright but it could do better with a matte finish to reduce the glare from lights. This laptop is great under $700 since it is very powerful for your writing and blogging and you can still run all day with the long-running battery. If you travel a lot and you don't use a mouse often, the touchpad in this laptop is great for you since it is made from glass and it is very responsive.
Key features –
Processor – Intel Core i5-7200U
RAM – 8GB
Storage – 256GB SSD
Weight – 3.31 pounds
Battery life – Up to 14 hrs
Pros
Lightweight all-metal design
Lift hinge design makes typing comfortable
The amazing battery life of up to 14 hours
Cons
Comes pre-installed with bloatware
The glossy screen does not reduce glare from lights
5. Microsoft Surface Pro 2 (
Best Buy

)

Love the MacBook Air but not a big fan of Apple? Then Microsoft surface pro 2 will catch your attention. This elegant and powerful laptop is a great example of what Microsoft can build. It is a lightweight, slim and well-designed laptop with well-spaced keys. The keyboard comes with an excellent key feel along with the better key travel.

It has 13.5-inch vibrant display with PixelSense touchscreen feature. It is marginally lighter and slimmer than the Huawei Matebook & MacBook Pro. Not only that, but it can run up to 10 hours leaving you more time to write in the absence of power.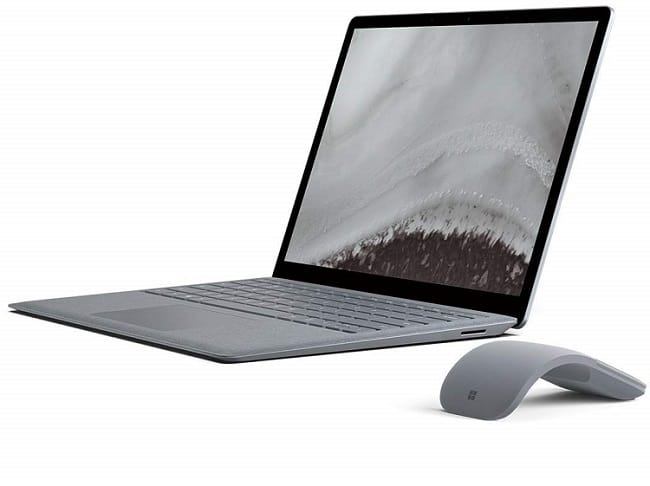 Key features:
13.5in LCD 2256 x 1504 (201 PPI) screen

Processor: Intel Core i5 or i7 (8th generation)

RAM: available in 8GB & 16GB

Storage: available in 128, 256, 512GB &  1TB

Operating system: Windows 10 Home

Weight: 1,252 or 1,283g

Battery life: Up to 10 hrs.
Pros
Thin and light design
Individual RGB backlit keys

Great keyboard and trackpad with Alcantara

Better battery life
Cons
Do not have USB C port

May require adapters because of the small number of ports
Sale
4. Acer Aspire E 15
Acer is diligent enough to upgrade various things in its E 15 series. Acer Aspire E 15 now has 8th generation Intel Core i3 processor that turbo boost up to 3.4GHz and an enhanced 6GB RAM. Also, another thing that we like about this new version is it has prolonged battery life than the previous version. It can run up to 13.5 hours now.
Though all the specifications are too good for the price it is offered, we believe that the keyboard is not up to par. Keys are somewhat mushy and as writer or blogger, you might feel that some tactile feedback is lacking. But being said that, the keyboard comes with nice travel and has a proper full layout. So, if you are good at handling soft keys and want a budget laptop with excellent specifications then Acer Aspire E 15 is built for you. This is one of the best Windows 10 laptops you can consider if you are a  writer or blogger.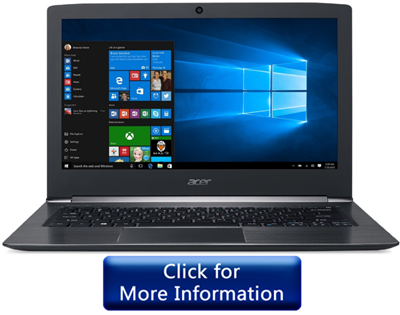 Key features –
15.6″ Full HD (1920 x 1080 pixels resolution) widescreen LED-lit Display

RAM – 6GB DDR3

Processor – 8th Gen. Intel Core i3

Storage – 1TB mechanical hard drive

Battery life – Up to 13.5 hours

Weight – 5.27 pounds

OS – Windows 10 Home
Pros
Impressive battery life.

Provides swift performance for the various task like word processing, video streaming, and internet surfing.
Cons
Heavier than other laptops in a similar range.

Keyboard has soft keys.

The screen is not that bright to work outside
Sale
3. Acer Chromebook R11
If you are tech-savvy and love to use the cloud for your docs as well as can easily use the touchscreen feature then this Chromebook is built for you. Also, it comes at an amazingly low price, just below 300 dollars. No doubt it is a great pick for writers that run on Chrome OS and removes the worry of keeping all your writing in Microsoft Word. Just use Google docs and access it from anywhere in the world. It runs fast, has an HD touchscreen display with promising battery life. One can use it as a notebook or tablet. Apart from the built-in storage, this Chromebook comes with the 100GB of Google Drive storage which ensures that your important files get backed up Google cloud.
Though it comes with tiny speakers, they have awesome volume. Good thing that most users experienced about this device is that it doesn't heat up easily even though it is a fanless gadget.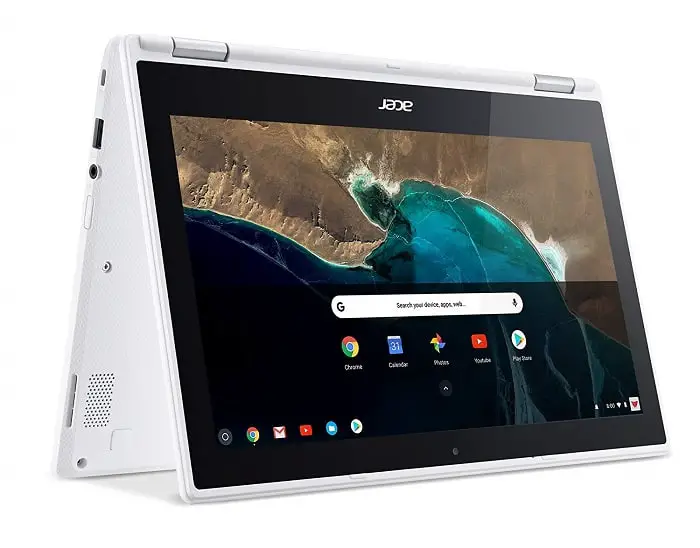 Key features:
11.6-inch display with touchscreen, LED-backlit IPS features

Processor – Intel Celeron N3150 Quad-Core (1.6GHz)

Storage – 32GB

RAM – 4GB DDR3L

Weight – 2.7 pounds

Battery life – Up to 10 hours

Has 360-degree hinge
Pros
Great Chromebook for writers that don't go heavy on your budget.

Longer battery life.

A lightweight machine – makes it easy to carry around.

Can be used as a tablet.
Cons
When converted in tablet mode, it can be heavy as compared to other dedicated tablets. (This issue can be solved by resting this gadget on some surface. If you hold it as a tablet then you will feel it a bit heavy)
Acer Chromebook R 11 Convertible, 11.6-Inch HD Touch, Intel...
Chromebook runs on Chrome OS - an operating system by Google that is built for the way we live today. It comes with built-in virus protection, updates automatically, boots up in seconds and continues to stay fast over time. (Internet connection is required)
2. Apple MacBook
The Apple MacBook is the smaller and thinner version of the Apple MacBook Pro we all know all like. This Apple MacBook is smaller in size as well as a lot thinner making it a good laptop for writers and bloggers. It is very easy to carry around anywhere so you can start writing or blogging as soon as you feel like it. The macOS is also a very good operating system since it is very stable and has support for most writing software.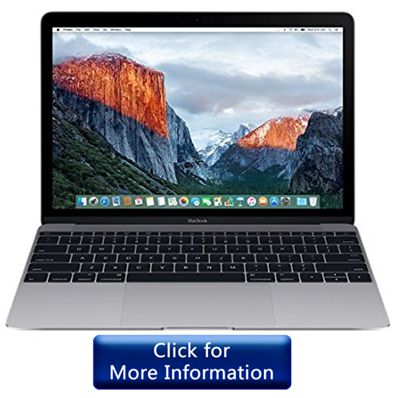 The Apple MacBook comes with an Intel Core m3-6Y30 processor, 8GB RAM, 256/512GB solid-state drive and a 12-inch Retina display with a 2304×1440 resolution. These hardware specifications in a small form factor are very impressive and the display is very beautiful. With this laptop, Apple has designed a new keyboard which has a shorter key travel which according to Apple improves "stability, uniformity and control" on every key while typing. But for most people, the shorter key travel would take some time adapting to. Other than that, this laptop is the most expensive one in this list, but due to its design and features, it secures a place in this list.
Pros
Thin and light design.
Retina display is best for writers and bloggers
The battery life of up to 10 hours
Cons
Expensive
Some people might take time to adapt to the butterfly keyboard switch mechanism
Apple MacBook (12-Inch, 1.2GHz Dual-Core Intel Core M3, 8GB RAM,...
Macbook delivers more performance in the lightest and thinnest Mac notebook ever. With seventh-generation Intel Core processors, 12-inch Retina Display, a full-size keyboard, force-sensing trackpad, versatile USB-C port, and all-day battery life, MacBook features big thinking in an impossibly compact form.
1. ASUS ZenBook Ultra-Slim Laptop
The ASUS ZenBook Ultraslim laptop is currently one of the most popular and bestselling ASUS ZenBook on Amazon. Among users, the ASUS ZenBook has the best typing experience with the most comfortable and ergonomic keyboard. This makes it the topic choice on this list.
Asus Zenbook is a slim, stylish, lightweight laptop that has many unique features that allure writers and bloggers. It features an unusual hinged keyboard which they call it as 'ErgoLift'. Initially, it seems odd technology for a laptop keyboard but the idea behind it to make typing a better experience. ErogLift technology makes the keyboard to sit diagonally which reduce typing discomfort in the long run, increase airflow below the chassis and enhance the sound quality.
ErgoLift, Nano-Edge bezel and 2.6-pound weight bring comfort to the users. You can write for hours without worrying about typing discomfort and carry the laptop to the workplace or anywhere else without hurting your back. All these things make this laptop a perfect solution for bloggers and writers.
Apart from these unique features, it comes in two display size (one is 14 inch and other is 15.6 inch), has 8th generation Intel Core processor, 512GB storage and 16GB RAM.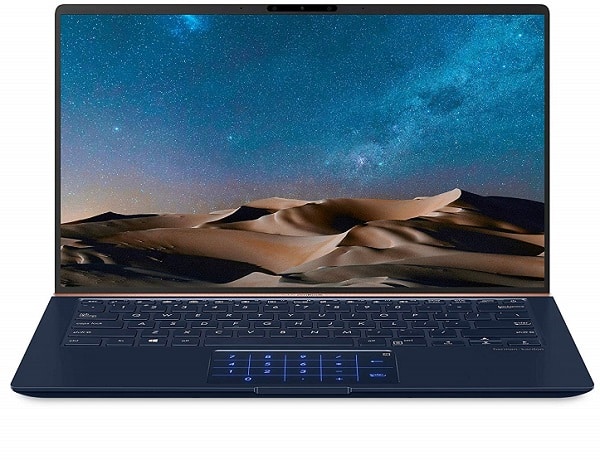 The battery on this laptop runs for around 6 to 9 hours on light use or writing work but you can also charge it through the USB Type-C port and it charges faster than other laptops. Due to its configuration, price, style, and weight of the laptop, most of the bloggers and writers will feel comfortable with this laptop model which goes just above the 1000 dollars mark.
Key features:
ErgoLift keyboard

Available in 14 and a 15.6-inch display with a NanoEdge bezel

Processor – 8th gen Intel Core i7-8565U

RAM – 16GB

Storage – 512 GB

Weight – 2.6 pounds

Battery life – 6 to 9 hours
Pros
Light and sleek build

Dual function keypad that allows numerical entries via the touchpad.

The tilted keyboard provides a comfortable typing experience.

Occupy less space in the backpack and easy to carry.
Cons
Some user experienced the cursor jump issues.
Before the arrival of the laptops or even the personal computer, people used to write their ideas on typewriters or just on pen and paper. Now, everyone has a laptop or a desktop computer which can be used to do many things, not just writing. We hope our selection will be useful to make the correct purchase choice. We will keep updating the list with the new findings that worth to mention in this list.
Final Advice on Selecting the Best Laptop for Writers and Bloggers
These laptops have been carefully selected on the basis of size, battery life, portability, ergonomics and most important, keyboard. The keyboard is the most important tool of the writer and blogger which has to be comfortable, responsive and have a satisfying key travel. Just like how gamers like to have mechanical keyboards, writers also require a similar type of keyboards on their devices.
Though there is no 'one fit for all' solution when it comes to buying a perfect laptop for writers and bloggers. We find that Lenovo Thinkpad, Microsoft Surface Pro 2, Acer Chromebook, Asus Zenbook & MacBook wins the race. See which one of these fits your pocket and required specification and finalize your choice accordingly.
If you have any concern about how to chose the better laptop or has something to share with other writers and bloggers then don't hesitate to leave a comment below.