Sharing files/folders from Windows 10 computer to Mac OS X is quite easy compared to reverse way. Basically Windows file sharing should be enabled and appropriate firewall settings need to be changed (if required) to allow Windows file sharing access. Also, you must know few details of Windows 10 computer. In this article let me give step by steps to share Windows 10 files with Mac OS X including latest El Capitan and Yosemite.
If Mac and Windows 10 are on the same network, Mac OS X will detect the Windows PC automatically and list under 'Shared'  in 'Computer'  tab if proper sharing and discovery settings are done. To make the connection with Windows PC and access the files and folder from shared location, you must know the correct user name, password, IP address (or Computer name), workgroup (or domain) of particular Windows 10/8.1/7 computer.
You can find these information easily in Control Panel on Windows 10. Here we will be showing those ways and other necessary settings to share the files and folders (Disk drives) from Windows 10 to Mac OS X Yosemite and El Capitan. Below steps assume that your Windows 10 or 8.1 computer is in home workgroup setup not in office/business  domain setup. Most of the home networks will fall in this category, therefore below steps would be useful to share Windows OS files/folders/C drive, D drive of your laptop or desktop to Mac OS X computer
Find and Change the Network Sharing Settings on Windows PC
1) To make sure that file sharing is enabled on the local Windows 10 computer, go to Control panel and open sharing option as below.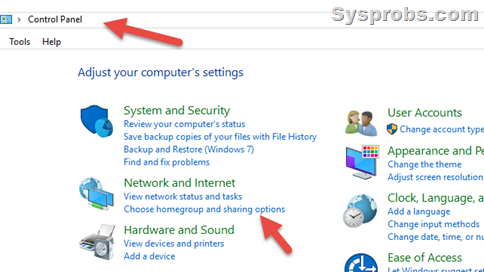 2) You need to set the network location to Private to enable file sharing and join home group. Once this is done, you will get more options on sharing files. If you have already done this step, you could see the next settings without doing below setup.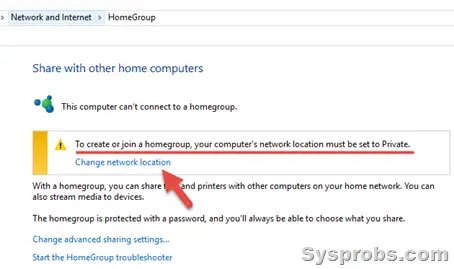 If the computer can't find a Windows based homegroup on your network, you need to create a new homegroup on the next screen.
3) Select the resources you would like to share for the new homegroup you are creating. You can add more folders and disk drives later to this. These all libraries can be seen from Mac OS X too.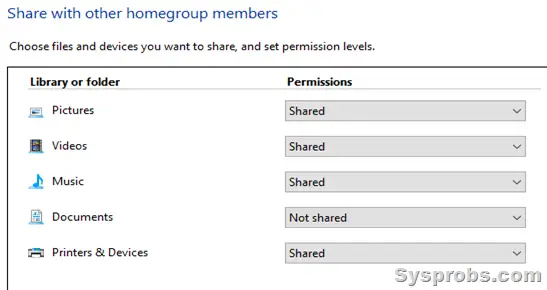 At the end, it will give the password to join the home group you have just created. This may not be useful to access from Mac OS X, but it can be useful to access the homegroup from other Windows based computers.
4) Mostly the default file sharing settings of 'password protected'  would be active, that means, user name and password are required to connect and access shared folders from Mac OS X (or any PC) – which is the best practice. Now we have enabled the file share on Windows 10 to allow Mac OS X like El Capitan and Yosemite to access file/folders from Windows 10/8.1 PC.
5) Let us share a specific folder or drive and see how it works. For example, to share the Downloads folder from Windows 10 to Mac OS X, you can right click on the folder and enable sharing as below.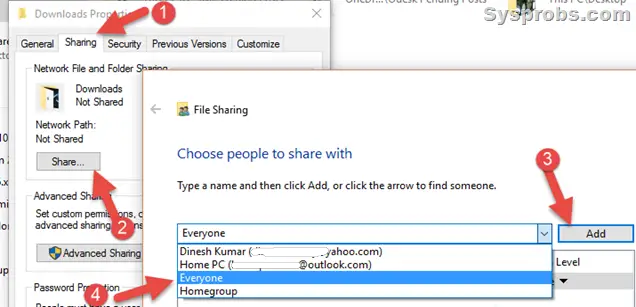 Add 'Everyone' from drop down and enable 'Read Only' access. It is better to not giving write access, but it depends on your requirement whether you will be writing from Mac OS X on this particular Windows folder. In this example, I have selected Read only.
6) Once it's shared, note down the path of shared folder network path. Though we have selected 'Everyone' in the sharing group, but the user name and password are required to connect and access the network share from Mac OS X. Basically these users should reside on this Windows 10 computer where you have created the folder.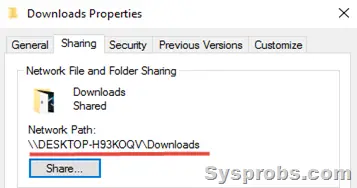 Access Windows 10/8.1 Shared Folder from Mac OS X
7) Make sure your Mac laptop or desktop can communicate with Windows 10 computer over the network. Doing a ping command test can confirm the connectivity. Find out the IP address of Windows 10/8.1 computer and ping as shown below. It should reply (if ping reply is enabled on the Windows firewall).

8.) Once the network connectivity is fine with Windows PC, then select 'Connect to Server' option under 'Go' menu on Mac OS X.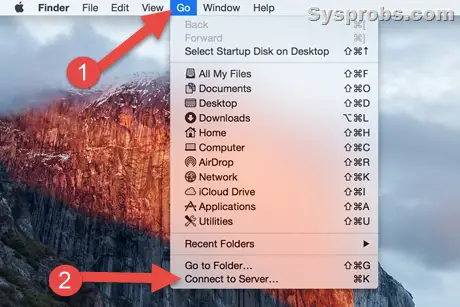 9) It will pop up for the server path. Here you have to type the path of shared folder. Either you can enter the IP or PC name of Windows computer.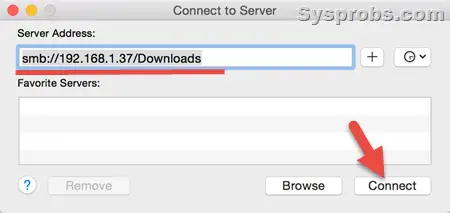 10) You must enter the user name and password which have the access to particular folder. This user should reside on Windows PC. If you are using Microsoft live account to login Windows 10 computer, you must enter those credentials to access the folder.
That's it, your Mac OS X should see the Windows shared folder or disk drive. You would be able to read or write on the Windows share from Mac El Capitan/Yosemite based on the user level access.