In today's world, people are so busy with their life matters and have almost no time to go and shop outside. Therefore, it has become common to do online shopping through a trusted platform, with many options like eBay, Amazon, Facebook marketplace, Etsy, etc.
However, there are still many others that keep entering this market despite the dominance of these giant online ventures. Apps like OfferUp are similar to these online businesses with similar service offerings. OfferUp is a marketplace that helps people sell their items quickly and easily. By listing your item on OfferUp, you are selling to the entire world. If you're selling something to get rid of it or need quick cash, this service is for you!
In this article, you'll familiarize yourself with apps similar to OfferUp.
Why Should Someone Look For Alternate Or Similar Sites?
Many reasons compel people to look for a similar alternative site for online shopping. The most common among them can be price compatibility. Lousy customer service experience, satisfaction level, or the lack of attention a customer needs can be other reasons. Even sometimes, being weary of using the same app and looking for a new exciting experience might also be a reason.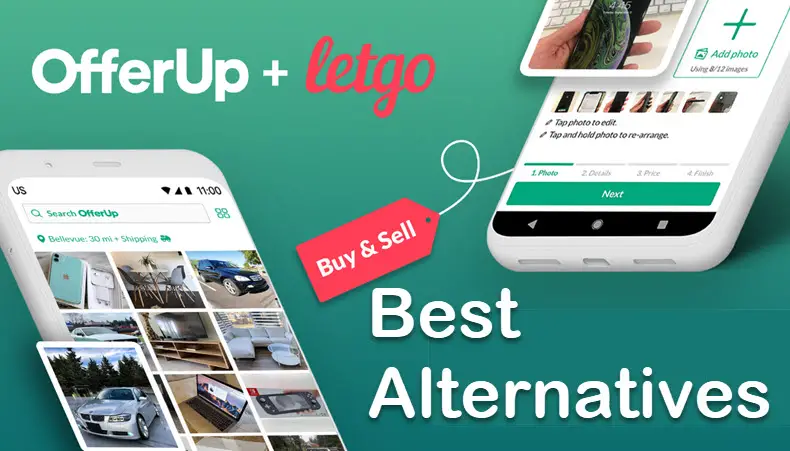 If a site or an app does not offer exciting or attractive offerings or even fails to update its system, this failure may force people to move elsewhere and for alternative apps to jump in and take over that market share. Therefore, these apps or sites must keep themselves up-to-date to stay in the market race with their competitors.
Read Also: Best Torrenting sites for TV Shows and Games
10 Best Offerup Alternatives
It is one of the first internet marketplaces available in both site and app form. Craigslist lets you find potential customers for your goods or discover incredible prices. It presently includes many categories and covers more than 70 nations. This app or site sells goods and services and various jobs.
The use of Craigslist is free and permits the sale of a range of goods and services. You only need to go to the website and make an account to enjoy this service. Following your location selection, you will have access to classifieds in your area.
On this platform, you can even advertise jobs and offer other services. Shipping charges are on top of the item's cost because you might be purchasing something that isn't available in your neighborhood.
A similar site with a specialization in the selling of unique items. Etsy is identical to OfferUp, through which you can purchase unique things for your smartphone. If you like vintage items, creative, or even handmade crafts, Etsy is suitable for you. This site creates a marketplace with a unique variety of innovative items for your home or elsewhere.
With Etsy, shopping for furniture items and daily usage supplies has become relatively easy. A remarkable feature of this site is that it can save all your favorite things, which can help you look into other products that might interest you.
Furthermore, you are notified whenever your favorite shop has added a new item to their inventory. This way, you won't miss your items. These features and others make this app site a good alternative, like an offer.
Besides uploading your favorite photos or interacting with your friends, Facebook has a marketplace for buying and selling items. It can be an excellent alternative to OfferUp and has similar features of selling products online. Just imagine monthly users of 2.9 billion potentially viewing your listings and the sales you might get from them.
Facebook can be an excellent alternative option among so many out there. Selling things online with Facebook is easy and free. All you need is an active personal account and start advertising.
By paying an advertising fee, people across the globe can easily view your item. Facebook does not work on a commission or fee-charging basis. It earns its share by promoting people's items online through advertising they do over here. You can list all sorts of things on Facebook regardless of their genre. It is a relatively easy and user-friendly alternative site for sale.
SwapIt is another good alternative to OfferUp, which helps connect the buyer and seller. With this app, you can purchase used items for a unique experience in the shopping world. With many features, this app is available for free download. It also allows you to search for things nearby for quick and easily accessible selling.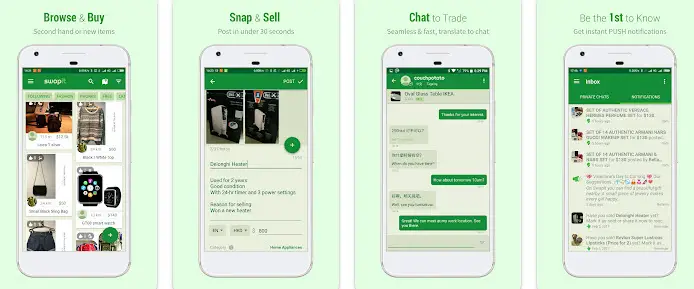 For further contentment, you can even check and view the profile of your opposite party before your deal to ensure a safer deal.
Like OfferUp, this site offers the option to chat seamlessly with both the buyer and seller before purchasing through private chat. This app comes with the idea of bringing both parties under one shade to trade their items.
Negotiating the price is possible with a further option to meet up with the opposite party by arranging a meeting beforehand. We believe this app can be an excellent alternative to offer others.
Related: Best Google play gift earning apps and websites
LetGo is one of the apps similar to OfferUp that makes it simple to find the item you need. Electronics, apparel, home furnishings, and decorations are just a few categories. With this app, you can do things you couldn't do with other applications. It includes advertising a property for sale, renting apartments, or selling automobiles and bicycles.
In addition, the LetGo smartphone app users can purchase and sell items near their location. Google Store and the Apple Store both have it, and using it is free.
You receive the total value of the thing you sell because there isn't even a seller fee. After making an account on the app, you can post listings. Take a picture of the thing you wish to sell and enter the information.
Cars, electronics, other vehicles and parts, sports, entertainment, games, home and garden, movies, books, music, clothing and accessories, baby and children, and free stuff are just a few products you can sell. LetGo, too can be an excellent alternative to OfferUp.
With VarageSale, you will have one thing to worry about: fraud. This site and online selling platforms work like OfferUp but are a safer virtual garage platform. It requires human inspection, meaning anyone who needs to sell over here must connect their Facebook accounts with VarageSale.
This way, they can customize their shopping experience by viewing local advertisements in their newsfeed. However, if you do not use a Facebook account, do not use this app, as it might not be safe.
Starting in 2012, this app has been used in countries like Canada, the U.S., Italy, Australia, the U.K., Japan, and Germany. VarageSale does not charge the buyer and seller any fee against their dealings. In addition, it allows you to keep an eye on an item by watching and un-watching it. So, if the item is blue, you are actively watching it and can even receive notifications about any activities on that particular item.
If you are looking for a marketplace to convert unnecessary stuff like furniture, electronics, and anything else, Shpock can be a good option. This online marketplace is safer for both buyers and sellers. Not only can you sell here, but you can also purchase through millions of sellers online through this site. Furthermore, you don't have to worry about paying any charges, as it is free.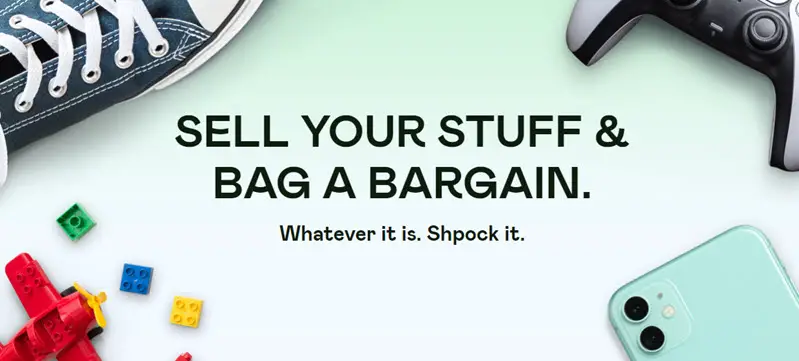 To provide a safer buying experience, buyers can pay a small nominal fee at the time of purchase to secure them with Shpock's buyer protection facility. In that case, if something goes wrong, your transaction will be safe, and you will receive its compensation.
The same is for sellers; if they follow the rules and guidelines of Shpock, their dealing is also secure. Lucky for both Apple and Android users, this app is available with an online site facility.
Also Read: Websites to download Michael Jordan wallpaper
Starting in 2011, Poshmark has now been recognized as a leading online social marketplace for buying and selling your stuff. Initially, it allowed trade into your used clothes or other apparel accessories.
Today it has around 200 million items for sale and 9000 brands that OfferUp to 70% price off on a retail basis from many multinational brands. Registering yourself is pretty easy on this platform; therefore, you can easily download the free app or do it online through the website.
No intermediate parties are involved here; you sell a product and get a direct connection with the buyer. Even buying is simple; you like it and make an offer to the seller. The offer would usually take one day for acceptance or rejection. Make the payments immediately after the approval, so you get it within a week. The Poshmark app is available on both the Google and Apple stores.
Nextdoor is a different and unique buying or selling experience with user-friendly features but not complex at all. It works somewhat similarly to Facebook; however, instead of having connections on Nextdoor, you are connected to your neighborhood people.
It's an app like OfferUp, where apart from links outside people for trading purposes, you will also have an insight into the events happening in your surroundings. So, instead of having a newsfeed on Facebook, with Nextdoor, you can view all the people living in the community.
Besides this feature, this app offers to buy and sell items and services by outside people. For example, you can find a babysitter online and home deals and services at lower prices. Once you register, start selling or buying without any charges.
However, no formal payment processor is available, so both parties must set the price with mutual understanding. You can even boost the presence of your items listed for more than 2 days.
Listia is another unique online free marketplace buying or selling experience where no money is involved. Instead, you need to trade in Listia credits which can be earned by giving away those items you no longer need. It's more like an auction-based system where the buyers will continue bidding for a product unless it is finally sold to the highest bidder.
It does not include any fee for the services while using the online app or site; however, the shipment charges are required for payments, and the currency used for trading is the Listia credits. Available in both the Google play store and Apple store as well.
Conclusion:
We looked into other best alternatives to sites and apps working online, just like OfferUp. Their primary purpose is the same, which is to buy or sell products at your doorsteps with just a few clicks from your smartphone. However, some of them, unlike the OfferUp itself, offers uniquely designed and different features, giving you a new customized experience.
Still, the primary purpose is again the same. We believe the above study would have well introduced these apps to you in detail; however, you are now left with the final decision about which app suits you best according to your preferences.