Laptops have become a common household item that everyone must-have. Laptops are used by students, teachers, workers, and even people with no jobs at all. They are essential to communication and getting work done.
Over the years, laptops have had many innovations. The sizes of these portable computers have gotten smaller and faster. With these changes in the way laptops look and work, the laptops have also developed in terms of usage.
When venturing out to buy the best 11-inch laptop, you will find that this is not an easy task. It can easily get confusing. This is why we have reviewed the best 11-inch laptops for you to make the process easier for you.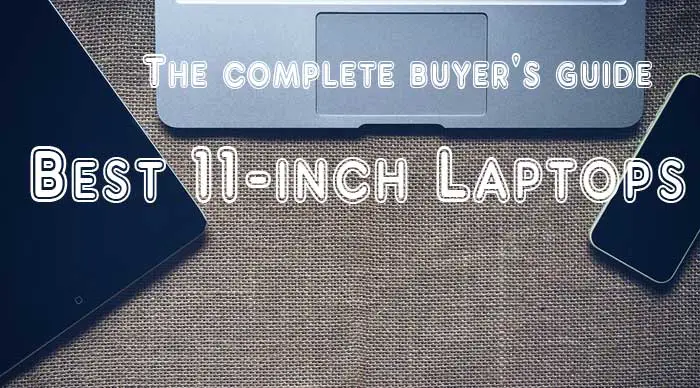 Larger laptops are used by professionals and people who work on video editing or work with photos. The screen size gives them a lot of benefits. Smaller laptops are more suitable for kids or high school students who might need something portable and easy to handle.
Why should I keep an 11-inch laptop?
11-inch laptops are the best when it comes to averagely-priced laptops that have many features. 11-inch laptops provide you with a large enough screen to do all of your video and photo editing work. The screen is also usually HD in most new models of the laptops.

Other than this, in general, the 11-inch laptops are well-rounded in terms of specs and processing power. You will find that most modern laptops have dual-core processors that offer up to 2GHz of processing speed. The RAM on these devices is also fairly decent, if not great. They are usually paired with 4GB of RAM, which is more than enough to run basic programs smoothly and without any lags.
The 11-inch laptops have excellent battery timing as well, which allows you to easily use the laptops every day without having to worry about the battery running out. This is usually the best-selling point on these laptops because they are small so they make up for that with the exceptional battery timing.
Smaller laptops, like the 11-inch laptops, also offer great portability. These laptops are very convenient due to their small size and their lightweight build. The laptops are great for students and office-goers that need smaller laptops to fit inside their bags.
Why Should I Not Have an 11-inch Laptop?
There are some disadvantages to having an 11-inch laptop too. However, they are usually negligible, and when you need the laptop in a limited range, it is the right choice. The 11-inch laptop is the wrong choice if you want to have a laptop for watching movies. The screen size is not large enough for you to enjoy a great movie experience.
Other than that, the screen size is small, so you will have to compromise on vision and clarity sometimes. 
Top 10 Best 11 inch Laptops – Product Reviews
1. Acer Chromebook 11
The Acer Chromebook 11 is the perfect budget device for anyone who wants a powerful laptop with minimal features. The Acer Chromebook 11 offers the best kind of battery time, RAM, and processing power.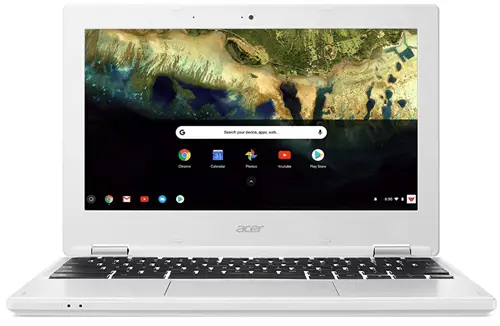 And all of these features are paired with an 11-inch HD screen. This screen provides razor-sharp imagery along with popping colors. The storage and other features on this budget device make it extremely suitable for high school and college students.
Main features
Chromebook runs on Chrome OS
Uses Intel Celeron N3060
RAM: 4GB
Comes with built-in storage for easy access
Features additional 100GB of Google Drive space
11.6-inch HD screen
Google Apps already loaded
Battery time: 10 hours
Pros
Powerful processor
Expandable cloud storage
Fast and light in weight
HD screen with anti-glare feature
Optimal for students of all ages especially college students
10-hour battery life for extended hours of use
Cons
2. ASUS Chromebook
The ASUS Chromebook is made for those people who need a sturdy laptop which can resist many kinds of drops or spills. The primary feature on the ASUS Chromebook is the rugged construction and the reinforced rubber guards on the laptop.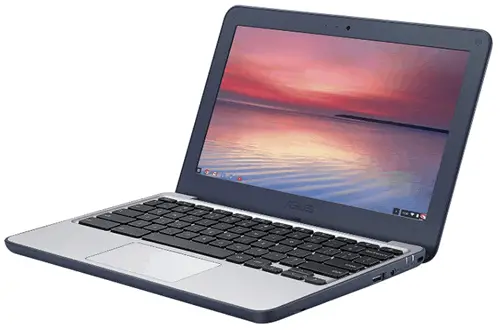 The sturdiness and resilient nature of the Chromebook are what give it a spot on our list of top picks. The lightweight of the laptop is also what makes it easily likable by students and office workers. It is a powerful laptop and makes using the laptop easy and efficient.
Main features
Powered by the Intel Celeron N3060
RAM: 4 GB DDR3
11.6 inches HD screen with Anti-glare
180-degree hinge
Runs on Chrome OS
Weighs 2.65 pounds making it lightweight
10 hours of battery life
Pros
Rugged construction
Reinforced rubber guards on laptop
Powerful and fast operation
Lightweight
Extended battery life
Free pre-loaded software
Cons
3. ASUS Vivobook
The ASUS Vivobook is a powerful and efficient machine that is made to cater to all the needs of software-centric work. The powerful dual-core processor featured on this device helps to run the different software required for analysis and data entry.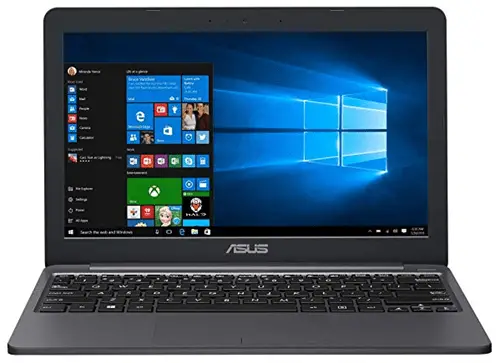 The ASUS Vivobook is a versatile device that can be used by a wide variety of people. It uses the latest firmware as well as the operating system to keep operations smooth and effective.
Main features
Powered by Intel Celeron N3350 dual-core
Features 64GB of internal storage
Durable 180-degree hinge for the display
Uses app-based Windows 10 S
With 2.2 pounds, it is also lightweight
11.6-inch HD display
RAM: 4GB LPDDR3
USB Type-C
Pros
Lightweight and easy to carry
Can be laid flat on surfaces
Fast and powerful
Versatile functions
The long battery life of 10 hours
Premium looks
Cons
The OS might cause problems with downloads
4. Samsung Chromebook 3
If you're looking for a device that does the work you want in a limited price range, then the Samsung Chromebook 3 is definitely built for you. With minimal features and a 2.48GHz processor, the Chromebook 3 offers a much more dynamic device.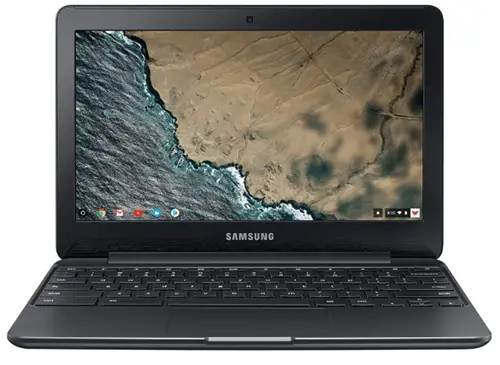 It has several features that make it easy and efficient to use, such as the spill-resistant body that makes it very convenient. The wireless connectivity options on this device are many and make it versatile in that area.
Main Features:
RAM: 4 GB
11.6-inch HD screen
Powered by an efficient 2.5GHz Intel Celeron N3060
Features Bluetooth 4.0
Spill-resistant
Sturdy body
Battery usage: 11 hours
Internal storage: 64 GB Flash memory
Pros
Versatile for any kind of work
Many connectivity options
Uses Chrome OS which makes it easier to use
Can do all kinds of work
HD Screenplays all kinds of high definition videos and games
Ideal battery time
Lightweight
Cons
Lesser internal storage and memory
5. HP Stream 11-inch laptop
The HP Stream 11-inch laptop is the perfect device for all those who want a laptop that's easy to carry but does all the work quickly. With its built-in 32 GB storage and an extended battery life of around 13 hours, this laptop is undoubtedly one that's versatile.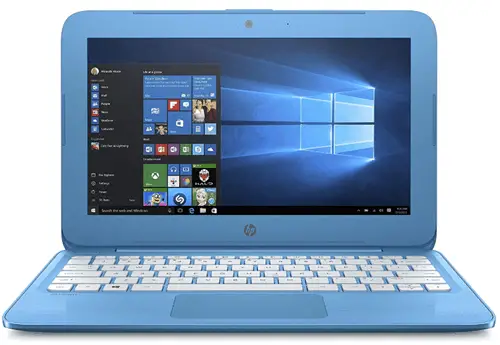 Its many features make it likeable by students and office-goers alike. It's small, it's chic, and it's versatile.
Main Features
Powered by Intel Celeron N4000 dual-core processor
RAM: 4GB DDR4
Internal storage: 32GB
Battery life: up to 13 hours
Works on Windows 10 S
Uses an 11.6-inch HD Anti-glare screen
Light in weight
Offers 1 TB of OneDrive storage for a year
Pros
Easy to carry
Premium looks
Fast and efficient processing
Its anti-glare screen makes it portable
Offers pre-loaded software like Office 360
Extended battery life
High storage capacity
Cons
The OS takes up a lot of space
6. Lenovo Chromebook C330
If you're looking for a high-performance laptop that offers a lot of powerful processing and memory, then the Lenovo Chromebook C330 is definitely the right choice for you to go for. The IPS touch screen display is easy-to-use and is compatible with day-to-day usage.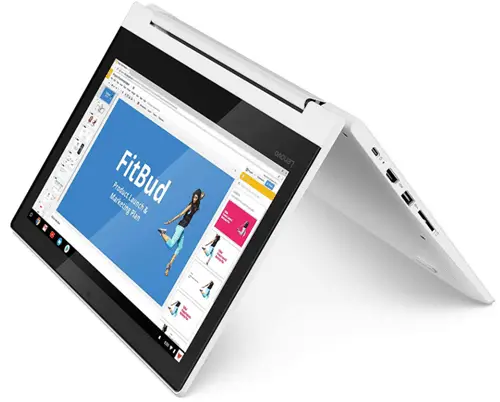 The many different connectivity options offered by this laptop show how versatile this laptop really is.
Main Features
360-degree convertible
IPS touchscreen display
64GB internal storage
Supports USB Type-C
Offers 4GB of RAM
An 11-inch full HD display
Lightweight
Powered by MediaTek MT8173C processor
Pros:
100 GB of Cloud storage available for use
Light in weight
Long-lasting battery
Several connectivity options
Built-in virus protection
Convertible screen
Expandable SD card storage
Cons:
Problems with downloading software from Google Play Store
7. Dell Inspiron 3000
The Dell Inspiron 3000 is a premium device that is also versatile and offers a 2-in-1 experience. With its foldable screen that allows you to turn the laptop into a tablet, the Dell Inspiron 3000 is a device for everyone.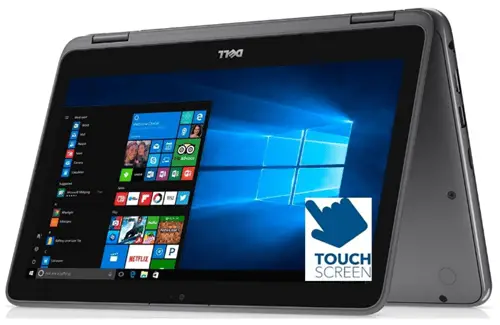 This device features great multimedia specs which are great for watching movies, video editing, and photo editing. With many connectivity options as well, the Dell Inspiron 3000 easily establishes itself as the premium 11-inch laptop for multimedia purposes.
Main Features
Powered by 7th generation AMD A6-9220e processor
RAM: 4GB DDR4
Internal Memory: 32 GB
Bluetooth 4.0
Foldable screen up to 360 degrees
HDMI port
Stereo Speakers and MaxxAudio
HD webcam
High-speed Wi-Fi
11.6-inch HD touch-enabled screen
Pros
Many multimedia options
Folds 360 degrees
Powerful processor and RAM
Powerful GPU included
Can be laid down flat on any surface
LED-backlit screen for better visual
Touch-screen enabled
Cons
Optical Drive not included
Heavyweight
8. Lenovo Flex 11
The new Lenovo Flex 11 is another premium device on our list of top picks. It is a phenomenal device that does not break your wallet but definitely delivers the best. The features on this device are exceptional and do not compare to any other device on this list of top picks.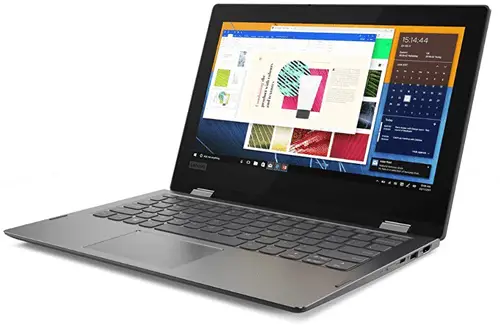 This device is also a multimedia-centric device suitable for all video-editing and photo-editing purposes. This laptop is packed with multi-touch gesture support, which makes it versatile and much more efficient than any other laptop out there in the same price range.
Main Features
An 11.6-inch full HD screen
3.0 USB
Multiple USB ports
Anti-glare touchscreen
4 GB DDR4 RAM
Powerful HD resolution
Powered by Intel N50000 processor
Dolby audio for enhanced sound
Pros
Super lightweight just 2.75 lbs
Faster operation due to high RAM
Multi-touch gesture support
Excellent quality of sound
Card reader
Ergonomic keyboard
Crystal clear sound
Cons
Overheats very quickly
Fan noise is too much for people around you
9. Dell Latitude 3190
The Dell Latitude 3190 is the perfect device for all those who are looking for a laptop for more general work. This laptop is one of the best for students and office-goers. This laptop is the fastest laptop on this list in terms of reading and writing speed. It is an excellent choice for those looking to use it for mainly office work or documentation.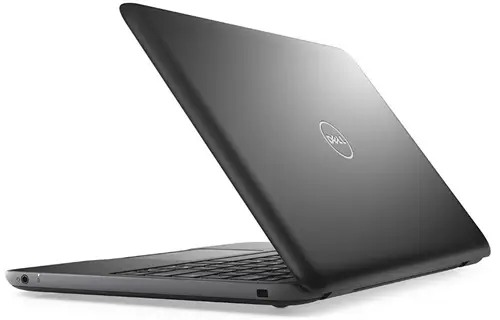 It packs a lot of great features that are versatile and offer reliability to the user. The major selling point of this device is that it comes with Microsoft Office 2010 pre-installed with it. This allows you to save some money on further software.
Main Features
Powered by an efficient Intel Celeron N4100 Quad-core processor
RAM: 8GB
An 11.6-inch full HD screen
Pre-installed Microsoft Office 2010
128 GB of SSD space for faster access
Battery life: 10 hours
2 USB ports
HDMI port for better HD view
Fast Wi-Fi connectivity
Rubber padding for safety
Pros
Faster read/write speeds
Powerful processing unit
Runs almost any software
Extended battery life
Lightweight and sleek
Easy to carry around
Connects to many devices
Supports USB Type-C
Cons
No optical drives
Lesser storage
10. Apple MacBook Air
Who doesn't know Apple! And we all know this because their products are right up there when it comes to quality. If you are looking for such a product, then the MacBook Air is the right option for you. Running on macOS X Yosemite, it has an 11.6-inch screen and is powered by the Intel i5 processor.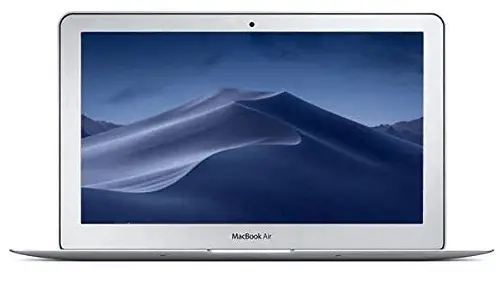 It is equally good for office work as well as gaming. Whatever your requirements or needs are, this laptop will get the job done for you in no time.
Main features
11.6-inch screen
Intel i5 1.6 GHz processor
SSD 128 GB
Intel HD Graphics 6000 Card
macOS X Yosemite
Bluetooth 4.0
Wi-Fi 8.2.11ac
One Thunderbolt port
Two USB 3.0 ports
Pros
Excellent speeds for reading and writing
Fast processing unit
Improved battery life
Sleek design
Lightweight construction
Cons
No free-of-cost additional storage
Slightly expensive as compared to others in the same class
Conclusion
To sum it all up, we would say that there are a number of options for you to explore when it comes to 11-inch screen laptops. The market has grown in recent times, and now the manufacturers are providing consumers with more and more features to take care of all their projects. For this reason, these 11-inch laptops are gaining plenty of momentum when it comes to sales.