Throughout the years, there have been several theories made on whether the size matters or not. However, when it comes to pondering upon technological devices, the debate over the size is fueled up. Particularly, if you wish to buy a new laptop, of course, the variety is going to be humongous. In such a scenario, if you love large, owning the best 17-inch laptop under 1000 would be a perfect choice that you can make.
So, are you ready to make an investment? If yes, here are some of the best recommendations that you can go through if you wish to buy a laptop with a screen size of 17-inches. Read ahead to know more.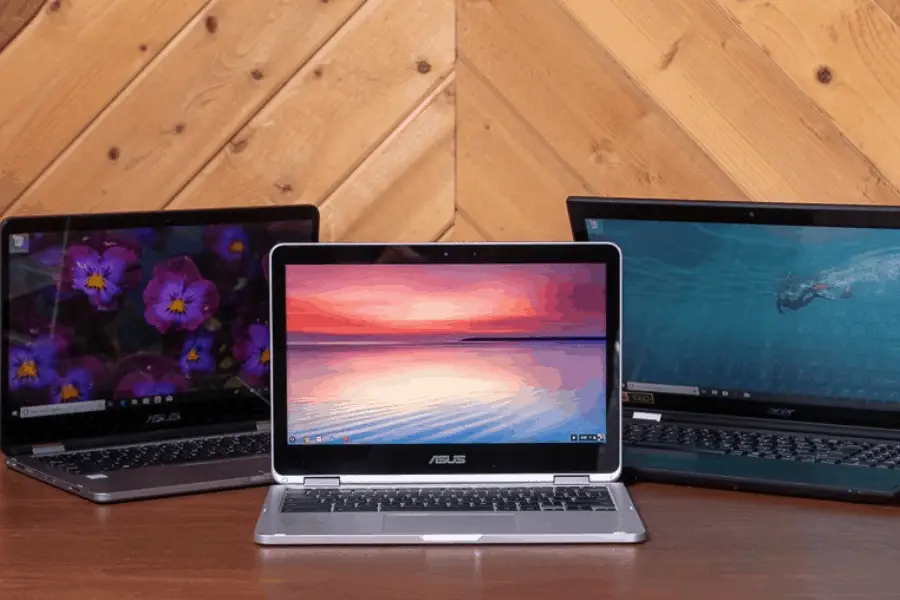 HP Business Flagship Laptop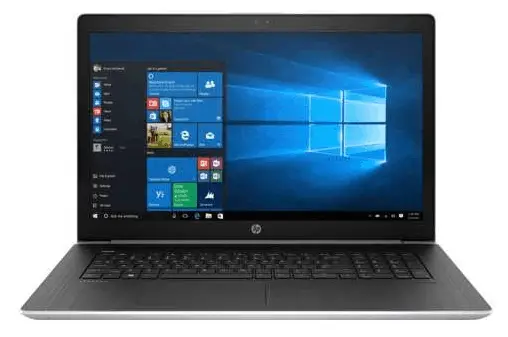 First on the list is this gorgeous looking HP laptop. Integrated with 8th generation Core i7 processor, this laptop operates at a speed of 1.8GHz and can provide the turbo boost by overclocking. Its 17.3-inches diagonal SVA BrightView WLED-backlit display offers a screen resolution of 1600 x 900 pixels.
It is backed by a GeForce 930MX with dedicated display memory and has enough storage to keep your data safe. It has 16GB of DDR SDRAM and 1TB of Serial ATA HDD. Apart from that, there are several other features that you can discover in this HP model. To keep your audio requirements up-to-the-mark, it has DTS Studio Sound with dual speakers.
Moreover, it also comes with installed and running Windows 10 Home (64-bit). As far as connectivity is concerned, this device provides multi-format SD media card reader, USB 3.1, USB 2.0, HDMI, LAN, headphone/microphone jack, and more.
Pros
Good graphics clarity
Quick and speedy processor
Cons
Speakers on the bottom
Lesser than average friendliness
No SSD Storage
Acer Aspire FHD Laptop for Gamers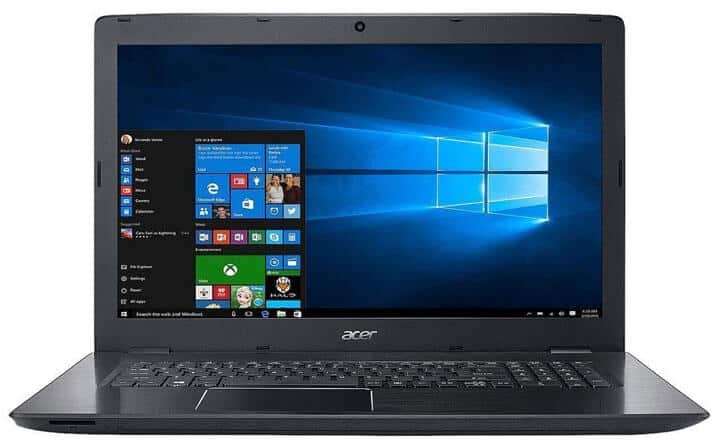 This considerable 17-inch laptop below $1000 from Acer could be your next best purchase. The exact size of the screen is 17.3-inches, and the display is LED backlight & Acer ComfyView widescreen full HD with a standard resolution of 1920 x 1080 pixels. This device is equipped with 7th Intel Core i5-7200U dual-core processor that runs at a speed of 2.50GHz and can provide a turbo boost up to 3.1GHz.
Talking about memory, this laptop has 8GB of DDR4 RAM, which you can easily expand up to 32GB. And, it has an SSD of 256GB in size. To fulfill your designing, editing or gaming requirements, Acer has manufactured this model with NVIDIA GeForce 940MX that has 2GB GDDR5 dedicated memory.
Furthermore, it provides a variety of connectivity options as well. In this laptop, you can find HDMI, VGA, USB 3.1 Type-C, USB 3.0, USB 2.0, and more options. It also has an HD webcam, high-performance sound system, Windows 10, and a battery life of 5.5 hours.
Pros
HD resolution
Adequate connectivity options
Fine operating speed
Cons
Uncomfortable touchpad & keyboard
Low brightness
Not so good cooling system
Lenovo 330 HD+ Laptop Computer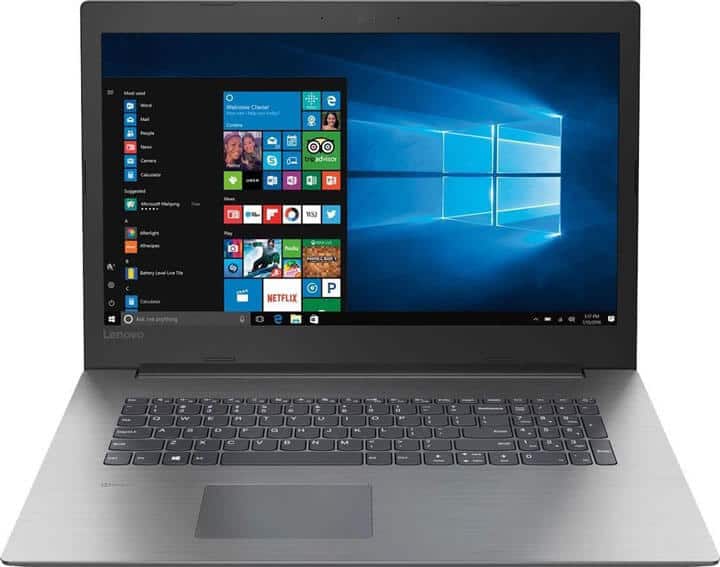 Lenovo knows exactly how to provide the best from its inventory to you. Thus, this 17.3-inches HD and LED backlight display laptop is everything that you may require to achieve success in life. It comes with a resolution of 1600 x 900. It is integrated with Intel UHD Graphics 620 for seamless multitasking and other things.
This device runs on an 8th generation Intel Core i5 processor that operates at 1.6 GHz and provides a turbo boost up to 3.40 GHz. From a storage perspective, this Lenovo model offers 8GB of RAM and 1TB of HDD Hard drive. It comes running with Windows 10 Home and gives 5-hours of battery backup at a single charge.
Not just that, but you can also find different connectivity options, like Bluetooth, Intel Wireless – AC WLAN, 2 x USB 3.0, 1 x USB 3.0 Type-C, 1 x HDMI, 1 x Headphone/Microphone Combo Jack, MultiMedia Card, SDHC, and SDXC memory card formats, and much more.
Pros
Good keyboard
4-in-1 card reader
Full-sized Ethernet
Cons
Bad webcam
Slow HDD
Less battery backup hours
Lenovo Built Business Laptop PC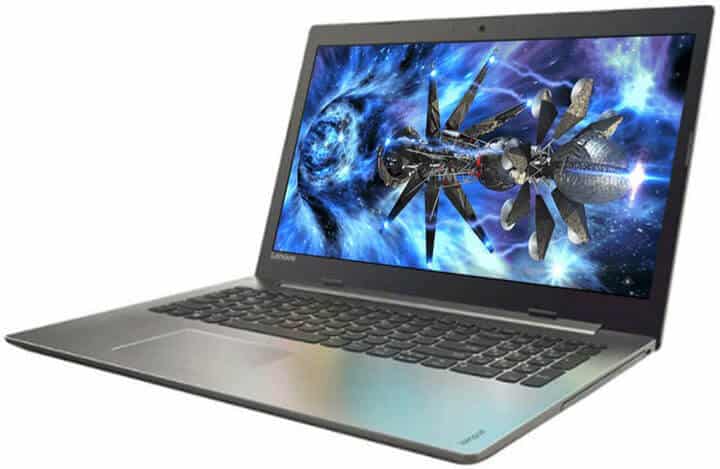 Here is another significant suggestion from Lenovo. Its exact 17.3-inches of full HD display provides a resolution of 1920 x 1080 pixels that help you achieve clarity and impressive color satisfaction. Its IPS technology is perfect for wide viewing angles, and the LED backlight is adequate for energy-efficiency.
This laptop has AMD Radeon Vega 8 graphics card. Powered by the latest AMD Ryzen 5-200u processor, this machine works with six cores and 12 processing, perfect for multitasking and machine intelligence. It has 8GB of DDR4 memory and 128GB of SSD.
Apart from that, it comes with the Windows 10 operating system and offers 5 hours of battery backup at a single charge. As far as connectivity is concerned, this Lenovo model provides SD card reader, webcam, Bluetooth, Wi-Fi ports, DC-in port, Ethernet, HDMI, headphone/microphone jack, USB-C 3.1, and USB 3.0
Pros
Rigid structure
Good keyboard
Adequate configuration
Cons
Low brightness
Less than average CPU performance
Slow SD card reader
Lenovo Built Business Laptop PC 17.3" HD+ Display Intel i5-7200U...
Powered by 7th Gen Intel Core i5-7200U processor along with plenty of 8GB DDR4 memory, you'll get lightning-fast responsiveness and reliable performance. Run multiple programs simultaneously, and transition seamlessly between web tabs — you'll be able to multitask with ease.
HP's Best 17 inch Laptop under 1000 Dollars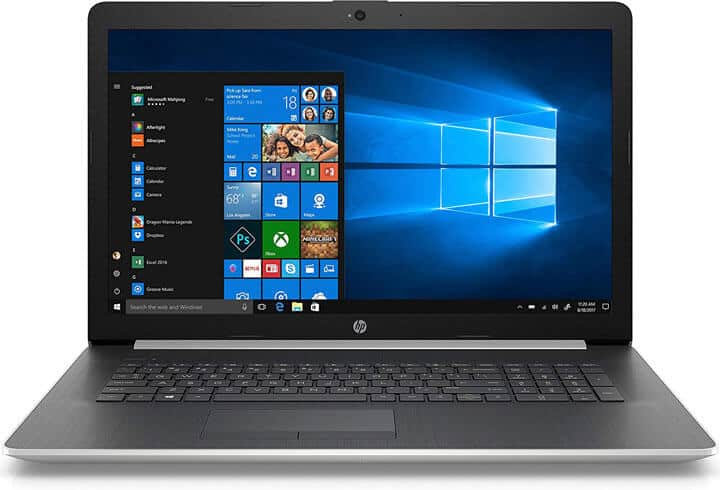 If you are looking for an HD Notebook laptop, this one from HP can come into your considerable list. It is powered by 8th generation Intel Core i7 Quad-core processor that provides an Intel Turbo Boost technology up to 4.0 GHz. Its 17.3-inches diagonal HD + SVA BrightView WLED-backlit display offers a resolution of 1600 x 900 pixels.
It has 4GB of DDR4 SDRAM that you can expand easily. It has 2TB of Serial ATA hard drive; enough to allow you to store a massive amount of data. To make the operating process easier for you, HP has made sure that Windows 10 Home is installed and run beforehand in the system. Thus, you wouldn't have to worry about it.
This smart laptop has Wi-Fi, DVD-writer, and an abundance of other connectivity options that allow you to experiment more with your device. Right from watching movies to listening to songs, this device is adequate for everything.
Pros
Great build quality
2TB SSD
Full sized keyboard
Cons
No proper brightness
Turns hot quickly
Slow performance
Sale
Acer Aspire Intel 7th gen Laptop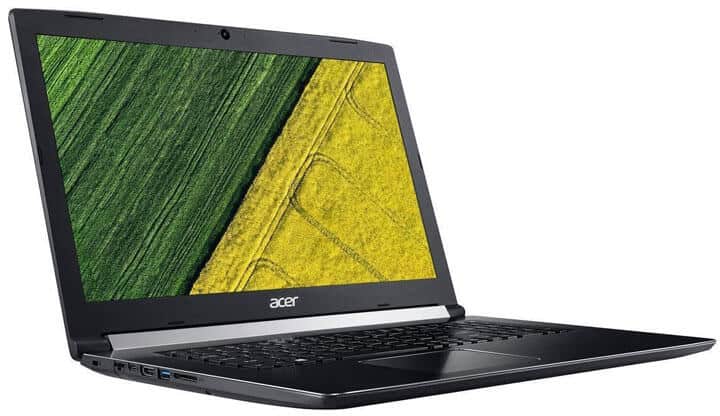 Here is another 17-inch laptop coming right from the basket of Acer. It has got a 17.3-inches LED backlight display that is made of Acer ComfyView Technology and is full HD. The resolution of the same is 1920 x 1080 pixels. This laptop has also got NVIDIA GeForce 940MX graphics card to handle multitasking and other heavy things.
This beautiful machine runs on Intel Core i5-7200U processor that operates at 2.5GHz and can provide a turbo boost up to 3.10GHz. Moreover, it has also got 16GB of RAM and 256GB of SSD that help you keep essential things safe and sound. Acer has integrated Windows 10 Home (64-bit) in this laptop to achieve the level of advancement.
To tackle your connectivity issues, this Acer model supports USB 3.1 Generation 1 Type-C, USB 3.0, USB 2.0, HDMI, Wi-Fi, Bluetooth, and several other options.
Pros
Attractive & beautiful design
Good build quality
Adequate speakers
Cons
Dim display
Comparatively lesser battery life
Bad touchpad
MSI 17 inch Performance Gaming Laptop
If you are a gamer, purchasing such a laptop that is meant to handle your hobby is the only choice you can make for better results. Having said that, this is one of the best gaming laptops in our list from MSI is something you can consider to fuel your gaming interest.
This laptop has 17.3-inches display, to be exact, which is full HD eDP non-reflection 72% NTSC display and provides a screen resolution of 1920 x 1080 pixels. This system is integrated with Intel Core i5-8300H Quad-core processor that operates at a speed of 2.30GHz.
Furthermore, it is equipped with 8GB of DDR4 RAM and 1TB of HDD. Its NVIDIA GeForce GTX 1050Ti with 4GB of GDDR5 would be appropriate enough to help you execute varied tasks. Its backlit keyboard allows you to work seamlessly even if it is darkness all around.
Pros
Full HD display
Fast and robust processor
4th generation graphics
Cons
Short battery life
Bad material
Poor viewing angles
Dell Inspiron 17 5000 Flagship High-Performance Laptop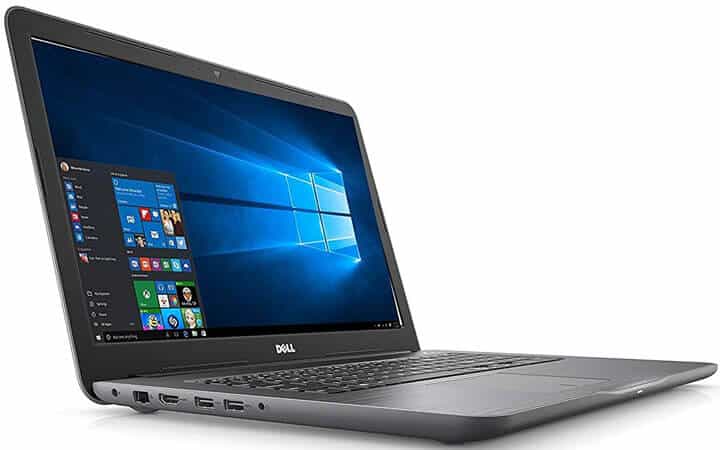 Laptops that come from Dell are always reliable and robust enough to handle even the toughest of tasks. Talking about this particular one, it has got a 17.3-inches FHD display that is made of anti-glare and has LED-backlit. The screen resolution of the display is 1920 x 1080 pixels.
Integrated with 7th generation Intel Core i7-7500U dual-core 2.70 GHz processor, this machine runs quite fast. It also has an AMD Radeon R7 M445 graphics with 4GB of GDDR5 memory. And then, it has got 8GB of DDR4 SDRAM and 1TB of HDD hard drive.
Not just that, but you can also find Windows 10 Home (64-bit) up and running in this device. In terms of connectivity options, you can find Bluetooth 4.2 wireless, Ethernet, 1 USB 2.0, 2 USB 3.0, and as SD card reader.
Pros
Comfortable touchpad
Decent performance
Attractive design
Cons
Turns hot quickly
Dim display
Shallow keyboard
Asus Vivobook Pro Thin & Portable FHD Laptop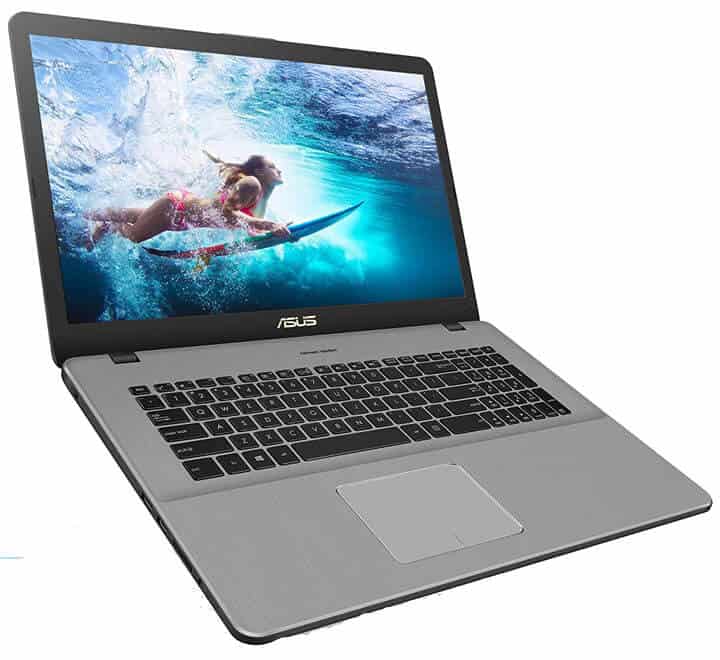 Powered by 8th generation Intel Core i7-8550U processor, this Asus laptop can provide a turbo boost up to 4.0GHz. Integrated with NVIDIA GeForce Mx150 2GB discrete graphics, this machine from Asus makes sure that you experience flawless visuals and graphics on your laptop.
With a 17.3-inches full HD wide-view display screen, this laptop provides a display resolution of 1920 x 1080 pixels. It has 8GB of DDR4 RAM and 256GB of SSD. If you want, you can also select a version with 1TB of HDD. Durable and long-lasting, this model comes with a fast charging technology that can charge your laptop up to 60% in just 49 minutes.
This ASUS model has some comprehensive connection options, such as USB-C generation 1, USB 3.0 Type-A, HDMI, USB 2.0, headphone and microphone jack ports that can help you connect almost every device that you would want.
Pros
Light and thin design
Good brightness
Good CPU performance
Cons
Weak selection of ports
Bad battery life
Slow card reader
Dell Inspiron 17 7773 FHD Laptop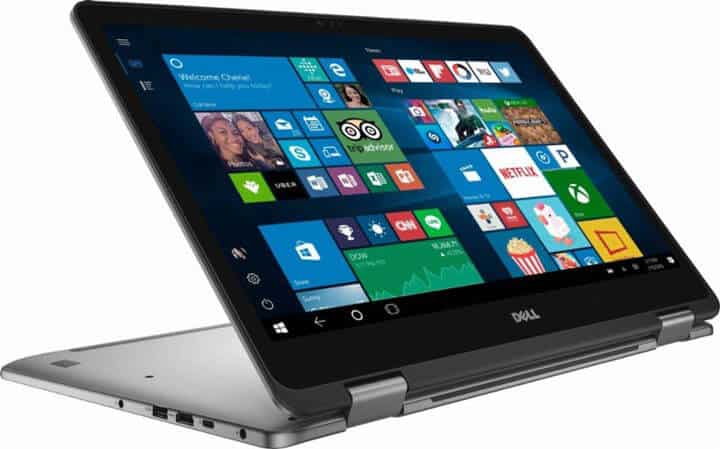 The last one on the list is this beautiful machine by Dell. With a wide 17.3-inches, full HD IPS LED backlight touch screen, the display of this laptop provides 1920 x 1090 pixels of resolution. It comes with 2GB of NVIDIA GeForce MX150 graphics card to make things vivid and bright for you.
This Dell laptop runs over 8th generation Intel Core i7-8550U mobile processor with four cores and eight threads. It can provide turbo boost up to 4.00 GHz. Integrated with 16GB of DDR4 RAM, you can find 2TB of HDD in this machine. Furthermore, it also has MaxxAudio speakers; hence, a great experience for movies and songs.
One of the best parts about this machine is that it has a 360-degree flip and fold design screen. Therefore, you can use the laptop however you want, be it as a tabletop, laptop, or in the tablet mode. Apart from this, you can also find varied connectivity options for better results.
Pros
Attractive design
Good audio system
Multiple mode screens
Cons
Heavy and large
Moderate display resolution
A bit cramped keyboard
Sale
What is the Screen Size & Resolution? Does it matter?
Screen Sizes
Out there in the market, there's a variety of screen sizes that you can find, such as:
11 to 12 inches
Laptops that are thin and light in weight would have a screen size of 11 to 12 inches. If you carry your system from one place to another and are fine with a smaller size, you can choose anything that comes with this one.
Laptops with these sizes provide amazing usability and portability balance. They're perfect for designers and developers.
This is one of the most popular sizes and is ideal for those who want a large screen of their laptops. It can help you edit videos and create graphics seamlessly.
If your laptop is going to stay on your desk all the time and you love gaming or watching movies, having a larger screen laptop like 17-inch or 18-inch would be adequate for you.
Screen Resolution
Just like screen sizes, you can find a variety of screen resolutions as well:
Although this screen resolution is HD but not full HD. So, if you're looking for a laptop that can handle your day-to-day work, this can be your choice.
This is a standard full HD resolution that can be found in a lot of laptops. It can show up to 10 additional text lines on a web page, document or an email. In this resolution, videos and pictures look sharper. This resolution is better for editors and designers.
Also known as Quad high definition, this type of display screen provides four-times better resolution than a standard HD option.
It's the highest resolution that you can find in laptops. Those who work professionally with 4K videos or like to play advanced and high-end games, it would be a great choice for them.
Conclusion
Admittedly, buying the 17-inch laptop under 1000 dollars can become a bit tough of a task, especially if you are not really familiar with the kind of device that would match your requirements. So, make sure that you know your demands before you start navigating through options.
If you're too much into gaming, designing or editing, having a 17-inch laptop would be a perfect choice for you. However, keep in mind that you would not carry this laptop as frequently as easy as the ones with small screen sizes. If that would seem like a problem, you can choose a smaller size.
Anyway, from this list of a 17-inch laptop, we would recommend buying Dell Inspiron 17 7773 FHD Laptop, HP's 17-inch HD+ Notebook Laptop, and Lenovo 330 HD+ Laptop Computer. Not just these devices have been integrated with high-end technology, but their specifications are up-to-the-mark as well.
Thinking of buying a gaming laptop with a 17-inch screen size? Watch this below video for better ideas.
So, in the end, whether you choose the correct larger screen 17-inch gaming laptop in any budget, make sure it is capable enough to fulfill your requirements. Think smart and buy smart.