One of the primary reasons behind Android's utmost popularity is its app section. Every week, the play store adds up hundreds and thousands of new apps and games in its basket. There is no denying the fact that there are millions of apps available for Android, considerably for almost every task. While some come for free of cost, some others may demand a small amount of fortune. Now, finding the best ones from the endless list can be quite arduous. So, to make things easier for you, below mentioned is the curated list of best Android apps. Check them out and if you don't have any of these on your phone, download right away.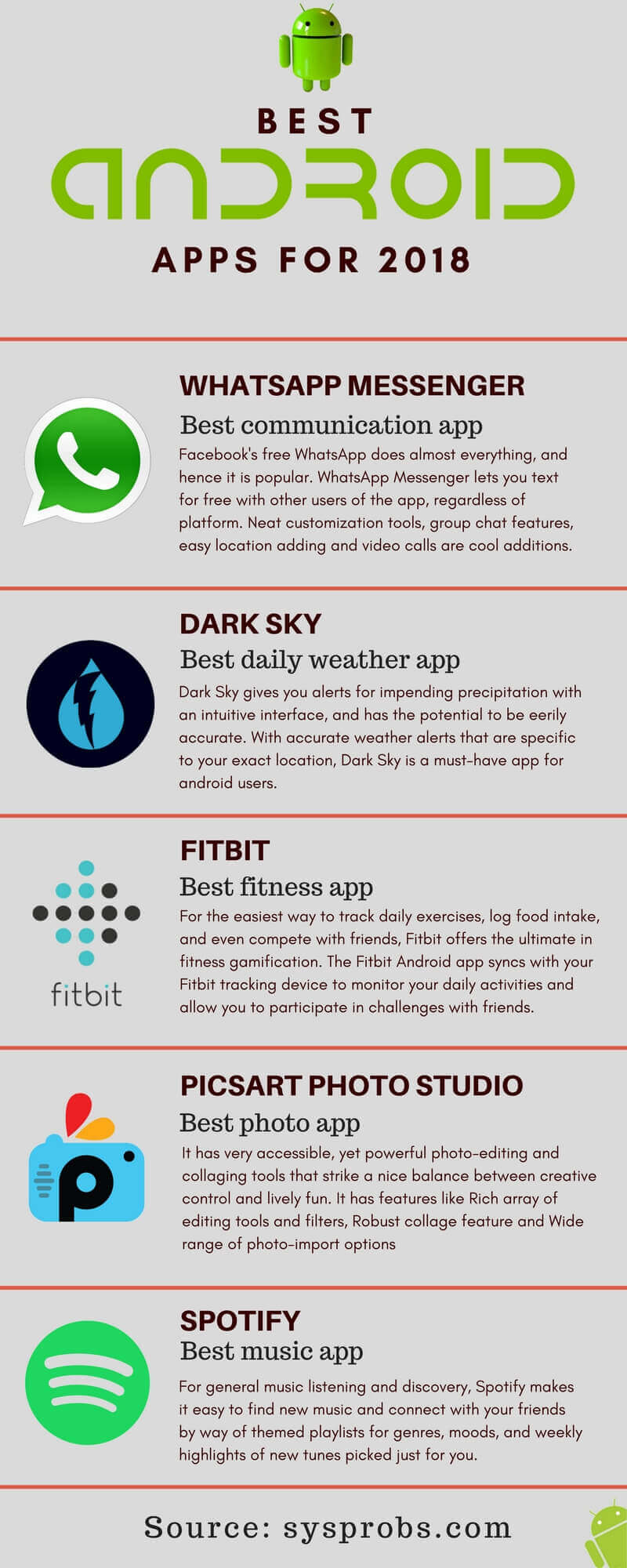 WhatsApp Messenger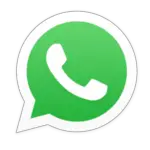 Undoubtedly, Facebook's possessed app, WhatsApp is one of the most used and loved platforms at the present time. With more than billions of users, this app allows you to do several things without consuming much of your efforts. This free messaging app is not only easy to use but also has several advantages that make it stand at the top of the list of best Android apps. Right from importing numbers from your phone contact list to providing you the chance to block people, it makes everything convenient. And then, exchanging music, images, and videos is nothing but a plain-sailing. On the top of that, the ease to make voice and video calls, group chatting, and the ability to share live locations are just like cherries on the cake. The best thing about this app is that it does not have annoying advertisements on its screen.
Dark Sky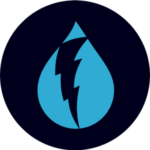 Amidst several other weather forecasting apps, Dark Sky has gone a step further. The app has an instinctive interface that makes it competent enough to alert you to case things start appearing nasty outside. Although this app is a bit expensive, for the information of weather and precipitation that it can provide you, the price doesn't seem too much. It not only tells you the current temperature of your location but also displays the forecast for the upcoming week. As far as the accuracy is concerned, then you can blindly bet on the exactness of this app. With an attractive design, the app is amazingly responsive. There is also a globe map that you can easily spin to know weather conditions of different parts of the world.
Fitbit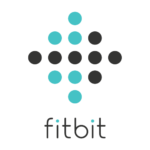 For those who are rookies in the gym or have just started maintaining their lifestyles, Fitbit is one of the best Android apps to have. Basically, if you want superior performance from this app, then you can connect it to a Fitbit tracker. However, if you don't have one, well, you can still run it adequately. The app uses GPS to track your running, walking, and hiking durations. There is also a section called Food Log where you can add everything you consume, and the app shows you the result of the calories you took. If you want, you can even compete with your friends and can set challenges. The results provided by Fitbit are quite accurate, so you don't have to worry about this aspect.
Picsart Photo Studio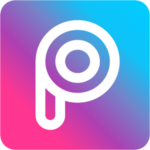 PicsArt comes in both free and paid versions, is one of the most striking and easy-to-use apps. This versatile editor offers a gamut of creative features, amazing tools for editing images and a myriad of glorifying filters. Not just that, but with PicsArt, you can even create excellent collages, add text & stickers, and can share your images instantly on Facebook, Flickr, Picasa, or the website of PicsArt. You can either click a picture from the camera option or can choose one from your phone to edit on PicsArt. With the smooth interface and several attractive options, this one photo-editing app is a must on every Android phone.
Spotify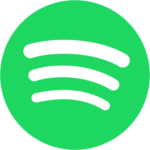 Music has always been an integral part of our lives. And, no matter come what may, nothing is going to replace its stature, right? So, how can we not list an app only meant for amazing and soothing music? Spotify, one of the highly-acknowledged apps, is free and have a premium version as well, which is chargeable. The app features a song library with more than 20 million songs. You can even build your own playlist here and can get or give recommendations to other users of Spotify. Lately, the app has announced its all-new Artist Dashboard that will help musicians to upload their music and get access to audience demographics and other related stats.