Here is the official and best AVG removal tool for Windows 10/8.1 and Windows 7 with 32-bit and 64-bit versions.  It is a great utility to remove the AVG Anti Virus software/program from your computer completely and when the usual Windows uninstaller didn't work from Control panel properly. Sometimes the default uninstallation process may fail repeatedly while removing AVG from the computer for several reasons, in this case, this AVG removal tool will be handy. It cleanly uninstalls and removes all relevant data of AVG anti-virus software from the Windows 10/8.1 or Windows 7 PC.
Even when the normal uninstallation (from control panel) method worked smoothly, it's recommended to use this removal tool to remove whatever left over. It basically removes any AVG related registry entries, installation files and user files (related to the AVG program) from your computer. It is highly advisable to use this removal tool if you are going to use other Anti-virus to avoid the conflict.
Direct Official Download Links of AVG Removal Tool
It's an around  8MB executable file which will do the work neatly.
How to Use AVG Removal Tool in Windows 10/8.1?
Once you have downloaded the file, execute it. Since it needs a reboot, it is recommended close other programs and opened files on your PC.
The below screenshots taken from the earlier version of the removal tool. But you can refer the official website here to find out the latest screenshots and guide.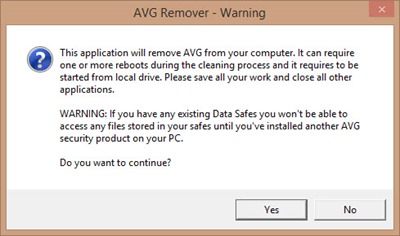 Make sure you have administrative privilege on the computer to run this removal tool. Then the removal progress will work in the command prompt. It basically deletes any relevant files, registry entries and remove services.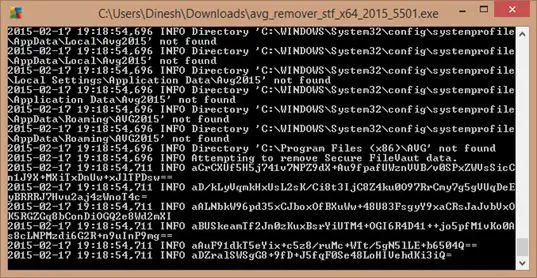 Hope this AVG removal tool for Windows 10/8.1 and Windows 7 is helpful to uninstall and remove all AVG system related files and entries from your computer. After the success of running the tool and rebooting the system, you must be ready to install other Antivirus software.