Today barcodes and QR Codes are present on everything and on everywhere – be it commercial or industrial. They are an excellent piece of technology which can store a lot of information about the product like name, price, manufacturing date, etc. Thanks to modern technology, we can now just pull out the phone from our pocket and use the camera in it to read all the info in the barcode. Here are the 5 best Barcode scan Apps for iPhone and iPad you can use. These apps are very easy to use, and you do not need to worry or look for the guide on how to scan a barcode on your iPhone. Most of the iPhone models including iPhone 11, 11 Pro, X, 8 and 7 support these apps as long as you have the latest iOS version.
iOS devices are no doubt perfectly capable of reading any type of barcodes, but by default, the functionality is quite restricted. The wallet app on the iOS devices is the only default app capable of scanning a barcode but only for very few essential features are available on that app. You can only scan for coupons, boarding passes, and tickets, and if you try to scan any other barcode or QR code the app will show an error message.
Luckily, there are many third-party apps available on the App Store for the sole purpose of reading barcodes featuring a variety of features. So, we have listed the best apps available in the app store to scan a barcode.
Top 5 Barcode Scan Apps for iPhone (11/X/8..) and iPad
[Price: Free with in-app purchases]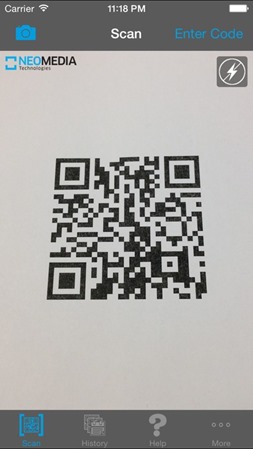 NeoReader is a very powerful yet simple scanner app available in the App Store. It's a fast and accurate app.
This app is very user-friendly, so no need to select the type of code and even there is no framing required to place the code. Just point the camera at the code which needs to be read and the app will do its work in no time.
Apart from barcodes, with this app, you can scan a business card, phone number or pdf.
This app will also allow you to share the information scanned via email, SMS or any type of social media. It also provides features like an inbuilt web browser and Amazon search of the scanned item. You can also create your own QR code with this app.
This app is available for free in the App Store, but the free version contains ads. You can get rid of those banner ads by purchasing the pro version.
[Price: Free]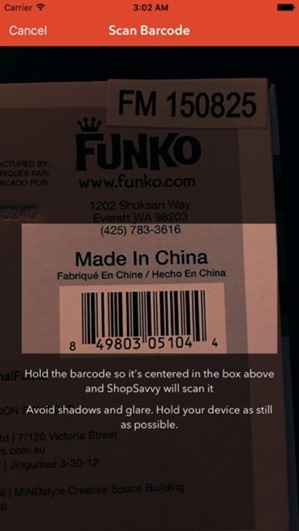 If you are a shopaholic, then you must have this app on your phone.
ShopSavvy is specially made for all those people who love shopping. You can just scan a code and get the prices of the product on thousands of online stores. And if you are in the United States, you will also get the prices from local stores like Walmart, BestBuy, and tons of others. This app will also notify you about the ongoing sale including the best sale available on millions of products.
You can also get to shop in this app that too from multiple stores in one place, so you don't have to hop from app to app to buy any product. You can also get a notification on the price drop on any product which you have scanned. This app also allows you to make a list of any items so that you can get the best deals and coupons on those when available.
On top of all those money-saving features, this app comes for free and you can use it on both iPhone and iPad.
[Price: Free]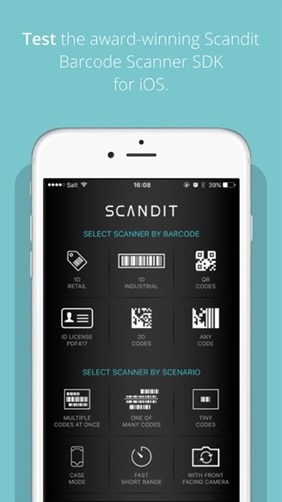 This is a very fast and reliable barcode scanning app for iPhone and iPad. This app can turn your smartphones, tablets, and wearables into enterprise-grade barcode scanning tools for consumers.
The Scandit Barcode Scanning App is specially developed to showcase the performance and features of the Scandit SDK. An SDK is similar to an API for developers, as it lets companies build mobile apps for iOS or Android or any other mobile OS.
The Scandit Barcode Scanner let you select one of the Scan Mode to optimize and experience the excellent scanning performance across all common barcodes of different sizes and types. It features many options like scanning retail or industrial barcode, QR codes, 2D codes, etc. You can also scan multiple codes at once or just one code from a bunch of code.
The developer does not charge you anything for this app.
[Price: Free]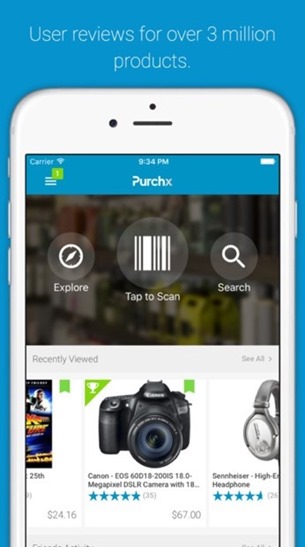 Purchx is another cool app in the App Store built to scan codes.
This app features some unique feature, unlike other apps. You can scan any products and not only compare the price, but this app also lets you see the reviews on that product. You can either scan, search or select from categories and choose from millions of products and compare between two or more similar products.
You can also create an account on this app and provide your review on any product. And the best this is Purchx rewards you for each of your reviews.
This app also has a zero-dollar price tag on it.
[Price: Free with in-app purchases]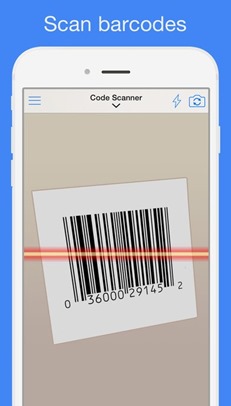 This is one of the best Barcode scanner app available in the App Store. Easy to use, fast, accurate – this app does not compromise in anything.
This app allows you to scan and compare the prices of the product on thousands of online stores. You can also get reviews, ratings, images, videos and even comments on social media just by searching with the keyword or barcode number. This app also supports multiple currencies and can give you a report on the currency of your interest. There is also an integrated browser in this app and you can also check your previous searched as this app saves all the history.
This app is absolutely free in the app store but contains banner ads. You also get an option to get rid of those ads by paying only $0.99.
Conclusion:
Well, that's our list of only 5 barcode and QR scanners which can help you to scan any type of barcode or QR code and give you the encoded information with your iPhone (X, XR, XS and older models such as 7, 6s and 6) or iPad (mini, Pro and normal). But there are tons of other scanners Available on the App Store. If you are using any of these or any other scan barcodes, please share your experience in the comment section below.