Not everyone on this planet has a thick wallet filled with exchangeable paper needed to purchase an expensive and high-performing laptop. Here you can find the Windows 10 Operating System and Google Chrome OS that meets your budget under 200 pounds. Obviously, you can't get high-end or gaming laptop in this price range, but buying a reasonably good laptop will fit your typical home, office and studies usage. The below list of best laptops under 200 dollars filtered by top-selling laptops on Amazon, good user feedback and maximum hardware configuration you can get at this price.
As we already have decided on our price, which falls around $200, choosing a laptop at such a low price becomes a daunting process as the laptops with great specifications comes at a heavy price. But don't get disappointed as we have learned that you can get a decent laptop or a Chromebook on budget.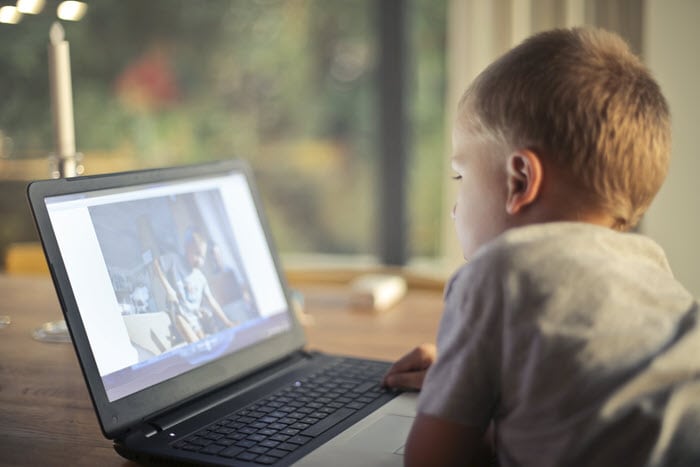 Let's dive into what we should consider while low-end laptops.
Operating System

: There are several operating systems in the market from which you can select the one that you like or afford. The laptop usually has Windows, macOS or Chrome OS. Out of these laptops that run on macOS are costlier and doesn't fit our $200 criteria. So we are left with either Windows or Chrome OS, both of these are pretty popular system, and you can perform the majority of productivity tasks using either of them.
Chrome operating system offers an easy to use, more straightforward interface while Windows OS has too many features to use from. Usually, Chrome OS is well accepted and useful for kids and older people. If you are more into surfing the internet and always go online for some reason, then Chromebooks are perfect fits for you.
Processor:

Pay attention to the processor. At such a low range, you will often find the processor that doesn't provide a great experience. But often they use Intel Celeron which is a decent processor to run the machine with limited specs and features.

RAM

– Having the right amount of RAM is the critical point to run a laptop smoothly. Do not settle for low RAM instead try to find the laptop with more RAM that fits into your budget. Usually, around 200 dollars you will get 2 to 6GB of RAM.

Display

– Remember, by lowering your budget, you are reducing the size of the screen you can get. At $200 budget, you will easily get a display with a resolution of 1366×768. See if you could get a display with higher resolutions at the same price.
10 Best Budget-Friendly Laptops Under 200 Dollars
1. Acer Chromebook 11.6 Inches – Best 200 Dollar Laptop
It was not a surprise when Acer decided last year to upgrade their popular notebook with some useful specs. We can easily say that it is the best seller in this price range. While writing this review, it has more than 220 feedback from happy customers with a good rating from Amazon. Acer Chrome book – a cheap solution that can replace costlier laptops leads the race of budget notebook with excellent hardware specification. It comes with Google Chrome OS so that all works can be done online through the browser.
Since you can use online embedded MS office version for free to edit your office documents, this laptop becomes handy for regular office work on the cloud. Availability of many could storage providers, web embedded office, web browsing through Chrome browser and browser-based games.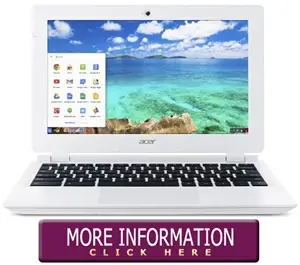 It powers with Intel Celeron N3060 2.16 GHz and 4GB DDR3 RAM. To make your browsing and disk read/write access faster, it comes with SSD storage of 16 GB.  The LED-Lit screen size is 11.6 inches, with 1366×768 pixels that will make the display crispy. You can browse and install apps, games and other productivity tools available on the Google Chrome app store.
Major Features
· Great battery life of 8.5 hours
· Intel Celeron 2.16 GHz
· 2GB DDR3 RAM
· 16GB SSD storage
· 2.4 pounds
· Intel HD Graphics
2. HP Stream Laptop PC 11-y010nr
An updated version of HP Stream 11-r010nr laptop which mentioned below. Slightly higher than 200 dollars, but you will be getting Windows 10 and Office 365 personal edition subscription for one year free. That is a good deal from HP with a good hardware specification in this list. It equipped with Intel Celeron N3060 1.6GHz dual-core processor and 4GB RAM. 32GB eMMC storage will be enough to have an Operating System and other important applications. The Office 365 subscription can give 1TB online storage for additional storing purpose.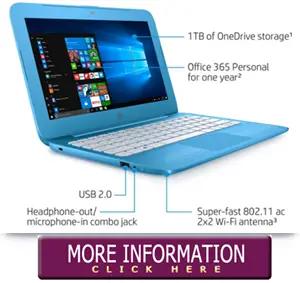 Suitable for students to do studies, projects, and collaboration with other students online with office 365 subscription. The tiny 11.6-inch lightweight laptop can go inside any bags to carry to school or college. 4GB RAM with 32GB built-in storage with Windows 10 Operating Systems make this laptop very worth in this list.
Old Version – HP Stream 11-r010nr laptop
If you are limited to Chrome Operating System and want to have Windows OS laptop under 200 dollars, then this is for you. HP had built this laptop with 2 screen sizes and several colours. The 11.6-inch screen size with pre-loaded Windows 10. This will be a typical Windows OS laptop you can get for the low price and install any .exe programs you like to have (if the hardware meets the requirement) on your laptop. 1.6 GHz Intel Celeron processor with 2GB RAM comes with this cute laptop. The built-in storage is 32GB SSD which will work better for disk read and write usage. 32 GB disk size may not be enough to save your personal data, and you may need to use external USB drives or hard disks for this purpose.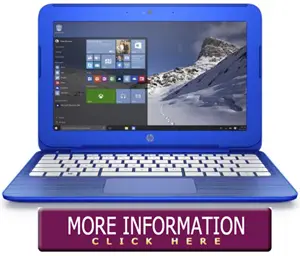 As a bonus purchase, it comes with Microsoft office 365 personal subscription for one year that will fulfill your MS Word, Excel and PowerPoint requirements for the first year. As usual, HP builds good laptops with more features and this laptop fall in the same category. Cool colors of this laptop will attract any users quickly. You can use for college or tuition use. You can order the required color while making the purchase online of this HP 200 dollar laptop.
Major Features
· Pre-installed Windows 10
· Free one year office 365 personal edition
· Attractive colors
· 32GB SSD storage
· 4 pounds
· 1366×768 pixels
· USB 3.0 Port
· 4 stars from more than 4500 happy customers.
3. Lenovo Premium Built High-Performance Gaming Laptop
Naturally, you can't expect a perfect gaming laptop at a small price of 200 dollars. But this laptop looks like it can handle some basic gaming with its specification as per Lenovo. Powerful Intel Celeron dual-core processor, 4GB RAM, and 32 SSD storage can make this laptop fast and responsive. Since this is another Windows 10 laptop on this list, you can consider it as a great deal from Lenovo.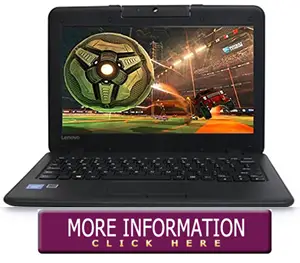 The best part of this laptop for gaming is its Intel HD graphics with shared video memory and 1366×768 HD resolution. It is going to be great on its 11.6 –inch screen.  These configurations should be enough for casual gaming and basic video editing and of course to watch movies.
4.  Acer Aspire One Cloudbook 11-Inch HD
Another Windows 10 OS laptop on this list. The beauty of this laptop is the HD screen. This famous Acer Cloudbook comes with several screen sizes and hard disk options and price changes accordingly. 11 inches laptop with 32 GB SSD storage comes under our budget. It powered with latest Intel Celeron 1.6 GHz and 2 GB DDR2 RAM. 32GB SSD and expandable card readers can meet your storage increase requirement in this small laptop. Pre-installed Windows 10 will avoid all hassles in installing or upgrading the Operating System, and you can use directly once it is out of the box.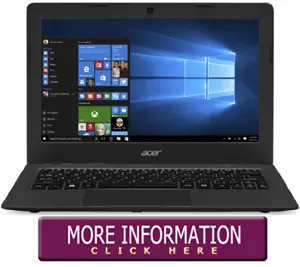 This comes with office 365 personal subscription for one year, so you do not need to worry about MS office. It's having most of the required ports which can be accommodated in a small laptop. USB 2.0, USB 3.0 and even HDMI ports are included in this laptop. Up to 8 hours battery life and 2.54 lbs weight will make this laptop more suitable for portability. Acer Cloudbook has Intel HD display card, and Acer claims that its screen as HD (High Definition), that should be an excellent deal for the price you are going to pay.
Major Features
· Pre-installed Windows 10
· Free one year office 365 personal edition
· HD Screen
· 32GB SSD storage
· 8 hours battery life
5. Newest Lenovo 110s Premium Laptop
The latest model laptop from Lenovo for below 200 US Dollars. It comes with Windows 10 and 32GB  flash storage, the point is, you can use as full-fledged Windows 10 laptop. It is one of the cheapest laptops on this list. 2GB high-bandwidth RAM can support basic programs of Windows 10. You get Microsoft Word, Excel and other office suite products for free for one year which bundled with this laptop. It got other necessary components such as Webcam, WiFi, Bluetooth and USB ports.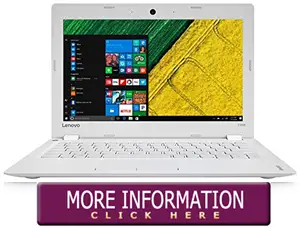 It is a very lightweight laptop, and built-in Bluetooth can allow you to transfer photos from your smartphones easily. The 1TB OneDrive storage you get with the Office 365 subscription will allow you to store and sync more data on the cloud.
Major Features
· Pre-installed Windows 10
· Free one year office 365 personal edition
· HD Screen
· 32GB Flash storage
· Intel HD Graphics
6. Samsung Chromebook 3
Chromebook's are the saviors for those who are looking for the laptop at a low price. As we know that Chromebook and laptop are not the same things, but Chromebook fills the major gap by bringing the variety of features at a low price. Samsung Chromebook 3 is not an exception to this. It is a cheap machine with great value for your money.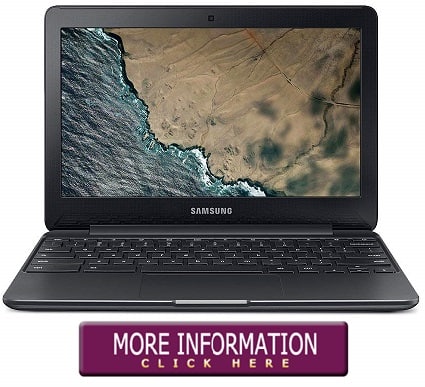 This model doesn't fail to provide a decent performance that helps to complete the various basic productivity tasks. The 4GB of RAM with 1.6GHz Intel Celeron processor allows its user to surf the internet smoothly, to easily creates the Google docs and various other tasks. 16GB eMMC flash memory helps this machine to perform faster and better. Some users might find the storage space is less for what they need, but Chromebook can use the cloud storage from Google, so you don't have to worry about it. It comes with an 11.6-inch display which is not a deal-breaker feature but its long battery life of 11 hours can help you work longer.
Samsung built it with a spill-resistant keyboard, which means you can have some time to save your data and shut down the machine if you accidentally spill some liquid over it. Overall, Samsung Chromebook 3 is a perfect fit for college going student who is tight on budget and could not afford expensive laptops.
Major features –
Processor – 1.6 GHz Intel Celeron

Display – 11.6-inch (1366×768)

RAM – 4GB DDR3

Storage – 16GB SSD

Graphics – Intel HD Graphics 400

Weight – 2.54 pounds
7. ASUS VivoBook E203MA
If you are looking for an amazingly portable laptop that looks nice, then the Asus Vivobook E203MA shouldn't be overlooked. Asus attempt to win the market share of budget laptops. While writing this post, it is available at an amazingly low price that just goes above the $150. Its modest specs allow users to complete the day-to-day tasks efficiently, but it won't be much use to perform the high-end productivity tasks.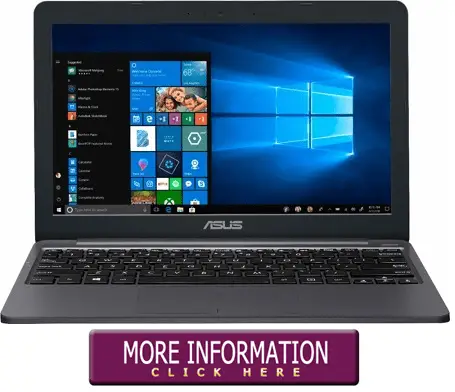 Its 11.6-inch LED backlight display provides HD experience while its 0.7-inch thin design with a weight of 2.18 pounds make this machine lightweight and extremely portable. Excellent portability allows college going students to opt for this laptop as they need a computer that they can take to the classroom. It has 2GB RAM, Intel Celeron Dual Core N4000 Processor which turbo boost up to the 2.6GHz, 32GB eMMC flash storage and battery life up to the 10 hours. All these specs provide excellent value for your money. Overall, if you need a laptop at a low price which you can carry around and perform the simple day-to-day task, then Asus Vivobook E203MA should be on your purchase list.
Major features –
Processor – Intel Celeron Dual Core N4000 Processor (1.1GHz, Turbo up to 2.6 GHz, 4M Cache)

Display – 11.6-Inch HD LED Backlight Display (1366 x 768)

RAM – 2GB

Storage – 32GB SSD

Graphics – Intel UHD Graphics 600

Weight – 2.2 pounds

Battery life – up to 10 hours
8. HP Stream Laptop PC
Lately, HP is pretty active to update its 'Stream laptop PC' series. In 2018, this series saw a couple of updates with a price range going down while maintaining the same specs for better user experience. Recently they have released the new and upgraded version of this series. Other two has been covered earlier in this article.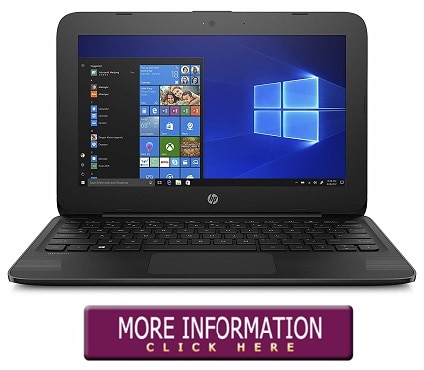 Though all other specs remained the same, the significant uplift that this laptop got is its Intel N4000 processor. Previously they used Intel Celeron 3060 which is a bit slower than the latest one. So, you can say that this newest version HP stream laptop pc series perform faster and comes at a lower price which just goes above the $150 mark.
Major features –
Processor – Intel Celeron Dual Core N4000 Processor (1.1GHz, Turbo up to 2.6 GHz, 4M Cache)

Display – 11.6-Inch antiglare HD WLED Backlight Display (1366 x 768)

RAM – 4GB DDR4

Storage – 32GB SSD

Graphics – Intel UHD Graphics 600

Weight – 2.57 pounds

Battery life – up to 5 hours
9. Dell 2018 Newest Lightweight Inspiron
If you have some extra bucks than 200 to spend a better graphics card, then Dell has something to offer you. 'Dell 2018 Newest Lightweight Inspiron' is what we are talking about. Though its price falls just beyond our $200 mark, it worth spending those extra bucks. As like other laptops on this list, Dell also provides similar specs except for the processor & graphics card. It has AMD Radeon R4 graphics rather than Intel HD graphics and has a touchscreen display.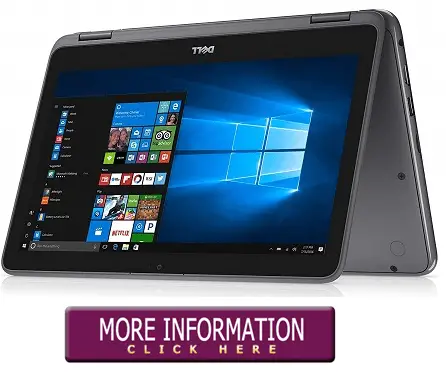 AMD Radeon R4 graphics is supposed to be a bit better than Intel HD graphics. AMD Radeon R4 graphics has more core clock speed, more texture mapping units, better pixeling performance than the Intel HD graphics. Overall, having AMD Radeon R4 graphics is a good thing. But when it comes to the user experience, you will not find any major difference between these two.
Major features –
Processor – 1.6 GHz AMD A Series

Display – 11.6 in HD LED-backlit touchscreen (1366 x 768

RAM – 4GB DDR4

Storage – 32GB SSD

Graphics – AMD Radeon R4 graphics

Weight – 2.6 pounds

Operating system – Windows 10 Home 64-bit
10. Acer Switch V 10
Whether you are looking for a budget laptop or a tablet, Acer Switch V 10 fulfills your requirement. It can be used in four different modes. You can use it as a laptop, tablet, tent or as a stand. Acer claims that users can use it for various purposes, especially one can use it for education, home, and business purpose.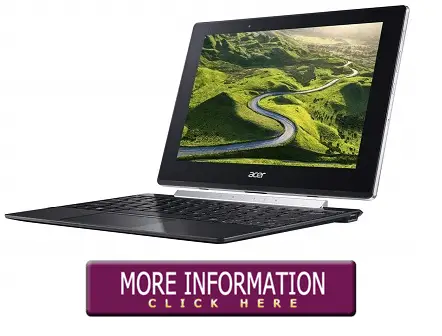 The design is topnotch and versatile as it got a detachable display, and the overall case is made up of a brushed metal cover which has distinctive edges. This 2.65-pound powerhouse performs faster with Intel Atom x5-Z8350 Quad-Core Processor and has 64GB eMMC flash memory. For the price around $200, you get 4GB RAM which we believe sufficient enough to perform the day-to-day tasks. For those who have accustomed to Windows OS for years, Acer provides an experience of Windows 10 Pro with a 10.1-inch display.
Major features –
Processor – Intel Atom x5-Z8350 Quad-Core Processor

Display – 10.1-inch IPS TouchScreen HD (1280×800)

RAM – 4GB DDR3L

Storage – 64GB SSD

Graphics – Integrated Intel HD Graphics 400

Weight – 2.65 pounds

Operating system – Windows 10 Home 64-bi
Let's find out a few things you must check before buying a laptop in below video.
Final Words and Buying Tips
200 dollars is a limited amount to buy a powerful laptop. We have tried our best to filter some of the best and cheap laptops from Amazon in this price range. If you are looking for gaming or high performing laptop at this rate, then you may struggle to find a suitable budgeted laptop.
Operating System and the purpose of laptop play a significant role. Ask the question, 'Why you are buying this laptop'?. If it is only for web browsing, browser-based games and some online editing with Google Apps, then a Chrome book like Acer Chromebook would be enough. If you are looking for a cheap Windows 10 laptop, then you can have other laptops on this list. Most of the laptops do not come with CD-ROMs, so you have to manage that too.