Are you confused? Can't decide which email program is best for you Mac Laptop or desktop? worry not. You came to the right place. All your confusion is quite justified given the wide variety of email programs available for Mac OS X in the market.  Here we list out 3 best email program for macOS  in 2019  that can work on macOS and older versions such as Mountain Lion, Yosemite, and El Capitan also. It is really important to choose wisely: knowing and accessing the variety of software's provided. Here, we provide you with details and features of the best three email programs available for Mac OS X.
Though we have not done the full review of these programs, we have selected these best email programs for Mac based on the popularity and good user feedback. Now look wisely and choose the one that suits you and your requirements the best. You can find few best Mac backgrounds for your Mac pro laptop or desktop. Mac users must check these best wireless printers for Mac OS X.
3 Best Email Programs for macOS and Older Versions
Taking over the 3rd spot among the best email programs for mac is the Mail Pilot. It will give your inbox the look of a to-do list and will treat it in such a way as well. The messages you receive in your mail box can be checked off with the features you acquire like to read it later in an hour or a day or two. However, it is important to point out that this labeling is not complex at all, there are shortcuts placed right at the end of your screen.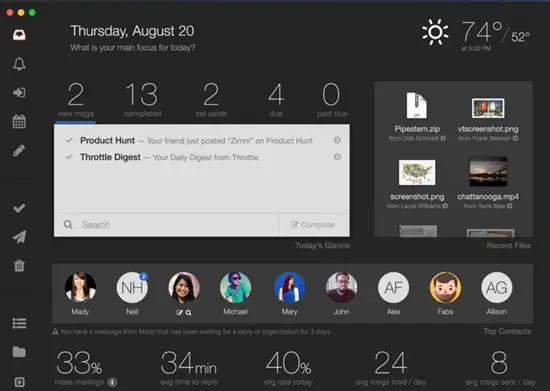 The Mail Pilot also has a feature allowing you to sort out and compartmentalize your mail quite efficiently and effectively. I find it important to point out that Mail Pilot is a new program and it is quite right to say that it is still under construction. So whatever you may find missing you can hope to find it in its newer version. Read this post about the best alternatives for MS Publisher for Mac OS X.
Scoring the 2nd place is 'Inky' among the best email programs for mac. This software is most suitable for people who use their mailbox for purposes other than business. Inky provides you with not only an interface which is full of colors but also a variety of options to choose from, the actual look of your mailbox.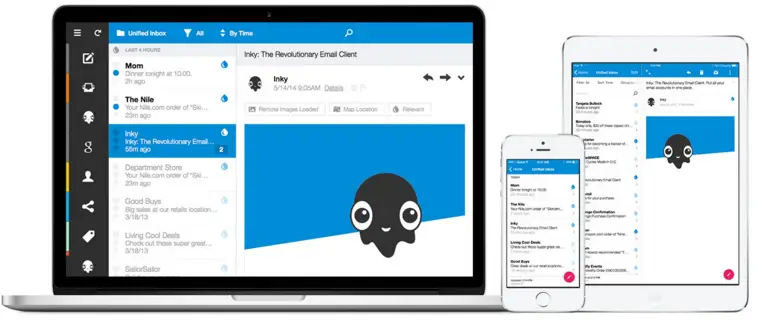 You can configure almost all email protocol supported mail hosting services including Exchange, Yahoo and Microsoft Outlook. You can view it either in form of individualized accounts, a general unified inbox like every other mailbox or even by many diverse Smart Views. In addition to these spectacular features, the program is tuned in a way to automatically detect and segment the emails which contain subscription messages, daily deals, maps, promotional packages etc.
Ensuring the very 1st position among the best email programs for mac is the Postbox 3. This program is a great mixture of numerous spectacular yet quite handy features. In the most general sense, it provides you with a keenly designed look and a smart key with reliable performance. In postbox 3, every area you will come across has features that are clearly well thought and well-presented and that will improve your emailing requirements.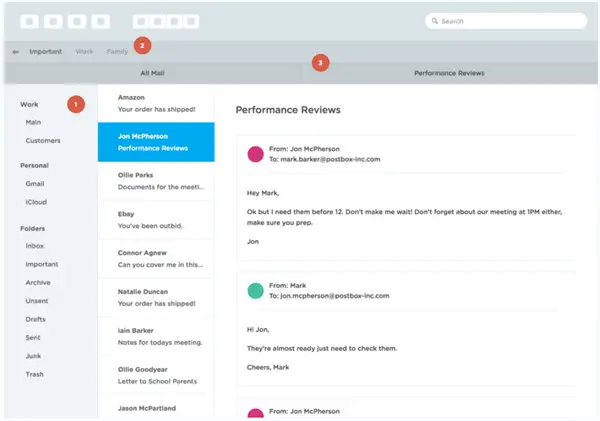 Another distinctive feature of Postbox is that you will benefit from a quick reply box placed right at the bottom of your latest email. The easy access to contact information of your email partners is assured by being just one click away from every message. In addition to that, you can quite easily search for anything regarding the contact through the contact card including any message, picture or link. Along with these, there are many versatile features in Postbox 3 which you can only find by gaining the full experience on your own.
We hope that the above information regarding best email program for Mac OS X would have given some ideas and major features of each application that can be helpful to improve your productivity. Each program has their own features and missing features, you must select the suitable email app for you for the money you pay.