If you are always concerned about running out of storage on your Mac, then don't be. You need to get one of those external hard drives and forget all your worries. Latest Macs do not allow any upgrade in internal storage, so the best solution to the problem for you is expanding your external storage. These external devices are not only helpful in expanding the storage but also enable you to back up your Mac. The decision to choose the best external hard drive for Mac can be callous. We help you out with the above-updated list in the year 2020. Most of the external hard disks are suitable for MacBook Pro, Air, iMac and even the iPhone and iPad (the drives have wireless access) and Windows OS too.
Now, there are plenty of external storage devices available in the market, ranging from the network storage device to desktop hard drive. You can also find and buy different portable flash drives as well, and the option of cloud storage is also accessible.  Therefore, to find the best external hard drive for Mac you need to check your preferences like;
· Carrying your storage while you are traveling,
· Accessing data from anywhere around the globe
· Creating an instant backup
· Cheap storage option.
We have enlisted ten best options for you to choose from so that you never run out of storage and your data is always backed up as well.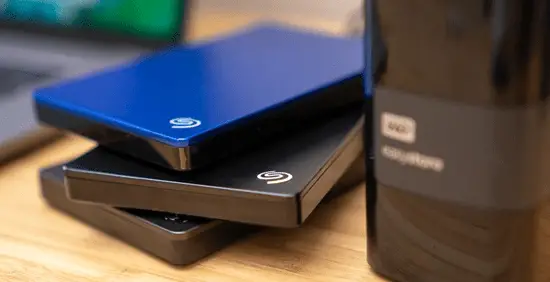 10 Best External Hard Drives for Mac in 2020
1. Western Digital My Passport 4TB (1TB to 5TB)
My Passport from Western Digital comes with a whopping 4TB storage capacity and is equipped with breakneck speeds as well. It goes well for those who want fast storage speeds for their MacBook Pro, MacBook Air as well as PCs. Its large capacity enables you to store heaps of data files. For this purpose, it is ideal for backing up your Mac or PC. It will not take long to transfer data as well. Based on your preferences you can choose any capacity that ranges from 1TB to 5TB. The device is also equipped with cloud storage features and comes with a 256 bit AES encryption.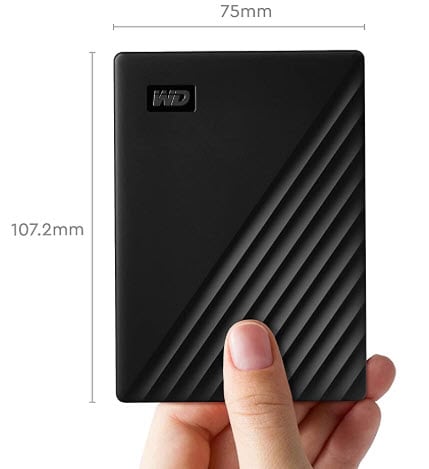 My Passport also has Western Digital's very own backup software, but some of you might not find it very useful as it is too basic. This hard disk can work better on macOS and Windows OS because it has excellent data transfer speeds better than a number of its competitors. It won't beat many flash drives that are available in the market, but when it comes to hard drives, My Passport is the device you should opt.
2. 
Samsung T7 Touch Portable SSD – 500GB
Samsung T7 is the latest external hard disk model from Samsung. It has the built-in fingerprint scanner to add more security to the hard drive. This feature can prevent intentional or accidental data access without authentication. SSD provides impressive read and write speed than the traditional mechanical rotating hard drives. You will be enjoying the faster data transfer speed up to 1050 MB/s with your Mac Laptop or Desktop. With the support of USB-C port, it can easily be connected to the Mac computer. Also, the USB C to A cable is included, that allows to connect the USB-A devices such as old Windows computers.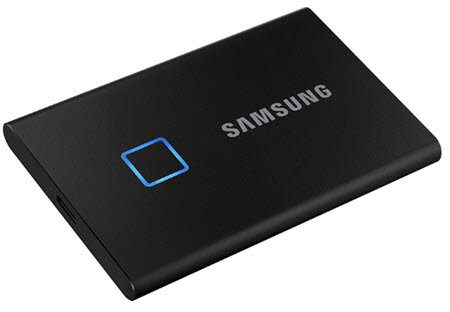 The size and design are unbelievably great, thanks to the SSD chip which doesn't take larger space. You can protect the disk with the password, also it has AES 256-bit hardware encryption that is almost impossible to crack if you have imported data on the hard disk.  Since it doesn't have moving parts like normal mechanical hard disks, it is a well shock-resistant hard drive.
The LED status indicator can help you to identify what the SSD disk is doing once it is connected to a computer. Samsung claims that this hard disk can work 9.5X faster than normal traditional external hard disk. Thanks to its latest connectivity and storage technologies. If your budget allows and you need more space, go for higher capacity, you will never regret because of the performance of SSD, design, and size of the hard drive.
3. Buffalo MiniStation Extreme NFC
The MiniStation Extreme NFC from Buffalo provides wireless security and has the capacity of 2TB. The device comes with a USB 3.0 interface. It is ideal for the users who prefer wireless storage, however; the device is not very fast when it comes to operation. It is the best choice for those who do not want to break their wallet. The device is compatible with MacBook Pro, MacBook Air as well as Windows PC. The MiniStation Extreme comes with dust and water resistant casing as well for better durability. The device allows you to protect your data from drops and knocks with its sturdy case.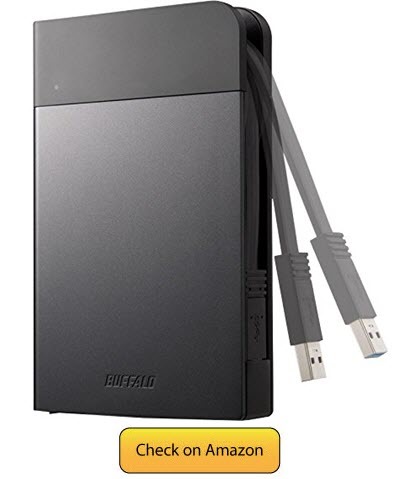 The MiniStation Extreme is equipped with 256 bit AES security feature as well as Near Field Communication. The device allows you to quickly unlock and access your files with the help of the NFC card that comes with it. The device comes with a three-year manufacturer warranty too. The only disadvantage of this device is that for many users it might not be the fastest options available in the market. For those who want more storage, 2TB might run out quickly as well.
4. Adata SD700 External SSD External Hard Drive for Mac
With this external solid-state drive, you essentially have a terabyte within your palm. The device comes with capacities that range from 256GB to 1TB and is equipped with a USB 3.0 interface. The device offers excellent performance and is best suited for those who don't want to spend much but do want some good amount of storage for their Macs and PCs. The feature that makes it the best external hard drive for Mac is that it is rated IP68 device which means that the device is resistant to water up to a depth of 1.5m for 30 minutes and it resists sand, dust, and dirt as well.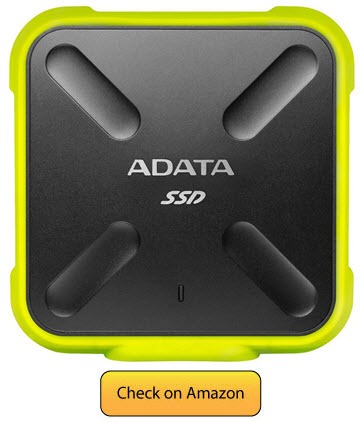 The external drive has a solid state drive (SSD) resting within it which makes it super speedy in transferring data. Adata SD700 checks all the boxes as t not only provides excellent storage capacity but is also rugged and provides exceptional data transfer speeds. However, if you prefer more storage capacity, then this device is not the ideal option for you plus it also does not have USB Type-C.
5. Western Digital 3-20 TB My Book Duo
When you prefer high storage capacities, you need to go for My Book Duo. It is the best external hard drive for Mac. You can use it with your MacBook Air, MacBook Pro as well as PC. The device is equipped with the latest USB 3.1 Gen -1 interfaces and is also supported by RAID. On the downside, this device is costly, however; it does provide you with RAID array with which if you are willing to sacrifice some of the storage, you will have backups of your files if you lose one of your drives. It has all the features of a fully equipped NAS device. You can also use this device as network storage if you have a router with a USB 3.0 port.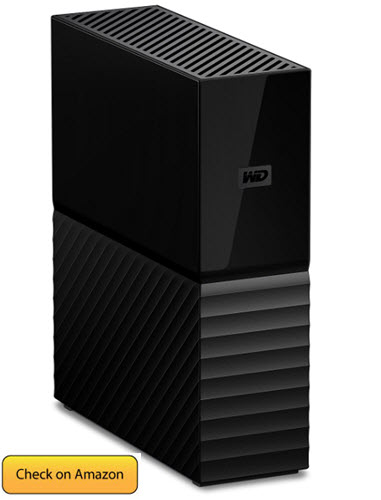 My Book Duo comes with 256 bit AES hardware encryptions as well as a two-year warranty. It also allows you to automatically backup your data with Western Digital's SmartWave Pro. The enclosure that is used for the drive is fully serviceable, and for the Windows users, the device comes pre-formatted. So if you want to spend some more then this hard drive option is best for you.
6. 
Seagate STHN2000401 Backup Plus Slim 2TB External Hard Drive
Most of the users who are looking to buy an external hard disk for their Macs or PCs will find this 1-5 TB Backup Plus slim hard drive by Seagate as the best choice. It also comes with various capacities and nice colors. For faster data transfer, it has got a USB 3.0 interface. The device provides breakneck data transfer speeds and is highly reliable.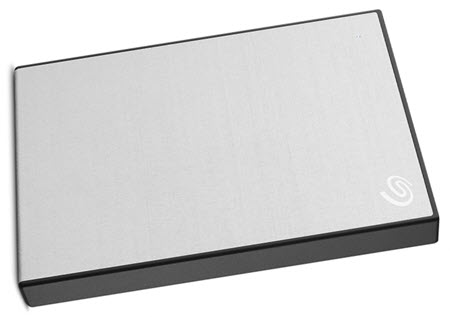 The only negative is that the PC formatted version of the device is cheaper than the Mac-formatted one. Nevertheless, if you are looking for an option that mixes capacity with speed, then this drive must be considered.
Remember, this is not an SSD or Type-C USB hard disk, hence the performance and cost of the hard disk are low. The storage capacity of this drive ranges from 1TB to 5TB. It is a real market leader when it comes to performance, durability and budget-friendly. Moreover, it provides users with a great combination of speed, storage capacity, and price which together make it an ideal option.
7. Seagate Expansion 3-8 TB
The Expansion series from Seagate joins portability with capacity. The device comes with superspeed USB 3.0 interface. The device offers high storage capacity up to 8TB and data transfer rate 160MB/s. It carves a way for the users to transfer a huge amount of data without tethering. The device has a very classy appearance with all-metal fins with a minimalist approach. It is an ideal device for Macbook Pro and Macbook Air users who work in the creative industry or own a small business.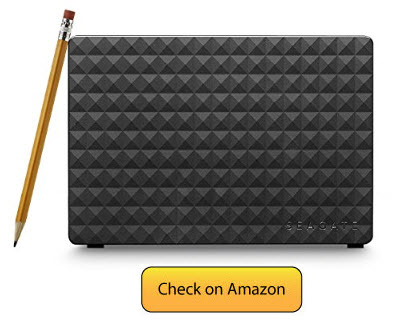 For the regular users of hard drives, this might not be the ideal options purely because it is an expensive device. The Expansion series does perform exceptionally well when it comes to data transfer, and it also provides a good amount of storage capacity as well. However, there are other options available in the market which are not only cheaper but also perform at the same level as Seagate's Expansion. To use this external hard disk in Mac, it should be reformated in macOS that will lead to data loss if you have some data already. It is recommended to take a backup before the reformatting.
8. Western Digital My Passport Wireless Pro
It is the wireless version of the My Passport by Western Digital and comes in storage capacities ranging from 1TB to 4TB. The device supports USB 3.0 interface as well as Wi-Fi. Despite having a Wi-Fi interface, it offers great battery life. However, it does not have a USB Type-C, and it is also expensive due to the Wi-Fi features. The device is the upgraded version of My Passport Wireless of 2015, and the company has come a long way since then. The device is equipped with an onboard SD card slot as well as an SD transfer button. The storage device is ideal for the photographers as the device comes with an excellent app as well. Because it is equipped with Wi-Fi features, it also has a 6400 mAh battery as well which is massive.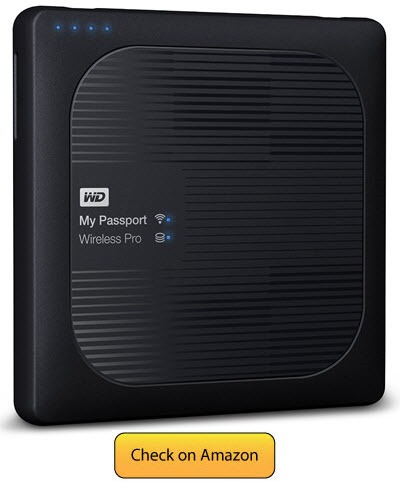 However, when the device is connected with wires, the cutting edge transfer speeds will be lowered because the device uses USB Type-A and Type-B. The device is expensive, but it covers the expense with loads of features that it has to offer its users.
9. WD My Passport for Mac
Here is another external hard disk from Western Digital which specially built for Mac computers. Though it will also work with Windows OS, the Type USB-C and Time machine support make this hard disk more suitable for macOS.
It is one of the best external hard drives regarding security. It comes with password protection and 256-bit AES hardware encryption. The WD protection software and management tool add another layer of security. This model offers various storage capacity from 2TB to 5TB.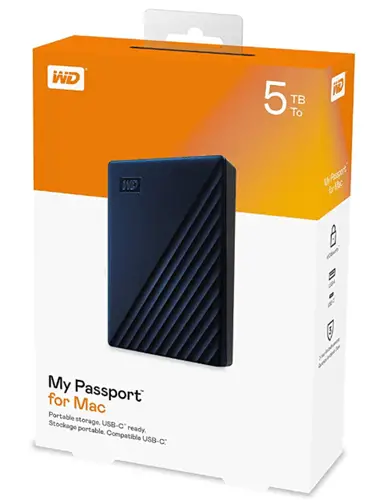 Though it doesn't have SSD disk inside, the faster USB data transfer make this device still valuable. This model was released by 2019 end with the possible latest technologies to improve the data caching and speed. If you have the low disk storage such as 128GB or 256GB on your Mac laptops, having a WD passport like this with USB-C connectivity gives the freedom to store plenty of data without any worries.
10. 
LaCie Mobile Drive 2TB External Hard Drive
The Porsche Design Mobile Drive from LaCie is a slim and travel-friendly external hard disk for Mac users. The device is equipped with a USB Type-C connection which is lightning fast. If you are looking for exceptional swift data transfers than this Mobile Drive from LaCie is the best external hard drive for Macs and PCs in the market. The capacity it has to offer is from 1TB to 5TB. The design and appearance of this drive are outstanding as well. However, the fast data transfer speeds will only be achievable with Type-C connections.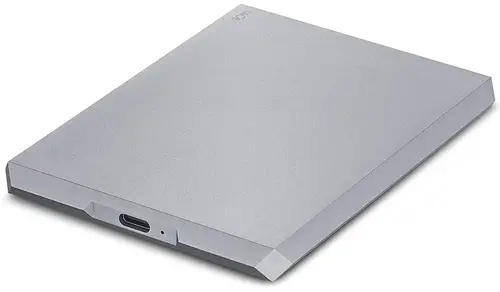 The package contains the USB 3.0 cable to connect legacy computers. You get free one month of Adobe Creative Cloud all apps plan. It is a good way of starting your graphics editing or animation work with the premium Adobe products on your Mac computers and carrying the work along with you on this slim external hard disk.
FAQ (Frequently Asked Questions)
Can all external hard drivers work with Mac?
Most of the external hard disks will work with Mac and PCs (Windows OS). The connectivity to the computer is essential, the connection type can be regular USB (USB A), Type-C USB, Firewire, etc. We can format the disk in any of the OS, make sure that disk format is supported in Mac and Windows OS.
Do I need to get an external hard drive for Mac?
It is depended on your requirements. If you have a Mac which is having less disk size such as 128GB or 256GB, it is challenging to upgrade them to higher capacity disk. Instead of that, it is the ideal way to buy an external hard drive that has a faster disk and connectivity type. It will be easy to extend the storage and store more videos, photos and high graphics files.
Should I buy an external SSD or HDD?
If you are using the external hard disk more frequently for the files that need to be accessed quickly, then consider getting SSD disk. SSD provides a higher speed of read and write access. So, if the external hard drive and your computer interface support faster data transfer such as USB Type-C or USB 3.2, then having an SSD external hard disk will be very useful. On the other hand, if you use the external drive for non-critical files such as movies, songs or archive/backup purpose, then get the HDD. Since SSD is still expensive, getting the external HDD is perfect in this case.
Bottom Line
We know each product comes with its features. One hard drive might provide more speed if it was not halted by the shingled magnetic recording technology limits. Whereas, a drive from a different brand might comes with additional support features such as hard drive with USB-C. Based on your preference you can select the best external hard drive for Mac in 2020 and store your data in it.