Do you have Xbox One X game console and want the best monitor with HDR and 4K Ultra HD? Then, we welcome you to our this post which lists out the best gaming monitors for Xbox One X. Even we have listed few 4K monitors that can enhance your gaming or movie watching experience.
Xbox One X is the most powerful console in the world that provides an authentic 4K gaming experience. The AMP 8-core CPU is clocked at 2.3GHz for bringing enhanced real-world detail. This faster processing also gives you a smoother interaction with your game.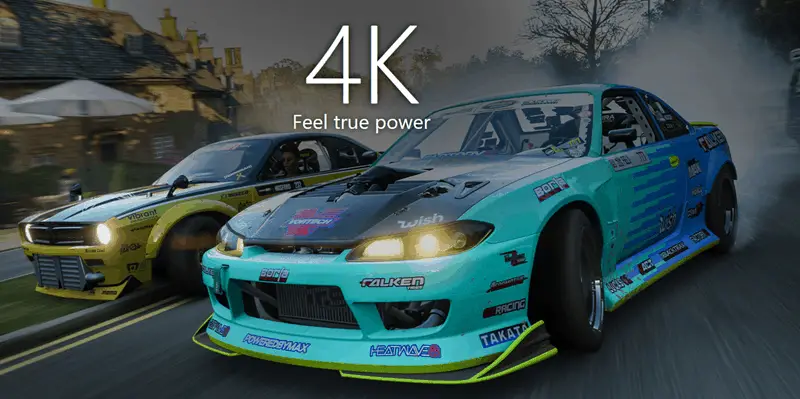 Additionally, high-quality controllers, headset, and speakers are all great, but playing games without HDR monitor is no fun. An excellent graphics, great sound, and superior performance are the vital elements of the gaming monitor for Xbox One X. Moreover, plenty of companies offer HDR and 4K UHD monitors, and all are different from each other in terms of features, compatibilities, price, and specifications.
How to Select the Gaming Monitors for Xbox One X?
Numerous factors are involved in choosing the right monitor for you. These factors are your usage, budget, and the console. The general specifications of buying gaming monitor are HDMI bandwidth, refresh rate, and resolution. Additionally, like technologies, not all monitors are created equally, and these have different requirements depending on the usage.
It necessarily depends on your preferences that what is your requirement. In addition to that, which type of games you like to play most? Because the market has filled with multiple monitors and their specifications are categories according to the kind of games.
For example, if you like to play the game Devil May Cry V, then you should have 4K Ultra high definition monitors for your Xbox One X. Nevertheless, if you are playing multiplayer games such as Overwatch, then you should have a low response time and higher refresh rate, monitors.
The best thing about Xbox One X is capable of taking benefit of multiple newest PC gaming technologies. These technologies involve FreeSync VRR and few other 1440Pp resolution games.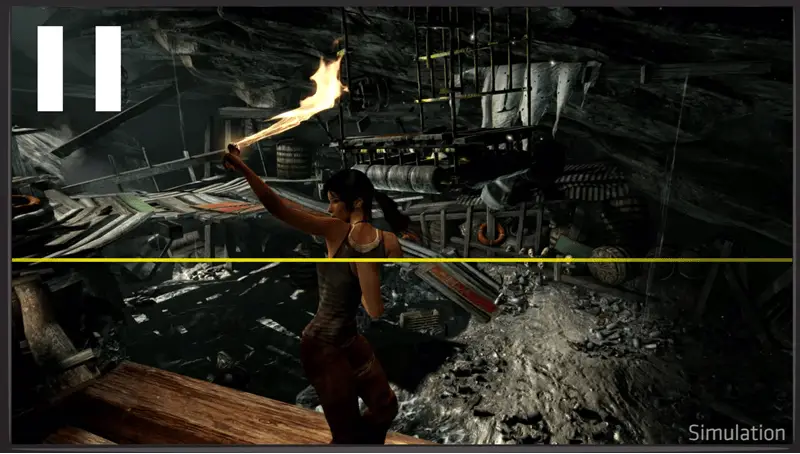 Furthermore, below are some essential features and specifications that you should keep in your mind before buying.
HDR for lifelike image and vivid colors
Precise refresh rate with smother image with 60 Hz
Resolution above 1080P for image clarity
1440P, 144 Hz, FreeSync, and fast gaming for Xbox One X
Quick delivery on the screen with HDMI 2.0 on screen
The right selection of the gaming monitor saves your energy, space, and money. Furthermore, for more clarification, we have reviewed five best general and five 4K gaming monitors for your Xbox One X. Hope these will assist you to choose the right products and you will enjoy your game on the HD and UHD resolution monitors.
5 Best Gaming Monitors for Xbox One X
1) ASUS MG28UQ Gaming Monitor
ASUS MG8UQ gaming monitor has ergonomically designed that gives immersion and clarity to your game. For the reason that the UHD panel delivers premium resolution and the maximum display resolution are about 3840 x 2160 pixels.
Additionally, the manufacturer uses Asus Eye Care technology along with TUV certified. The 28-inch screen is flicker-free and more comfortable for your eyes as well because it has a blue light filter that is for taking away eyes from fatigue. Therefore, you can use Xbox One X for a longer time.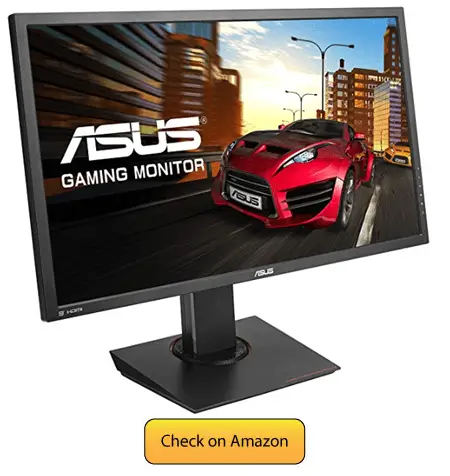 The wall mount capability provides comfortable viewing positions, and you can adjust the height according to your needs. Furthermore, it is equipped with USB 3.0×2, display port V 1.2, and HDMI V 2.0 ports. The best thing about this monitor is that it has an adaptive-Sync technology that ensures responsive control and smoothes visual, and it supported 40 Hz to 60 Hz.
The combination of variable technology of refresh rate and 1m response time able you to identify, eliminate, and acquire multiple targets of clarity and others. ASUS gaming LCD monitor also has GameVisual and GamePlus technology that gives strategic assistance on commands.
Moreover, the company provides three years replacement warranty as well as offers full services to their customers. The OSD 5-way joystick also brings the control scheme for ASUS monitor, so you can also access other multiple features like GamePlus.
2) Samsung U28E590D
Samsung presents the gaming monitor with Ultra High Definition that gives a new level of clarity. The 3840 x 2160 pixels resolution delivers a beautiful and stunning view of everything you play, read, and watch. Additionally, you will get enhanced performance and power that you want to do in multitasking with more efficiently.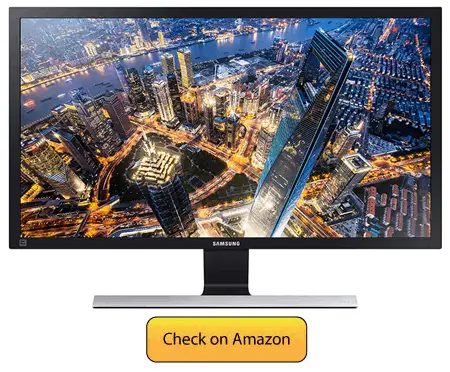 Moreover, the combination of 1ms response time and AMD FreeSync technology decreases input latency, stutter during gaming, and image tearing. You can also connect many other Ultra HD devices such as a gaming console, PCs. It can be done through two input HDMI V 2.0 port as well as another input display port plus, audio out with 3.5mm jack. Therefore, you can easily connect your Xbox One X console with Samsung U28E590D monitor and get enhanced gaming experience.
The eye saver mode provides a comfortable view of your eyes because it decreases the blue light emissions and flickers. Therefore, you can easily play games, watch movies, edit photos, and read documents for a longer time with ease.
However, you can work on the spreadsheet while watching your favorite video simultaneously due to Picture-in-picture (PIP) V2.0 technology. Additionally, you can also adjust the position and size of the PIP window, as you need.
You can find more information about the best wide monitors from VSS monitoring for Xbox One X gaming.
3) LG 32UD99-W
LG 32UD99-W monitor is the good choice in this list. The 32-inch and IPS type of screen deliver more clear image and giving you advance the gaming experience. The two 5-watt speakers come with a rich base that can easily cover 85 Hz range.
Moreover, the ultra-thin 1.3mm on four sides screen offer the borderless visual experience to the gamers. The best things about the LG 32UD99-W monitors have on-screen controls that allow you to change them while playing your game. You can split the screen; adjust brightness, volume, and much more according to your wish.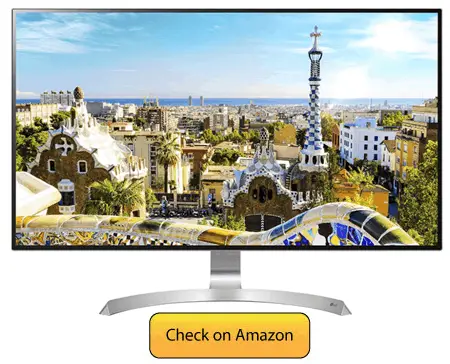 LG has an excellent performance in terms of gaming because it has multiple gaming features. It is highly compatible with HDCP V 2.2. It means that it will show videos in high definition from Xbox one X console, and other devices like Blu-ray disc or DVD players. Additionally, the screen covers 95% of the DCI-P3 color-space. The adjustable stand comes with the product that allows you to adjust the height of the monitor.
Furthermore, the best thing about the monitor is that it offers USB C-type port. It allows you to attach multiple devices such as laptop, mobile, game console, and much more. This type of USB port enhances efficiency and decrease cord clutter. In addition to that, if you want to improve your gaming experience, you can purchase Calibrator separately that provide the profession-tuning option.
4) Acer G246HL Gaming Monitor
Acer G246HL comes with a super slim profile, which has an X-shaped stand. You can nicely fit the 24-inch monitor in any size of space. The resolution of this LCD monitor has 1920 x 1080 pixels that show 16:9 digital HD content. Therefore, you can play your game on the higher resolution monitor with a clear image without distortion and superior performance.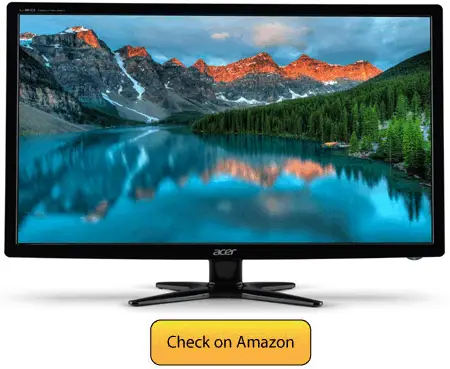 Moreover, it comes with different ports, including DVI, VGA, and others that allow you to attach the Xbox One X console along with other input and output devices. You can also adjust the brightness and contrast as your requirement, and at any time, you can reset it back to their default setting. However, Acer G246HL monitors have not mounted to the wall, but it offers VESA mounting types.
The best thing about the monitor is that it offers wide viewing angle that is ideal for the Xbox One X players. It has 170 degrees angle from the left and right side as well as 160 degrees angel from up and down. Additionally, the monitor has eco displays that consume low power and does not have mercury.
The players can enjoy a clear view on the screen while playing games because it has incredible contrast ratio 100000000:1. In addition to that, the response time is ultra-quick so you can enjoy the deepest blacks and bright whites. The refresh rate of the monitor is 60 Hz that also delivers superior quality moving images as well.
5) ASUS VZ239H-W
The resolution of full HD 23-inch is 1920 x 1080 pixels and has IPS screen types that offer 178 degrees viewing angle. It is the reason why the screen displays a high-quality image with higher performance and less response time.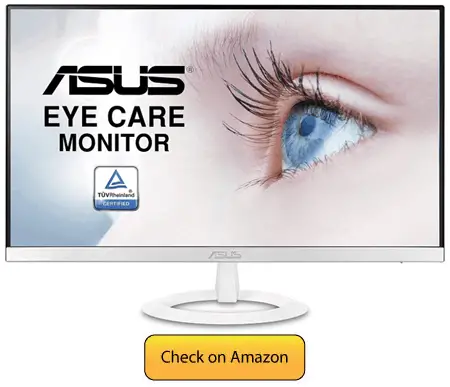 Additionally, the stereo has 1.5W speakers, which gives spacious sound as well as eliminate the need for attaching external speakers. Therefore, you can enjoy your favorite game with a premium display and spacious sound.
The manufacturer uses eye care technology that provides a flicker-free display. In addition to that, the blue light filter also decreases the eye fatigue and allows you to play games on Xbox One X for a longer time. They also offer three years replacement warranty with other excellent customer services.
The player can also adjust the color contrast, brightness, sound setting according to their needs. You can also reset all the settings of the monitor back to the default settings easily. However, it is equipped with VGA and HDMI ports so you can attach your PCs, laptops, and gaming consoles as well.
5 Best 4K Gaming Monitors for Xbox One X in 2021
6) LG 27UK850-W Gaming Monitor
LG 27UK850-W monitors are the best monitors for those players who want 4K Ultra High Definition monitors for Xbox One X. It has 16:9 aspect ratios and offers resolution 3840 x 2160 pixels that deliver extraordinary accurate colors display. This 27-inch display gives flexible Type-C USB connectivity as well as compatible with HDCP V 2.2.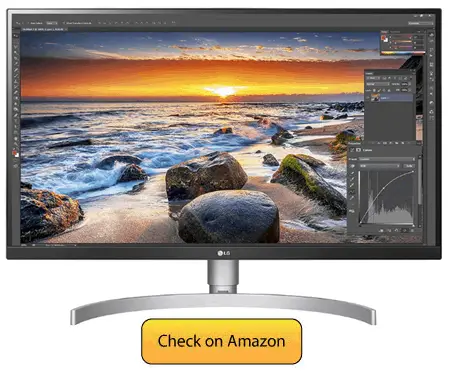 Furthermore, the type-C port decrease cord clutter and enhances the efficiency of the connected devices. You can attach mobile, laptops, PCs, and Xbox One X game console. Additionally, standard color space sRGB is used that reproduce ideal colors and 99% coverage of the color spectrum.
Except gaming, you can also use LG 27UK850-W for graphic designing and professional photographers, and any other task that requires high resolution and accurate color. It has featured with advanced gaming features that make it ideal for serious gaming players.
Additionally, players can quickly optimize the monitor setting for activating Black Stabilizer to disclose other dark scene settings. The monitor comes with Dynamic Action Sync that assures fluid and smooth gaming actions to the players. In addition to that, you can also get FreeSync whenever you connect devices with HDMI and display ports.
7) ViewSonic XG2700-4K
ViewSonic XG2700 can display up to eight million pixels. The resolution of the Ultra HD monitor is 3840 x 2160, which delivers the ultimate and stunning clear image. Therefore, you can find ViewSonic XG2700 monitor the best displaying monitor for your gaming world.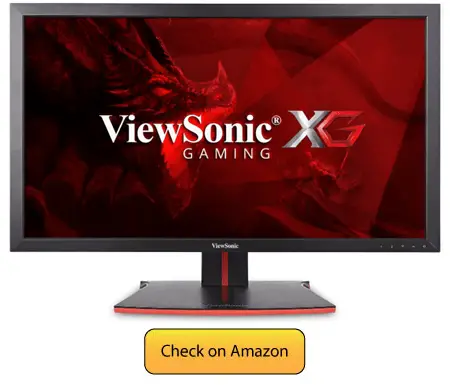 The company uses IPS SuperClear panel technology that delivers the exact image quality whether you are viewing at the screen from below, above, the side, and the front. Additionally, FreeSync AMD technology synchronizes the output frame rate. The synchronization process is between the monitor and the graphics card.
Furthermore, the stabilization features deliver detailed brightening black scenes and heightened other visibility as well. It has equipped with multiple ports such as headphone hook, HDMI, Display port, ring for cable management, Kensington lock slot, and wall mount VESA compatible.
8) BenQ EL2870U
BenQ presented the ideal EL2870U monitor for the ultimate gaming and HDR video enjoyments. The resolution of this 28-inch LED monitor has 3840 x 2160 pixels that deliver HD displays. Additionally, Cinema HDR mode and High Dynamic Range (HDR) enhances the extensive range of dynamic between bright white and true black.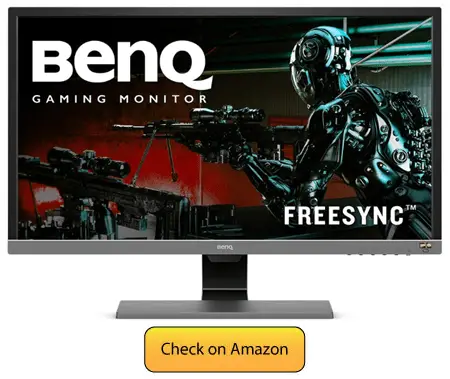 The manufacturer uses FreeSync AMD technology that eliminates broken frames and image tearing for fluid gaming. It offers higher frame rates and gives you the extremely precise, vibrant, and more realistic image. Moreover, it delivers eyes view of the natural world.
Additionally, it has excellent GTG 1ms response time that reduces the motion smear and gives smoother gaming and video experience. The manufacturer uses advanced technologies, which balance maximum vibrancy and contrast. The smart focus feature highlights the selected area or window that helps the player to concentrate on the main content.
9) Asus VP28UQG Gaming Monitor
Asus aims to deliver premium quality products, and the VP28UQG monitor is one of them. Apart from that, it is ideal for Xbox One X. This 28-inch 4K Ultra High Definition monitor is featuring with dual HDMI and display port.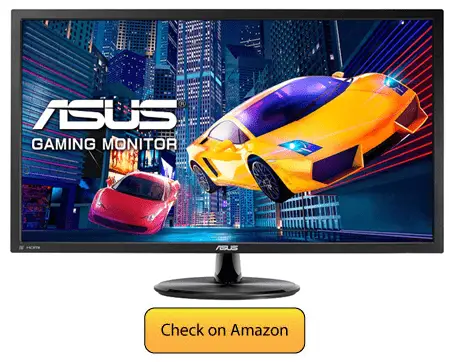 The combination of FreeSync and 1ms response time provide you with silky smooth displays. Eye Care ASUS-exclusive technology assists you to decrease ailment and eyestrain problems. For the reason that it delivers flicker-free background and balance, the blue light by using filters at various levels.
In addition to that, the exclusive GameVisual and GamePlus settings increase the controls and color performance simultaneously. The full HD display gives detailed images whenever you watch movies, reading books, and playing games.
The marathon gaming sessions and other gamer-centric features enhance its usability and reliability. The 60 Hz refresh rate and 4K UHD display give you smooth content. You can also use multiple tools for improving your gaming skills such as GamePlus.
10) Samsung LU32J590UQNXZA
If you are looking for the more extensive 4k UHD display, then you need to purchase Samsung LU32J590UQNXZA. The resolution of this 31.5-inch LED-Lit screen has 3840 x 2160 pixels that deliver superior bright display.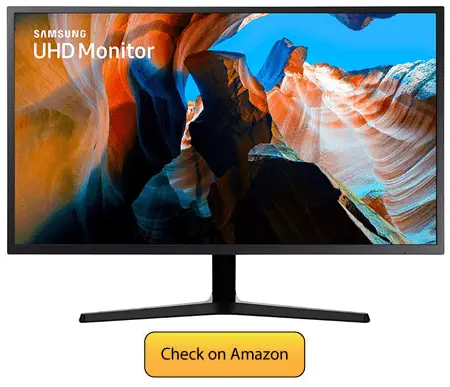 Moreover, it supports billions of color shade and gives an incredibly realistic and vivid image. Samsung uses UHD Upscaling technology that contains detail enhancement and signals analysis. It flawlessly converts HD, SD, and full HD content to nearly UHD picture and contents.
There are 8.3 million pixels, and another color contrast gives you a more comprehensive view of the immersive and thrilling game experience. The FreeSync AMD helps to synchronize the refresh rate of the graphics card as well as the monitor for reducing the stutter and image tearing.
Additionally, the game mode directly optimizes the screen contrast for providing you with a suitable display for playing the game. You can also use the boosting contrast option for brightening the dark areas. Picture-by-Picture (PBP) feature allows you to connect two devices simultaneously for optimal multitasking.
Conclusion
These days gaming monitors are coming with better refresh rates. Therefore, you can get an ultra-smooth experience and enjoy immersive gaming with no issue.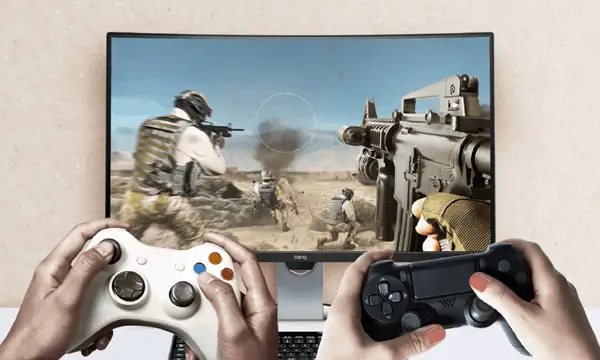 Additionally, a higher resolution monitor always delivers the crystal-clear image, as well as less response time, gives your game a dramatic transition.
In short, both HD and UHD monitors are ideal for gaming because some of them have gaming features. You can also customize the monitor setting for optimizing color contrast and brightening the dark areas, and much more. Furthermore, all monitors are varying in terms of features, specifications, and technologies.
If you want to enhance the functionality of the gaming monitor, you can use multiple tools as well. Moreover, you can also check the port connectivity before buying the best gaming monitor for Xbox One X. Some of them offer advanced HDMI, and others are offers advance display port and more.
For further assistance, please feel free to comment on the below session.
Happy gaming!