If you are a regular gaming user of the laptop, you should have one of the best gaming laptop cooling pad to keep the temperature of your system under control. While being small in sizes as compared to their desktop counterparts, laptops are usually not very good at cooling down the CPU and other components. Cooling of laptops gets affect while running resource-hungry Softwares like games, graphic design or photo editors or another reason would be that your laptop is just old and does not stay as cool as it used to.
Fortunately, there is a solution in the form of laptop cooling pads and it is not very difficult in finding the correct model for your laptop. You must consider below three points while buying the device.
Ability to control the temperature
Performance
Noise
Every cooling pad in the market has the ability to reduce the heat and cool down the surface temperature as well as the internal temperature of the laptop to a certain degree. It just that it varies from one brand to another brand.  When it comes to performance, they do help to improve the overall performance of laptop but it is extremely small and users hardly recognize it in day-to-day use.
You probably will hear the noise of the cooling fan when you are around the system but it will hardly create any distractions in work. If you don't like slightest distractions while working, opt for the cooling pads which have fans with adjustable speed, if you hear the noise you can slow down the fan and make it quieter
Is a laptop cooling pad necessary?
Usually, the cooling pad is not necessary if you are using a new laptop as they run much cooler than the used once. But if you have an old laptop that gets overheated or you are a heavy laptop user and keep it running for several hours because you are playing intensive games or pushing the system beyond its limits then the cooling pad will help your machine to stay cool.
Why Laptop Overheat?
The primary reason behind every overheating laptop is dust particles. Usually, dust particles get accumulated within the internal structure of the laptop and gradually blocks the circulation of air-flow within the laptop. When air stops or reduces circulating through inside the laptop, the heat produced by system gets trapped within the system and laptop overheats.
Some laptop has old thermal compounds which may lead to laptop overheating. It can be solved by coating the thermal paste between the motherboards and the main modules. It is better to take help of experts for this if you don't know how to handle inside the system of a laptop.
The poor inbuilt cooling mechanism can be another cause that leads to overheating of the laptop. Usually, weak coolers fail to perform, and the laptop starts to overheat. In such a situation, you can use an external cooling pad to enhance the functionality.
We have compiled the best products available in this article. Following are some of the best laptop cooling pads you can find in Amazon. You can use them on the bed or lap even while playing games. Read the specification of each item and buy the suitable one for you.
Best Laptop Cooling Pads (Windows and Mac Laptops)
11. TeckNet Laptop Cooling Pad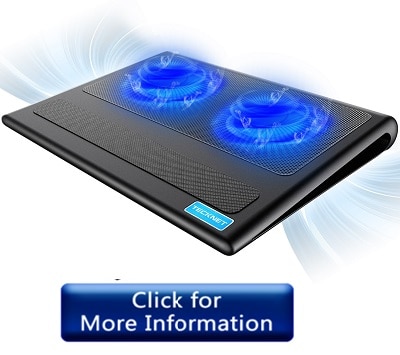 The cooling pad from TeckNet is one of the best options to keep laptop temperature down. Perfectly designed, portable and an ultra-slim pad is what you need if you are using a 12 to 16 inches laptop, notebook or Apple MacBook. Designed with metal mesh on the surface, this pad has two 110mm fans which get the connection through USB ports.
It is angled so that the user can keep the laptop in the right position and achieve maximum comfort while using the laptop. It also has a LED on the rear side that confirms the fan is active and cooling the system. It has dual air intake vents that allow airs to flow freely no matter on which surface you keep it. The upper surface has raised rubber rims where you can rest your laptop.
These rubber rims hold the laptop in place while grip pads on the bottom prevent the overall slipping of the pad. It also comes with one USB port that increases the connectivity and provides the place to connect more devices
10. Thermaltake Massive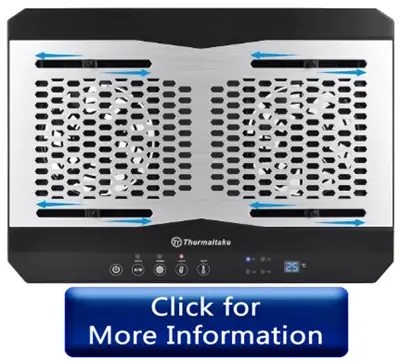 It is not just any regular laptop cooling pad with a USB powered fan, it is light, provides extreme ventilation with two 120mm fans and it has a temperature sensor. This device consists of an aluminum pad on a plastic frame which makes it durable and the design is very thin and light which makes it easy to carry in your bag.
The height of the stand is adjustable to two height positions for improved ergonomics while working on a desk. This helps the laptop to be raised at the height of your vision so that neck strain and eye strain may be avoided. The back has two USB ports which can act as extras since one port on your laptop will be used to power the fans.
The Thermaltake Massive has a temperature sensor which monitors four different areas on your laptop and displays the current temperature on a small LED display. The fans on this device can be regulated manually or automatically using the buttons on the front of the stand with options to control fan speed. The Thermaltake Massive supports laptops of screen sizes ranging from 10 inches to 17 inches.
9. Havit HV-F2056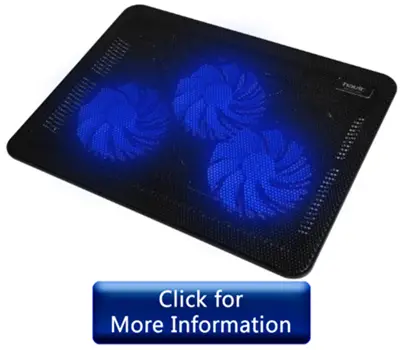 The Havit HV-F2056 is one of the most popular one's Amazon right now. The reason for that is that the Havit HV-F2056 laptop cooling pad has a very simple design which makes it slim and portable and it has three fans which are quite and deliver the best ventilation for a laptop that gets very hot easily.
The Havit HV-F2056 has a very lightweight and slim design so that you can easily carry it in your bag wherever you go. When placed on a desk, you can adjust the height of it which is very ergonomic to help reduce neck pains while working for long hours. There are three 110mm fans which are strategically placed on this device where most laptops tend to get hot most often. The three fans are also very quiet while spinning so that there is no noise to distract you while working.
The body of the Havit HV-F2056 consists of a plastic frame and a metal mesh sheet which allows cool air from the fans to flow to your laptop easily and reduce the temperature of your laptop. This design really makes the Havit HV-F2056 very light and portable.
8. AmazonBasics Ventilated Adjustable Laptop Stand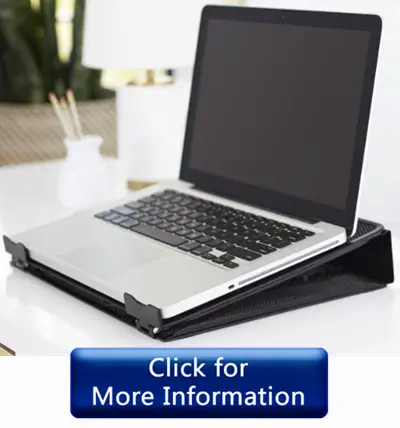 The AmazonBasics Ventilated Adjustable Laptop Stand is also another very simple laptop cooling pad which is designed to be placed on a desktop rather than placed on your lap. The AmazonBasics Ventilated Adjustable Laptop Stand has an ergonomic height adjustable pad which can be adjusted to a very high setting so that you can view your laptop's screen very comfortably by reducing the neck strains.
This stand is made from a fine metal mesh which when lifted up allows air to flow from beneath your laptop so that it may reduce the hot temperatures. Plastic tabs can be fixed at the bottom of the pad to fix the laptop and prevent it from slipping. This device does not have any USB powered fans, but it does an excellent job of cooling the laptop. There is also a cord organizer behind it to help keep cords like power cables, USB cables, Ethernet cables, etc. organized by reducing clutter and tangles.
If you do like to have fans to cool the laptop, you can use a USB powered fan to help flow air beneath the cooling pad. The AmazonBasics Ventilated Adjustable Laptop Stand can support laptops of screen-sized ranging from 10 inches to 17 inches, and it comes with a one year warranty from Amazon.
7. AICHESON Laptop Cooling Pad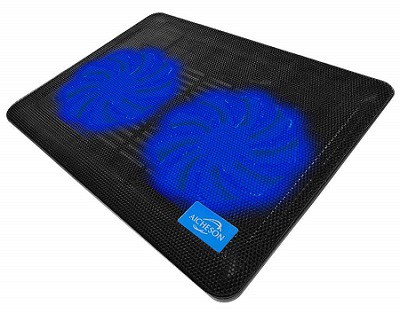 This is an ultra-portable and lightweight laptop pad. With the ability to reduce the temperature of your machine along with some useful features this device can be considered as one of the best choices. Apart from its cooling ability, what we liked most is its other features. It has 3 adjustable height setting which allows users to adjust the height according to their comfort. Also, it has three non-slip mats which make sure that the pad remains stable while using it on the ground or on a desk.
It comes with a built-in pass-through USB cable which provides one more port to attach external source. Some users might have a habit of forgetting the USB cable when they wrap up the system and move to other things, but Aicheson took care of that too. Its pass-through cable remains at the place and you don't need to worry about forget-carry or loss it.
This system contains two high-quality cooling fans with blue LED lights. They sit just under the all-metal mesh and pulls air downwards to keep the machine cool. It can handle lightweight laptop from various brands but if you try to keep a heavy machine over it, the metal mesh may flex inward and fan blades may rub against the metal. Apart from this, the company has a 1-year warranty in place to help you solve the problem.
6. Tree New Bee – Best for Gaming Laptops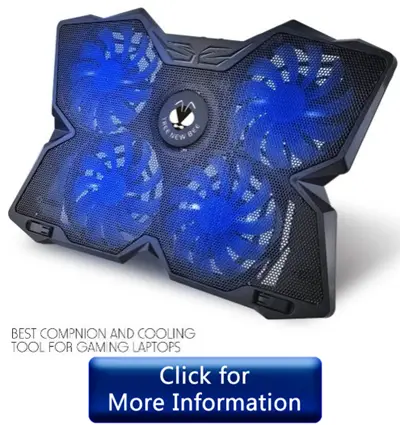 The Tree New Bee is another very popular laptop cooling pad and it is currently the number one selling on Amazon. The Tree New bee is designed for the aerodynamic flow of air so that it may keep giving your laptop cool air to reduce temperatures. There are four 120mm fans in this device that circulate cool air to a laptop on spots where normally laptops would get hot.
This fan placement and aerodynamic flow of air are best suited for gaming laptops which tend to get very hot during long gaming sessions. The two height-adjustable feet at the bottom of the cooler are ergonomically designed to lift the pad and the laptop up to bring the screen to eye level to help reduce neck strains while working for long hours at home or office. Also, it is exceptionally quiet while turned on and you can adjust the fan speed.
The fans also have blue LED lighting which looks very nice when the device is turned on. It has an angular design which helps ease the flow of air to cool laptops.
5. Cooler Master NotePal ErgoStand III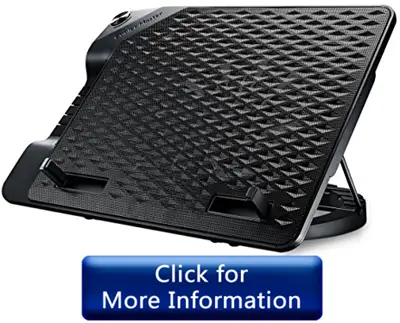 Cooler Master is famous for their PC components like CPU coolers, casings and laptop cooling stand. The Cooler Master NotePal ErgoStand III is the best ergonomic laptop cooling pad yet. The Cooler Master NotePal ErgoStand III can be adjusted to up to 6 height settings. You can set this stand from very low to very high depending on your height requirement. Because of the adjustable height, air can easily pass from below the laptop allowing for effective cooling.
The frame and the adjustable height bar are designed for maximum support for your laptop without damaging anything. You can fit the laptop on the Cooler Master NotePal ErgoStand III laptop cooling stand with the help of adjustable anti-slip holders so that when you adjust the height of the stand, your laptop doesn't slip. This laptop stand has a 230mm fan design which makes the fan very silent and effective cooling so that your laptop can cool down easily.
The diamond mesh plate covering the fan is easy to remove so that you can clean any dust that has been stuck in the fan or around the fan very easily. The Cooler Master NotePal ErgoStand III is recommended for people who use their laptops on a desk.
4. Cooler Master CM Storm SF-17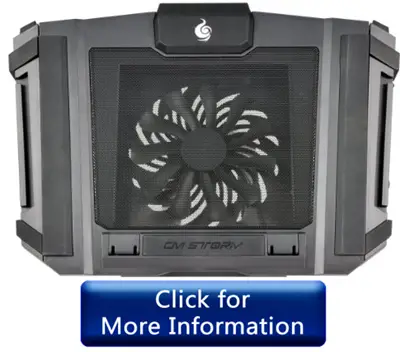 The Cooler Master CM Storm SF-17 is one of the best laptop cooling pads for gamers. Most of the features of this laptop cooling stand are very similar to the previous one, which includes adjustable height, retention tabs to hold the laptop and integrated USB hub.
The CM Storm SF-17 is a big system so that it can provide your gaming laptop with the best cooling to reduce hot temperatures while gaming for long hours. You can adjust the height of the CM Storm SF-17 to up to four ergonomic settings so that neck pains and eye strain can be reduced while gaming. The 180mm fan in the CM Storm SF-17 is very silent and along with the design of the cooler, it supplies the laptop with cool air without any hiccups.
Grooved sides allow for easy cable management to reduce clutter caused by cables on your desk. An integrated USB hub supports up to four USB devices. The cooling pad has red LED lights which look amazing in a dark environment. Surprisingly it supports laptops with screen sizes up to 19 inches.
3. NZXT Cryo E40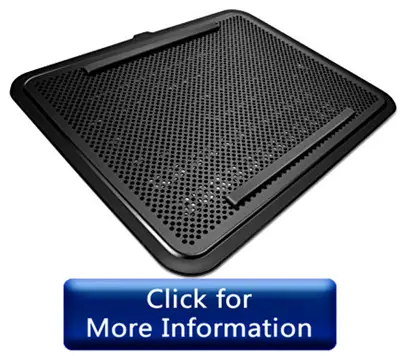 Just like Cooler Master, NZXT is also famous for its PC casings, fans, and cooling pads. The NZXT Cryo E40 is a very simple laptop cooling pad with a very different feature not found in most other devices. From the outside, the NZXT Cryo E40 has a simple design with the plastic frame and a metal mesh which has its fans and circuitry inside.
There are rubber pads on the metal mesh which grip on your laptop to prevent slipping when placed on this. The cooling pad can be powered from a USB cable which can be connected to a laptop from any side since it is movable. The fans inside it can be moved around and fitted to any position you want to on the metal mesh.
The metal mesh is obviously removable to allow changing the fan placement and any maintenance. The NZXT Cryo E40 is also very light and it is easy to carry around.
2. Cooler Master NotePal X-Slim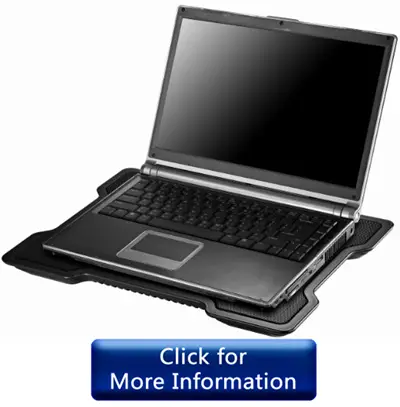 The Cooler Master NotePal X-Slim is the most popular cooling pad made by Cooler Master. It has a very simple design you would find in most laptop cooling pads. The NotePal X-Slim supports laptops with screen sizes up to 17 inches.
There are two feet below it to adjust the height for maximum comfort while using your laptop. The USB cable can be plugged in from either the left or the right side of the cooling pad and it has grooves for cable management as well as tucking in the USB cable when not in use. The 160mm fan provides excellent cooling while being silent at the same time.
The NotePal X-Slim is designed to look very slim and light while being powerful enough to cool down any laptop you place on it. The NotePal X-Slim is another best laptop cooling pad for Windows laptops available.
1. Opolar LC06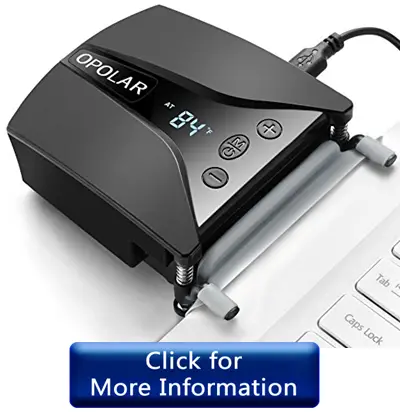 The Opolar LC06 does not look like any conventional laptop cooling pad. It has a unique design which has a small pad which fixes on the bottom of your laptop which in turn supports a small fan unit the fits in the exhaust vents of your laptop.
The Opolar LC06 sucks air rather than giving air to the laptop. This mechanism allows for cooler temperatures in your laptop quicker than any other devices. The Opolar LC06 has automatic and manual working modes so you can adjust the fan speed and you can view your laptop's current temperature on a small LED screen.
The Opolar LC06 is very easy to install with options for permanent or temporary installation. This unique laptop cooling pad is best for gaming laptop which generate a lot of heat.
These were the top best laptop cooling pads available. Laptops tend to get very hot when being used for long periods of time, especially older laptops with thick builds. Having one the above devices is the preferable solution for this problem and they are available in a wide variety of many computer hardware stores or online including Amazon. If you are struggling with the laptop overheating issue, just pick any from the list and buy it with confidence.