Here we list out the top 12 best laptops for AutoCAD that can be used for architectures, 3D design, and Solidworks. Now the world is becoming technologically sound with every passing day. The use of electronic gadgets is becoming an inevitable thing in all spheres of life. From domestic premises to highly commercialized institutions everyone looks for something sophisticated to help them.
Like other fields of life, architecture is no more a manually done job. Some applications and software are now available in the market to prepare the blueprints of buildings, bridges, and other architectural structures. One of the most famous software in this regard is AutoCAD. It is drafting and designing the application to help the designers do the tedious jobs in a précised yet perfect manner.
Points to Ponder Before Getting the Laptop
The laptops for AutoCAD must possess the following essential characteristics:
If you are looking for a laptop for 3D modeling, then there are certain factors, which need to be looked into. A professional architect or AutoCAD user will require heavy software, including 3Ds Max, Photoshop, Solid Works, Revit, and others. Hence, you will need a laptop with high configuration and more.
Also, ensure that you opt for a laptop with a high battery capacity of up to 10 hours. It will help you work for hours without the worry of running out of charge. Check the price of the laptop so that it is under your budget. The following section lists the major hardware and points, which need to be considered before making a choice.
The operating system of a laptop or computer is the interface between the user and hardware. It is software that manages process management, file management, input and output, and memory management. A laptop for AutoCAD should come with the Windows 10 64 bit operating system. However, you can also consider opting for Windows 7 or 8 (32 bit or 64 bit).
The processor of the laptop carries out the basic instructions, including input or output, arithmetical, and logical instructions. The laptop will require the fastest quad-core processor. It comes with multi-cores that help in the smooth and quick performance of the laptop. It enables you to work for long hours without lag. If you are under a budget, then go for the latest 9thgeneration Intel quad-core i5 processor or the 8th generation i5/i7 processor. Both the processors are powerful and reliable. However, if the price is not a concern, then consider going for the 9th generation Intel quad-core i7 processor.
RAM or Random Access Memory is a significant factor when it comes to laptops or computers. It is used to store data and machine code. It also allows you to read or write on data items for smooth performance. An AutoCAD laptop will require 8 GB or 16 GB RAM for advanced multitasking. However, it is better to opt for 16 GB or 32 GB RAM if you wish to use the laptop for CAD and 3D modelling.
A Graphics card is computer hardware that produces the image on the screen of your laptop. It renders the image on the monitor by converting the data into a signal, which can be understood by the laptop. You will not require a graphics card like high-end gaming laptops. However, having a dedicated graphics card helps in the faster rendering of files and images. It also improves the overall performance of the laptop.
Laptops come with an internal hard disk drive that offers ample storage capacity. It is capable of storing the operating system, files, and applications. The solid-state drive of the laptop helps in fast data transferring, which is significant in AutoCAD laptops. Choose the storage based on your requirements and budget. An SSD laptop provides lightning-fast reading and writing speed. You can opt for a laptop with up to 512 SSD.
The display of the laptop is another essential factor, which should be considered before purchase. The laptop will require a large IPS Full HD display with a wide viewing angle. You can purchase a laptop that comes with a 15.6-inch display. Also, it should feature a narrow bezel for maximum screen to body ratio. The clarity, sharpness, and enhanced color and contrast ensure an immersive visual experience.
To summarize, you need to focus on  Fast processor speed, larger memory, a large screen for bright display, and high-quality graphics cards.
With all these traits you can enjoy a great working experience with AutoCAD.
12 Top Ranking Best Laptops for AutoCAD
1. 
ASUS VivoBook F510UA Thin and Lightweight 

– Under 500 Dollars for AutoCAD

This laptop is considered to have all the traits that are essential to run the AutoCAD entirely. The laptop comes with a large screen of 15.6 inches that ensures an HD display that runs impressively with the preinstalled Windows 10. The machine has a powerful Processor (2.5 GHz that can be boosted up to 3.1 GHz) that increases the speed while working and helps in keeping a record of all the essential data.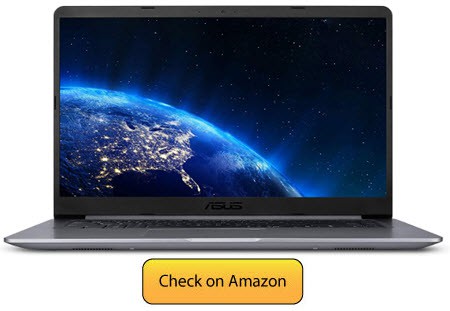 The memory is large enough to hold heavy files. The laptop is recommended by the Autocad professionals due to its high storage capacity of 1TB HDD along with quick processing 8GB DDR RAM. You have the option to buy SSD+HDD that can give optimal disk speed and space. It can be easily connected with an external source like USB Type C and HDMI. It is easy to continue working for hours due to the long-lasting battery. Its life is 2 times more than the traditional Li-ion battery.
2. Acer Aspire 5 Slim Laptop
The powerful and portable Acer Aspire 5 is equipped with the latest 8th generation Intel Core i5-8265U processor. It also comes with 8 GB RAM and 256GB PCIe NVMe SSD. Hence, with its long battery life, it can perform well for up to 9.5 hours. You can do any complex task on this laptop with ease, including AutoCAD.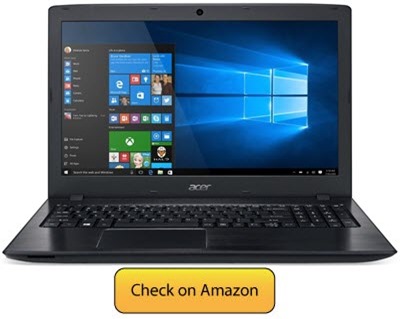 The 15.6 inches full HD IPS display enables you to be creative. It helps in providing crisp and sharp images, which enhances the detail of your 3D designs. The thin and light-weight model comes with extensive connectivity, which includes HDMI, USB Type-C, and USB 3.1. The built-in fingerprint reader ensures easy and secure access. It is the perfect travel companion as you can perform multiple tasks without the worry of lag.
3. Asus Vivo book S15 S512
The Asus Vivo book S15 features a sleek and sophisticated design with a silver metal finishing. It also comes with an ergonomically designed backlit chiclet keyboard with an activated fingerprint sensor for enhanced appearance and ease of typing. The 15.6 inches full HD screen is enhanced by the 4-way nano edge bezel display, which maximizes screen time. Hence, it is a well-designed model for AutoCAD.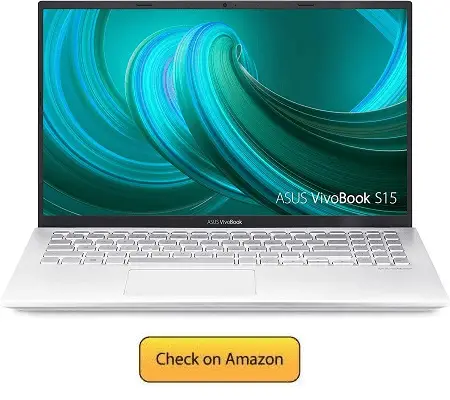 The compact, light-weight, and innovative laptop from Asus are powered by the latest Intel Corei5-8265U processor. It comes with a large storage capacity for fast data performance. The long battery life allows you to create designs and work on multiple platforms without having to worry about charge. Moreover, you can carry this 4 lbs laptop anywhere you go. You can connect to various displays and projects with ease because of its connectivity ports. It comes with HDMI, reversible USB type-C, USB 2.0 and 3.1 ports, and a microSD card reader.
4. Lenovo Ideapad 330 Laptop
If you are looking for an affordable laptop for AutoCAD with a Windows 10 Operating System, then the Lenovo Ideapad 330 is an ideal choice. It is a light-weight, sleek, and compact model that features a 15.6 inch full HD WLED display.
The laptop is equipped with the powerful 8th generation Intel quad-core i5 processor for uninterrupted performance. The 8 GB RAM and 256 GB SSD ensures large storage for fast data performance. The laptop also supports Bluetooth 4.1 and 802.11ac Wi-Fi connection for ease of use. It is designed with unique features that help AutoCAD users. Moreover, it comes with USB Type-C, DVDRW, and HDMI ports for extensive connectivity.
5. HP 15.6″ HD Touchscreen Laptop
Who can think of something better for AutoCAD, when you have this compact device before you on your worktable. HP is a leading and reliable brand when it comes to computers and laptops. This HP touch-screen laptop features a 15.6-inch screen that supports 10-finger multi-touch. It is powered by the 8th generation Intel core i5 dual processor. It comes with large storage capacity, which is a requirement for AutoCAD. The 8 GB RAM, 2 TB HDD, and 128 GB SSD ensure fast data performance.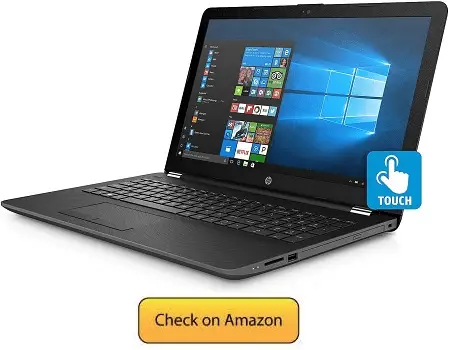 It includes dual speakers and a microphone input/headphone output combo for an enhanced listening experience. The model is also equipped with two 3.1 USB ports, a USB Type-C port, and an HDMI port. The 15.6″ High Definition Backlit LED and touchscreen display gives a crisp and clear view with sharp colors while working on the AutoCAD projects. Hence, you can connect the laptop to a secure Wi-Fi or Bluetooth connection for better connectivity.
6. Apple MacBook Pro (Latest Model)
With this Intel 6-Core i7 Processor, Apple has introduced one of the most recent and innovative Force Touch trackpads by Apple. It renders pressure-sensitive commands. According to the manufacturer, it is fitted with Radeon Pro 555X graphics with dedicated 4GB video memory which improves the graphics performance much better than the previous versions.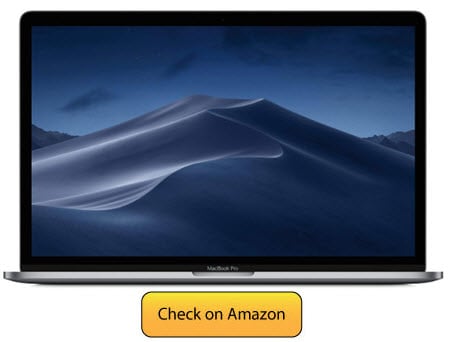 This MacBook Pro is a compact device that measures merely 13.75 x 9.48 x 0.61 inches and has an easy to manage the weight of 4.02 pounds. The larger screen, bright light, and the sharp colors make it a real treat for AutoCAD professionals. Plenty of RAM 16GB and 256GB SSD storage provide added advantage in handling AutoCAD program and larger vector files for engineers. Also, macOS works better than Windows to provide a faster and secure OS.
7. Prostar P950RF Laptop
The Prostar P950RF is a slim, light-weight, and sturdy laptop that comes with an illuminated top cover. It is the ideal option for gamers and AutoCAD users because of its powerful 9th generation Intel Core i7 processor and cool to touch aluminum alloy body. The new cooling fan increases the airflow volume while the heat pipes drive heat away from the CPU and GPU. Hence, it ensures flawless performance with lightning speed response in the heaviest situations.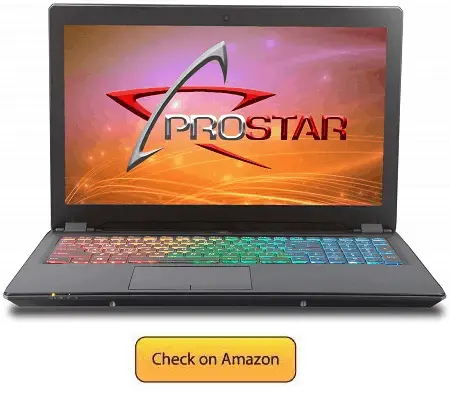 The 15.6 inches full HD screen is enhanced by the 144 Hz wide viewing angle and 72% NTSC matte display. You get an immersive experience with its life-like audio and unmatched voice range, clarity, and strength. The laptop also enables you to set its tone and look with the vibrant and rich LED-backlit keyboard. The model features a Windows 10 operating system, 1 TB SSD, 32 GB RAM, and 500 GB SSD for a power-packed performance.
8. ASUS S530FN Laptop
The Asus S530FN is a slim and portable laptop that is powered by the latest 8th generation Intel Core i7-8565U processor (up to 4.0 GHz) and NVIDIA GeForce MX150 graphics. The 15.6 inches full HD screen comes with a wide viewing angle of 178-degrees for optimized entertainment. It also comes with the slimmest 0.3-inch bezel, ensuring an 80% screen to body ratio. Hence, it is suitable for AutoCAD users, designers, and architects.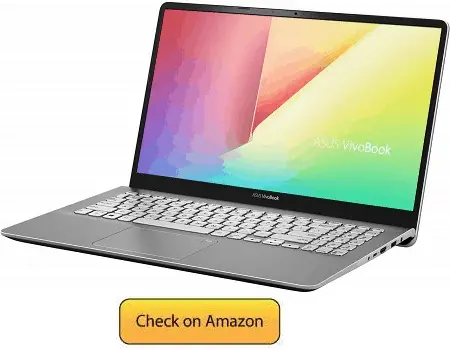 The model is equipped with 8 GB RAM for advanced multitasking. On the other hand, the 256 GB SSD and 1 TB HDD hybrid ensure the fastest transferring speed. It also comes with a durable lithium polymer battery that ensures long-lasting performance with zero lag. The battery is capable of charging up to 60% in 49 minutes, which is remarkable.
9. Lenovo ThinkPad E590 Laptop
The Lenovo ThinkPad E590 is a simple yet powerful laptop. It is a combination of standardized connectivity, sleek design, security features, and durability. The latest 8th generation Intel Core i5-8265U processor ensures performance at a burst speed of up to 3.9 GHz. The Windows 10 Operating System and integrated Intel UHD graphics 620 maximizes productivity, making it a business-ready laptop.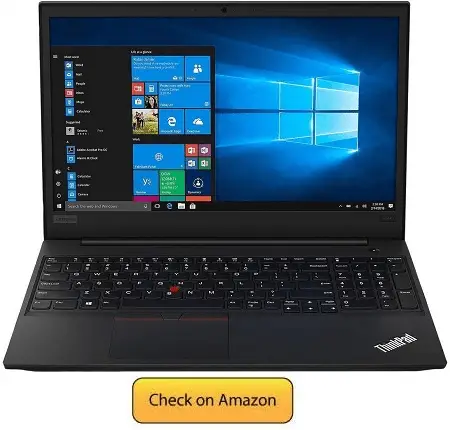 The Lenovo ThinkPad is built to last as it has gained the MIL-STD-810G Military Certification. The compact and portable model comes with 16 GB RAM for advanced multitasking. It also comes with 1 TB SSD for maximum storage and fast data transfer. The ports, including USB and HDMI, also ensure data and video transfer. You can connect the laptop via Bluetooth or a secure Wi-Fi connection for enhanced performance.
10. ROG Strix SCAR II Laptop
The ROG Strix Scar II comes with two brushed finishes that create a diagonal across its lid. The anodized gray finish and deep black heat sink provide the feel of military hardware. The design is taken to the next level with the backlit keyboard and 144 Hz narrow bezel display. The 17.3 inch IPS display makes this laptop ideal for gamers and AutoCAD designers as it provides color overlay and 3D-weave.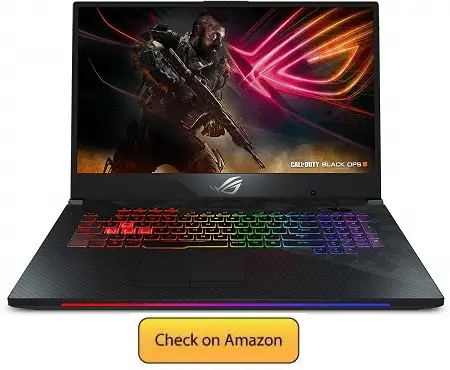 The powerful Intel Core i7-8750H processor and Nvidia GeForce GTX 1060 6GB GDDR5 ensures the best performance and experience. Moreover, it automatically adjusts the fan speeds according to CPU and GPU temperatures to prevent overheating of the laptop. Hence, you can play and work for hours without the fear of lag. The laptop also includes a wide range of ports such as USB Type-A, HDMI, USB Type-C, mini display port, Ethernet, and an SD card reader.
11. ASUS S510UN-EH76 Vivo Book S Laptop
The Asus S510UN-EH76 Vivo book S is the thinnest and most light-weight laptop, weighing 3.7 lbs. The model features a 15.6 inch full HD display that comes with a 0.3-inch bezel, ensuring 80% screen to body ratio. The wide viewing angle of 178-degrees and vivid and bold colors, contrast, and sharpness ensure an enhanced visual experience.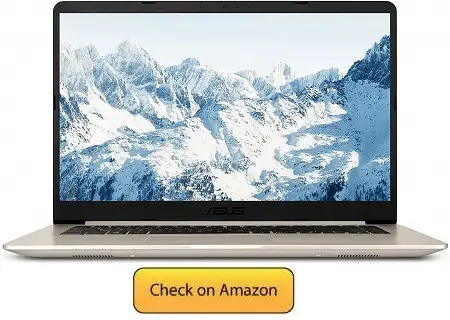 It is powered by the latest 8th generation Intel core i7 processor and NVIDIA GeForce MX150 graphics. Hence, it ensures a powerful performance with ultra-smooth visuals. The ergonomically designed laptop comes with a backlit keyboard for a comfortable typing experience. The visuals are teamed with improved audio clarity for an immersive feel. Moreover, the ports, including SD card, HDMI, and USB ensure extensive connectivity along with the secure 802.11ac WiFi connection.
12. Sager NP895 Laptop
The Sager NP895 is equipped with the latest 9th generation Intel core i7 6 core processor and NVIDIA GeForce RTX 2070 graphics. It is designed with a 15.6 inch full HD display with a wide viewing angle and 72% NTSC. Hence, it is an ideal option for both gamers and AutoCAD users.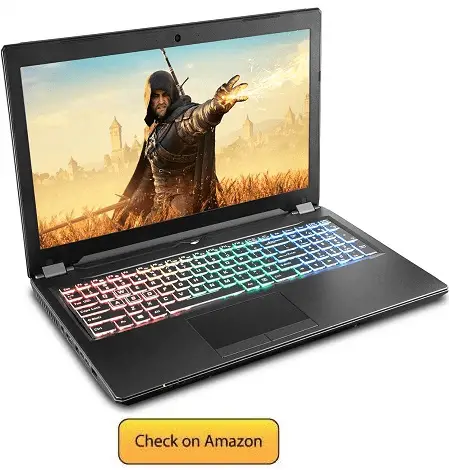 The illuminated keyboard and numeric pad add to the design and your convenience. It also comes with 16 GB RAM and 500 GB SSD for advanced multitasking and fast data transfer. You can connect your laptop wirelessly via Bluetooth or LAN. The wide user interface and audio system ensure the best experience and performance.
CONCLUSION
AutoCAD is not merely software, but it is an entire system that creates the architectural world successfully. To carry out the tasks and projects, it is essential for both beginners and professionals to choose the workstation carefully. It is easy to get any system for the workplace or personal projects, but the results might not be as satisfying as they are in case of high-quality laptops.
We have reviewed the top 12 laptops for AutoCAD available on Amazon. These laptops come with the latest 8th and 9th generation Intel core processors, ensuring fast and powerful performance. You can multitask with ease because of their 8 to 16 GB RAM. 
You can consider going for the Acer Aspire 5 as it is our number one recommendation. Gamers can consider buying the Rog Strix Scar II.  Choose the best laptop for AutoCAD and get applauded for the incredible projects you can create on your laptop. We hope this article helps!