With the invention of tablets, a majority of artists wish to draw their graphics on these mobile devices these days. However, one thing that most of them don't realize is that drawing on the laptop screen directly through a digital pen is much easier and seamless in comparison with any other device. Still in doubt? You wouldn't have got your hands on the best laptop for drawing yet. Have you?

Out there in the market, you can easily grab such laptops that have been integrated with all the essential features that you'd like to have in your drawing device, be it high resolution, color accurateness, touchscreen, digital pens, or any other advanced functionality; you can be sure of almost everything.

So, here is the list of most appropriate laptops that you can consider if you're a designer.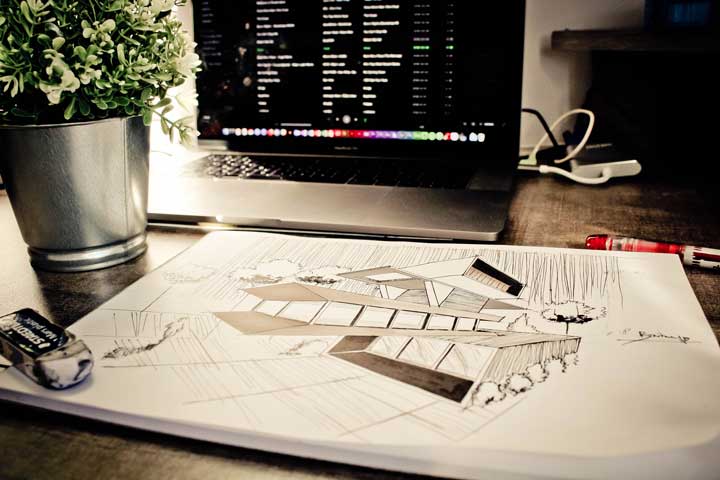 What You Must Look for in the Best Laptop for Drawing?
Buying a drawing laptop can be a tough task, especially if you're already overwhelmed with a variety of options. So, before you dig deeper, here are some of the configurations that you must keep in mind:

If you use Illustrator or Photoshop to create graphics or your job is mainly about editing videos and creating simple animations, a laptop with core i7 processor, 16GB of RAM, 512GB of PCIe SSD, AMD Radeon Pro 555X or Nvidia GeForce 1050i graphics chip, H suffix, a Thunderbolt 3 ports to connect better, and a retina or 4K screen would be appropriate.
For the ones who mainly design in QuarkXPress, Adobe InDesign, Adobe XD or Sketch, then you can get a laptop with a core i7 processor with an H suffix, 512GB SSD, 16GB RAM, and 4K or retina display.
If the budget is really tight and you cannot afford a device over the limit, you can simply go for such a laptop that would have a core i7 processor with a U suffix, 512GB of SSD, 8GB of RAM, and an adequate HD screen. However, you must avoid the ones that come with a shoddy display.
And then, if your work is a bit complex and includes After Effects, editing of 4K videos or Photoshop files, you must go for a bigger laptop that'd have core i9 processor, 512GB or 1TB PCIe SSD, 32GB RAM, Nvidia GeForce 1050i or AMD Radeon Pro 555X graphics chip, 4K or retina screen, and a Thunderbolt 3 ports.
Similarly, depending upon your day-to-day requirements, you must look for all the necessary features in the laptop. If you're not sure of what to get right away, create a list of features and functionalities that you'd like to see in your device and then filter out the products accordingly for a seamless purchase.
List of Best Laptops for Drawing in 2019
$1,399.00
out of stock
2 new from $1,399.00
1 used from $999.77
Amazon.com
Last updated on April 6, 2020 10:14 pm
1) New HP Pavilion 15.6″ FHD IPS WLED-Backlit Touchscreen Laptop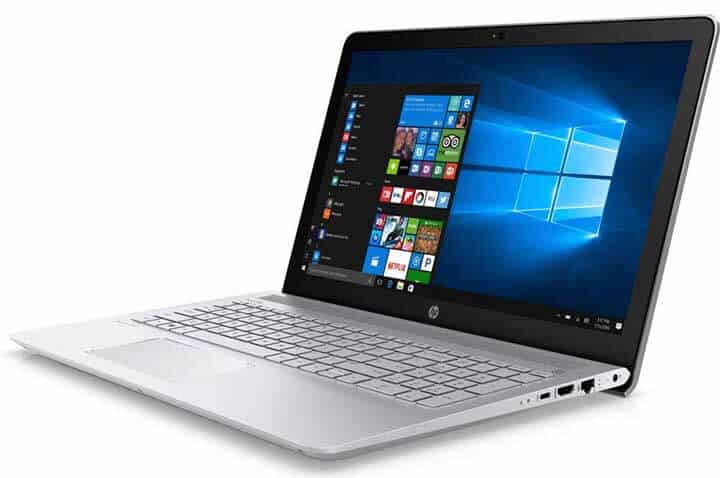 In the category of best touch screen laptop for drawing, HP knows how to provide the best of machines. Talking about this particular model, it comes with a very sophisticated and elegant design that attracts people at first glance. It's sleek, and slim build further ensures powerful features. It also supports a silver finish that enhances the look even more.

This model is integrated with an 8th generation Intel Core i5 processor; hence, you can be sure of speedy and quick performance. Along with drawing and editing, its 15.6-inch full HD touchscreen display also makes games and movies an exciting experience. Its display features a resolution of 1920 x 1080 pixels and has a 178-degree wide-viewing angle.

Furthermore, it also helps you edit faster and move between programs quickly. Coming to the audio part, its B&O PLAY and HP audio Boost speakers deliver a balanced sound and crystal-clear audio. Integrated with Windows 10 (64-bit), this laptop can surely get the work done for you.

It comes with 8GB DDR4 SDRAM, which can be easily upgraded to 16GB. It also comprises 1TB of SATA hard drive.
Pros:
Good runtime of the battery
Slim and elegant
Adequate application performance
Cons:
The display is quite dark
No VGA out
Slow Ethernet
$1,399.00
out of stock
2 new from $1,399.00
1 used from $999.77
Amazon.com
Last updated on April 6, 2020 10:14 pm
2) Acer Spin 3 Flexible IPS FHD Laptop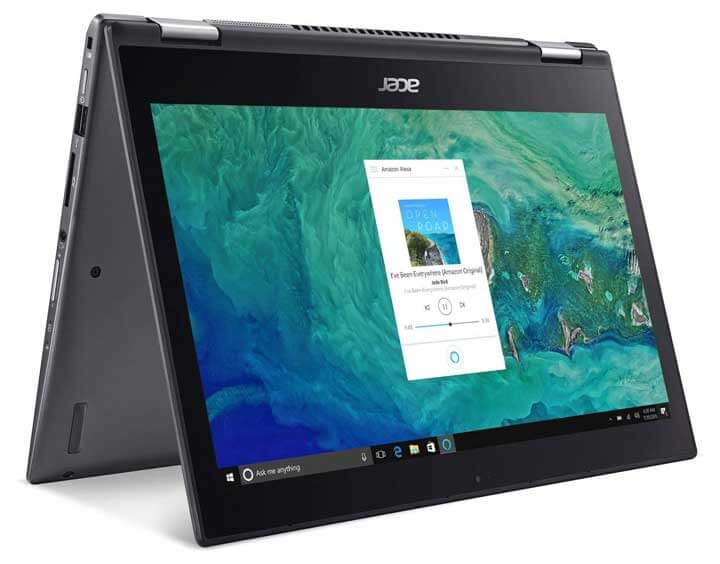 Acer is definitely not lagging when it comes to providing stylish and power-packed laptops for designers. Its cross brushed hairline texture adds elegance in the overall appearance of the body. This model by the company has been integrated with 8th generation Intel Core i5-8250U processor that effortlessly runs at speed upto 3.4GHz.

Moreover, this model comes with inbuilt Alexa; hence, your workload would be much lesser as this well-known technology is there to back you. It comprises a 14-inch HD widescreen LED-backlit display that comes with IPS multi-touch technology as well as the resolution of 1920 x 1080 pixels. One of the best things about this device is that it comes with a 360-degree screen hinge; therefore, you can use it however you'd like.

As far as the storage and memory are concerned, Acer has built this model with 8GB of DDR4 RAM and 256GB of SSD. At one single charge, this laptop provides you the runtime up to 12 hours.

Integrated with Windows 10, Acer's laptop will keep you updated with every new feature and functionality. It also has an Intel UHD graphics 620 with shared memory.
Pros:
Flexible 2 in 1 design
1080 display
Good speakers
Cons:
Not so satisfactory performance
Bloatware availability
Shallow keyboard
3) Microsoft Surface Pro 6 – Best laptop for drawing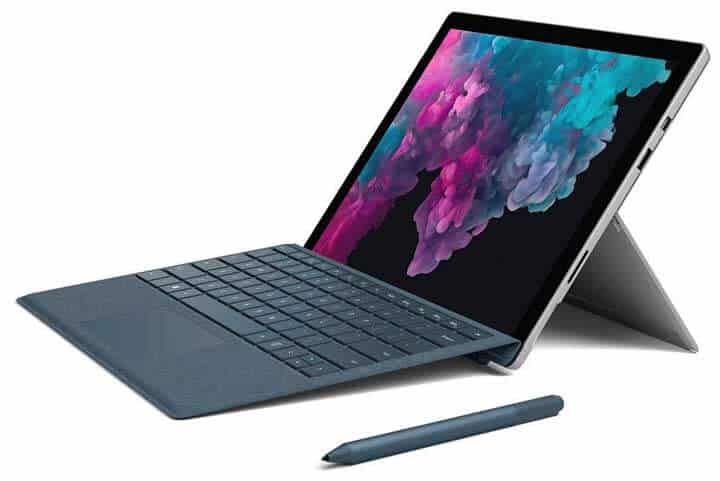 Undoubtedly, Microsoft Surface Pro 6 is competent enough to beat any best drawing tablet that you might be using or considering to buy for your graphics requirements. Being a best-in-class laptop, it has been integrated with the versatility of a tablet. With its 8th generation Intel core processor i5- 8250U, this model ensures more power and excellent performance.

Its 12.3 inches PixelSenseTM display provides a resolution of 2736 x 1824 pixels. With an aspect ratio of 3:2, it also offers 10-point multi-touch. Therefore, it wouldn't cause any sort of hassle whatsoever while using it. Coming to its memory, this version of Surface Pro has two options, you can either buy 8GB of RAM or 16GB of it.

It comprises Intel UHD graphics 620 for effortless editing and designing. Being an ultra-slim device, it would not be very heavy to carry either. Since this model is light in weight, you can take it from one place to another with ease. Microsoft claims that the battery lasts the whole day long and you can use this device for 13.5 hours at one single charge.
Pros:
Lightest and thinnest laptop
Quad-core processor
13.5 hours of battery
Cons:
No Thunderbolt 3 or USB C
Separate type cover
Unchanged external chassis
4) MSI GV62 8RD-200 Full HD Performance Laptop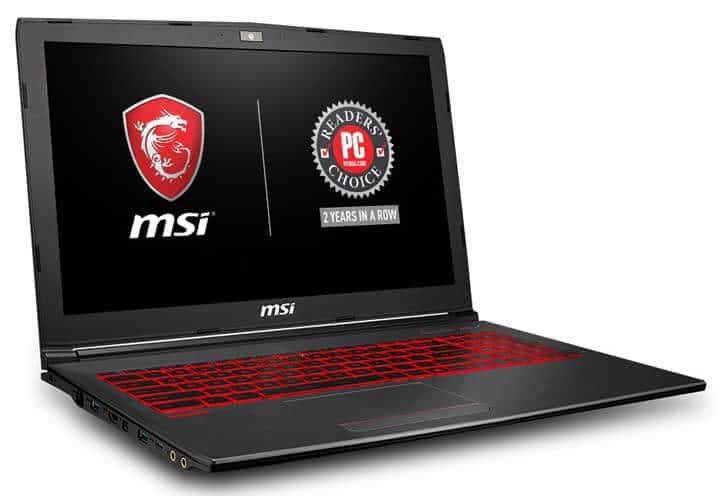 In the industry of laptop and devices alike, MSI has undoubtedly managed to create a substantial name. So, coming to the perfect model that it provides to designers, this one is here to offer the best performance. Its 15.6-inch full HD EDP IPS-level display comes with an ideal resolution of 1920x 1080. And then, it comprises Windows 10, which is multi-language, making things easier for you.

In terms of processor, this laptop has been designed with new Intel 8th generation core i5-8300H that runs up to 2.3 – 4.0 GHz. Furthermore, it also has an NVIDIA GeForce GTX1050Ti 4G GDDR5 graphics card that not just lets you have a fantastic experience while designing but while playing games as well. If you're into games, this could be a plus point for you.

This model comprises 8GB of DDR$ RAM, which can be expanded up to 32GB. And then, it comes with 16GB or 1TB of SSD; therefore, you can choose the one according to your requirements.

Its additional features would include 4x 2W speaker, backlight keyboard, LAN, Wi-Fi, Bluetooth, and much more.

Pros:
Excellent cooling system
Comfortable keyboard
Light in weight
Cons:
Waving battery life
The fan can get a bit loud
Fingerprint magnet on black matte finish
5) Dell Inspiron's Perfect Match for Drawing Artists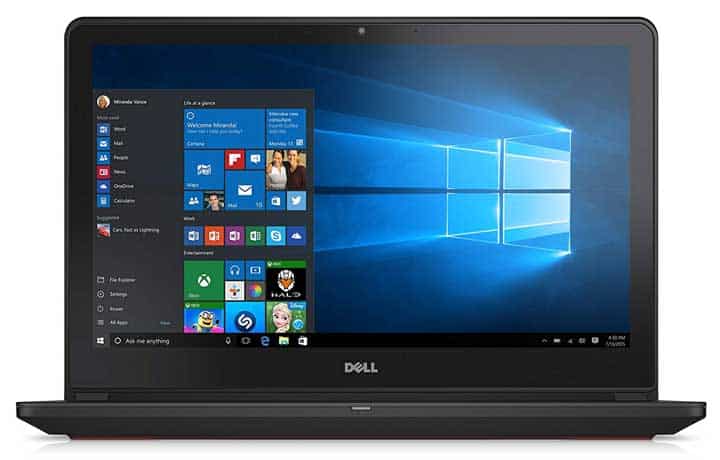 Dell is one of the most considerable companies, and the significance that it holds in the laptop market is not concealed from anybody. So, if you are looking forward to getting your best cheap drawing tablet replaced, you wouldn't find any other option as good as this one from the Inspiron series, if you wish to purchase a Dell laptop.

This model has been designed with Intel Quad-core i7-6700HQ 2.6 GHz processor, which is capable of providing utmost excellent performance. And then, for designers who want advanced functionality, this model has NVIDIA GeForce GTX 960M 4GB GDDR5 graphics card. Therefore, right from designing images to editing videos, editing 3D architecture plans and everything can be done.

Talking about its memory life, this version of Inspiron has 8GB of DDR3L SDRAM and comes with 1TB HDD + 8GB SSD Hybrid Drive storage. However, you will not find an optical drive anywhere in the laptop. It has 15.6-inch FHD LED-lit Truelife display screen that provides a resolution of 1920 x 1080 pixels. It would be even appropriate for playing games.

Its precise touchpad is enough to have accurate and responsive gesture support. And, its backlit keyboard lets you enjoy your laptop's functionality even during the night time. Further, it comes installed with the Windows 10 operating system. You can also choose to have a Windows 10 Pro or Windows 10 Home, as per your requirements.
Pros:

Amazing battery life
Solid performance
IPS display with satisfactory contrast
Cons:

No USB Type C port
Limited viewing angles of the display
Below satisfying keyboard
6) Lenovo Yoga 920 – 360 Degree Flexible Laptop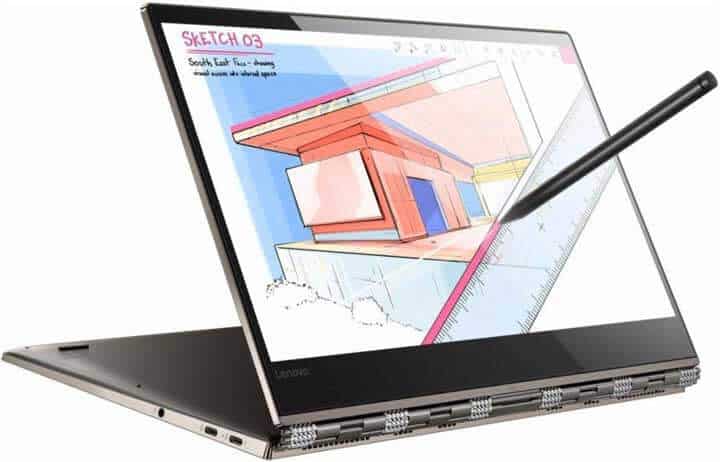 Here is another option that would be appropriate enough for all sorts of designers, irrespective of their workload. Lenovo has made sure that it doesn't leave any stone unturned in making this model something par excellence. This version of Yoga series has been powered by 8th generation Intel Core i7-8550U mobile processor.

Its 13.9-inch touch screen is built with IPS technology and has LED backlight along with 1920 x 1080 native resolution. The 360-degree flip and fold design is something that would provide you hands-on control over the entire system. In this way, you can even use the display as and however; you would want to.

It comes with 256GB of SSD, 256GB of flash memory, and 8GB DDR4 SD RAM; enough to carry out your graphics projects with ease, isn't it? In terms of graphics coprocessor, this machine is integrated with Intel UHD graphics 620 and provides average battery up to 15.5 hours, which would be extremely sufficient. Once charged, you can use this laptop for the entire day – this will be a great advantage for the FL studio professionals.

And then, Lenovo sends out this version with pre-installed Windows 10 Home.
Pros:
Attractive design
Satisfactory power
Amazing sound quality
Cons:
No graphical power
Fans can be loud sometimes
Annoying keyboard
7) Apple MacBook Air – Budget Hero from Apple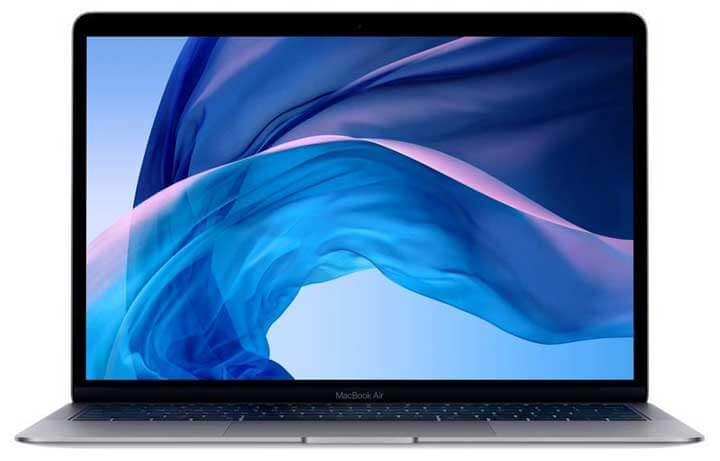 Apple is one such company that is on the dream list of almost every other technology geek. And, for a designer who is more into graphics, the inventory of this company has a lot to offer. Talking about MacBook Air, this model comes with a stunning retina display of 13.3-inch that has been made with IPS technology and provides the resolution of 2560 x 1600 pixels; therefore, capable enough of being the best laptop for drawing.

Its integrated touch ID sensor makes things easier for those who wish to keep their data protected. It comes with a dual-core 8th generation i5 processor that provides a turbo boost up to 3.6 GHz and comprises 4MB of L3 cache. It has 128GB of PCIe-based SSD, which can be configured up to 256 GB/ 512GB/ or 1.5 TB. And then, it has LPDDR3 RAM up to 8GB and can be expanded up to 16GB.

Integrated with Intel UHD graphics 617, this model supports Thunderbolt 3. The list of other features include text to speech, closed captions, switch control, Siri and dictation, reduce motion, increase contrast, and much more. Running on Mac operating system, it can help you achieve several goals.
Pros:
Thin & lightweight
Decent hardware
Solid internal storage
Cons:
Limited option to upgrade the processor
No SD slots
No face ID
8) ASUS ZenBook 14 Ultra-Slim FHD Laptop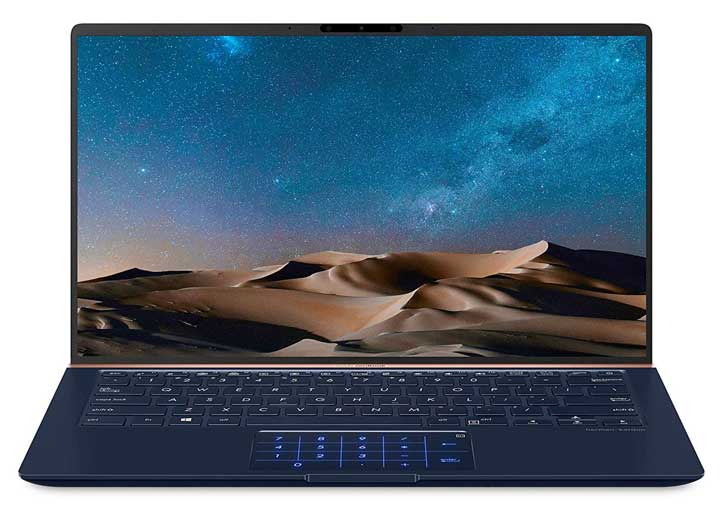 Asus Zenbook 14 is one of the most considerable options if you're looking forward to owning an ultra-slim laptop. It comes with a 14-inch wide-view full HD display, manufactured with Nano-edge bezel display. The latest 8th generation Intel core i7-8565u quad-core processor provides a boost up to 4.6 GHz and offers 8M of cache. Therefore, it can be an excellent fit for good performance.

For huge storage and memory, this model features a 512GB of Pie NV Me SSD and 6GB of LPDDR3 RAM. To make things easier for users, this comes pre-installed with Windows 10 Home. Not just that, but this laptop also comprises improved audio performance, optimized cooling system, and enhanced typing position.

Its inbuilt IT camera helps you with sign in through the facial recognition feature. When it comes to connectivity, this model by Asus provides satisfactory options, such as Micro SD card reader, Bluetooth 5.0, Wi-Fi, USB Type C, HDMI, and more.
With Intel HD graphics, it can help you with designing tremendously. Its NumberPad has the tendency to perform calculations and data entry quickly. And, its touchpad mode lets you experience smooth and perfect fingertip control along with multitouch gesture support. You can gift this to your relatives who are into drawing teacher profession.
Pros:
Durable & compact design
Innovative number pad
Adequate speakers
Cons:
Poor webcam
Dim display
No Thunderbolt 3
9) SAMSUNG Notebook 9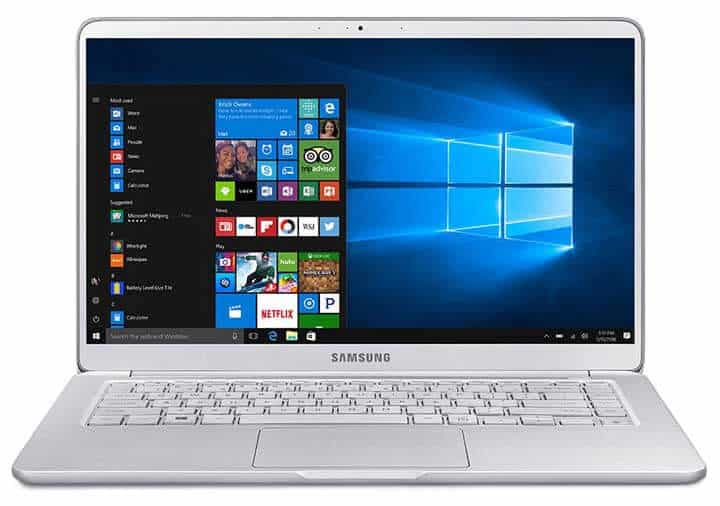 Samsung Notebook 9 is something you shouldn't be missing upon if you wish to replace any of the best drawing tablets. It comes with 15-inch of FHD LED display that provides a resolution of 1920x 1080 dots. Powered by 8th generation Intel Core i7 mobile processor, this model offers turbo speed up to 4.0 GHz and 8MB of L3 cache.

It is integrated with 16GB of DDR4 RAM and comes with 256GB of PCIe SSD. Coming to its graphics performance, Samsung has backed up this model with NVIDIA GeForce MX150 and has a dedicated memory of 2GB GDDR5. Windows 10 Home 64-bit comes pre-installed in this laptop.

Coming to its battery life, Samsung ensures that you enjoy the runtime of 19.5 hours with a single charge. That would be amazing, isn't it? With a backlit keyboard, the touchpad of this laptop seems to be something very smooth not just for artists but as well for the bloggers & writers too. Other than that, it provides different connectivity options as well, like Thunderbolt 3, USB 3.0, USB 2.0, 3-in-1 card slot, and more.

When it comes to audio and sound, this model by Samsung has been powered by Realtek HD Audio speakers and has a sound effect of SoundAlive.

Pros:

Attractive design
Amazing battery life
Good performance
Cons:

Non-touch display
Shallow keyboard
Micro-sized video ports
10) Apple MacBook Pro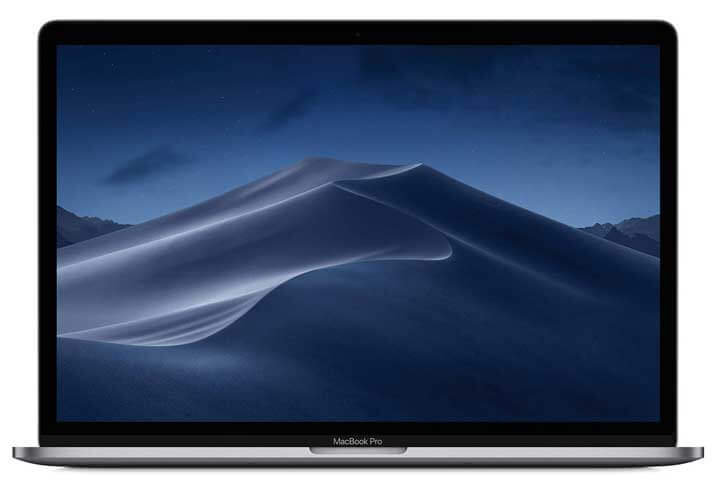 Last but not least, here is another option for designers. This laptop is amongst the list of most expensive laptops. This specific model is designed with 15.4-inch diagonal LED-backlit display that has been manufactured with IPS technology and provides the native resolution of 2880 x 1800. Furthermore, it is powered by 2.2GHz 6-core Intel Core i7 with turbo boost up to 4.1GHz and 9MB of shared L3 cache. You can also configure the processor to 2.9GHz 6-core Intel Core i9 with turbo boost up to 4.8GHz and 12MB of shared L3 cache.

Coming to the storage, it has 256GB of SSD that you can configure to 512GB, 1TB, 2TB, or 4TB, according to your requirements. And then, it has 16GB of onboard memory, which can be upgraded to 32GB. This machine comes with Radeon Pro 555X graphics card with 4GB of GDDR5 memory as well as automatic graphics switching.

Apart from this, MacBook Pro offers you several inbuilt apps, like Photos, iMovie, Siri, Safari, Mail FaceTime, Messages, Maps, Photo Booth, App Store, and much more. Its battery lasts up to 10 hours. Furthermore, its touch bar has been integrated with the Touch ID sensor as well.
Pros:
High-resolution retina display
Powerful and sturdy speakers
Solid battery life
Cons:
Can overheat in certain scenarios
Glued battery
No slot for SD card
Conclusion
For a graphic designer, when it comes to choosing the best laptop for drawing or 3D architecture, there wouldn't be any stone left unturned. Therefore, you would have to be extremely careful while deciding as you wouldn't wish to regret your choice later, right?

So, right from the integrated processor to the internal memory and graphics card, you must look into every possible aspect while assessing the best laptop for drawing and designing. Although all of the options mentioned above seem to be appropriate enough at their own places.

However, we would recommend Apple MacBook Pro, if you are not an ardent fan of 2 in 1 laptops. Not just this model comes from the inventory of a worldwide reputable brand but also has all the possible functionalities and features that you would want to have in your own laptop.

However, if you wish to go for a best touch screen laptop for drawing or any of the best budget 2 in 1 laptops, you can consider other similar options mentioned in the above list.

All in all, be attentive while choosing and find the right option for yourself.