If you're already in law school and have spent some time there, you would now that your old trusty laptop just won't cut it anymore. If not, you will figure it out soon. Are you confused about why this is such a big deal? Here we list out the top 9 best laptops for law school students in the year 2020. Laptops are essential for students of any academic specialization. But what makes Law students requirements from a laptop any different from those of a regular college student?
What Type of Laptop is Required for Law School?
You know that your laptop shouldn't be like any other student's laptop that they only pickup for a class or before exams. Not only that, your laptop is something that you will take with you everywhere, and I mean everywhere. Not to take any names, but I know a few people who can't start their mornings without reading their lecture material. Law school is weird.

So what makes a laptop best suited for a Law Student? First and foremost, you're going to need a fast device.
This means Processing Power. While you don't need any crazy processing power like for gaming, a decent processor is a definite bonus.
The next thing you should think about is the weight of the laptop. You need a device that you'll be able to carry with you quickly, so weight is another crucial factor. Super high-end devices may give you the best screen resolution but are generally the heaviest.
Another thing you need to consider is Storage. Unless you need to store large videos or audio files, a general 256 GB or 512 GB laptop should be enough.
The last point to consider is Battery Life. The choice in front of you is basically between a heavy-duty, high-resolution laptop and a compact laptop that provides you with a prolonged battery life that lasts you your working day.
Product Reviews – 9 Best Laptops for Law School
1) Acer Chromebook 15
The Acer Chromebook 15 provides you with a great immersive Full HD Touch IPS 15.6-inch display. It works very fast on a wireless connection and gives you the best battery time, which allows you to get through all your work for the day. It runs on N3350 Dual-core processor up to 2.4GHz with 4 GB RAM and 32 GB eMMC.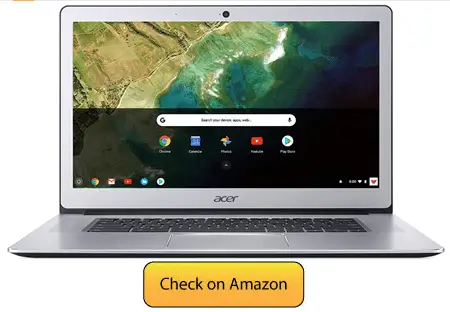 This makes sure that it is fast enough for your daily work. It has a lithium battery that lasts up to 12 hours on a full charge.  What's more, is that it has 2 USB ports and a widescreen display with LED-backlit display.
This device is also incredibly stylish and professional looking with its metallic touch and feel while being surprisingly light. The laptop also has a multi-touch display which allows you to use it as you wish. The battery life means that you can spend a whole workday with this laptop and not have to go looking for a quick charge socket.
Moreover, the Chromebook 15 bends backwards 180 degrees to lie flat, and this is especially great for shared classes.
2) Oemgenuine Lenovo ThinkPad T480
The Oemgenuine Lenovo ThinkPad operates on genuine Microsoft Windows 10 Professional. It has a 14" HD LED display and gives a tremendous and high-speed performance with quad-core Intel-i5 processor, 8GB RAM, and 250 GB SSD. The machine has been designed to deliver in high-strung work environments. It is ideally suited to combine design with style and functionality.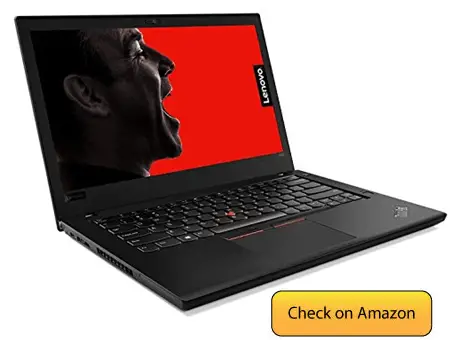 This Oemgenuine Lenovo ThinkPad makes docking possible and also delivers on several conveniently placed ports that further help to improve your functionality.
While the battery life may be an issue for most people, Lenovo offers a solution to this problem too. Apart from that, it helps you keep working even when there's no power outlet nearby. All you need to do is swap the battery with a charged one, and you're good to go.
And you can swap the batteries without having to turn the laptop off. This is something that takes the cake for us.
3) Apple 13.3" MacBook Air
The MacBook Air is a thin, powerful, and light device. It gives you the best combination of a professional look with a highly powerful 1.8 Dual Core i5 processor and peripherals like 512 GB storage and 8 GB working RAM. It is perfectly suitable for your requirements as a law student with its powerful processor and a great display of 6000 HD-Intel Graphics.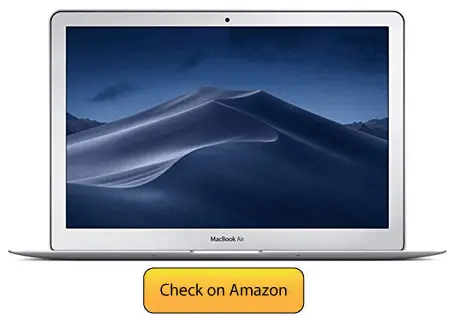 Additionally, it gives you a battery time of 12 hours between charges. This means that it can easily last you the length of a workday. It also comes with 30 days of standby time. Not that you will need it because you won't be able to keep your hands off it for that long. It has a unibody design and a collective weight of 2.96 Pounds.
It provides would with a fast and remarkable local WiFi connectivity with wireless performance about 3 times faster than that delivered by its counterparts. This allows you to enjoy your connection and work with absolute ease and comfort.
4) ASUS S15S512 VivoBook
This ASUS VivoBook is a phenomenal combination of performance and professionalism. With its slim edges, it can fit in your backpack with ease, and it's brushed metal finish makes sure that it looks professional enough for more serious and advanced work.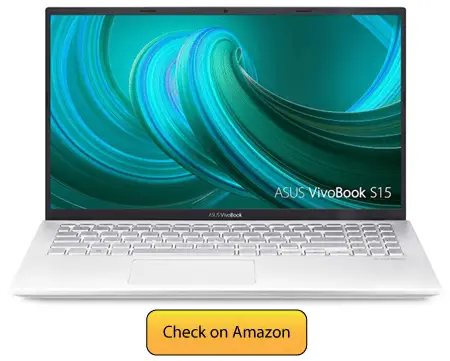 It has a powerful 8th generation Intel Core i7 processor and delivers powerful graphics. It makes sure that you experience no hiccups when working on this device. The machine offers super-fast Wi-Fi connectivity, which further helps to make you more productive by putting the world at your fingertips and that too at lightning speed.
The storage of video and audio lectures won't be a problem since it comes with 256 GB SSD. Its size allows it to be perfect try for class and then also for entertainment. It has a display that is powerful but not strong enough that it would damper your battery time.
The VivoBook is thin and lighter than any of its predecessors. With a weight of just 3.7 pounds, you can bet yourself that carrying your laptop to class is actually lighter than taking an entire bulk of your text and notebooks.
5) Acer Chromebook 14
This Chromebook delivers on both style and functionality with its complete metal chassis and immersive HD IPS display. This allows for an experience that is superior to that offered by any other Chromebooks currently in the market. It also provides a supernatural wireless connection that will enable you to remain connected and get through your assignments faster.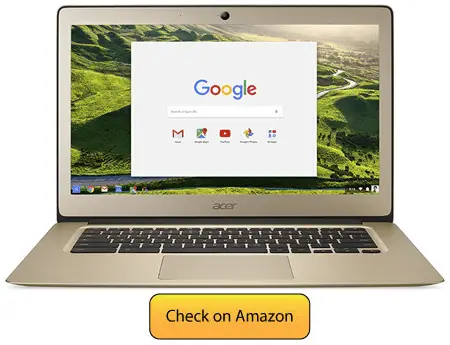 This Acer Chromebook has a 14-inch Full HD Display and an Intel Celeron N3160 Quad-core processor that makes sure that there is no stopping you when you decide to be productive. It offers 32 GBs of internal storage, which is the only issue we have with it. The 32 GBs is not nearly enough for such a remarkable device but may be enough if you don't plan to store any large files on your laptop like long videos or pictures.
It also offers 2 USB ports and 1 HDMI port. It comes with a 3 cell lithium polymer battery that works to provide you with up to 12 hours of battery life.
6) ASUS VivoBook F510UA
This VivoBook makes sure that you don't have to carry a laptop that's heavy or bulky. It has an incredible 80% screen-to-body ratio. This further helps to make sure that it provides an immersive experience and limits eye strain with prolonged use. It had a 15.6" FHD display and is the perfect laptop for sharing content on group projects.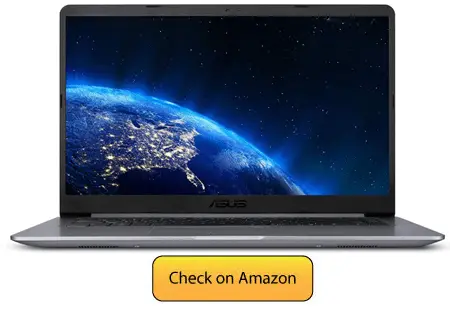 It is incredibly thin and very light. This makes it very easy to carry. This laptop gives you the portability and comfort of an UltraBook with the power of a laptop. It has a strong processor that can handle just about anything that you might want to throw its way with its Intel Core i5 8250U processor. The laptop also delivers on ultrafast WI-FI and wireless connection.
The VivoBook also allows for other types of connectivity with USB 3.1, 3.0 and 2.0 ports and ports for HDMI and an SD Card Slot. It also has a 15.6" anti-glare full HD wide-view display.
7) Acer Aspire E15
The Acer Aspire E15 Laptop is a powerful laptop with its remarkable 7th generation Core i7 processor and 8GB DDR4 RAM. The Aspire E15 further has a 1 TB hard drive to store all your video lectures without worrying about space.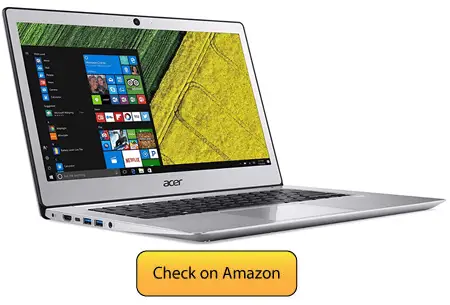 It combines all the features of a great laptop with its remarkable and high-resolution display, and it's a design that makes it a breeze to carry around. The machine is lightweight and has a sleek and metallic design that makes it look reliable and professional.
This machine has a 4 cell Li-ion battery that produces the power of 6 hours and is generally enough for a whole workday. Your laptop might be running a little low on juice at the end of the day, but you can about make it through on 6 hours of battery life.
8) ASUS ZenBook UX303UA Laptop
It's a great laptop and has been designed for on-the-go usage. This includes school and work. It provides the best of both worlds and delivers on productivity, performance, style, and portability. It has an aluminum design that gives it the much desired sleek and professional look. Besides that, it has an incredible 6th Generation Intel Core i5 processor.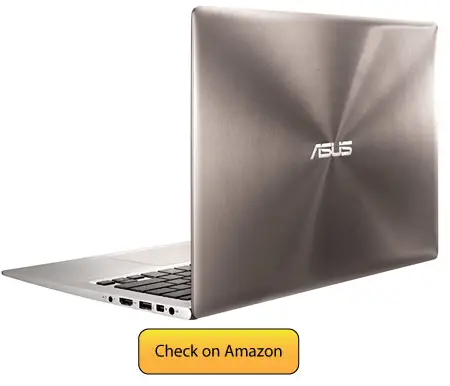 This makes sure that the laptop provides you with enough power that you can work simultaneously on multiple tasks with ease and without having to worry about your laptop not being able to keep up.
It weighs a total of 3.2 pounds, which makes it an absolute dream to carry around. You can keep it in your backpack or just take with your books in your arms. It's so light that it barely weighs more than a standard textbook. It also provides fast connectivity that makes sure that you are always connected and ready to work.
9) HP Chromebook 14-ak060nr Laptop
This is an HP Chromebook which works to provide a simple interface and a fast and hassle-free productive experience. It has a powerful processor that is strong enough to handle your requirements whether you may need it for school or to watch some Netflix on your day off. It provides you with portable storage and stores up to 100GB of your files.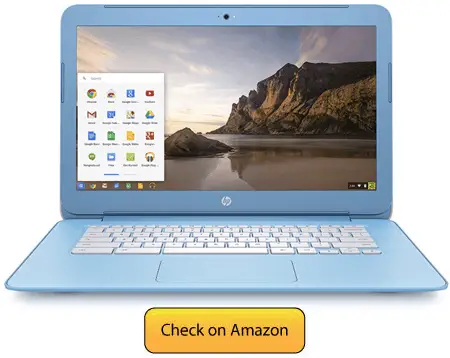 Besides that, it has a sleek and stylish design that is both minimalist and chic. Weighing 3.74 pounds and with smooth contours, it is a thin laptop that is easy to carry around but large enough to provide an inclusive and immersive experience to its user. It comes with an Intel Celeron N2940 Processor, Quad-core and Intel HD graphics.
Again, the only problem that we could find with this laptop is that of its battery time, which is just 8 hours. While this may prove to be enough for most users, law students generally require more battery time. You might be able to make it work for you though by smartly using the battery.
Conclusion
So now that we have put forward and discussed with you our picks for the best laptops for law school, what do you think? We have talked with you all the features and all the things that we consider to be pros or cons for each device. We now believe that it is up to you to decide which device suits your needs best.
Your needs may vary according to individual preference. What is essential though is to understand that each of the laptops mentioned above has been picked because they are all suited for serving the hardships of law school with you. So pick your laptop and enjoy your time in law school.