If you are a professional video editor, then this article can be a great help for you to choose the best laptop for video editing. Anyone having expertise on video editing can understand the resources and medium requirements that this profession asks for. Previously, people used to have some specific place dedicated to their video editing purpose only. This dedicated place contained a powerful desktop system along with other related stuff. However, these days, such a specific environment is not practical even for many professionals. You must be wondering why? The answer is simple. As the time is changing, people behavior and habits are changing.
With the advancement of technology and the availability of instantaneous things, people are habitual to have instant things. Same is the case with video editing professionals. They need some compact portable system with the help of which they can work anytime anywhere they want. Such habitual behavior asks for a laptop system that besides portability and convenience offers such features that can provide quality editing.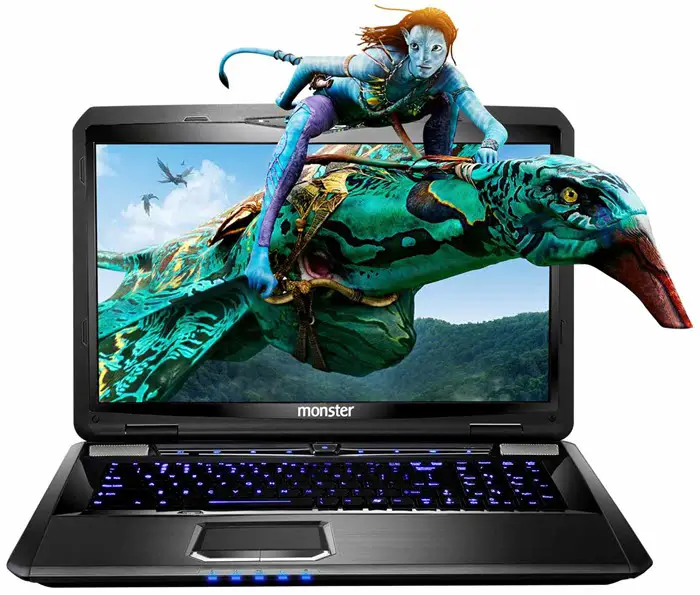 Well, there is good news for video editors. Plenty of best laptops for video editing has been launched in the market by almost all famous brands. However, a small issue is still there, and it is choosing an appropriate laptop for editing purpose. Therefore, here we have come up with the solution. However, first, let's discuss these questions briefly. What makes laptops suitable for editing purpose? What are specific resources that editing asks for?
Essential Factors to Consider
The thing that is crucial for video editing is powerful processor both CPU and GPU. The strong processor and graphics will ensure the adequate working of your system.
Next thing that should be considered primarily is memory both RAM and hard drive. The best laptop for video editing asks for at least 8GB RAM along with 1TB hard drive or 256GB SSD etc
Another important factor that can enhance the editing powers of a laptop is its screen resolutions. More is the resolution of your system the finer detailing it will offer you to ensure quality work
These are the major things that should be reflected upon while purchasing your new work equipment.
Besides these major components, many other requirements vary from person to person, like price, battery life, I/O devices, and many other things. Therefore, we can not simply mark one single laptop as the best laptop for video editing. Rather, a list is needed that can cover laptops with different secondary features. So, here we have tried to cover the list of best laptops for video editing purpose. All these items are taken after thoroughly analyzing customer reviews and features of the system. Hope you will find them helpful in getting you the best video editing laptop.
Here is the Review of 10 best Laptop for Video Editing:
1. 
ASUS VivoBook Pro Thin & Light Laptop (8th Gen i7)
While searching for best video editing laptops, the first laptop that caught our attention with its supreme components was ASUS VivoBook Pro Thin & Light laptop. With its 8th-gen Intel Core processor, it can offer you a good processing speed that can make your work run smoothly and flawlessly. Its features are made more appropriate for video editing through the addition of NVIDIA GeForce GTX 1050 graphics with 4GB Dedicated display RAM that offers you super graphics with its latest technology. This system contains 16GB RAM with 256 GB SSD + 1TB HDD Storage to accommodate storage purpose; This system comes with pre-installed Windows 10 OS. To provide you an enough detailed view, it contains 17.3 inches Matte FHD screen display with 1920 by 1080 resolution. Along with providing Gigabit Dual-Band 802.11ac Wi-Fi, it offers a variety of other ports like two USB 2.0, two USB 3.0, one Headphone-out & Audio-in jack, one RJ45 LAN jack, one card reader and one HDMI.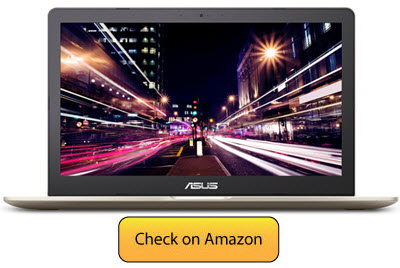 It also contains small gesture multitouch pad that gives you high precision. With all these primary video editing features, the additional benefits you might get from this system thin adorable metallic body, exclusive cooling techniques, full-sized keyboard with backlight, pitch-perfect audio, and IceCool technology. This laptop seems to deserve the definite place in the list of best laptops for video editing.
2. 
Dell G5587-7866BLK-PUS G5 15 5587 Gaming Laptop
Your research for finding the best laptop for video editing might come to an end after seeing the features of this system that is available in an affordable price range. Price is not for all, but it does matter for people who want to get some durable powerful systems that can work perfectly for years. This laptop comes with latest 6 Core 8th Gen Intel i7 processor and GTX 1050Ti GPU. It comes with pre-installed Windows 10 OS to give its users a competitive system to perform multitasking efficiently. It ensures close to real experience through its 15.6 Inches FHD LED-lit Truelife screen with 1920 x 1080 pixels. This laptop also comes with Hybrid storage system with 128GB SSD and 1TB 5400 rpm hard disk.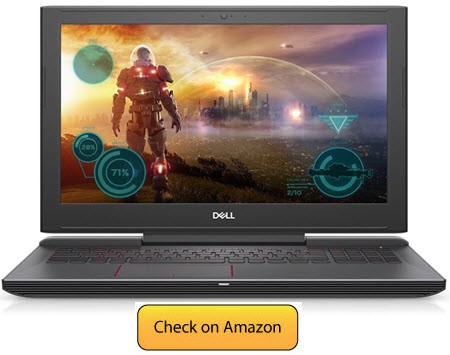 As it specifically built for gaming, it should handle the video editing and processing work smoothly.  The laptop is slightly heavy, because of its in-built hardware configuration and cooling system. It is one of the best laptops from Dell for video editing around 1000 dollars.
3. ASUS ZenBook Pro UX501VW-US71 – Best 4K Laptop for Video Editing
If you are looking for a tablet cum laptop for video editing, then the newest version of Microsoft Surface Pro 6 is the best option. It comes with the excellent latest hardware configuration to meet all necessary requirements. Available in several options, but I recommend to go with the 16GB RAM and 512GB or 1TB SSD storage.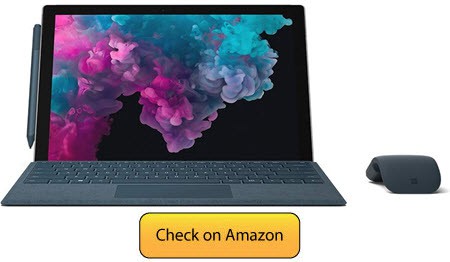 This ultra slim device comes with the 8th Gen i7 processor and all-day battery life that can play up to 13.5 hours of video. It allows you to playback and edit the videos for a long time on battery. By buying additional hardware equipment such as docking station and monitor, you will get a complete set like a desktop computer for your video editing purpose.
4. ASUS Laptop FX502VM-AS73 
ASUS FX502VM-AS73 laptop has ensured its compatibility with other power systems through its CPU and GPU. As it contains 7th gen Intel Core processor with 2.8GHz processing speed and the latest NVIDIA GTX 1060 discrete graphics, it gives a system power to process heavy and intense projects smoothly. However, few other components can impact system performance. The top of them is storage capacity. All these storage components make heavy data being accessed easily.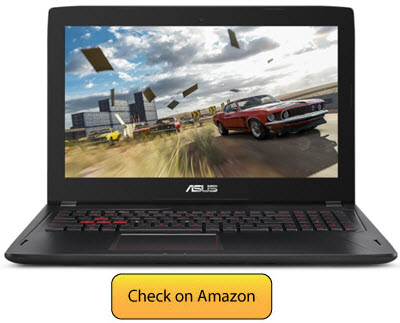 As heavy processing makes system overheated too, therefore, intelligent fan systems are present in this laptop to cool down CPU and GPU. It comes with pre-installed OS Windows 10 and gives its users medium-sized 15.6 inches Full HD display. Its additional features include extensive connectivity, microphones to filter ambient noise out, tactile keyboard, and intelligent thermal design.
5. Premium Built Lenovo Yoga 710 High Performance
Are you still looking for the best laptop for video editing? This laptop with its affordable price range contains compatible features to make a place in the list of best laptops for video editing. It comes with 7th gen Intel Core processor with integrated Intel HD graphics 620. These processors can ensure up to the mark video editing performance with making you able to stay within your budget.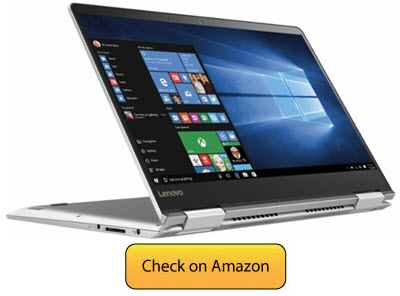 Enough memory capacity is also present like 8GB RAM and 256 GB SSD to make you able to access multiple files simultaneously. This laptop also provides competitive screen resolution of 1920 x 1080 along with 14 inches Full HD 10-point multi touch screen. It contains LED backlight, keyboard backlit, extensive connectivity, slim body, and 360 degrees flip-and-fold design to provide versatile modes.
6. ASUS M580VD-EB54
Like all other laptops that are included in the list of best video editing laptops, this system also offers powerful processing through its 7th gen Intel 2.5 GHz processor and GTX 1050 2GB discrete graphics. This system contains 256GB SSD and 8GB DDR4 RAM to accommodate memory requirements. With extensive connectivity, seamless one-piece keyboard, and SonicMaster audio technology it offers all features an editor can ask for.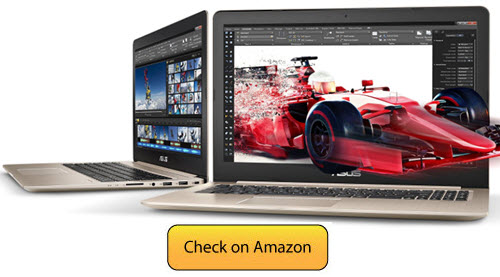 This laptop comes with 15.6 inches wide view display to give its users detailed and fine view. After reading all these features and functionality, one can easily identify its suitability for becoming a part of this list.
7. Eluktronics P650HP6-G VR Ready Laptop
The reason that this laptop got a place in the list of best laptops for video editing is its powerful processor and graphics. This laptop contains latest 7th gen Quad Core processor. For graphics, it contains NVIDIA GTX 1060 Graphics card. This laptop contains intelligent thermal design along with triple cooling fans system to keep processors performing accurately for a long time even during heavy processing. It offers a mid-sized Full HD 15.6 Inches matte anti-glaring display screen to make the user able to notice minor detailings. It provides latest generation Wi-Fi along with a different number of ports.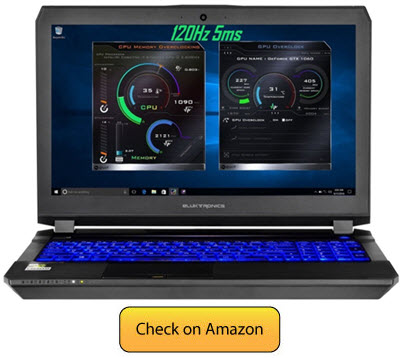 This system comes with a full-sized backlit keyboard along with silver lining to ensure convenient working for the editor. Its keyboard further contains separate numeric keypad to make working even easier. Along with webcam, additional security features, and good audio system this system possess almost all features of becoming a powerful laptop for multimedia tasks.
8. ASUS X555DA-AS11 – Cheap Laptop for Video Editing
The laptop X555DA-AS11 contains all primary features to secure a place on the list of best laptops for video editing. With its AMD Quad Core 1.8GHz processor and AMD Radeon R6 dedicated graphics, it ensures strong processing power to run heavy processing projects very smoothly. This system comes with pre-installed Windows 10 OS that makes user capable of performing multiple tasks at the same time. With its 8GB spacious RAM and 256GB SSD hard drive, it offers users a facility to read and write DVDs and CDs. This system further makes its users drool through its slim body and sophisticated design.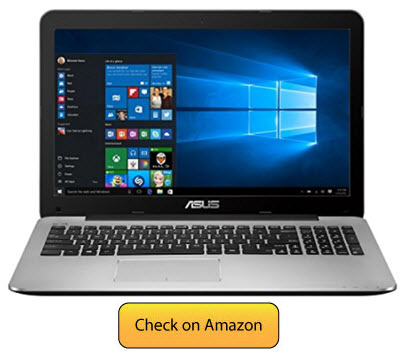 As far as its display is concerned, this system provides medium sized 15.6 inches LED display with 1920 x 1080 resolutions. It ensures editors' comfort through providing an ergonomic seamless full-sized keyboard. It contains ice-cool technology, multiple ports for speedy data transfer, and omni directional sound system as its additional features.
9. 
Lenovo 2019 Premium Flagship Ideapad 330s
It is another well deserving laptop to secure a place in this list with a quite affordable price. It is particularly useful for beginners who don't want to invest more at the beginning of their video editing journey. This system offers 8th Gen i7 Processor and variable options in selecting the capacity of the RAM and hard disk. As it supports two hard disks, you can get SSD for OS and programs and another normal disk for data including video files. Moreover, it provides extensive connectivity and comes with pre-installed Windows 10 OS.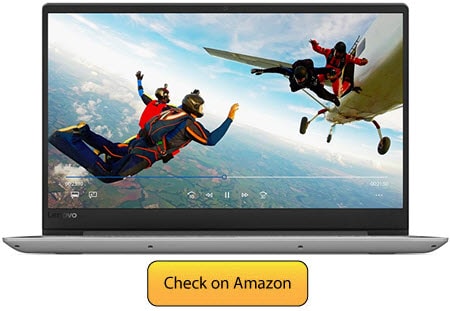 It can offer you medium-sized LED HD display with 1366 x 768 resolution that is a bit less for excellent video editing, but, still, it can perform well. With its lightweight and slim body, it offers a long battery life of up to 5 hours. All these attributes with this price range make it worth staying the list of best laptops for video editing.
10. Acer Predator Helios 300
Acer Predator Helios 300 is one of the famous gaming laptops you would see in many lists and reviews due to its high specification with reasonable price. This laptop very much suitable for video editing work. It equipped with a latest 7th generation i7 processor that can be boosted up to 3.8GHz. Other high powerful specs such as 16GB DDR4 RAM, GeForce GTX 1060 with dedicated 6GB GDDR5 and 256GB SSD will make any video editing tasks super smooth on this model.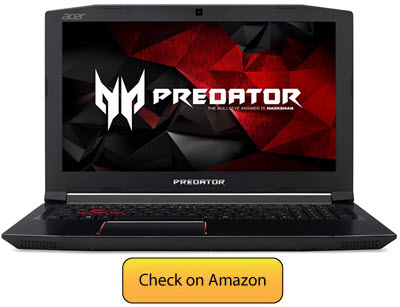 It is a full HD screen with 1920×1080 widescreen IPS, so you will enjoy the screen clarity and deep resolution while editing the videos. The 256GB SSD storage may not enough to store a lot of data and video, you may need to get an external hard disk for this purpose. Acer has concentrated more on the design and build quality of the laptop. Backlit Keyboard, Metal chassis, and excellent cooling system make this laptop as one of the best laptops for video editing.
Concluding thought
With the passing time, requirements for laptops are increasing. Everyone wants convenience and what can be more convenient to be able to perform your entire task in a compact, thin box that is your laptop. As requirements are increasing, the laptop market is also releasing laptops with different features in abundance. In this scenario, anyone can get confused about the selection of a right laptop that can satisfy his or her work requirements.
Therefore, in this article, a list of best laptops for video editing has been provided. You have already gone through features of all listed laptops and must have gotten an idea about requisite and option both type of features for video editing laptops. We can observe that no one laptop can satisfy the requirements of the whole class of video editors, but every system can offer few features. Now it completely depends on the person, which system they opt for among all these laptops.