You should read this guide if you want a new laptop and need it with MS office 365 pre-installed for your office work. We will provide you with all the details associated with these laptops that come with MS Office pre-installed.
You can use such a system to perform various tasks involving Microsoft Office. You can conveniently start working with your laptop without waiting before installing this suite into your system.
This guide has selected the 7 best Microsoft office laptops for your convenience. So, please give it a read and find out your best options. Most of the laptops come with Office 365 subscription for one year. You need to renew it after one year. Getting a laptop with MS Office lifetime is not possible.
Best Laptop with MS Office in 2023
1. HP 2022 with MS Office
The best option to consider here is the HP 2022 laptop with 1 year of MS office. This machine features an enormous 15.6-inch high-definition screen with a smooth and slick outlook. Under the hood, the machine features an AMD 3050U Athlon processor chip with a 1TB SSD and 16GB RAM.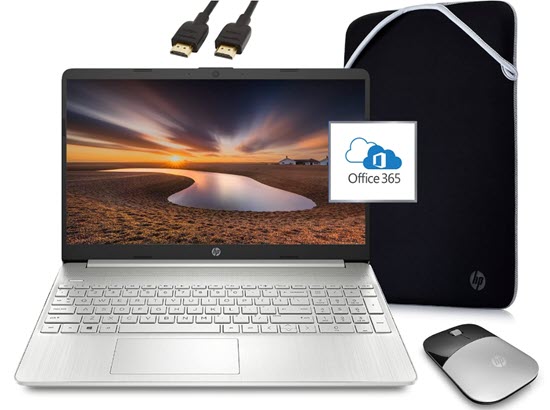 This machine has an HDMI port, and audio and video hiring will be convenient for you. The system runs on Windows 11 and comes with MS Office 365. You will only have to sign in and accept the license agreement.
This machine is pretty powerful, and it can handle the system load pretty well. If you want a serious upgrade, consider going for this system.
HP 2022 Newest Laptop with Microsoft Office Included 1-Year,...
【AMD Athlon Silver 3050U】HP 15.6'' Laptop with AMD Athlon Silver 3050U (2.3 GHz base clock, up to 3.2 GHz max boost clock, 4 MB L3 cache, 2 cores), Uplift your performance and multitask seamlessly with accelerated power and efficiency, while enjoying stunning HD visuals
2. HP HD 14 N4000
The HP 14 HD system is similar to the one we reviewed above. But it comes with a smaller screen in comparison. The HP HD 14 has a 14-inch screen and is big enough for various purposes.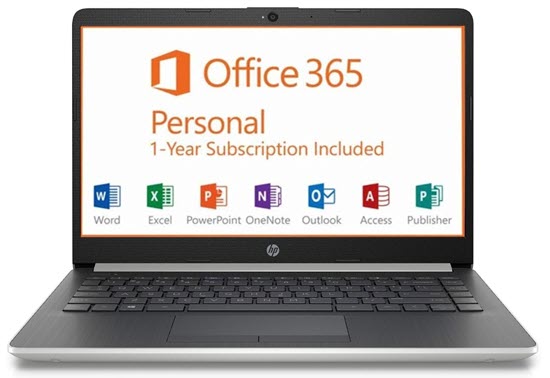 The system comes with a 2.6 GHz processor along with a 64 GB eMMC and 4 GB RAM. But you must remember this system has Windows 10 installed. Of course, you have the option of upgrading it to Windows 11.
This system comes with a 1 years subscription to Microsoft Office 365. It means you enjoy one full year of this program and do your tasks without purchasing them separately. It's a decent system with enough power for your day-to-day tasks.
Sale
3. Dell Inspiron 14 Plus 7420
Dell Inspiron has always been one of the market's most powerful machines, and this one is no different. It has a 14-inch screen but is equipped with a 16:10 2.2K resolution.
The system features Intel Core and has 1TB SSD along with 16GB DDR RAM. so it's a power-packed system that will enable you to perform your tasks on it with high efficiency. You can consider this model as one of the best laptops with MS Office from Dell.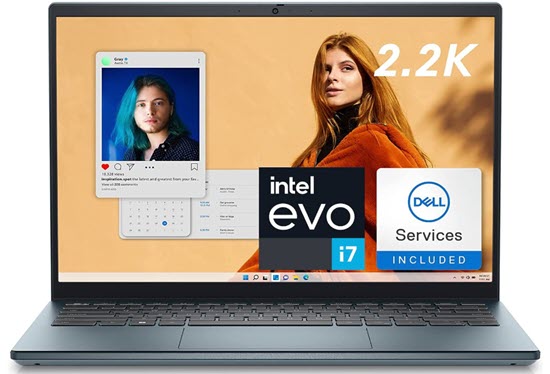 The laptop comes with a 2-year Onsite and antivirus too. It runs on Windows 11 Pro, and you won't have to purchase MS office 365 separately with this juggernaut machine.
This system is available in various options where you can upgrade or downgrade the processor chip and consider going for a different graphics card. If you will be playing heavy games on this laptop, perhaps the Iris XE Graphics is an ideal choice.
It would be best if you considered going for the RTX 3050 GPU on all other tasks on this system. So, you are getting some customized features according to your preferred usage.
Sale
Dell Inspiron 14 Plus 7420 Laptop - 14 inch, 2.2K 16:10, Intel...
DURABLE AND RELIABLE: The Inspiron 14 Plus is durable and reliable - perfect for everyday use. Its long-lasting battery life ensures that you can stay productive all day long.Voltage:240.0 volts_of_alternating_current.Power : 90 Watt Type-C Adapter, Camera : 1080p at 30 fps FHD camera Dual-array microphones.
Read Also: Dell laptop keyboard locked – How to Fix?
4. Asus L203MA VivoBook
The VivoBook by Asus is an ultrathin and compact design for those who want to use it on the go. It features an 11.6-inch HD screen that is crystal clear. Moreover, the machine features an N4000 Celeron processor chip with 4GB LPDDR4 fast RAM.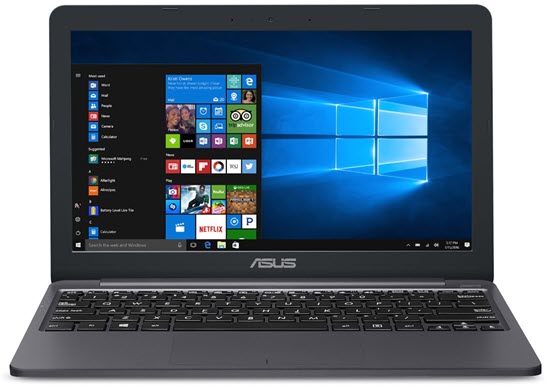 This laptop comes with a 64 GB eMMC ROM to ensure you have enough internal memory to perform various tasks simultaneously with the LPDDR4 RAM. The system is equipped with USB-C type and features Windows 10 pre-installed so that you can upgrade to Windows 11.
Furthermore, this system comes with a one-year subscription to MS Office 365 at a pretty affordable price. Budget buyers will undoubtedly be able to benefit from this machine. It only weighs slightly over 2 pounds and is lightweight, so you can easily move around with it.
5. HP Stream
The HP Stream comes with a 14-inch screen and features an Intel N4000 Celeron processor chip that is fast and powerful. Furthermore, this machine has 4GB RAM and a 64 GB eMMC. So, there is plenty of power under the hood, and it can conveniently handle multitasking at any level.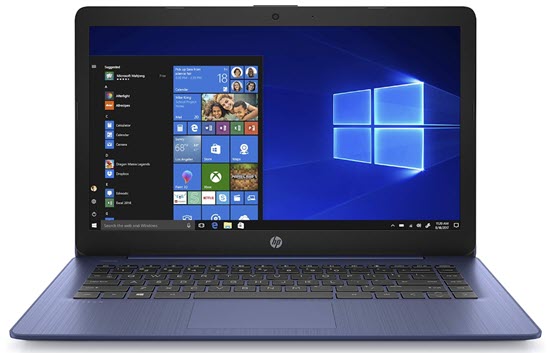 This system runs on Windows 10 Home, and you will get a full year's subscription to Microsoft Office 365. It comes at a pretty affordable price and is an excellent choice for budget buyers.
Moreover, the system features 1TB of cloud storage of OneDrive, so you will have plenty of space to deal with it. One of the best features of this system is that it doesn't consume much power, and you won't have to deal with the issue of your battery running out of juice even after a short while.
Sale
6. HP Pavilion 2022 Premium
If you are after a premium-quality laptop with Microsoft Office 365 pre-installed, consider going for the HP Pavilion. It features a large 15.6-inch screen with an FHD display, and under the hood, it has an AMD N3050 Athlon processor chip. So, this machine is pretty fast and powerful.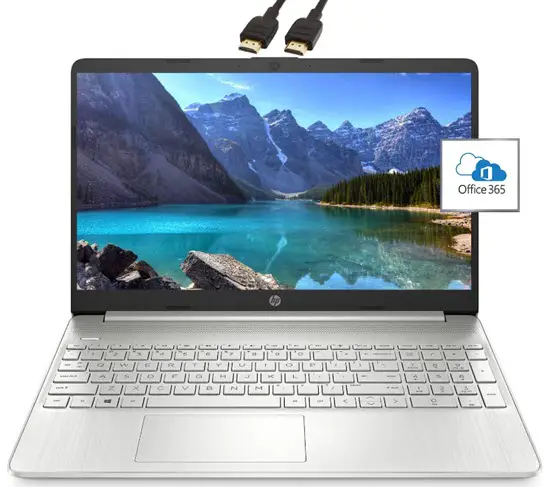 It comes with 16GB RAM with a terabyte of SSD. So, this laptop has plenty of memory and space to play around with. Another exquisite feature of this laptop is that it might have a massive screen, but it still has a lightweight and compact design.
Of course, it's not going to be that small, but for its size, it's pretty compact. The laptop is laced with Windows 11 and has durable battery life. The system comes ready to use, so you don't miss out on your schedule.
HP 2022 Pavilion Premium Laptop, 15.6'' FHD Display, AMD Athlon...
【Upgraded】RAM is upgraded to 16 GB high-bandwidth RAM to smoothly run multiple applications and browser tabs all at once; Hard Drive is upgraded to 1 TB Solid State Drive to allow faster bootup and data transfer. Original Seal is opened for upgrade ONLY. If the computer has modifications (listed above), then the manufacturer box is opened for it to be tested and inspected and to install the upgrades to achieve the specifications as advertised.
7. Lenovo IdeaPad 14
The IdeaPad 2002 by Lenovo is one of its very bests. This computer comes with an AMD A6 processor chip and is 1.6 GHz. Paired with its 4 GB RAM and 64 GB eMMC, this laptop has the superior processing power and ample space.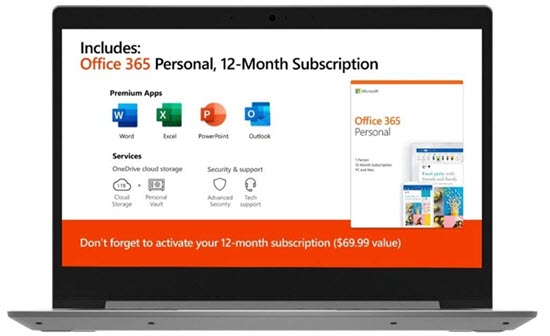 This system features a one-year subscription to MS Office 365 and a 2-year warranty. The system has pre-installed Windows 10, which you can upgrade to Windows 11.
And the best part is you won't have to break your wallet to get this laptop. It comes with a decent price and has plenty of features on offer so you can convey and prepare damage with your documents with high speed and efficiency.
Related: Can I charge the laptop battery externally?
What are the Minimum Requirements to Run MS Office 365 on a Laptop?
The best Microsoft office laptops need at least 1.6 GHz and a Core2 processor. To run Skype for Business on your laptop, you must use a 2.0GHz processor.
The minimum RAM capacity should be 4 GB to run 64-bit OS and 2 GB for a 32-bit environment. Your system needs at least 4 GB of free disk space to work with, and the screen should handle 1280 x 768 resolution.
The minimum operating system needed to run this Office 365 is Windows 10 or Windows Server 2019. DirectX9 or any later version is an ideal choice for graphics hardware acceleration, and if you are using Windows 10, then you will need to go for WDDM 2.0 for the best results.
Benefits of MS Office in Your System
There are various benefits of having MS Office pre-installed in your system, regardless of whether you use it for your workspace or home. A system that comes with Office 365 can handle email very well within MS Outlook.
It enables you to make your spreadsheets fast and easy using MS Excel, and you can prepare your essay writings in no time using MS Office. Purchasing a machine that supports this particular software program will enable you to handle your documents well.
Office 365 is a highly versatile software across businesses, enterprises, educational institutes, and other entities. 
Thanks to cloud storage and the core apps included in this software, you can access your documents anywhere, anytime. 
FAQs
Do laptops come with pre-installed Office 365?
All laptops running Windows 10 operating system come with MS Office 365. But not all of them provide you with free-of-cost access to this program. In most cases, you will get a trial period or have to purchase the license for a particular period to use the software program.
Do I have to purchase MS Office with my new laptop?
You can certainly go down this route if you don't want to buy MS Office with your new laptop. Some laptops come with free subscriptions to this software. So, it is entirely up to you to use Office on your system. You can purchase the program for a trial or free subscription if you use it.
Is 8 GB enough for running MS Office on a system?
The minimum RAM requirement for running MS Office on your laptop is 4 GB. If your system has 8 GB RAM, it can run Office 365 without issues.  
Conclusion:
Many laptops from different brands come with MS Office pre-installed on them. Some come with a free trial, while others come with a limited-time free subscription.
It is up to you to choose the right options based on your requirements. But MS Office makes a system much more powerful as it can handle documents more efficiently and effectively. We hope our guide helps you select the best laptop with MS Office for your home, online studies, or office work usage.