A data scientist trades with loads of data collection, analyzing and interpreting data in a way that is most beneficial for the business.
While dealing with these vast data, they also need a properly functioning laptop that works efficiently and makes the process of statistical analyzing, collecting, and interpreting data smoother and easier.
They require a laptop that has high end specifications which helps them to focus on their work.
Different types of data analysis software require different GB RAM for smooth operation. For instance, software like IBM SPSS statistics software or statistics software needs a minimum of 4 GB RAM for efficient functioning. The more amount of data you handle, the better the hardware is required.
However, a good laptop can make the job much easier. This guide breaks down some of the best laptops for data science on the market and analyzes why they stand out.
Here you will find the 10 best laptops for data science person that will perfectly suit their job along with tips to consider before buying it and a few FAQs
Things to Consider
Screen size
Screen size is the first and foremost thing to determine before buying a laptop. If you aren't planning on straining your eyes, a 15-inch laptop is appropriate for a data analyst, but if you are a full-time data scientist, a larger screen size can be really helpful if you are researching data or content.
However, if you are a part-time data analyst, you can opt for a smaller 13 or 14 inches laptop.
Storage
Storage is an important factor to consider when looking for a laptop, especially for data scientists. You need to select the type of storage you want. There are two types of storage options available – SSD and HDD.
SSD – It is also known as Solid-state drive and it does not have any moving parts. This storage type is much faster than HDD
HDD – It is slower than an SSD and has a lot of moving parts.
It is advisable to go for SDD. You can also opt for HHD as long as it comes with an SSD.
SSD makes the laptop incredibly fast but it is also expensive. A data scientist will require a minimum of 256 GB of SSD storage in the laptop. You can also purchase 1 TB external HD as the data tends to get bigger by the day.
Operating system
The operating system depends on personal preference. You have two options. You can either choose a Mac or you can go with Windows. Most of the tools and software are compatible with both operating systems.
Mac is simple, and all the data science software works smoothly under MacOS. The reason being, most of the data scientists prefer Mac and so the software company makes the tools compatible with MacOS.
If you like Windows computers, go for Windows 10 and install Linux/Ubuntu on it. By having windows and Linux, all the software will run smoothly.
Both the OS are good from their own perspective. Choose wisely as per your requirements. Also, going for ChromeOS or iPad is not a wise choice as not all the data sciences software are compatible with them.
GPU
It is impossible to do the job of data science without strong graphic cards. Always go for the laptops with advanced graphics that will allow you to do your job without any lag.
A laptop with GTX 960 GPU would be enough for this profession. Also, if you are a gamer and a data scientist, you can go for advanced GPU so that you can enjoy gaming as well as professional life.
Portability
If your job doesn't require a lot of traveling and moving,and you work either from the office or from home, then you don't have to worry about the weight and size of your laptop.
If your job demands you to travel a lot, considering the size of your laptop is very important. It is advisable to go for the lightweight laptop model so that you can carry it around with ease.
CPU
Today's laptop comes with Core i3, Core i5, or Core i7 processor. Core i7 laptops are a preferable choice for a data scientist as they are more powerful and can smoothly perform the heavy multi-tasking job.
If you don't have a budget for core i7 or i9, you can also opt for core i5. They deliver quality performance and are a fine substitute for the core i7.
Top 10 Best Laptops for Data scientists and students
1. Asus Vivobook S15 S512
Asus is a leading company in manufacturing laptops, PCs, graphic cards and other electronic items.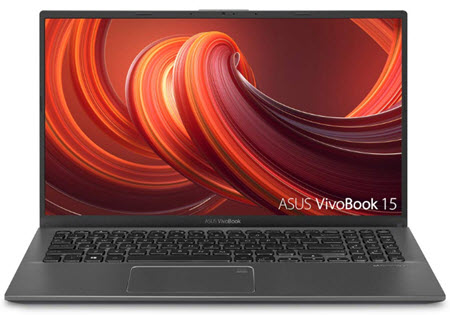 This Asus Vivobook S15 S512 is a compact laptop with a new frameless four-sided Nano edge display. It boasts 5.7mm bezel and gives 88% screen to body ratio for an excellent display.
It has an ErgoLift hinge that tilts the keyboard upwards for a comfortable typing experience.
It is powered by the latest intel core i7 processor with GeForce MX250 NVIDIA graphics and HDD and SSD storage drive that gets things done smoothly without much fuss.
This laptop is very lightweight and weighs only 4lbs. It easily fits in a bag and is very travel friendly. It comes with ports like USB 3.1 and 2.0, reversible USB Type C, HDMI, and microSD card reader.
Pros
The design of this Asus Vivobook is sleek and gives a very sophisticated look. The body has a finish of the classic silver metal
VivoBook S15 has a dual-storage design. It comes with 256GB SSD and 1 TB HDD storage capacity. It gives you both superfast data performance as well as large storage capacity.
VivoBook S15 laptop comes with the 3 times longer battery life and has a super quick charge time. It can get 60% charged in 49 minutes. It has a high-quality lithium-polymer battery that keeps you going.
It comes with a built-in fingerprint sensor. You can log in with just a single touch.
This product comes with sonic master speakers and provides excellent sound quality
Cons
2. Huawei MateBook X Pro Signature Edition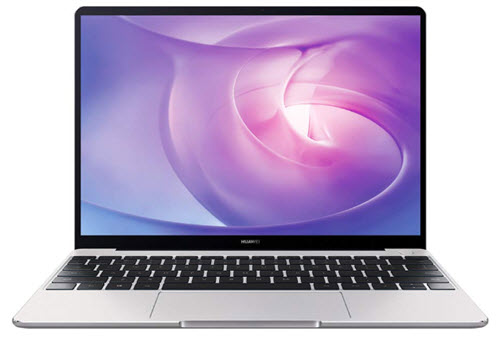 Huawei Matebook X Pro is an ultra-slim notebook with a 13.9-inch screen and a full-size spill-proof keyboard. It is very thin and compact in size and weighs only 3 pounds.
It has 91% screen to body ratio and gives you an immersive experience of 3K FullView touchscreen. It comes with an i7 core processor and NVIDIA GeForce MX150 discrete graphics. This laptop also features a 2nd generation Dolby ATMOS sound system.
The refresh rate is 60Hz and it has 178 degrees viewing angle.
Pros
This notebook comes with Windows 10, 8th Gen Intel Core i7 8550U/i5 8250U processor
The battery life is superb. You can enjoy up to 14 hours of office work, 12 hours of video and music playback, or 15 hours of web surfing.
It comes with a pop-up webcam. This gives users privacy. It only pops up when users need to use it.
It comes with a one-touch power button that logs in your computer in 7.8 seconds.
It comes with an upgradable SSD
It comes with 2 USB c ports, One USB A port, and one 3.5 mm headphone jack.
Cons
It gets heated quickly
It is expensive
The webcam is placed in an awkward place and the quality of the camera is very bad.
Huawei MateBook X Pro Signature Edition Thin & Light Laptop,...
World's First FullView Display: Immersive 13.9-inch 3K touchscreen with 91% screen-to-body ratio, only 0.57-inch thin and weighs only 2.93 lbs., perfect for at-home or on-the-go computing
Powerful Inside: Windows 10 Home Signature Edition with no bloatware. 8th Gen Intel Core i7 8550U processor + NVIDIA GeForce MX150 - boosts performance up to 40% over its predecessor
3) Apple MacBook Pro
Apple needs no introduction. It is one of the leading manufacturers of products like iPhones, iPads, laptops, etc. This Apple MacBook Pro has the most amazing features that will make the job of data scientists very easy.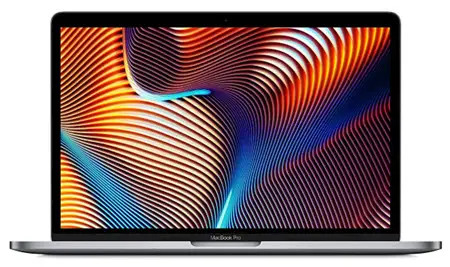 This Macbook comes with one of the finest retina displays with more than 4 million pixels. With such a display, you can never miss out on any of the details displayed in the screen. The speaker of Macbook pro has a perfectly balanced, high fidelity sound and takes you to a new level of music experience.
The keyboard uses a butterfly mechanism. It makes the workplace quieter and the keys are stable and makes no noise. The touch bar on the keyboard comes with various gestures like tap, slide, flick or hold. It helps in adjusting the volume, brightness and even to rewind the video. The trackpad is very smooth and soft and is huge.
Pros
It comes with thunderbolt 3 with usb C. With just one single connector it integrates data transfer, charging and even video output.
This 15 inch Apple MacBook Pro comes with 256GB SSD storage with 3.2 GB read speed and 2.2 GB write speed. The SSD is expandable up to 4TB
It comes with T2 security chip that keeps all the data secure.
The Macbook comes with GDDR5 GPU which accelerates graphic tasks.
It comes with a good 10 hour long battery life.
The keys on the keyboard are 4 times more durable than the traditional scissor mechanism keys.
Cons
4) Acer Predator Helios 300 Gaming Laptop
Acer is a leading brand with a wide product range like laptops, PC, monitors, cloud services, projectors, etc. This Acer Predator Helios 300 laptop is a gaming laptop, which is also a perfect laptop for a data science professional or student.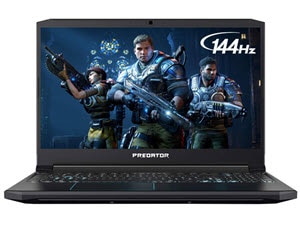 It has a combination of powerful 8th Gen Intel i7 core processor along with High performing NVIDIA GeForce GTX 1060 graphics. To support the intense sessions, it comes with two all-metal Aeroblade 3D fans. The audio capabilities are stellar and the design with geometric lines adds to the action and drama.
Pros
The refresh rate is 144Hz
It has a good battery life of around 7 hours
The laptop has PCI NVMe 256 GB SSD which is 3 times faster than the traditional SATA SSD
The laptop stays cool even after high performance due to its 3D Aeroblade fans and superior airflow
The memory and storage is easily upgradable
It comes with a blacklist keyboard and gives immersive sound
Cons
The battery life could be improved
The quality of keyboard and touchpad is average.
Sale
5) Microsoft Surface Pro (5th Gen) (Intel Core i7, 16GB RAM, 512GB)
The brand new Microsoft surface pro is a versatile laptop that delivers more of everything. It is completely redesigned and provides much more battery life, powerful performance, and superior display.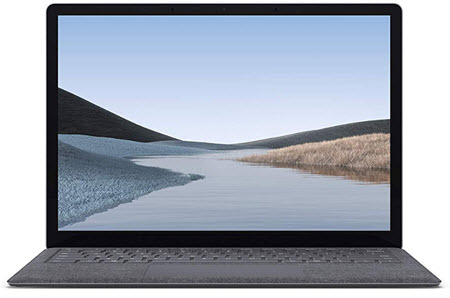 The PixelSense display supports using pen and touch and it comes with 2.5 times better performance and 68% more battery life when compared to Microsoft Surface Pro 3. It can perform up to 13.5 hours for video and audio playback.
It features a 7th generation Intel core i7 processor with 512 GB storage capacity and 16 GB RAM. It makes it one of the best and fastest intel core laptop grade processors.
Pros
It is compact in size and easy to carry around
It is very lightweight and weighs only 1.69lbs.
The fan doesn't make any noise and it is completely silent
With the fingerprint sensor you can easily sing in within seconds
It handles the data extremely well without any lag
Cons
You need to buy the signature type cover and surface pen separately
6) Asus ROG Strix Scar II Gaming Laptop
This Asus ROG Strix scar 2 laptop is a gaming laptop that is perfectly suitable for data scientists. It has a very stylish design and is powerful. It comes with the latest NVIDIA GeForce RTX graphics. It has a boasting refresh rate of 144Hz with an ultra-narrow bezel display.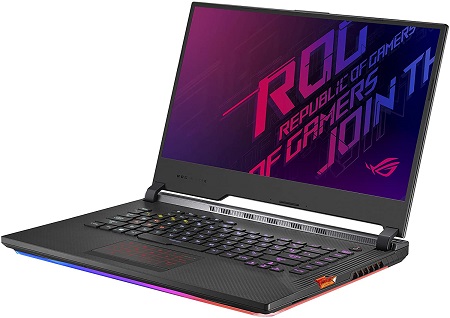 This laptop has 512GB PCIe NVMe SSD and comes with 8th generation Intel core i7 processor. The design is mesmerising and has RGB LED backlights. It comes with multiple ports like USB type C, USB 3.1, HDMI, 3.5 mm jack, etc.
Pros
It comes with 2x 12V Anti-Dust Fans
The display is colorful, bright and has a resolution of 1080p
It has a huge screen size of 17 inches with a thin chassis.
The keyboard is tactile and attractive
The graphics are solid and perform excellently
Cons
The audio and battery life could be better
The quality of the webcam is average
7) Lenovo Yoga 730 2-in-1 15.6″ FHD IPS Touch-Screen Laptop
Lenovo is famous for its high performance, and this laptop is proof! This Lenovo Yoga 730 two-in-one hybrid laptop is perfect for data science professionals, students, and also for multimedia students.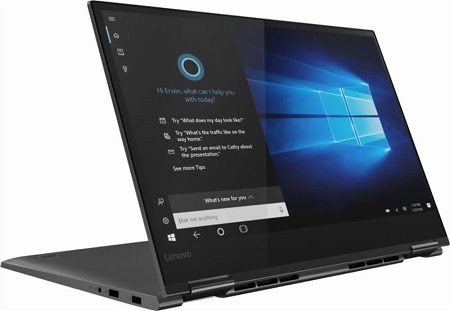 It comes with Intel core UHD hardware and NVIDIA GTX 1050 graphics. It is a very lightweight and powerful laptop with mid-range budget-friendly price.
The design is sleek and mesmerizing with aluminum casing and silver metallic finish on the sides. It is a convertible laptop that flips 360 into a tablet mode. It also comes with a stylus pen.
The USB A port and USB C thunderbolt port, HDMI 2.0 adds to the versatility of the laptop. The heat dissipates from the bottom vents and the speakers provide a decent sound.
Pros
The backlit keyboard is quiet, and the touchpad is excellent with multiple gesture support
This laptop comes with a fingerprint reader which makes signing in very easy and fast
The battery life is good. It runs for around 11 hours
It is a solid laptop, with a bright display, good GPU, excellent keyboard and touchpad and robust performance
The speakers have excellent and clear sound.
Cons
It is slightly heavy when compared to the other 2 in 1 laptops
8) HP Pavilion 17-Inch Gaming Laptop
HP Pavilion 17 inch laptop is fastest with high-grade graphics and good processor performance. It is perfect for multitasking. It comes with advanced thermal management and IR sensor that keeps the laptop from overheating.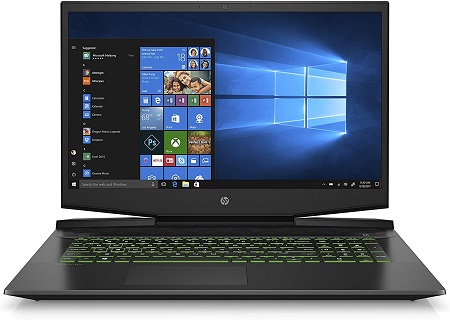 It comes with a 9th generation Intel Core i5 quad core processor and NVIDIA GeForce GTX graphics.
The screen size is 17.3 inches with Full HD, IPS Anti-glare display and 60Hz refresh rate. It comes with 8 GB RAM and 256 GB SSD which is expandable and upgradable.
One of the attractive features is the Bios recovery and protection that checks the PC and protects it against the unauthorized access.
It has number of ports like USB 3.1 Type c, USB 3.1 Type A, HDMI, headphone port, etc.
Pros
The battery life lasts up to 8 hours 45 mins
It has a full size backlit keyboard and a good quality built-in webcam
The design of laptop is sleek with micro bezel display
The audio is powerful and can be customized
It is the quietest and coolest gaming laptop
Cons
No negative points observed so far
HP Pavilion 17-Inch Gaming Laptop, Intel Core i7-9750H, NVIDIA...
Fast and easy multitasking: experience high-grade Graphics and processing power that meets your gaming and multitasking needs for the latest games including Fortnight, PUBG, and Overwatch
Advanced thermal Management: optimized thermal design and IR sensor keeps your laptop cool to the touch, without affecting acoustics
9) Dell G5 Gaming Laptop 15.6″
Dell G5 laptop has windows 10. It is a great gaming laptop with a 15.6-inch display and is powered by a core i7 processor. It comes with 16 GB RAM and 256 GB SSD storage which makes it very fast and powerful. It comes handy for data scientist and it can get the work done smoothly without any lags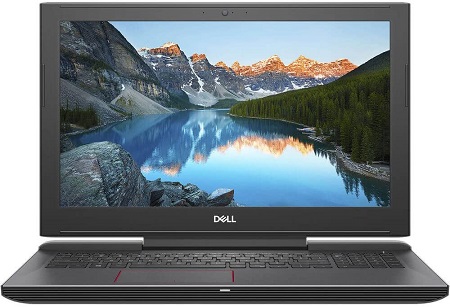 It is powered by NVIDIA GeForce GTX 1050 Ti graphics which makes it a smooth performing laptop. It has various connectivity options like USB ports, HDMI port, card slot, Headphone jacks, Bluetooth and WiFi.
The display has a high resolution of 1080p with a more colorful screen. It is one of the favorite mid-range laptops amongst users.
Pros
It is a durable, high performing laptop
The battery life is good and lasts up to 7 hours
It does not heat up even after prolonged use
It provides value for money
Cons
It is bulky
The SSD transfer is slow
10) Razer Blade Pro 17 Gaming Laptop
The Razer Blade Pro 17 gaming laptop is the largest gaming laptop by the razer. It is a high-quality build and gives high frame rate HD gaming experience.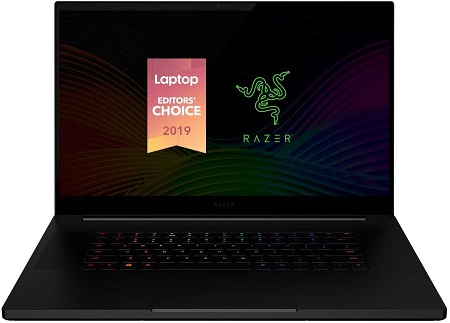 It is redesigned and now has a cleaner, slimmer and modern look. It is lighter than most of the 17-inch laptops and also costs less. It is a perfect laptop for content creators, data scientists, and gamers alike.
The design is stunning with a sleek look and 0.8-inch thick black aluminum chassis. The cooling system is very effective and it comes with a faster SSD.
The 9th generation core i7 processor makes it a high performing laptop. It comes with 16GB of RAM and 512GB PCIe NVMe SSD along with NVIDIA GeForce RTX 2060 graphics.
Pros
It has multiple connectivity options like USB 3.2, USB thunderbolt 3, HDMI 2.0, SD card reader, USB 3.2 gen 2 types A port, type C port, ethernet jack, headphone jack, and proprietary power port
The display is stunning with a resolution of 1920 x 1080 and a screen size of 17.3 inches. It has a fast refresh rate of 144Hz
The speakers are top-mounted which makes the audio more clear
The keyboards are customizable and you can choose the color and functionality for each key
Cons
The battery lasts only for 4 hours
Razer Blade Pro 17 Gaming Laptop 2019: Intel Core i7-9750H,...
Zero-Compromise Powerhouse: Built for gaming and creative work in a 0. 78" thin CNC aluminum unibody with high-performance vapor chamber cooling
Futureproof Design: Supports SSD and dual-channel memory upgradeability, Thunderbolt 3 enabled, compatible with Razer Core X external GPU enclosures for additional graphics power
Frequently Asked Questions
How much RAM do I need for data science?
It is advisable to go for a minimum RAM of 8GB. Don't go below that. A 16GB RAM is recommended for the smooth and fast processing of data. RAM is like a bottleneck for large data sets. When the processing memory is fast, things naturally speed up.
If you don't have a budget for 16GB RAM, go for the 8GB RAM.
Is Mac or Windows better for data science?
Almost all the software used by data scientists runs smoothly on both the macOS as well as windows. It totally depends on personal preferences. Get a laptop with good memory and processor and you are good to go. However, many data science professionals prefer Mac OS due to its compatibility with the software.
Which laptop is best for data entry jobs?
Laptops with 8GB Ram and good SSD storage are suitable for the job of data science professionals and students.

Some of the best laptops for data entry jobs are:
1. MacBook Pro
2. Microsoft Surface
3. Lenovo Yoga 730
4. Asus Vivobook s15
5. Huawei Matebook X pro
Which processor is best for data science?
While purchasing a laptop for data analysis, it is important to look at the clock speed of the processor and not the core count. The coding on python and other coding languages is a single-threaded workload. High clock speed means faster execution.
Are gaming laptops good for data science?
A gaming laptop is ideal and suitable for data scientists. They have good high-end specifications and if you are a full-time data science professional, you will need a high-end laptop. Gaming laptops with high-end specifications are good for data science.
Conclusion
The list mentioned above has the best laptop for data science professionals and students that are available online. All the laptops have great specifications and are high performing. They come with good RAM and great SSD storage.
They are quick and do not lag when performing heavy tasks. They can easily conduct various activities like gaming, video chatting, browsing as well as run all the software related to data science smoothly.
The laptops needed by data scientists should have good and high-end specifications. We hope this list of top 10 laptops along with the buyers' guide and FAQs will help you find the best laptop for you.