The gaming industry is blooming with each passing day, and more and more people are trying game development. Most of the developers have started using laptops for developing professional-level games.
Are you a professional game developer or a student pursuing game development or designing courses and looking for the best laptop for game development? You will need a powerful laptop that can smoothly run various game development software like unreal engine, unity, RPG Maker, etc.
Game development is a wide field, and the type of laptop required depends on the type of games you develop. If you want it for 2 d games, then a regular laptop will get your work done.
However, if you make 3D games, it requires a lot of graphic tasks and designing using various software. For this purpose, you will require a high specification laptop that can run various CAD software like 3DS Max, Autodesk Maya, Blender, Unity, etc.
If you are a professional game developer and looking for a new laptop, then it is easy for you to choose the best suitable laptop as you also know the task you are involved in.
If you are a beginner and confused about which is the best laptop for you, then it is advisable to select a machine with the recommended system required for game development.
This guide will help you with selecting the best laptop for game development. You will know which type of laptop is suitable for you, depending on the type of game you want to develop.
Here you will find a buying guide, a list of 10 best laptop choices for game developers along with a few FAQs.
What type of games do you intend to develop?
This is a broad subject, and the type of game you develop determines the kind of laptop you will require. Different game development requires different machines. Let's learn about the different types of games.
2D Pixel Art
If you are going to draw and create pixel art, then this isn't a very demanding task. A good tablet or notebook with touch screen and nice color calibration is the most important thing to consider for this type of game development.
3D Models and Animation
If you are interested in 3D modelling and animation, then looking at the GPU is most important. You should also go for the machine with good RAM and CPU.
Programming
If you develop games using coding languages, CPU is the most important thing to look out for while buying a laptop. Besides, good SDD is extremely important as it makes a huge difference in compiling code.
Virtual Reality Developer
If you are working on VR, you need some seriously high specification laptop. You have limited options and should have a high budget. You will require a machine that runs an HTC Vive, or oculus rift. You will need at least a 1060 plus GPU and a minimum of 90 frame rate per second.
Best Laptops for Game Development in 2020
Asus ZenBook Pro Duo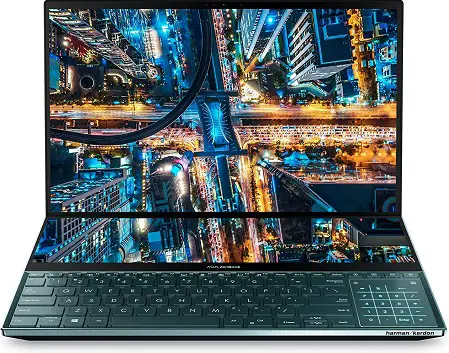 This Asus ZenBook Pro Duo is one of the best laptops for developing high-end games. It has an astonishing 3840 x 2160p (4k) resolution with a full HD display. The visuals are so bright and vibrant that it will take you to another world. 
Its touchscreen display comes with 10 point touch control that helps in navigating through web pages like a pro. With its high fidelity actuators embedded, you can benefit twice the level of accuracy when compared to standard touch screens.The screenpad can give you multi-window experience and the viewMax mode can extend your screen to display the extended view. 
The laptop comes with Intel core i9 processor with 2,4GHZ clock speed which could be boosted up to 5GHz, making it one of the powerful CPUs in any laptop. 
You can perform all the heavy tasks, browse through the web pages, or listen to music, this laptop will do the task smoothly without any lags. 
The OS used is windows 10 Pro and it is equipped with 32GB RAM and 1TB SSD storage. It is enough to handle various gaming projects simultaneously. The SSD speed is superb and with 32GB RAM and huge storage capacity, you don't need to upgrade the laptop anytime. 
It is equipped with NVIDIA RTX 2060 GPU which helps the game developers of ray-tracing. 
The speakers are powered by Harman Kardon technology and are of the highest quality. The laptop is a little heavy and weighs about 5.5 pounds and the battery life is up to 4 to 5 hours or more depending on the usage. 
Microsoft Surface Pro 7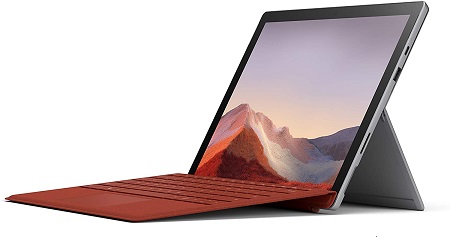 The Microsoft Surface Pro 7 is the latest laptop by Microsoft in the market. It is perfectly suitable for game development. It is compact with a 12.3 inch touchscreen and 2736 x 1824p resolution. It is a perfect laptop for people on the go as it is also light in weight. 
The developer can interact with the 3D models designed for game development due to its touch display. It is powered by 10th generation Intel Core i7 processor with integrated Iris Plus GPU. 
The GPU of this laptop is not the most powerful one, but the CPU is highly efficient and helps getting the work done faster and without any lags. The overall battery life of Microsoft Surface Pro 7 is up to 10 to 11 hours under regular usage. 
This laptop is equipped with a 512GB SSD which is upgradeable and it has 16GB RAM for smooth performance. It weighs only 1.7 pounds and can be converted into a tablet if the type cover is detached. 
Sale
New Apple MacBook Pro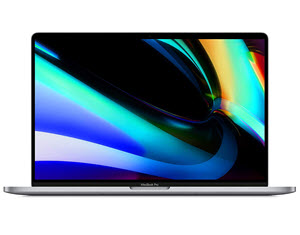 The brand new Apple MacBook Pro is one of the most powerful laptops by Apple. It has a huge 16inch display with minimal bezels and accurate color. The color calibrated display helps game developers while demo running the games. 
It is equipped with 512GB SSD storage and 16GB RAM. The laptop is protected with a T2 chipset for additional encryption. These massive storage and high RAM loads the software within seconds and it provides users a lag free experience. 
The laptop runs on the latest version of MacOS and also has built-in touch ID with fingerprint sensor. It is powered by Intel Core i7 processor with 4,5GHz cloak speed. It comes with one of the best AMD mobile GPUs that can handle most graphic games without issues. 
The battery of the Apple Macbook pro lasts for up to 11 hours and users can connect external monitors to this laptop. The laptop is 4.3 pounds only making it easy to carry around. 
Sale
LGI HP Spectre x360 – 13t(7th Gen)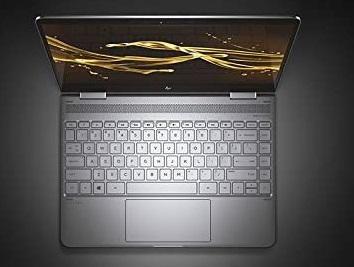 The HP Spectre x360 is a 2-in-1 laptop with a touch screen. It has a 13.3 inch display with 1920 x 1080p resolution. This laptop's design is amazing, with very thin bezels, and it is ideal for developing games for tablets and smartphones. 
It is powered by Intel core i7 along with Intel HD 620 GPU. The laptop uses V RAM so it might not be suitable for heavy game developing tasks and users have limited options. It offers a 16GB RAM and 512 GB SSD. 
The battery lasts up to 6 hours on a single charge and it weighs 2.85 pounds which makes it a very lightweight but powerful laptop for game development. 
 Lenovo ThinkPad P52s 15.6" FHD IPS Display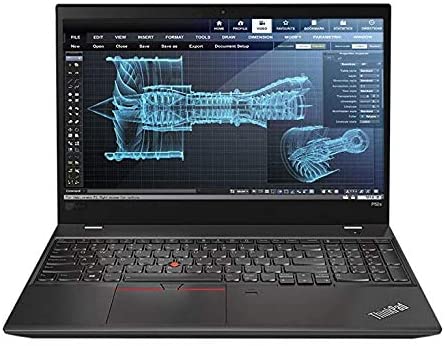 The Lenovo ThinkPad P52 is a perfect laptop for people who are extremely serious about game development. It has a standard 15.6-inch IPS color-accurate display with a resolution of 1920x1080p.
It is powered by an Intel Core i7-8750H processor which is high performing and offers up to 4.1Ghz clock speed. It is equipped with NVIDIA Quadro P1000 GPU which is capable of rendering superior graphics and you can also connect an external 4K display. 
It comes with 1TB SSD storage capacity and 32GB DDR4 RAM, which makes this laptop a mighty powerhouse of memory. Developers can easily create high fidelity graphic scenes or stimulate game scenes without any issue. 
The weight of this laptop is 5.65 pounds and has an average battery life of around 4 to 5 hours. The keyboard is of good quality and provides comfort while writing the codes for long hours. It comes with multiple ports where you can connect all sorts of additional accessories. 
GIGABYTE Aero 15X v8-BK4 15″ Ultra Slim Gaming Laptop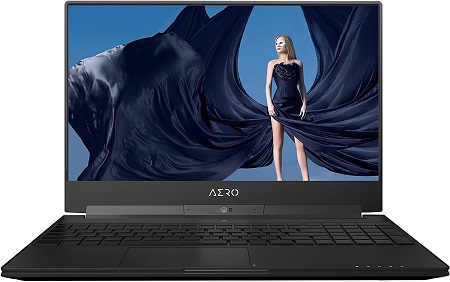 Gigabyte is a leading brand that manufactures laptops, monitors, provides cloud services, and much more. This gigabyte aero 15x laptop is a premium gaming laptop with a sleek design and modern look. 
It has a 15.6 inch screen with bezel less design which makes it compact. It has a peak refresh rate of 144Hz which makes the testing of high end games easy and smooth. 
It is powered by 8th Gen Intel core i7 8759H processor and has a clock speed of 4.1GHz. It has NVIDIA GTX 1070 Max-Q GPU that is useful in utilizing the high end development software. 
It is equipped with 16GB DDR4 RAM and 512 GB SSD along with windows 10 OS. All these features make this laptop a very high performing laptop. The battery of gigabyte aero 15x can last up to 10 hours and it weighs around 4.62 pounds. 
Acer Predator Helios 300 Gaming Laptop PC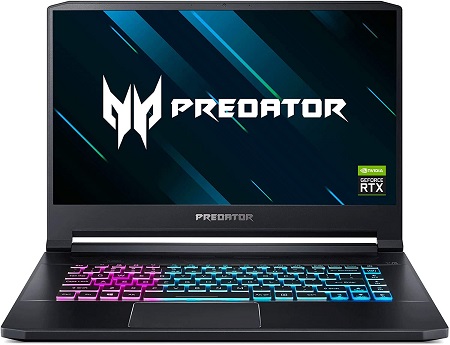 The Acer predator helios laptop is a good budget-friendly laptop that offers the right proportion of hardware that makes the game development process smooth. It comes with a 15.6 Inch display with 1920 x 1080 resolution and brightness of 300 nits and thick bezels along with a 144Hz refresh rate. 
It is powered by Intel Core i7-8750H CPU with 6 cores and each core can operate at 4.1GHz clock speed with turbo boost technology. This machine comes with NVIDIA GTX 1060 GPU and 6GB DDR5 V RAM. 
It has 521GB SSD storage and also comes with an empty hard disk slot which can be used for SSD or HDD storage. 
The Acer Predator Helios 300 has a battery life of 4 to 5 hours and weighs 5.51 pounds. All these features make this laptop a great laptop for game development. 
Sale
Alienware New M15 Gaming Laptop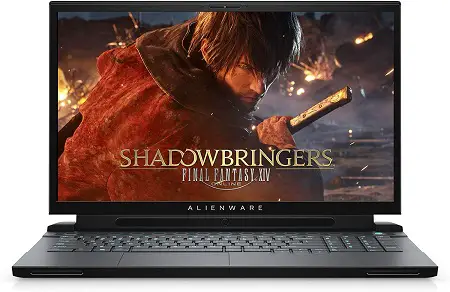 With Alienware M15 Gaming Laptop, you will experience unprecedented performance due to its hyper efficient voltage. It comes with 8 phase voltage regulation in NVIDIA GeForce RTX 2060 GRaphics and 6 phase voltage regulation on 9th gen Intel core i7-9759H processor. 
It is made to give great efficiency and high performance. It is one of the thinnest gaming laptops which gives great performance and has attractive design. 
This laptop is built with premium quality materials like magnesium alloy copper and steel. It is light in weight, around 4.5 pounds. The advanced thermal technology keeps the laptop cool all the time even while performing heavy tasks.
The battery life is good and lasts up to 4 to 5 hours after performing heavy tasks. The screen size is 15.6 FHD with a 1920 x 1080 display and 300 nit brightness. The refresh rate is 144Hz which makes gaming more fun and the game developer can work efficiently. 
MSI GS75 Stealth-093 17.3″ Razor Thin Bezel Gaming Laptop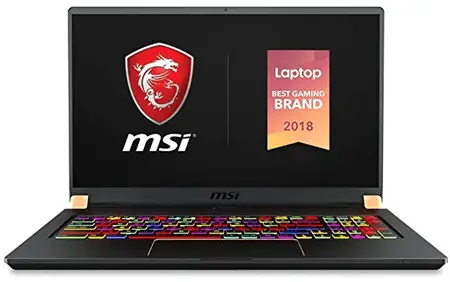 The MSI GS75 Stealth is a very slim gaming laptop which is packed with powerful features. It has an incredibly stunning design with powerful Nvidia RTX2080 Max-Q GPU with Ray tracing technology. 
It's screen size is 17.3 inch and the refresh rate is 144Hz. It is powered by Intel core i7 8750H. It has 16GB DDR4 RAM which is expandable up to 32GB and comes with 512GB NVMe SSD. 
This machine has 3 fans which cool down the laptop immediately. The backlit RGB keyboard is customizable and has glowing edges. It runs on Windows 10 OS and has multiple ports where you can connect all sorts of external devices.
Acer Nitro 7 Gaming Laptop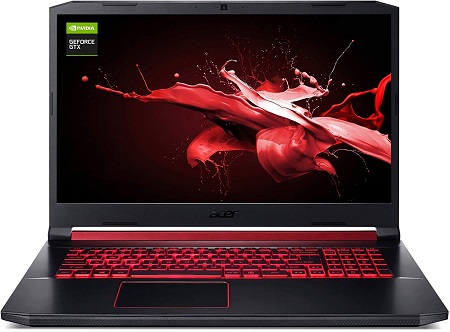 The all new Acer Nitro 7 gaming laptop comes with a decent yet sleek design. It is not flashy and the monolithic build looks great. The screen size is 15.6 inches with full HD 1920 x 1080p resolution and 144Hz refresh rate. The brightness is great even for outdoor use. 
The keyboard has a clic let style key and they are well spaced and are very responsive while typing. They have red backlight with four levels of brightness. 
It is powered by Intel core i7-9750 H processor and NVIDIA GeForce GTX 1660 Ti GPU. It has 16GB DDR4 RAM and 512GB PCIe NVMe SSD which gives smooth performance. 
The laptop also comes with Acer's CoolBoost technology, which increases fan speed by 10% compared to Auto mode. It runs on Windows 10 OS and is quick to boot and all the apps as well as software loads quickly. 
The company claims that the laptop can run for up to 7 hours with one single charge. This Acer Nitro 7 gaming laptop is above average laptop with good SSD, CPU, and GPU. Also, the price is budget-friendly. 
Things to Consider Before Buying a Laptop for Game Development
CPU
Go for a laptop with the latest quad-core processor with at least a clock speed of 3.5GHz. For Intel chipsets, get a core i7 or i9 central processing unit.
GPU
GPU is important for game development as it involves creating 3D models and showing them in real-time. It is advisable to go for a laptop that comes with Graphics. But if you are a newbie and have a lower budget, you can go for laptops that come with graphics cards attached to the CPU.
A GPU is capable of rendering 3D images at high frame rates. Various NVIDIA GeForce GTX have shown major significance in game development. It allows the user to explore and it can run on different game frameworks. Some also allow you to run the games on high settings with VR and 4K display correspondence.
Hence, selecting a laptop with the best GPU depends on the level of activity and its inclinations.
Display
Display plays an important role in game development. You should go for a laptop with resolution of at least a 1080p or 2k. If you have a good budget, you can also go for a 4K screen. Along with resolution, it is also important to consider the type of panel and the refresh rate.
The panels determine the colors and display in daylight and refresh rate makes the game as responsive as possible.
RAM
Looking at the RAM is as important as the GPU and CPU. Good and high capacity RAM makes the game engine run smoothly. If you have a limited budget, go for at least 8GB of RAM, anything less is a waste.
The ideal and most common capacity is 16GB RAM. If you have a good budget, you can opt for 32GB RAM, as most software used while game developing consumes a hell lot of RAM and low RAM tends to slow down the PC.
Storage
There are two types of storage available, they are, SSD and HDD. Always go for SSD based storage as HDD will slow down your laptop and will hinder your game development process. Game developers should go for at least 512 GB SSD and with up to 1TB expandable SSD. It speeds up data access which is a pivotal requirement for gamers.
Battery
Getting a laptop with good battery life is essential. If you choose a laptop with low battery life, it could cause disruptions in your developing activities. Generally, a large battery lasts longer, but with many features like high GPU, processor, high resolution display, good refresh rates, it drains out the battery life.
Choosing the laptop with a considerable battery is important when you have restricted access to the charging point.
Price
Price profoundly influences the choice of laptop you would like to buy. At the end, it all comes to the budget of the individual and his/her spending capacity. It is vital to determine the investment they can make on a laptop. You can find a good functional laptop for game development for a mid range price.
For smooth game development ensure the laptop comes with the above-mentioned features. After this, choosing the best laptop should not be a difficult task.
Frequently Asked Questions
How much RAM do I need for game development?
The best laptop for game development requires at least 16GB of RAM. If you have a low budget, you can opt for a minimum 8GB of RAM which is later expandable to 16GB or more. 
However, if you are a full time game developer, 32GB RAM is recommended for best and smooth user experience

Is 16gb RAM enough for game development?
Yes, 16GB RAM is enough for game development. However, if you use more heavy software it is recommended to get a laptop with 32GB RAM. With 32GB RAM, you can carry on your work efficiently without any lag.
Does Utility work on Mac?
Yes, it works completely fine on Mac.
Can MacBooks be used for game development?
Yes, Apple MacBooks are useful in developing games. Apple recently launched its 16 inches MacBook Pro which is perfect for game development.
Are gaming laptops good for game development?
Mostly all the high end gaming laptops are good for game development. The high specification gaming laptop comes with good CPU and high RAM, GPU and Storage solutions. All these features make gaming laptops suitable for game development.
Can I use laptops with Core i5 Processors for game development?
It is recommended to go for i7 or i9 core processors as it can handle the heavy task of game developing. If you go with an i5 core processor, it might hinder the overall performance and slow down your game development process and you might get frustrated. 
The above mentioned products are some of the best laptops available for game development in the market. The list contains products that run on Windows OS and MacOS. As mentioned earlier, different gaming development requires different sets of hardware. 
These products are ideal for both a student studying game or design development as well as professional developer. Being a developer is a serious job and worrying about which laptop to buy should not be on your mind. 
Set your budget and choose the best laptop for game development from the list of top 10 best laptops for game development.