Are you looking to get the most suitable laptop for seniors? You are at the right place with an excellent collection of laptops. Life is going very fast! To match the fast pace of life, seniors and juniors need to use hi-tech gadgets properly.
In this article, let's discuss senior citizens and their gadget needs. Talking about gadgets, we feel that the laptop is something that all elders should operate to make activities like paying bills, banking, and shopping easy. Apart from this, they also need to use the laptop for entertainment purposes. At this stage of life, entertainment is a must!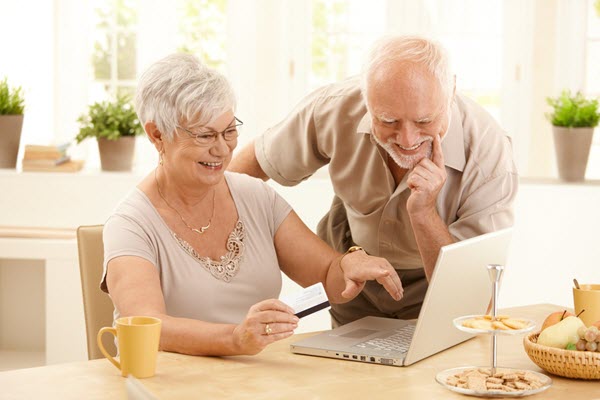 It's a myth that seniors cannot use hi-tech gadgets. They can definitely use it if they get the proper training. You cannot expect them to be quick like you and learn everything daily. If seniors are in your house, make their lives easy by teaching them how to use online tutorials for their new gadgets. Some of the below minimal models are the ones that can allow them to pay bills, do the banking, play games, watch several videos, listen to audio, etc.
Regarding gadgets, laptops are suitable for seniors because they allow them to conduct social networking, chat, etc. These gadgets can help them to get in touch with their long-distance friends and relatives.
Not all laptops are suitable for elderly people in your house because they face other health-related issues. While buying the laptops for them, you need to consider their medical conditions related to vision, hearing conditions, etc.
Top 10 Best Laptops for Seniors
1)  

HP 15.6″ HD Touchscreen Laptop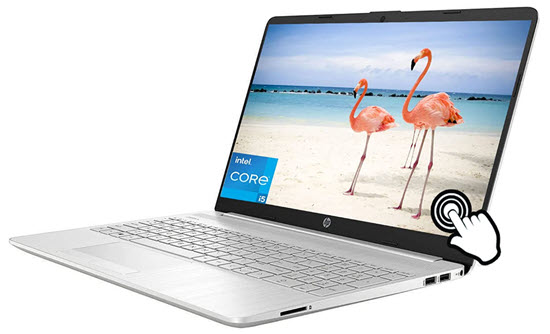 The HP 15.6″ HD Touchscreen Laptop is a great choice for seniors and elders due to its exceptional features. It has the 11th Gen Intel Core i5-1135G7 processor that provides speeds up to 4.2 GHz, perfect for multitasking or for playing games. It also has Intel Iris Xe Graphics and a webcam, so you can easily video call your friends and family with ease.
Moreover, the laptop is lightweight, making it easy to carry around, and it has a large 15.6″ HD touchscreen display, making it easier to read text on the screen without straining your eyes.
We can keep discussing the hardware specification of this laptop, but it may not be applicable further since we selected this model considering the cost and features for seniors. The RAM and SSD storage is enough to store your important documents, photos, videos, and more in one place without any lag time while accessing them. Finally, the latest Windows 11 provides additional functionality, such as enhanced security features like facial recognition, to ensure that only authorized users can access confidential data stored on the device.
Just to remind you, it has a touch screen that can make the usage of the laptop very easy.
2) Lenovo Ideapad 3 Laptop
The Lenovo Ideapad 3 is light in weight and is very easy to use. Elders can comfortably use this laptop at their own convenience because it is very sleek in terms of looks. This laptop is good in looks, comes with a soft keyboard, and has a very appealing screen. The screen size of this laptop is 15.6 inches, and the screen resolution is 1366 x 768. This laptop's 11th Gen i3 processor offers decent speed to manage day-to-day tech life.
This laptop is under 500 dollars with 8GB RAM and 256GB NVMe SSD. With this laptop, elders can easily access photos, videos, documents, music, etc. Overall, it is an affordable Windows 11 laptop if you want to buy one. There is another variant with 4GB RAM and 128GB SSD if you have a tight budget, but we highly recommend going with 8GB RAM for smoother Windows 11 and other programs' operation.
Sale
3)

Dell Inspiron 14 5425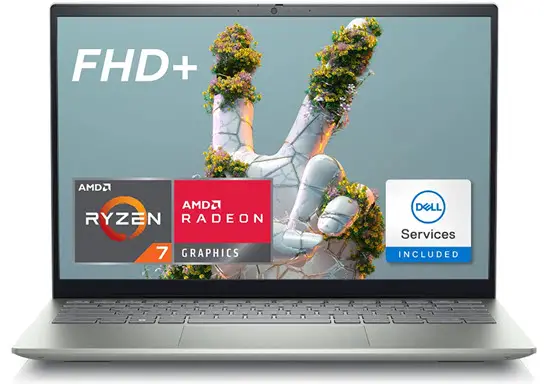 The Dell Inspiron 14 5425 is an excellent option for seniors in 2023. It has a 14″ FHD+ (1920 x 1200) Display with an AMD Ryzen7 5825U processor, providing plenty of power and speed for multitasking, gaming, and streaming videos.
The 8GB DDR4 RAM ensures smooth performance, while the 512GB SSD storage provides plenty of space to store all your important documents, photos, and videos. In addition, it features AMD Radeon Graphics for enhanced visuals, a USB-C port for connecting external devices, an HDMI port for connecting HD displays, and Bluetooth 5.2, which allows you to easily connect wireless peripherals such as keyboards, mice, and headsets.
Furthermore, it has faster Wi-Fi 6 technology than the previous generation, and Windows 11 Pro offers great security features like facial recognition. You don't need to look for any alternative laptops or upgrade options for the next five years with this laptop because it has everything.
If you are a person who wants to play computer games or watch FHD or 4K movies on Netflix/Amazon Prime or any other streaming services, we recommend this model. Though the screen size is a bit smaller than 15 Inches, the compactness and 1920 x 1200 resolution make this laptop a better option.
4) Apple 2023 MacBook Air with M2 Chip
The Apple 2023 MacBook Air, equipped with the revolutionary M2 chip, redefines efficiency and elegance in the tech world. Its standout feature is the 15.3-inch Liquid Retina Display, offering vibrant visuals in an impossibly thin and light design, thanks to its 100% recycled aluminum enclosure.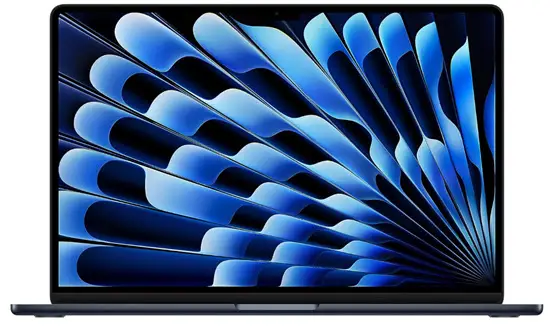 If you want an alternative to a Windows OS laptop, you can proceed with the MacBook Air. As it is lighter, thinner, and more portable, it is most suitable for elderly people.
Performance-wise, the MacBook Air shines with its 8-core CPU and 10-core GPU powered by the M2 chip. This setup ensures seamless multitasking and high-end processing capabilities, perfect for both professional and personal use. The 16GB of unified memory further enhances its performance, making demanding tasks like video editing or intensive gaming a breeze.
Battery life is exceptional, offering up to 18 hours of usage, a testament to the M2 chip's energy efficiency. This makes the MacBook Air an ideal companion for long working hours or continuous entertainment.
The MacBook Air is also notable for its silent, fanless design, ensuring undisturbed work or leisure time. Its compatibility with macOS ensures access to a wide range of optimized apps, while the 1080p FaceTime HD camera and advanced audio features enrich communication and media experiences.
5) ASUS Chromebook Flip C434
The ASUS Chromebook Flip C434 stands out as an ideal choice for seniors who value both ease of use and versatility in a laptop. This 2-in-1 laptop features a 14-inch Full HD Touchscreen with a 4-way NanoEdge display, boasting ultra-narrow bezels that fit a large screen into a compact body. This design not only offers a spacious viewing area but also keeps the laptop lightweight and portable.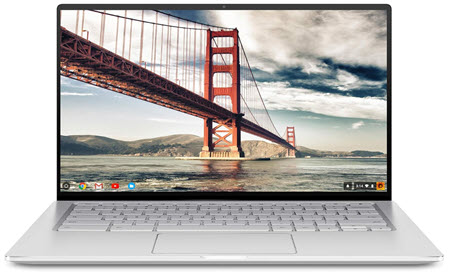 One of the most senior-friendly aspects is its 360-degree hinge, allowing the screen to be flipped and used in various modes such as tent, stand, and tablet. This flexibility is perfect for seniors with varying needs, whether reading, video calling, or leisure browsing.
Powered by the Intel Core m3-8100Y Processor, the Chromebook Flip C434 delivers a snappy performance, easily handling multiple tabs and apps. Coupled with 4GB RAM and 128GB eMMC storage, it ensures smooth operation without lag, essential for a frustration-free experience.
Connectivity is also a strong suit, with multiple USB Type-C and Type-A ports catering to various peripheral needs. The backlit keyboard is another thoughtful addition, enhancing visibility and ease of use in different lighting conditions.
6) Apple MacBook Pro 6-Core Processor (Latest Model)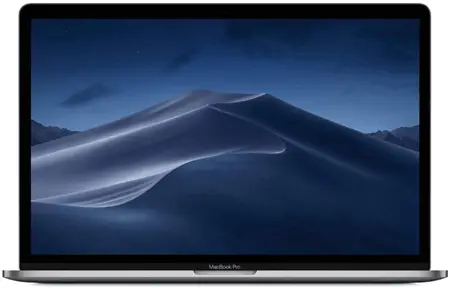 Here is the most expensive laptop you will find on this list.  It is a power-packed laptop to manage all and even the extra workloads by users. Though the MacAir is one of the best choices, we have selected this model because of the larger 15-inch screen. The MacBook from Apple is a lightweight, reliable, and robust laptop that fits the various needs of elders.
MacBook's proprietary Retina Display ensures crisp and clear text and images so seniors will never complain about its smaller screen.  Moreover, it can be used in dimly lit places since the keyboard is backlit. Apple is not on the economic side as far as the price is concerned, but features like lightweight, fast processing, and durable Mac operating system make it one of the favorites among elders.
Important Features to Consider:
Whatever model or brand you select, keep the below points and check them against the model you pick.
Sound Quality- Elders do have more or less hearing problems. It is necessary to pick a laptop with high-quality audio capability.
Screen Size-You will never wish your aged parents to strain their eyes. So, select a laptop with a bigger screen size and better clarity. In addition to size, the screen must have a high resolution.
Lightweight- The physical strength to carry things, as we know, declines with age.  So, it would be best if you bought a lightweight laptop.
Price- The rates should be reasonable since the financial resources of most seniors are limited.
This list of best laptops for seniors and elders has been created after much research. In this list, you can find mediocre and high-tech laptops that serve different purposes. You can choose any of the above depending on the needs of seniors.
Ultimately, we would like to say that whatever your choice is, see to it that you buy the gadget that can be comfortably used and is easily accessible to the internet.
Let your elders get connected to the world!