Since the time laptops came into the limelight, the evolution of this device has been extraordinary. From introducing laptops with restricted features to bringing advanced technology and best laptops with backlit keyboard in the market today, there's no lack of what you can get to fulfill your requirements.
With an extensive rise in working techniques of individuals, the need to sit in front of the laptop isn't going away either. Be it people who commit to night shifts in their professional life or students studying during the late working hours, keyboards that have backlight are being considered the most today.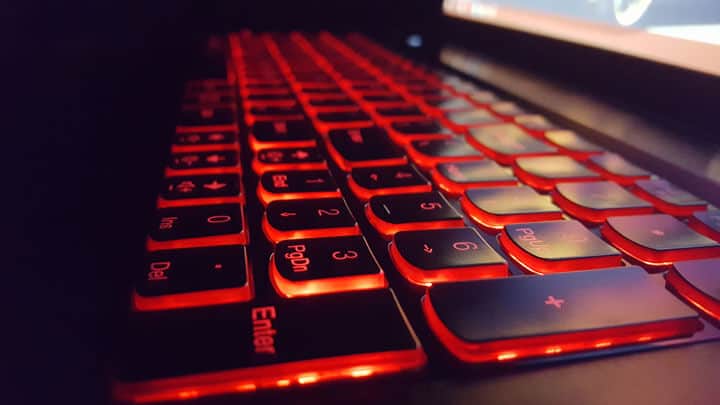 If you're looking out for one such laptop as well, here's the list of significant models that you can ponder upon to choose the best.
What are the types of laptop keyboards & which is the best fit for you?
Traditional Style Keyboard
A traditional style keyboard comes with sloppy edges on keys and comprises an approximate of half millimetre space to separate keys. However, this kind of keyboard has become quite a rare thing in the latest editions. The Lenovo ThinkPad T480 would be the best example to demonstrate this kind of keyboard.
Some of the benefits of having this kind of keyboard would be the sense of familiarity, ability to change the keyboard, and increased key travel.
Chiclet Keyboard
This keyboard style is categorized by flat tops and additional space between keys. Although they are similar to traditional style, however, these don't come with sloppy edges on the keys. If you are familiar with a conventional keyboard, using Chiclet wouldn't be a tough task for you.
If you are a designer, this type of keyboard would be perfect for you as they are modern looking and are even easier to use when it comes to ultra-thin designs.
Mechanical Switch
Generally, mechanical keyboards have been isolated in the world of laptops. However, they have not changed a bit. Literally, these keyboards use a mechanical switch beneath the keycaps, which clicks audibly whenever you press the key.
One of the primary reasons why these keyboards are attractive consumers is because they provide an excellent tactile experience. Keys on mechanical keyboards also come with a longer lifespan.
Touch & Haptic Feedback
A keyboard of this style doesn't have any physical action, and every key gets activated by a press or touch only. Mostly, you would be pressing or touching a surface that would not respond to you if you are using physical movement. They make a slight buzz or vibration to let you know that you have activated a key.
If you own a 2-in-1 laptop and you often use it in tablet mode, using the on-screen keyboard would become necessary for you. Thus, this touch & haptic feedback come into the play.
List of 10 Best Laptops with Backlit Keyboard
1) XIDU Basic Laptop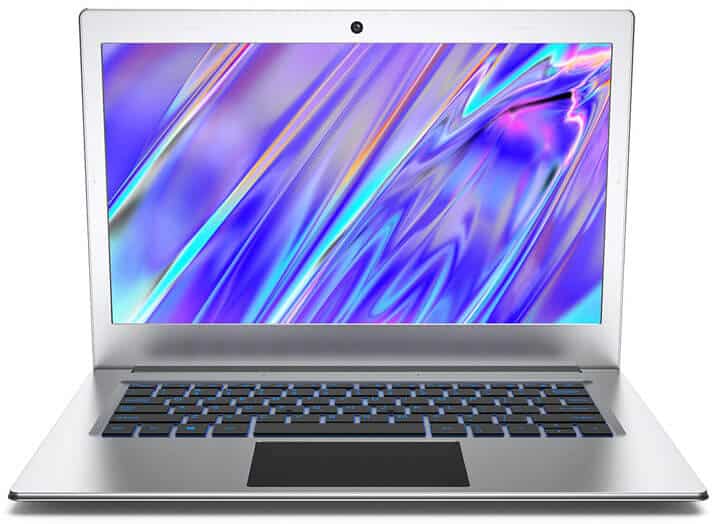 This is one of the cheapest laptops with backlit keyboards that you can get in the market. Its dazzling 2K 12.5-inches display makes sure that colors on the screen always stay bright and vibrant. Moreover, the screen display comes with a resolution of 2560 x 1440 pixels, which is marvelous as well. This specific laptop runs on powerful Intel Quad-core Celeron N3450 processor that can provide the turbo speed up to 2.4GHz.
This system comprises 6GB of LPDDR3 RAM and 64GB of eMMC storage. If you think that wouldn't fit your requirements, you can seamlessly expand the storage up to 128GB. Along with an ergonomic backlit keyboard, this laptop is also integrated with 9th HD graphics and Windows 10 Home (64-bit). Talking about its battery life, this system by XIDU is capable of running for 6 hours at a stretch upon a single charge.
And then, this laptop has a number of comprehensive ports like budget gaming laptops, such as 2 USB 3.0, Mini HDMI, MicroSD card slot, headphone jack, and more. You can also use Bluetooth as well as Wi-Fi to always stay connected.
Pros
Beautiful media quality
Efficient keyboard
Slim and lightweight
Cons
A bit slow
Plastic shell
Lower than average battery life
2) Designer's special choice HP Pavilion X360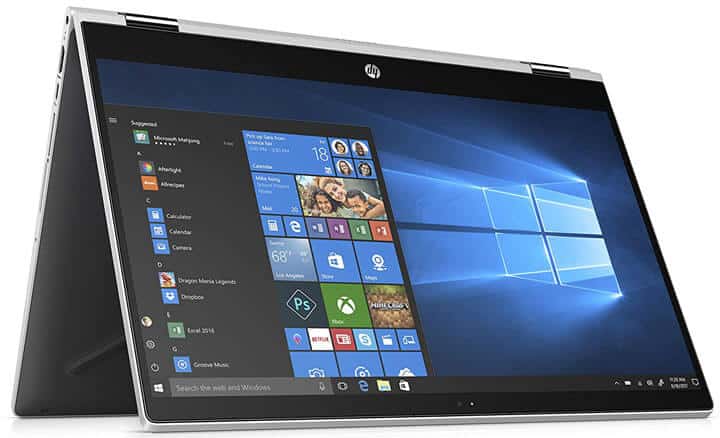 HP never fails to fulfill expectations, be it professional or personal. So, if you're looking for HP laptops with a backlit keyboard under $500, with this device, you can ensure obtaining a variety of advanced and efficient features. This model by HP comes with a 15.6-inches FHD IPS BrightView micro-edge WLED-backlit touchscreen that provides a resolution of 1920 x 1080 pixels. It can be perfect for your qualitative requirements, isn't it? Not just that, but the screen is diagonal as well; therefore, you can keep it in any position and work. Furthermore, it supports multi-touch as well which is a commonly popular feature in the designer community.
This system comes with a memory of 4GB RAM and 1TB HDD. If you wish to customize, you can upgrade the RAM up to 32GB DDR4 and hard drive to 1TB SSD. This model is also integrated with Intel UHD graphics 620. Running on an Intel Dual-core i3-8130U processor, this laptop runs at a speed of 2.2 GHz and can provide Turbo boost up to 3.40 GHz. Along with a Windows 10 Home (64-bit), this laptop also has a backlit keyboard, a battery life of 8.5 hours, and several connectivity options.
Pros
Touchscreen availability
Good battery life
Appropriate backlit battery
Cons
Display lacks brightness
The average performance of HDD
Sticky touchpad
3)Dell Inspiron 15 Flagship All-Rounder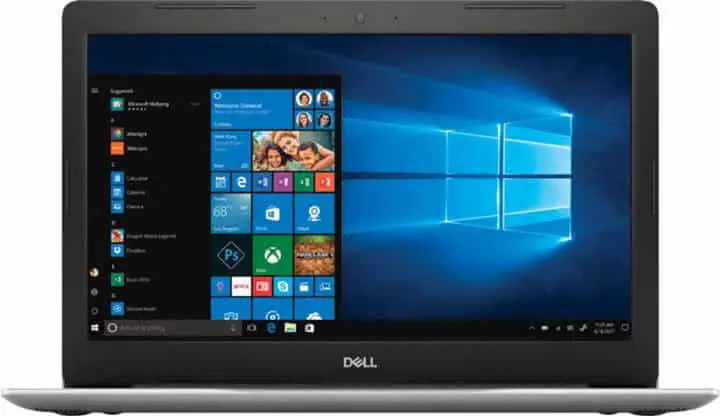 If you're looking forward to purchasing Dell laptops, this model can be the perfect one for you. This model by Dell comes with a 15.6-inches full HD touch screen that provides a resolution of 1920 x 1080. Not just it boasts about clarity but impressive colors as well. Its natural finger-touch navigation helps you make the most out of your device.
To provide an amazing experience and smoother performance, this device comes with an AMD Ryzen 5 processors, with multitasking capabilities, efficient architecture, and machine intelligence. Its processor is integrated with eight threads and four cores. Furthermore, this model has 8GB of RAM that will help you accomplish tasks seamlessly, whether it's editing a video or playing a game. 1TB of hard drive ensures ample storage to keep the data safe and secured.
Moreover, it has been integrated with AMD Radeon Vega 8 – a chipset that provides quality in almost every aspect. For connectivity, this device comprises several amazing features, including Wi-Fi, Wireless-AC router, Ethernet LAN, HDMI, and more.
Pros
Amazing gaming performance
Adequate battery life
No GPU or CPU throttling
Cons
No USB Type-C
Small arrow keys
Average speakers
4) Dell FHD Touchscreen Laptop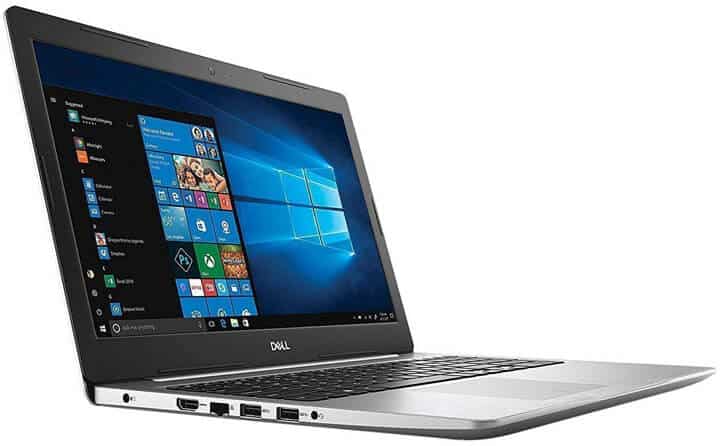 Another one from the inventory of Dell is this gorgeous looking laptop. It comes with a 15.6-inches Truelife LED-backlit Full HD touchscreen that provides a resolution of 1920 x 1080 pixels. Talking about the processor, this specific model is running upon 8th generation Intel Quad Core i5-8250U processor that runs at a speed of 1.6GHz and provides the turbo performance up to 3.4GHz. This will ensure that all of your tasks are being performed seamlessly and efficiently.
Coming to the memory standards that this Dell laptop comprises, you can obtain 8GB of DDR4 SDRAM and 1TB of SATA hard drive, enough to store images, videos, movies, songs, and other essential data, isn't it? Integrated with Windows 10 Home (64-bit), this laptop also provides varied connectivity options. With this device, you can get 2x USB 3.1, 1x USB 2.0, 1x HDMI, Stereo Speakers along with MaxxAudio Pro Audio Processing.
When it comes to its graphics processor, this laptop is built with Intel UHD Graphics 620. Thus, be it designing or developing, this Dell laptop makes sure that there is no problem in your professional work.
Pros
Quite portable
Latest 8th generation
Speedy SSD
Cons
Unimpressive build quality
Dim display
No USB-C port
5) Dell Precision 5000 Series FHD Backlit Keyboard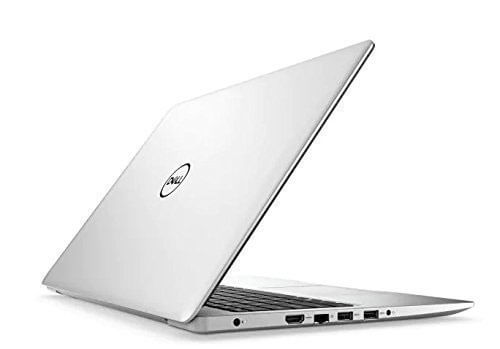 Dell doesn't lack anywhere when it comes to providing adequate laptops. This particular model is built with a 15.6-inches full HD LED-backlit touchscreen display. Its screen can support up to 10-finger multi-touch and provides a resolution of 1920 x 1080 pixels. Additionally, this system is integrated with Intel UHD Graphics 620 for your seamless work and gaming experience.
This Dell model offers you the opportunity to customize your own processor. Although it comes with Intel Quad Core 8th generation i5-8250U 4 cores and 4 threads that run at a speed of 1.6GHz and provides Turbo frequency up to 3.4 GHz, however, you can upgrade it to Intel Quad Core 8th generation i7-8550U with 4 cores and 4 threads that would operate at a speed of 1.8GHz and provide the Turbo frequency up to 4.0GHz.
Not just the processor, but you can also customize your storage space. This model is available in 4GB/ 8GB/ 16GB/ 32GB of RAM along with 128GB/ 256GB/ 512GB/ 1TB of SSD. Thus, you can choose the one according to your own requirements.
Pros
8th generation processor
Quick hard drive
Good overall performance
Cons
Dim & dull display
Short battery life
Fragile speakers
6) HP High-Performance HD+ Touchscreen Business Laptop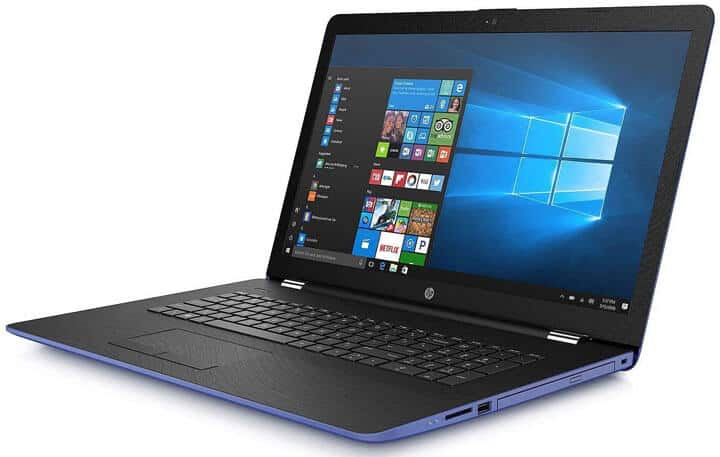 Another one on the list is this gorgeous-looking HP laptop. With an extremely wide 17.3-inches HD and SVA BrightView WLED-backlit display, this laptop provides 1600 x 900 pixels of screen resolutions. Its Intel HD Graphics 620 comes with a total graphics memory of 4160 MB. This HP model is integrated with Intel Core i3-7100U Dual-Core processor that runs at a speed of 2.4GHz.
Moreover, this HP model comes with 8GB of DDR4 SDRAM and 2TB of HDD. This massive storage ensures that you keep all of your data secured at one place. It is equipped with Windows 10 Home. Hence, you can be sure of the utmost advancement. Talking about the connectivity aspect, this model provides you almost every option required.
It has 2 x USB 3.1 Gen 1 for data transfer, 1 x USB 2.0, 1 x HDMI, 1 x RJ-45 1 headphone/microphone jack, and more. You can also find media reader, HD audio with stereo speakers, DVD RQ, Bluetooth, and webcam as additional features.
Pros
Good battery life
Ease of multitasking
Perfect for professional work
Cons
Below than average design
Turns hot quickly
Not adequate for advance and high-end tasks
7) Dell Inspiron Premium Flagship Laptop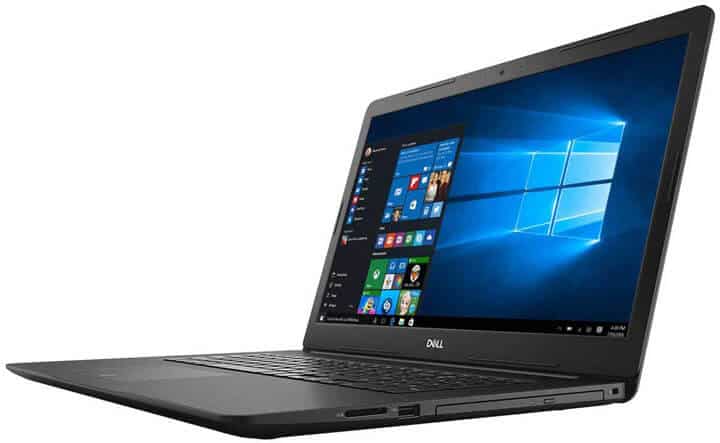 Undoubtedly, Dell is a considerable brand that knows how to satisfy your needs and requirements adequately. So, this laptop model has a 15.6-inches of Truelife LED-backlit full HD Touchscreen display that provides a resolution of 1920 x 1080 pixels. It is integrated with 8th generation Intel Core i5-8250U processor that is operating at a speed of 1.6GHz and can provide the Turbo boost up to 3.4GHz.
This Dell is also backed up by Intel 620 Graphics, which makes it easier for you to design creatives and edit videos alike. When it comes to assessing its memory, this model has 12GB of DDR4 RAM and 1TB of SATA hard drive. Along with all the amazing features and specifications, Dell has also made sure that you get more connectivity options.
It provides 2x USB 3.1, 1x USB 2.0, 1x HDMI, as well as Stereo Speakers with MaxxAudio Pro Audio Processing. This laptop also comes with installed and running Windows 10 Home (64-bit). Therefore, you can be sure of advancement and efficiency packed in this device.
Pros
Solid performance
Attractive design
Loud speakers
Cons
Shallow keyboard
Dim display
Insignificant battery life
8) HP's HD+ Notebook One for All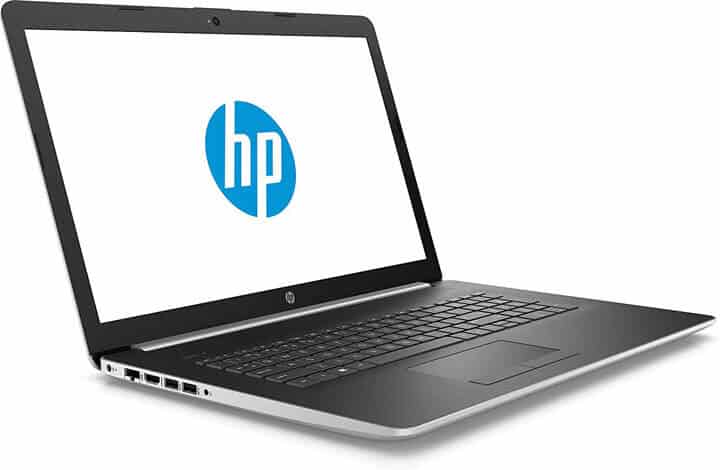 Moving down the list, HP is here with another of its advanced model from the inventory. This specific one is manufactured with 17.3-inches of WLED-backlit display, which has diagonal HD and SVA BrightView technology. To make things look vivid and bright, this display provides a resolution of 1600 x 900 pixels. With 8th generation Intel Core i5 Quad-core processor, this machine operates up to a Turbo Boost technology speed of 3.4GHz.
This HD+ Notebook has 8GB of DDR4 SDRAM, which you can expand up to 16GB. It also comprises 2TB of SATA hard drive, enough to obtain ample storage for your media files and documents. This model comes installed and running with Windows 10 Home; thus, you would not have to worry upon this factor.
Its full-size island-style backlit keyboard provides numeric keyboard and is easy to handle as well as operate too. For your music and entertainment requirements, this model also has HD Audio with Stereo speakers. Along with features like HD webcam, Bluetooth, and Wi-Fi, this HP laptop ensures smooth and seamless communication, irrespective of the purpose.
Pros
Strong performance
Excellent display
Expandable RAM
Cons
Presence of bloatware
Slow SSD
Frequent updates
9) Business Professional Lenovo V330 Laptop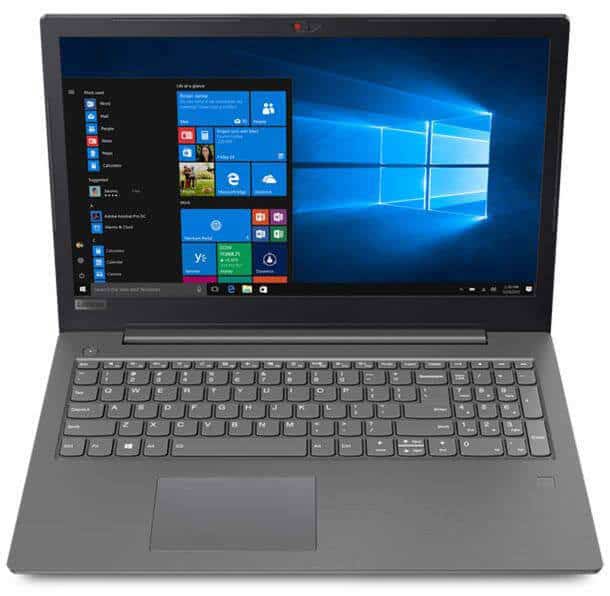 For those who are looking forward to having their hands on Lenovo, this one could be one of the correct choices. Lenovo has left no stone unturned in keeping this model as advanced as possible. It comes with a 15.6-inches HD and Anti-Glare Non-touch display that has a resolution of 1366 x 768 pixels.
This laptop runs over Intel Core i5-7200U processor that provides Turbo boost up to 3.10GHz. Along with 8GB RAM that can be upgraded up to 12GB, this model has 500GB of SSD that you can expand up to 1TB for amazing speed. It comes with a pre-installed Windows 10 Pro (64-bit). Not just that, but you can also find Intel HD 620 Integrated Graphics in this Lenovo model.
Apart from that, there are so many other features that you can rely upon, like a fingerprint reader, inbuilt HD 720 p webcam along with a microphone, wireless, Bluetooth, several different connectivity options, such as SD card reader, VGA port, USB slots, headphone, and microphone jack.
Pros
Sleek and gorgeous design
Amazing performance
Comfortable keyboard
Cons
Bad display
Short battery life
Slow hard drive
10) Flagship Laptop – Dell Inspiron 15 5000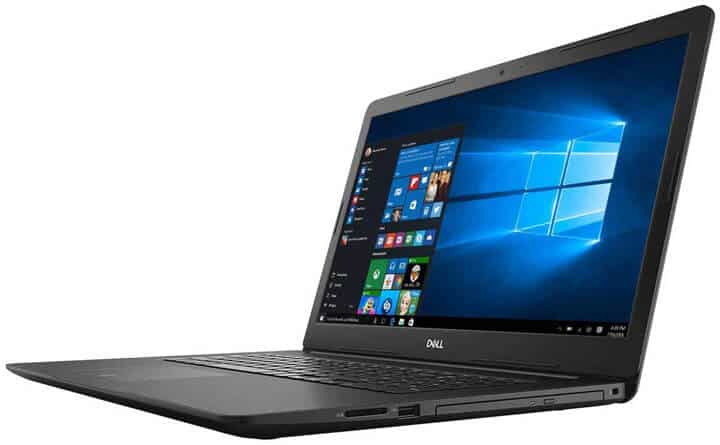 Last but not least, this one is a powerful model from a well-recognized brand. Its up-to-the-mark features and specifications make it a perfect workhorse, whether you use it personally or professionally. With a 15.6-inches full HD IPS Truelife LED-backlit touchscreen, the display of this laptop supports 10-finger multi-touch and provides resolution of 1920 x 1080 pixels. It is integrated with 8th generation Intel Quad Core i5-8250U processor that can give a turbo boost performance up to 3.40 GHz.
Further, it comes with 8GB of DDR4 SDRAM and 256GB of SSD. To provide excellent application performance and fantastic gaming experience, this Dell model is equipped with AMD Ryzen 5 graphics processors that are competent enough to handle multitasking as well as machine intelligence.
And, the additional list of features includes a multi-format digital media card reader, DVD-writer, full-size backlit keyboard, front-facing HD webcam, precise touchpad, Waves MaxxAudio Pro speakers, Bluetooth 4.2, wireless LAN, USB ports, HDMI ports, headphone and microphone ports.
Pros
Amazing performance
Slim & light in weight
Good battery life
Cons
A bit fragile
Becomes hot if put under full load
Highly reflective and glossy screen
Conclusion:
While you are navigating through an extensive list of laptops with backlit keyboard, feeling overwhelmed is quite obvious. Also, there are certain times when looking out for the cheapest laptops; people settle down for nothing but crap.
If you are also stuck in such a situation, don't hurry up the things and create hassles for yourself. When you assess laptop, make sure that you look into each and every aspect of it. If you are new, we would recommend you considering Dell Inspiron 15 Flagship All-Rounder, HP's HD+ Notebook One for All, and HP High-Performance HD+ Touchscreen Business Laptop as they turn out to be best models with a backlit keyboard for both professional and personal use.
At the end of the day, whether you are choosing Dell or HP laptops under 500 dollars, make sure you don't compromise with your requirements whatsoever.