If you are looking for the best laptops with Thunderbolt 4 (or 3) ports, you have reached the right place to find them. The times of the old and bulky USB ports have come and gone. Quite recently, after the development of the new Thunderbolt ports, it seems as if everything has changed accordingly.
Though the Thunderbolt port addition was formerly seen in PC building enthusiasts, many manufacturers have now started to add them to their newer lines of laptops. Reaching its fourth generation, version 4 is now on its way to completely revitalizing speed and performance within interchangeable computer hardware while also revamping set notions of earlier data transferability between two computers.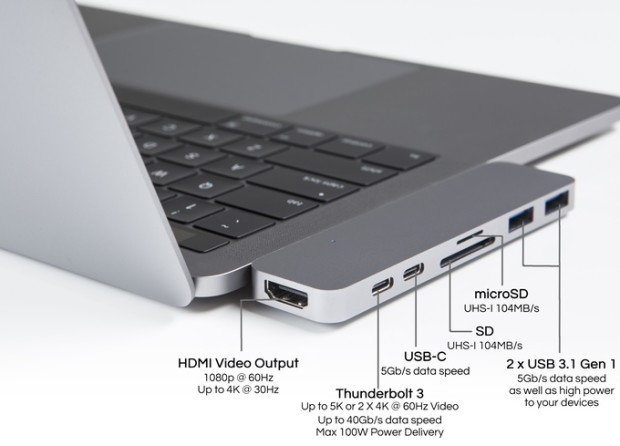 On reaching its third generation, the Thunderbolt has achieved the title of the one port that could replace all others in every kind of capability. Allowing speeds of up to 40GB/s, it can connect multiple 4K displays to the host computer while also outputting video signals at the same rates as audio signals. With a 10GbE average, it is the fastest networking cable for now.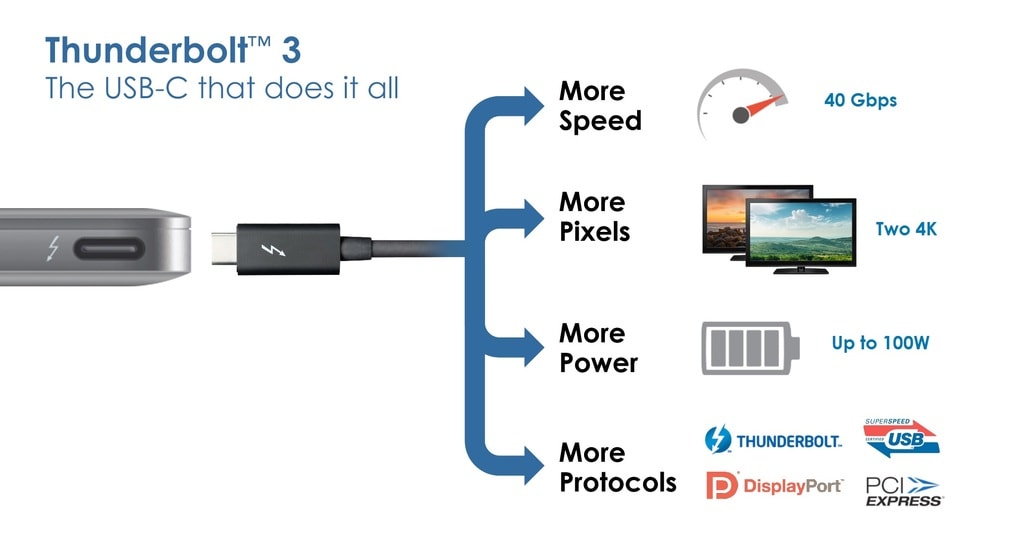 Though physically it offers the same physical aspects as the USB 3.1, however, it is more compact and allows for less space usage which makes it highly convenient for laptops designed with sleek edges and facets. These laptops can be designed for ultra-core gaming due to their ability to connect to external graphics amplifiers with no lag between the processing. Laptops designed using Apple and HP design solutions are perfect fits for the Thunderbolt 3 ports.
Thunderbolt 3 & 4 Compatibility
One of the biggest reasons why Thunderbolt 3 is still relevant even after the release of Thunderbolt 4 is the latter's backward compatibility. Yes, Thunderbolt 4 is backward compatible with Thunderbolt 3, and that's pretty awesome.
Thunderbolt 4 is a pretty extraordinary evolution in overall versatility and high-speed data transfer. It can support 40GBps bandwidth and 32GBps data rate and works well with most 4K displays. Therefore, it supports better quality and is a reliable connector type.
And above all that, it is backward compatible with Thunderbolt 3. So you can plug your Thunderbolt 4 cable into the version 3 port. But there is no guarantee that you will get the same speeds that the Thunderbolts 4 supports.
However, you will still be able to enjoy most features of Thunderbolt 4 with your old Thunderbolt 3 port or cable as long as your Thunderbolt 3 cable is 40Gbps certified. Furthermore, Thunderbolt is not only backward compatible with its predecessor, but also it has the form factor of a USB-C connector. You can also plug it into USB-C ports or use these cables in your Thunderbolt 4 port.
You can use our USB-C ports and get twice their speed. Moreover, Thunderbolt 4 is also backward compatible with USB 4. This feature is also a part of Apple's marketing campaign for their latest MacBooks. However, it is the best option because it is much faster than its predecessors and works smoother. Nevertheless, having the same Type-C connector, Thunderbolt 4 is incompatible with versions 1 and 2.
Here are the top eight-tiered laptops that come under the budget of the enthusiast and the layman. However, these laptops contain the Thunderbolt 4 or 3 port, which makes them all the more exciting for the buyer.
Top Features:
You have the list of what possible laptops you may wish to purchase next with the basic idea of what the Thunderbolt 3 is capable of.  There are a few other things we wish to impart before we conclude this and allow you to research which laptop to buy.
The Thunderbolt 3 or 4  is a cable for charging, transferring, and sharing all data on one singular cable. This by default provides it with the universal standard as a cable, making it easier to use on a daily basis.
Due to its shape being much like the USB 3.1 port, its compact and reversible design allows it to be plugged either way in. So that would mean, no frustration when you are trying to insert your USB cables.
Extremely high speeds of transferring, of up to 40GB/s. That is a lot.
The cable of attaching peripherals and graphical units to the host computer without experiencing video or audio delay in any possible scenario.
Takes up less space and allows for sleek and thinner laptops in the near future.
Top 8 Laptops with Thunderbolt 4 (or 3) Ports
1) New Apple MacBook Pro Laptop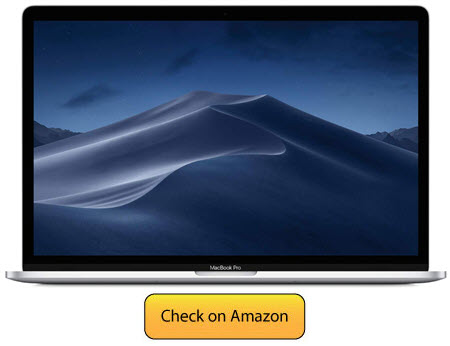 Here it comes, the first one on our list; the everlasting and elegant MacBook Pro. Apple has never ceased to disappoint us when aesthetics and speed are in question. With a 15-inch Retina display, this laptop is ideal for our photographers and videographers. With colors popping on the screen and the latest 9th Gen 8-core i9 processor running within, the machine is a beast under a beautiful dress. Not only that, but it also comes with a 512GB SSD. Adding an SSD instead of an HDD (the traditional method) gives you a lot more processing speed.
The computer powers faster and is more efficient in battery consumption. Along with that, with Apple's flash storage under the hood, four Thunderbolt-3 (USB-C) ports line the sides to connect high-speed data transfer devices. These ports are allowing connection possibilities with larger and better screens if you need to get into those close touch-ups. You can use this Thunderbolt port to transfer data at high speed (40Gb/s), charging, and video output within a single connector. It has an excellent Radeon Pro 560x dedicated Graphics card with 4GB video memory to boost the graphics/video performance on this laptop.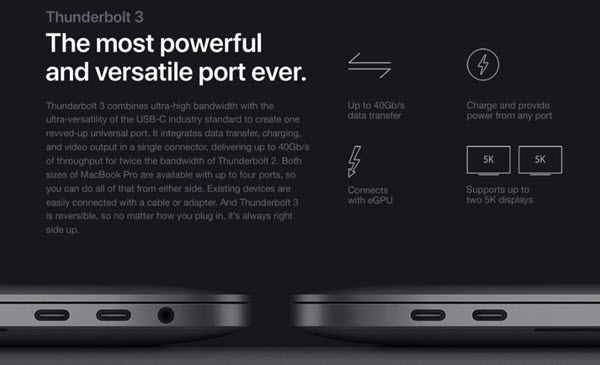 The thunderbolt ports of the latest Mac Pro laptop can support up to two 5K displays, which shows the power and data transfer speed of these ports.
2) Alienware x17 R1
The RT3060 laptop by Alienware comes with Thunderbolt 4. Therefore, it is backward compatible with Thunderbolt 3, USB 4, and type-C.  It supports a high-speed data transfer rate of 40 Gbps. This laptop also features a 17.3-inch FHD screen with 360 Hz display processing to guarantee better visual performance and enhanced colors.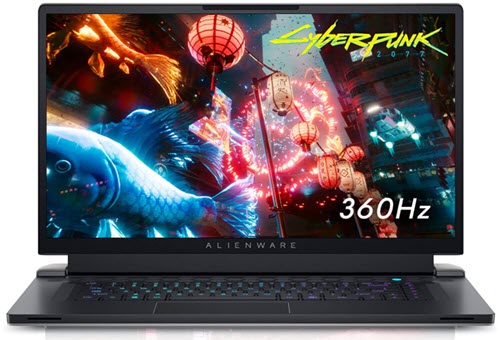 This laptop also features the 11th Generation Intel Core i7 11800H processor chip and is incredibly fast. It means you will enjoy your games with heavy graphics on this laptop. The laptop features 16 GB DDR4 RAM with a 1TB SSD. Therefore, there is plenty of space so you can store your files and media.
This laptop also features NVIDIA GeForce RTX 3060. RTX 3070 and RTX 3080 are also available. The system comes with pre-installed Windows 10, and you can upgrade it to Windows 11 as soon as it is available.
It is one of the best laptops you can use for data transfer. It supports different types of cables and ports thanks to its Thunderbolt 4 connectivity.
3) ASUS ROG Gaming Laptop
Do more with flexible Thunderbolt 3 connectivity, plus super-fast Intel WiFi 6 networking. Thunderbolt3 allows you to spread your workstation along with external GPUs, additional displays, and high-speed storage. For that reason, you can edit heavy-duty multimedia anywhere.
This Rog Zephyrus is equipped with USB 3.2 type-C Gen-2, a Thunderbolt3, DisplayPort 1.4, and a Type-A port used for high-speed transfers. In addition, two USB 3.2 Gen-1 ports are ideal for your gamepad and Mouse.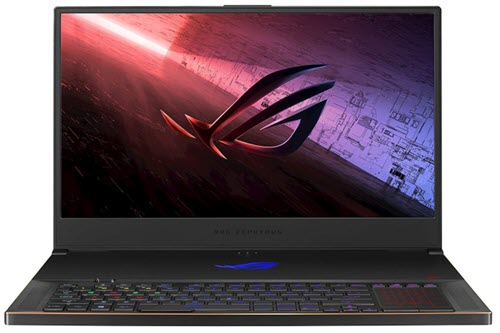 This ultra-slim laptop features NVIDIA GeForce RTX2070 super graphics that deliver a crystal clear display with a 300 Hz refresh rate. It is equipped with 16GB DDR4 with 3200MHz RAM and PCIe 1TB SSD, which increases storage. You can also enjoy upgraded features with Win10 Pro.
The RGB keyboard gives an attractive look to users, especially gamers. The best thing is that you can optimize the keyboard's backlight according to your needs.
If you use Aura Sync, the keyboard will be compatible with peripherals. The company uses a more brilliant cooling system with faster performance for heavy loads and gaming.
4) Asus ZenBook Flip S13
This laptop features Thunderbolt 4 and is reverse-compatible, USB 4, and type-C.  The S13 Flip comes with an OLED display that is crystal clear. You will enjoy playing your games and working on this display. Moreover, this laptop also comes with a 4K OLED touch, an additional feature that makes it unique.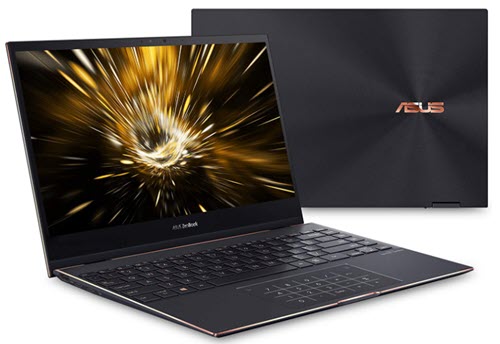 The system features an Intel Core i7 1165G7 processor chip, and it also has 16GB RAM with a 1 TB SSD. It is a powerful system with Windows 11 pre-installed, and its mic and speakers also come with an AI noise-cancellation feature.
You will notice that this laptop has the perfect balance between performance, battery life, and reliability. It delivers performance and looks pretty great sitting on your desk. One of the best display features of this laptop is that it comes with a 70 percent blue light reduction to ensure eye care with its OLED display.
So, now you can use this laptop even in dark environments with not much light. And the best part is that you won't have to compromise on display and color quality at any brightness level.
5) MSI Stealth 15M
The MSI 15M Stealth features Thunderbolt 4, reverse-compatible with Thunderbolt 3, USB 4, and type-C. The laptop comes with a large 15.6-inch FHD screen with a 1080p display, and it is a top choice for gaming.
Under the hood, this laptop features an Intel Core i7 processor chip, and it also comes with a powerful NVIDIA GeForce RTC 3060 graphics card.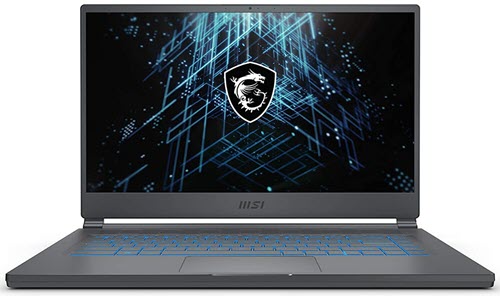 It means this laptop can handle visual aspects pretty well. Therefore, you can even use it to play quality games as it can deliver extraordinary results.
Under the hood, this laptop comes with 16 GB RAM and a 512 GB SSD. The system comes preinstalled with Windows 10, but you can upgrade it to Windows 11 when available for your system.
The system is another good option for gaming, but you can also use it for multimedia and personal and business use. It is a pretty versatile machine that is built to deliver extraordinary performance.
Sale
6) Asus ZenBook S
Asus Zenbook S comes with an inbuilt Thunderbolt 4 port. The lovely and slim laptop features a large 13.9-inch touchscreen.
It allows you to watch your favorite media and play games on this laptop for total comfort. Of course, it is a touch screen, so you can directly interact with the screen. The computer features an Intel Core i7 processing chip and has 16 GB RAM with a 1TB SSD.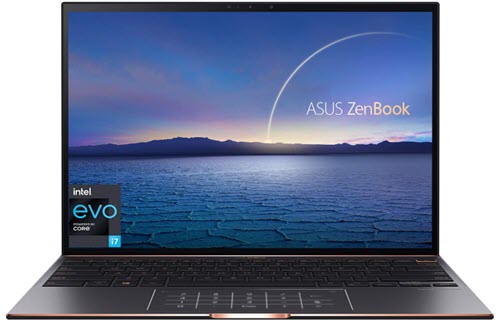 The laptop comes with a pre-installed Windows 10 Pro, and you can upgrade it to Windows 11 later on. This laptop also comes with inbuilt AI noise cancellation, as most of the latest Asus laptops come with. This laptop is an excellent option for personal and business use. But it might not be the best option for gaming.
Due to its high processing power and access to plenty of memory, this laptop is a powerhouse. You can save a lot of your data in it to access later.
This colorful display of this laptop features a DCI-P3 color gamut for the best visual performance making your overall experience with this laptop pretty export.
Sale
7) LG Gram Laptop
The LG Gram comes with a 512GB NVMe SSD, while Thunderbolt3 connectivity provides the fastest data transfer. Plus, you can enjoy a smoother display because of 4K or 5K videos and 15.6-inch IPS display.
The Thunderbolt 3 transfers data of more than 40 Gbps. You can also transfer, display, and charge simultaneously. In addition, LG Gram also features an Intel Iris-Xe graphic coprocessor that shows you a crystal clear display.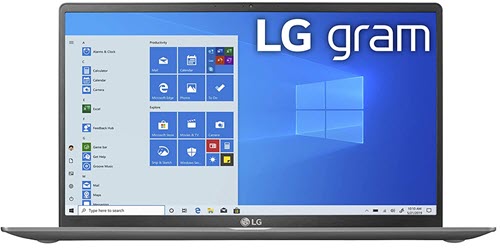 The IPS touchscreen of the laptop comes with a fingerprint reader that is perfect for business and personal use. This ultra-light laptop can connect multiple devices due to its connectivity ports. You can connect USB-C with Thunderbolt3.
Moreover, it is equipped with an HDMI port, a microSD card reader, an audio 3.5mm jack, and 3 USB 3.2 type-A. LG Gram features 512 GB LPDDR4 RAM that delivers 4266 MHz memory speed. Furthermore, RAM provides great performance for content creation, multitasking, editing, and designing.
The battery life is also very good. It will stay for 19 hours after a one-time charge and it offers reliable and exceptional performance. A combination of the Gen-11 i7 processor delivers high CPU performance.
8) Razer Blade Stealth 13 Ultrabook
The Stealth 13 Ultrabook by Razer is one of the best gaming laptops on the market, and it supports Thunderbolt 4. So, this laptop is backward compatible with Thunderbolt 3 and can keep faster data transfer rates of up to 40 Gbps if Thunderbolt 3 is certified for the same speed.
It also means that it is compatible with USB 4 and USB Type-C. This laptop comes with an Intel Core i7 chip geared with the NVIDIA GeForce GTX 1650.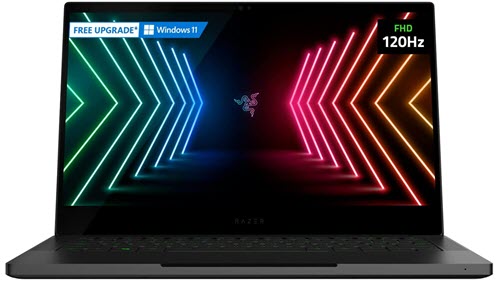 So, it has plenty of power under its hood and can conveniently handle heavy graphics. Moreover, the display of this laptop is 13.3-inch in size, and it supports 120 Hz 1080p to ensure superb visual clarity.
Furthermore, this laptop features 16 GB RAM and a 512 GB SSD. So, there is plenty of memory for you to store your games and files in abundance. It also means that the laptop can handle multi-tasking pretty well and smoothly.
The laptop comes with pre-installed Windows 10, and you can utilize your free upgrade to Windows 11 whenever you need it. The laptop is ultra-thin, and it is designed for mobility. Due to its aluminum frame, this laptop doesn't heat up that often, and it is pretty lightweight yet durable.
Sale
Are USB C and Thunderbolt 3 the same?
No, both of them are different. While Thunderbolt 3 comes with the capabilities of USB C, USB C doesn't come with the capabilities of Thunderbolt 3.
Can I charge a laptop with a Thunderbolt 3?
Yes, you can; until the port supports USB power delivery.
What devices can I connect to a laptop with a Thunderbolt 3 port?
Thunderbolt 3 comes with DisplayPort which can connect to every sort of device with a display interface. Along with that, you can also connect USB devices and cables.
What are the advantages of having Thunderbolt ports on a computer?
The ability to connect multiple devices is one of the essential advantages of a thunderbolt port. Apart from that, what grabs the utmost attention is its communication speed. It is capable of transferring data at a rate of 10 GB/s.
Final Advice:
The reason to which why we suggest laptops with the Thunderbolt 4 port is due to their high compatibility with other devices. All existing cables that are dedicated to certain objects will become obsolete as time progresses. Apart from that, being able to hook up your laptop to external graphical units, peripherals, or even docking stations, provides you with an ultra-fast portable design host, which you can carry anywhere.
The requirement of the PC will also dim down as you can use these to hook up amplifiers and display units which will give you good matches in frames and ping when compared to a full-sized graphics card.
Though the USB 3.1 and Thunderbolt 3 are identical in nature, they stand to be different in transfer speeds due to limited bandwidths on the 3.1. Figuring out if your laptop is compatible or not is an issue for now, but as time progresses, all those queries will be discarded as the universal port will take over.
Buying the best laptop with a Thunderbolt 3 would be a good investment for the future as changes in the technology sector come very fast, much like floods. Changes can completely bring up or make an object obsolete, so it's always best to be prepared for whatever is to come.