Undoubtedly, Apple focuses on customer experience a lot. Therefore, for those who cannot afford a Mac laptop or PC, the brand has introduced Mac Mini. However, the screen size of this device can be quite smaller. But, there's even a solution to that problem. Having the best monitor for Mac mini can help you create wonders seamlessly.
Since Mac mini comes with two different ports, such as HDMI and Mini DisplayPort, connecting an external monitor wouldn't be a hassle for you. So, when you think of buying a monitor, these two are the ports that should gain your attention. However, it's not necessary to have these ports available in a monitor; if you're comfortable, you can even buy an adapter to connect your monitor with Mac Mini.
So, get ready and navigate through this list to find the suitable monitors for Mac mini, MacBook Pro and MacBook Air.
Our Collection of Top 10 Monitors for Mac Mini
1) HP 23.8-inch FHD IPS Monitor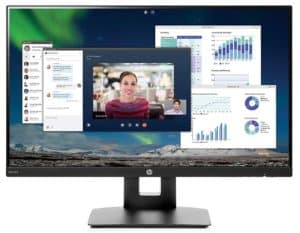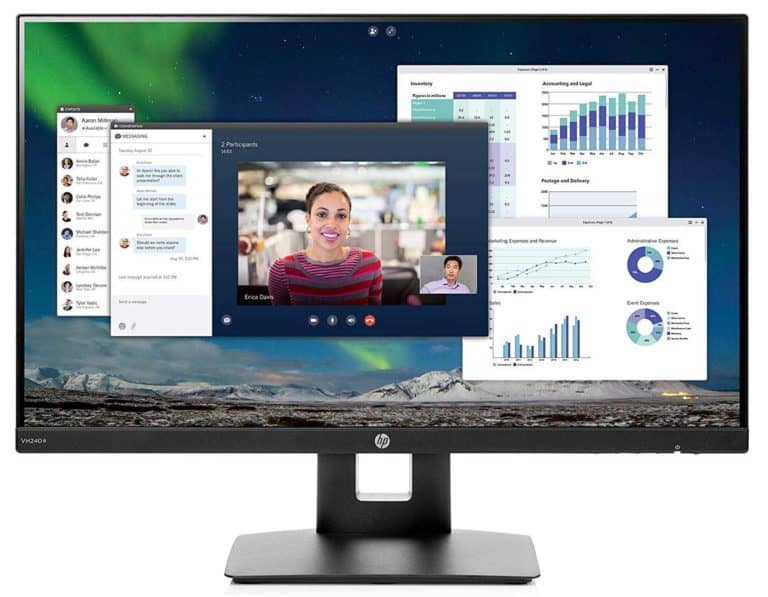 HP is one of the considerable brands that produce reliable monitors. Keeping this in mind, you can check out this monitor. With a 23.8-inch diagonal full HD micro-edge IPS screen, it has a resolution of 1920 x 1080 and provides an ultra-wide viewing experience. It offers a response rate of 5ms and takes 60Hz as the refresh rate. Its aspect ratio is 16:9. Talking about connectivity options, it offers HDCP, HDMI, and VGA ports. With integrated speakers, you're sure to get good enough sound.
Pros:
Sleek and slim design
Sharp HD, clear picture
Completely adjustable stand
Cons:
Minor blurs during fast-moving video
Weak speakers
HP VH240a 23.8-Inch Full HD 1080p IPS LED Monitor with Built-In...
This Certified Refurbished product is manufacturer refurbished, shows limited or no wear, and includes all original accessories plus a 90-day limited hardware warranty.
Response Time — 5ms with overdrive for a smooth picture that looks crisp and fluid without motion blur
2) LG 32MA70HY-P 32-Inch Full HD IPS Monitor for MAC Mini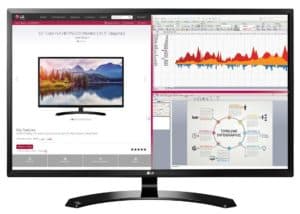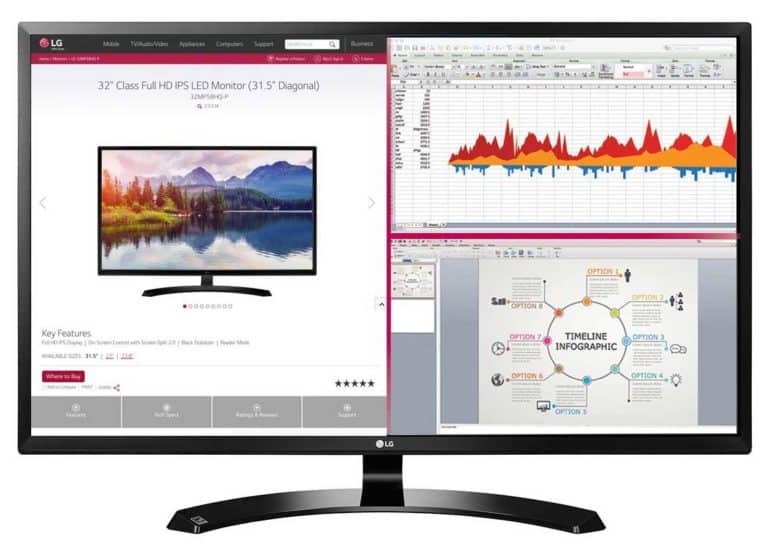 Next on the list is this one by LG. The brand has manufactured it with a 32-inches full HD IPS monitor. Not just with a mac mini, but this monitor even has Windows 10 compatibility. For the connectivity parts, it has d-sub, display port, and HDMI port inputs. If you're a multi-tasker, this monitor even provides a screen split 2.0 option. Not just you can put it on a table with the help of a stand but can even mount it on the wall. Therefore, in this way, you have several options when it comes to working efficiently.
Pros:
Wide angles for viewing
Accurate & precise colors
Affordable option
Cons:
Average resolution
No speakers
Pixel distribution
3) SCEPTRE 27 Inch IPS Ultra 4K LED Monitor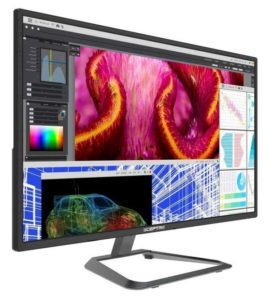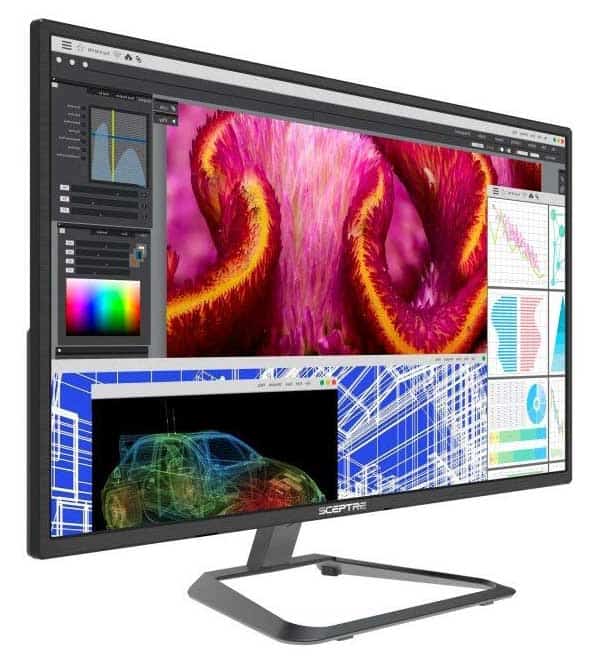 The race of high definition monitors doesn't seem to end anytime soon. And, SCEPTRE seems to be an appreciative participant of this race.
This monitor comes with a 27-inches 4K UHD IPS monitor. Amidst different connectivity options, it provides HDMI, HDCPI, DVI, DisplayPort, and more. It's got a qualitative IPS panel. When it comes to its operating system compatibility options, there are many on the list, such as Windows 7/8/10, macOS Sierra/ High Sierra, and OS X EI Capitan. With real-time strategy and first-person shooter modes, your gaming experience with this monitor is going to be marvellous. It's even got an inbuilt speaker for your ease.
Pros:
Superior built quality
Different connectivity options
Excellent for gaming & movies
Cons:
Bad speakers
Can't be adjusted properly
Dim display
4) Samsung U28E590D 28-Inch 4k UHD LED-Lit Monitor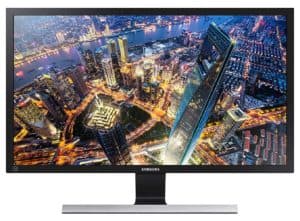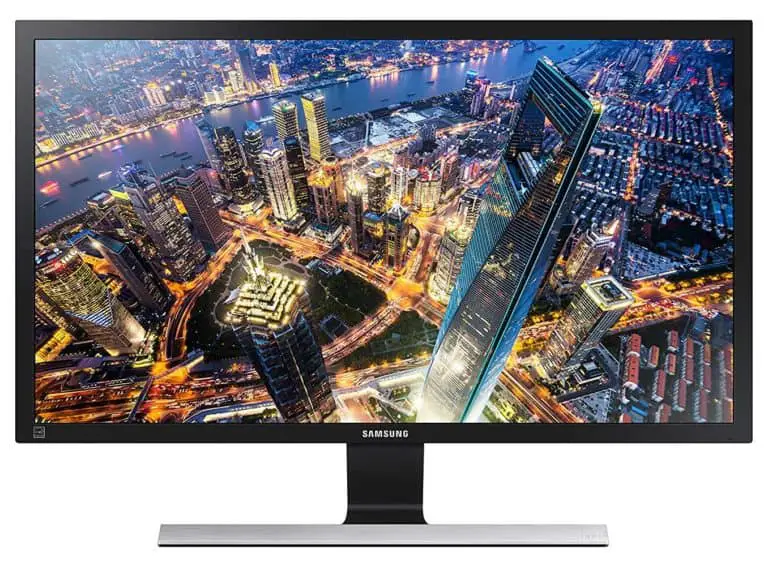 Undoubtedly, Samsung has been serving the worldwide market for years altogether. And, when it's about the monitors for Mac Mini, this brand surely knows how to satisfy its customers.
With a 28-inches ultra HD LED-lit screen, this monitor's response time is 1ms, which helps reducing tearing of image, game stutter, and input latency. Its stunning 1 billion colors deliver realistic and crystal-clear images. It has been integrated with Picture-in-Picture (PIP) 2.0 technology to make your video watching experience good enough. Connectivity options are several as well.
Pros:
Extremely detailed UHD images
Fast pixel response
Elegant design
Cons:
Average viewing angles
No USB ports
Lean feature set
SAMSUNG U28E590D 28-Inch 4k UHD LED-Lit Monitor
With stunning Ultra HD picture quality, PC viewing, gaming and more come alive with incredible lifelike detail
AMD FreeSync and 1ms response time minimizes input latency and dramatically reduces image tearing and stutter during gaming
5) Philips 288P6LJEB 28-Inch IPS Monitor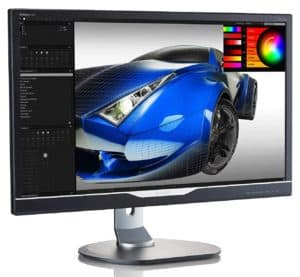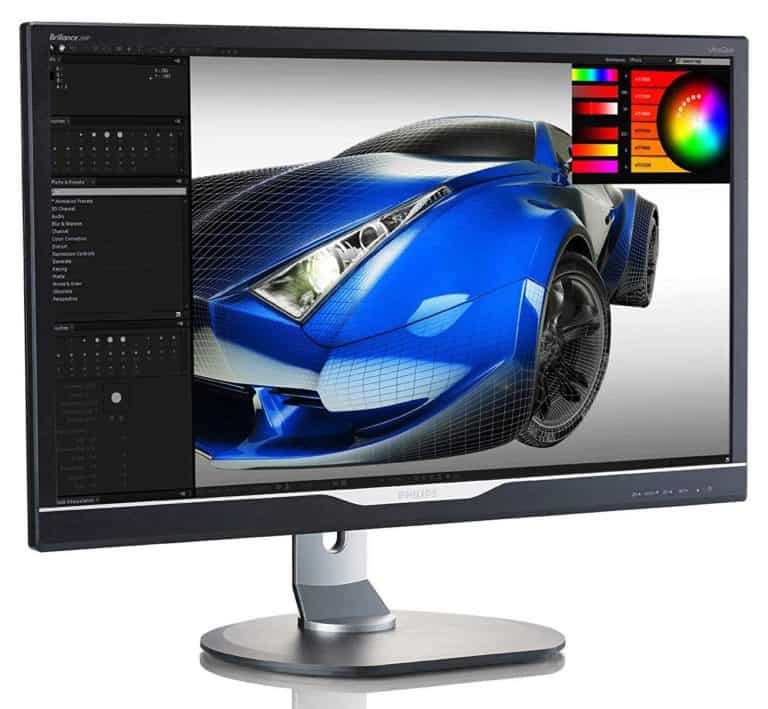 Considering the high demand for inexpensive monitors, Philips has come up with just the perfect one for consumers. Its 28-inches ultra-clear 4K UHD display provides a resolution of 2840 x 2160. Not just with your mac mini, but it can even work perfectly with your Windows system. It has got 1.07 billion colors, and its aspect ratio is 16:9.
Along with a response time of 1ms, this monitor by Philips even provides several connectivity options, such as a display port, USB, speakers, DVI, VGA, and more. Its multi-view option allows you to connect two different PCs at a time. With an adjustable height feature, you can even mount this monitor on the wall and work easily.
Pros:
Sharp UHD pictures
Several connectivity ports
Completely adjustable stand
Cons:
Narrow viewing angles
Average grey-scale performance
6) Dell 28″ Anti-Gare Ultra HD (3840 x 2160) 4K WLED Gaming/Professional Monitor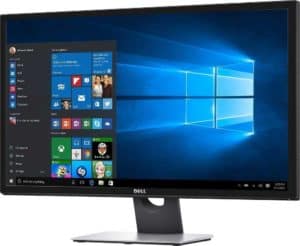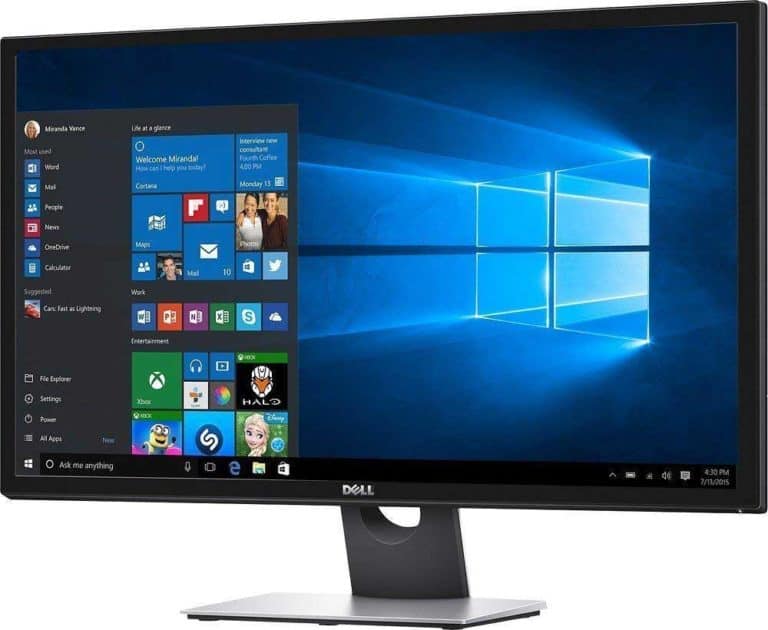 If not any other company, Dell will surely provide what you're looking for. If you're an avid gamer and looking for an appropriate monitor, then this can be your perfect bet. Stylishly and elegantly designed, this sleek & glossy monitor comes with a 28-inches anti-glare ultra HD 4K WLED display screen that provides a resolution of 3840 x 2160 which is really a help for 3D Work.
Its aspect ratio is 16:9. With a response time of 2ms, this Dell monitor offers blur-free images and a gaming experience. It has even got inbuilt dual 9W speakers and many other connectivity options, including audio-line, USB, connector, HDMI, and more. Its piano black finish and the matte screen will enhance the surroundings amazingly.
Pros:
4K resolution screen
Satisfactory image quality
Elegant design
Cons:
Fewer display settings
No position adjustment
No VESA compatibility
No products found.
7) AOC U2879VF 28" Class LED 4K Monitor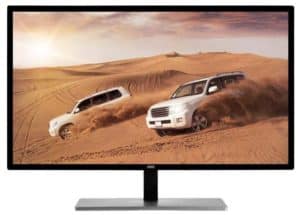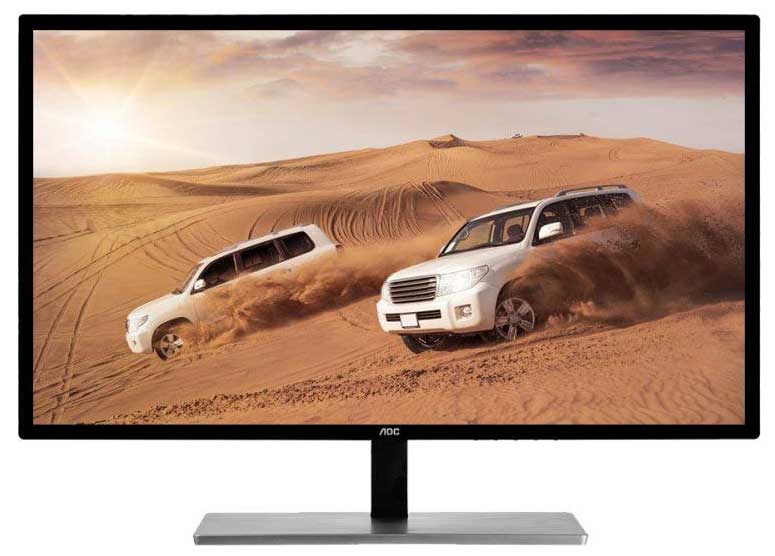 The next one on the list is this simple but elegant looking AOC monitor. Manufactured with a 28-inches viewable TN panel display screen, this monitor has been given the resolution of 3840 x 2160.
Talking about its aspect ratio, you get 16:9. With a response rate of 1ms, this AOC monitor provides a refresh rate of 60hz. As far as the connectivity options are concerned, this stylish monitor provides a display port, VGA, HDMI, and DVI. It has been integrated with an extra narrow bezel and AMD FreeSync Technology for efficient use.
Pros:
FreeSync Technology
Picture-in-picture
The impressive accuracy of colors
Cons:
No VESA integration
An absence of portrait mode
No speakers
8) LG 34UC80-B 34-Inch 21:9 Curved UltraWide QHD IPS Monitor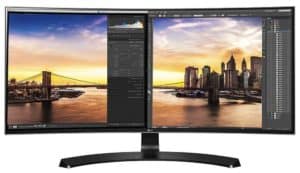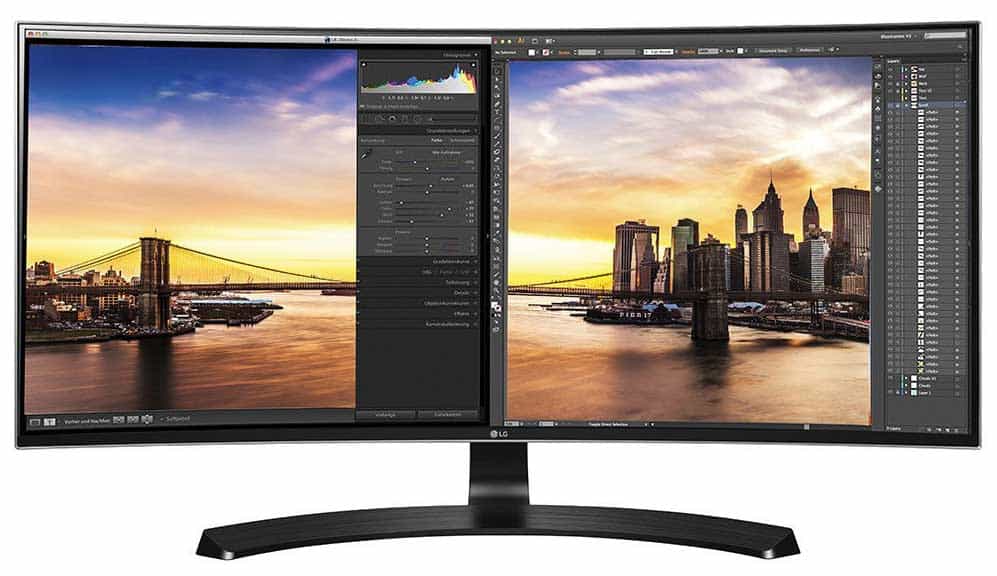 This model by LG is definitely one of the most impressive models that you can find out there. As if its massive 34-inches diagonal screen wasn't enough, LG has upped the game by providing a gentle curve to the screen. Its QHD IPS UltraWide Monitor provides an aspect ratio of 21:9.
With a quick charge through USB 3.0, you can use this monitor for hours. It has got a split 2.0 mode, and its height can be adjusted easily as well. For the connectivity aspects, it provides fairly good enough options.
Pros:
Impressive quality of the image
Height & tilt adjustment
Curved screen
Cons:
No speakers
Not-so-good gaming mode
Backlight bleed
9) BenQ EW3270U 32″ 4K HDR Monitor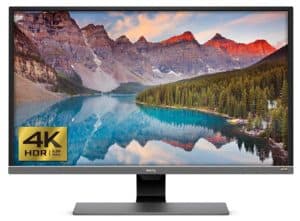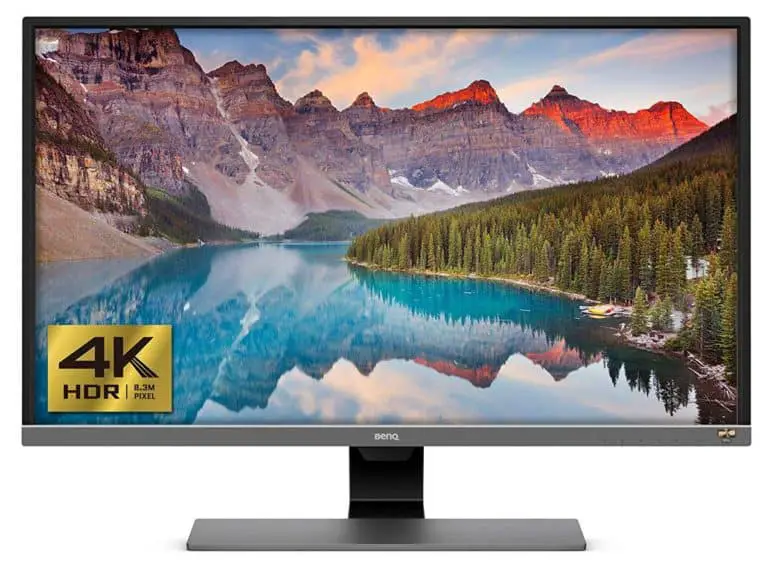 Now that HDR technology is becoming a hot-shot, several companies are coming up with effective and budgeted models. Similarly, BenQ has launched this amazing model that you can consider for your Mac Mini.
With a high resolution of 3840 x 2160, this monitor comes with a 31.5-inches display screen. To let you enjoy incredible details and clarity, BenQ has integrated HDR support into this model. Based on the ambient light conditions and on-screen content, this monitor is capable of adjusting colors and brightness accordingly.
The Flicker-free and low blue-light technologies help reduce the potential discomfort to the eyes. There are even different connectivity options as well, like DP, HDMI, display port, USB-c, etc.
Pros:
Ultra HD resolution
HDR10 support
Good contrast & accurate color
Cons:
Mid-tones in HDR can't be adjusted
Weak inbuilt speakers
Narrow viewing angles
BenQ EW3270U Premium Monitor 32" 4K UHD | HDRi | DCI-P3 |...
Your #1 Source of Entertainment: Experience endless entertainment with the 32 Inch 4K Computer Monitor featuring a stunning 4K display.
USB-C Connectivity: Synchronize images, videos, data and charge all of your mobile devices with an all-in-one cable!
10) Philips Momentum 436M6VBPAB 43" Class 4K LED Monitor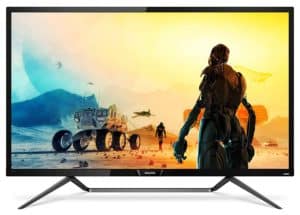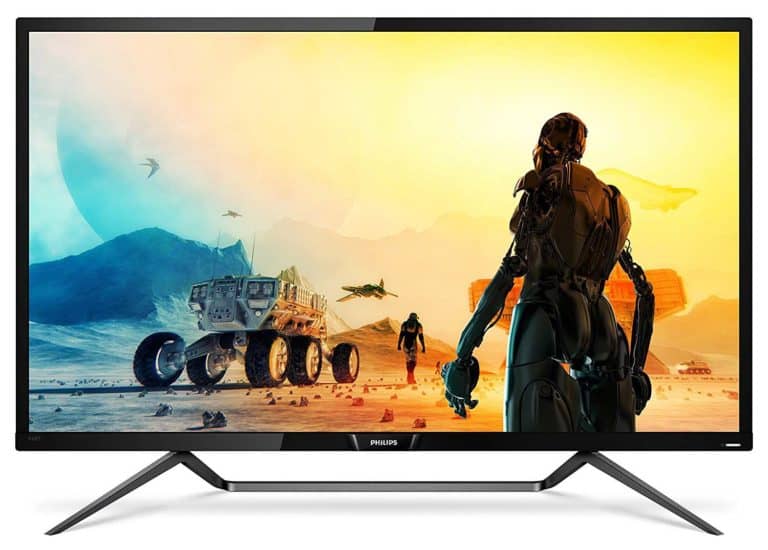 Although specifically designed for gaming, this momentum model by Philips can even help you accomplish several other tasks. It has a 43-inches display screen that provides a resolution of 3840 x 2160 and a response time of 4ms. Its ultra-wide color range intends to provide superior quality images to you.
With 7-watt speakers, Philips monitor wishes to provide you with incredible sound. It also has a multi-view and ambiglow mode. For connectivity, it provides a mini display port, display port, HDMI, PC audio in, headphone out, and USB-C.
Pros:
Good image quality
Appropriate screen size
Incredible native contrast ratio
Cons:
Lacks a TV tuner
Too big to use as a PC
Underwhelming HDR
Here is the video that shows how you can make your Mac mini a complete desktop computer.
FAQ
Can I use any monitors with a Mac mini?
Yes, you can connect most of the monitors to Mac mini by using the correct adapter, having the right and original display converter/adapter allow you to connect and get the display in good quality. Usually, the Mac Mini comes with an HDMI-to-DVI adapter which is generally available on Apple monitors only.  So, for a regular monitor with VGA or HDMI or DVI, you need to have the right display connector.
Can Mac mini run a 4K monitor?
The latest Mac Mini (later than 2018 models) can support one HDMI output with 4096×2160 resolution which is 4K technically. So, if your monitor supports 4K and the display converter/adapter can handle it, yes, you can use 4K monitors with Mac Mini.
Should I buy a Mac Mini or iMac?
If you are starting your journey with macOS and you have a limited budget, then Mac mini is the best choice. If you need a higher-end computer with a dedicated graphics card, 4K display and you have enough money to spend on a computer, you can think about iMac. iMac is usually suitable for high resource-hungry applications, multimedia editing and processing. So, buying the correct model is mostly depends on your requirement and budget.
Being familiar with a list of best monitors for Mac Mini can surely ease out your discomfort of navigating through different models just to choose one. So, this above-mentioned list is all about helping you make the right decision. Regardless of the monitor that you're selecting for your Mac mini, ensure that it's satisfactory in every aspect. Know more about the features of these monitors listed above and choose the best one for your use.