Back in 90's Nintendo's NES games were widely popular, those days the popularity of such games were high, and many people enjoyed playing those games. But as we progressed, old NES games went out of trend and gamers got busy in new games, and hence those NES games lost their charm. However, still, few people love to play those old school games which are now possible to play on Windows PC using NES emulators.  
In this article, we will talk more about NES emulator, its purpose and usages in details & top 10 NES emulators available for Windows, catch us after the jump!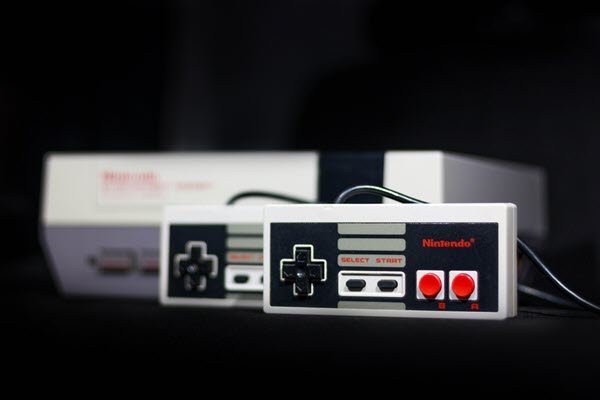 What is NES Emulator?
Before we begin the talking about top NES emulator available in the market to play Nintendo games, it is essential to understand what exactly NES emulator is.
In the old days, there used to a Nintendo gaming console where you can use NES games to play. These games were readily available, and a wide variety of library games were available.
As we moved forward in time, people lost that temptation of using NES game console and even if users are interested in playing one such game they had first to figure out one such console, game cassette and many more.
There are many such scenarios where the interested party is not able to get such console which still runs and are compatible with the current set of PC hardware they have. Hence, to fix this problem and make those games work in existing technological space, developers around the world developed emulator or a virtual console to play NES games.
Why use NES Emulator?
An NES emulator works as a simulation and provides the end-user with the same environment that an NES console does and makes the gameplay enjoyable. The use of NES emulator these days instead of traditional NES console is appreciated more as it is readily available and provides easy accessibility to NES games for gamers.
How to setup emulator
Emulators are available for a wide range of operating systems, be it Android, iOS, Linux or Windows. It is developed to use a compatible application on it.
To setup emulator, it is crucial to check system requirements for such emulators and download the one which is compatible with the version of the operating system it is running.
To get started with the installation process, download the compatible emulator for Windows 10 OS.
Extract the downloaded file and run the installer to start the installation process
Once the installation process is started, follow on-screen options to complete the installation process
After the installation process is complete, load NES games in the emulator and start the gameplay!
Top 10 NES Emulators for Windows 10:
As, we now understand what NES emulators and its purpose, now let's talk about the top 10 emulators which we can run on Windows 10 computers.
1) RetroArch
RetroArch is the most popular NES emulators in the market. There are no other emulators available in the market which is better than RetroArch. Even the Nestopia UE version also uses RetroArch core emulator technology to work. [screenshot]
RetroArch NES emulator offers some of the most advanced features in the NES emulator community, the different customization and tweaking features make RetroArch out of the crowd.
If we talk about the most popular feature of RetroArch is, it offers almost the same experience as that of traditional Nintendo Emulator System. It provides lag-free performance, and with its fantastic list of features, it makes the gaming experience one of the best.
Out of all popular NES ROM which is available, Famicom Disk System ROM can be best played on RetroArch NES emulator. Also, the compatibility of connecting different gamepads is just amazing; all kind of gaming pads can be used on RetroArch.
The one cons which may annoy few users despite all other pros are its setup or installation process. There was no proper step by step guide available earlier, but thanks to active RetroArch emulator community who raised this concern and RetroArch team launched official documentation to configure RetroArch NES emulator with best settings. Even after having an official user guide, debugging and exploration to set up or configure the emulator for the first time requires lots of effort.
It is one of the best emulators that will give you feel of that of PlayStation 3, as the features and functionality available in RetroArch NES emulator is comparatively similar to that of PS3. Some of these features include autosave feature, complete recording gameplay, loading NES ROM on RetroArch and many more.
The official link to download RetroArch NES emulator is here.
2) Nestopia

Nestopia is second most popular NES emulators available in the market.  It offers many amazing features, just like RetroArch. Since its development stopped ten years ago, a forked version of Nestopia called Nestopia UE (Undead Edition) doing wonders.
Nestopia and Nestopia UE both versions are available for download. As the original version lost its support user prefers to use the Nestopia UE (Undead Edition) version as compared to its predecessor.
Some of the most popular features of Nestopia UE are as follows:
Offers game recording feature
Screen is resizable
Customization options available
Support for cheat code
Option to enable/disable Vsync feature
External device support
Automatic saving option
After the original Nestopia lost support from the developer community, the undead edition gained popularity in the NES community.
NES emulator is compatible with a wide range of operating systems like macOS, Linux and Windows OS, especially the support for Windows 10 for Nestopia UE is impressive.
Some user may experience a problem with Nestopia vsync issue, and this issue causes slow performance when vsync is on and causes screen tearing when vsync is off. User must take a call between keeping vsync issue off or on.
The best advice for vsync would be to keep it off and play NES games!
Download Nestopia UE from their official site here.
3) Fceux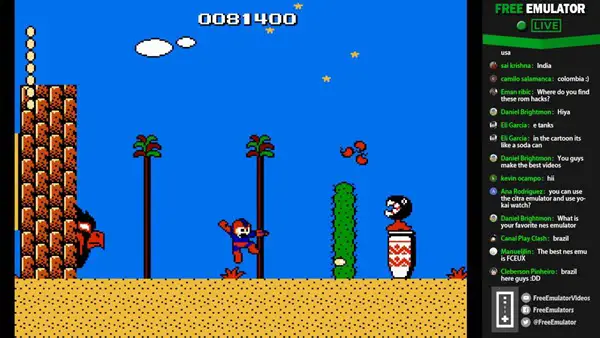 The third product in our list is Fceux, Fceux has gained lots of popularity in the Nintendo Entertainment System community.
Fceux offers a benefit over RetroArch in terms of setup but lacks in colour palette department. The colour palette in Fceux is very inaccurate by default and has issues like audio distortion when vsync setting is ON.
Apart from these cons, if we talk about pros, then Fceux is not just an NES emulator, but it is a complete package to play games those were developed in the '90s. Players can load games in different file formats like .zip, .rar, unf, nsf, fd and many other formats and use Fceux NES emulator to play.
If you talk about the inbuilt features of Fceux, it offers the following features:
Support cheat codes
Provide option to a record of gameplay
Configure option for gamepad
Full-screen support
Support for joystick
Creating speed runs and debugging
The most fantastic functionality of Fceux NES emulator is to tweak ROMs, yes you heard it right. Using the fceux NES emulator user can tweak the ROM and adjust the changes as per need. The ROM customization option is available under developer settings, and many other features can also be tweaked based on the requirement.
Fceux NES emulator can be downloaded from the official page here.
4) jNES
Next in our NES emulator list is jNES which is one of the easiest emulators available in our list of top 10 NES emulators.
To use jNES emulator player are required to download jNES and open ROM to play. Being a simple NES emulator, it doesn't offer lots of features those are available in other NES emulators but here are few of the features listed below:
Support for gamepad
Control options for sound settings
Screen size customization
Memory mapping feature
Instant saves and recording option
Game Genie cheat codes
jNES doesn't have any know performance issues, no issue with input lag with vsync option enabled and it offers the correct color option by enabling from settings.
jNES emulator is a freeware, available in more than 20 languages and can be downloaded from the official page here.
5) VirtuaNES
VirtuaNES is yet another best NES emulator available in the market. Back in 2007, the official support for VirtuaNES was stopped by its creator. Still, even it works just fine on Windows environment that is because of its highly customizable options available with VirtuaNES emulator.
The top features of VirtuaNES are listed below:
Support for TV mode
Support for cheat codes
Full-screen mode
Screen customization
External joystick and gamepad support
Option to edit memory HEX locations to load new cheat codes
Opportunity to choose any resolution
Save game option
Opportunity to take screenshots and record gameplay
VirtuaNES emulator is very user-friendly, and it's a must-try NES emulator for beginners. It is a freeware application and runs without any external support to play NES games.
VirtuaNES can be downloaded from the official home page here.
6) Nintendulator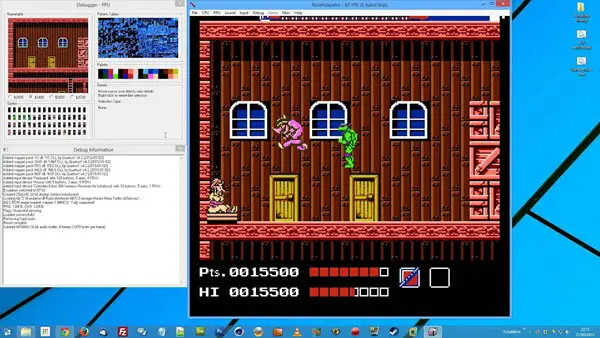 Nintendulator is another great NES emulator available for Windows 10 PC. It is developed using C++, and it offers unmatched and an exact original Nintendo Entertainment System like experience.
It was launched in the year 2004, and since then the Nintendulator developer has added some fantastic features that require a faster CPU clocked at around 1500MHz or higher to handle such high-end emulation that no other NES emulator has to offer.
If we talk about the features Nintendulator offers are as below:
Support for USB controllers
Game Genie support
Precise NES mirroring option
If we talk about some remarkable features of Nintendulator NES emulator, then we cannot ignore features like AVI capturing and debugger option available in the advance settings option. Soft and hard reset option like original Nintendo Entertainment System, offers RAM save option without requiring administrator permission to run.
We know emulators are application which emulates original hardware but making it a perfect is hard and requires a lot of skill, experience and knowledge.
Nintendulator is available for free download from official link here.
7) Mesen
Mesen is one of the newest NES emulators available for Windows and Linux based OS. It supports almost all games available for NES. It is considered as one of the most accurate NES emulators available in the market.
Apart from its native NES ROM, Mesen emulator can play games from different file formats like Famicom Disk System, NSF, NSFe, Dendy and many more.
The list of Mesen features are below:
Support for save states
AVI recording
Video upscaling
Equalizer and support for sound effects
Online gameplay support
A rewind features
Overclocking
Inbuilt cheat finder
Support for multiple video filters
Support for debugging tools
Support for Game Genie cheat codes
The best feature of Mesen is, it remembers last ROM played and its state. On next launch, it displays the screenshot of previously saved file and its playtime. Mesen emulator can save such ROM files for multiple gameplay and can be replayed on next launch.
Mesen NES emulator is one of the fewest emulators that receives constant updates from its official link, and its developer community listens to the issues/bugs raised by users and tries to resolve it next release. first to figure out makes Mesen one of the most stable and super performer in our top 10 list.
Mesen NES emulator can be downloaded from their official home page here.
8) Nesbox Universal Emulator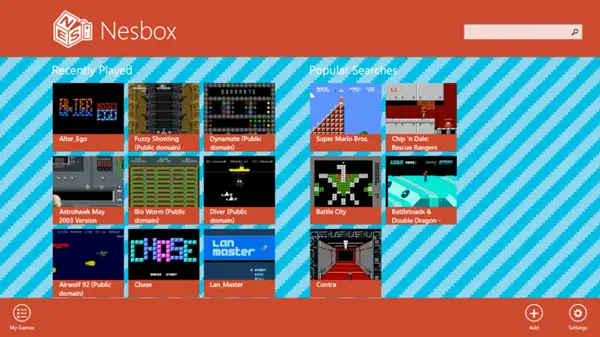 Nesbox Universal Emulator or short for Nesbox is an online JavaScript editor that allows the end-user to load compatible NES ROM using the web browser and play on the go. The only catch in Nesbox is the user needs to have a OneDrive account to load the ROM. And OneDrive account can be created using a Microsoft account.
Nesbox Emulator is not like other NES emulators, as other NES emulators require to download and install to play games. However, in the case of Nesbox Universal Emulator users don't need to download an installer.
If we talk about features available in Nesbox emulators, they are as follows:
Save state system
Multi-player gaming option
Options to tweak controller buttons
UWP app feature on Windows 10 and mobile platform
Nesbox supports file format ranging from NES, Sega, Game Boy, Game Boy advance ROM, Super Nintendo and many more.
The UWP app for Windows 10 works like a charm on Windows PC and the compatible mobile platform of Windows 10 Mobile.
Nesbox Universal Emulator can be downloaded from this link.
9) RockNES
RockNES emulator is another stable emulator available in the market. It offers a list of features which makes playing games in RockNES surprising.
If we talk about the cons, this emulator has some performance issue and does lag a bit while playing, however, features like Eagle mode helps to boost inbuilt graphics and sound settings that contribute overall to the gaming experience.
RockNES, on its first launch, creates a configuration file called ROCKNES.CFG which saves all settings for RockNES which can later be modified as per need.
The emulator supports a wide range of games and offers features like Game Genie which makes RockNES stand out of the crowd.
RockNES is compatible with a wide range of Windows OS starting from Windows XP, ME, Windows 7, 8 and 10.
The official version of the emulator can be downloaded from the below link.
10) Dolphin
Dolphin emulator is another great NES emulator available in our list. This emulator mimics to that of PS3 or Xbox console as it a Wii emulator.
That being said, because of Wii based emulator it provides an option to play most popular games on Dolphin emulator.
Few of the remarkable features of Dolphin NES emulators are:
Provides gaming experience in 1080p resolution
Option for quicksave
Smoother gameplay experience
Opportunity to access Nintendo's shop channel server
Dolphin emulator can be downloaded from here.
Download NEW ROM Games
Few popular NES ROM Games that players would love to play are as follows:
Vice: project doom, contra, Jackal, Rygar, Maniac Mansion, Castlevania and many more.
Do let us know which Nintendo Entertainment System emulator you would prefer the most and why for playing NES games on Windows 10 PC.
We would love to hear your experience and tweaks that you used to make the gameplay more fun and enjoyable.