Touchscreen laptops are getting very popular, and Windows 10 and Windows 11 have good support for these displays and touchscreen monitors. Most people would think that touchscreen laptops are expensive, but there are also cheaper ones available. There are a lot of the best touchscreen laptops under $400, $500, or $600 available to be purchased from Amazon. New Intel processors and newer RAM technologies are energy efficient, so you will get better battery life in touch screen laptops. While the best ones are a bit hard to find, we have compiled a list for you.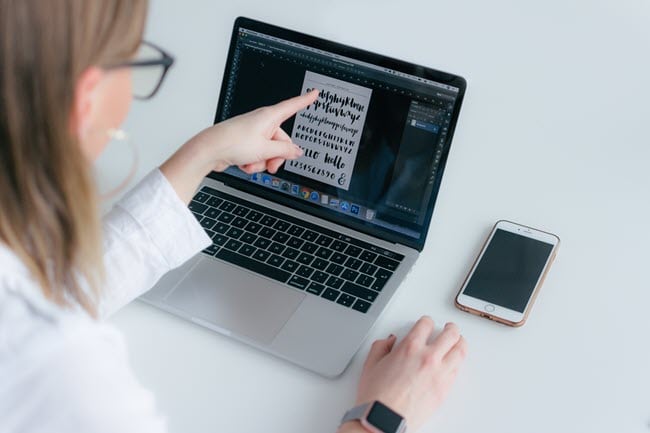 We have selected the right models in each price range and listed their main features and Pros/Cons. Having a good touchscreen laptop gives the ability to interact with the OS and programs easily and effectively like using a mouse pointer. Some laptops need a stylus, but recent laptops have excellent human finger touch support.
Since touch screen technology adds extra expense to a laptop, you will find it difficult in choosing a high-end laptop with touch screen capability. Though the famous Microsoft Surface Pro and SurfaceBook come with touch screens and high specs, they are expensive in the market.
Let's jump to our collection. The price of these laptops may be different when you read this review, but it is worth going for a high-end laptop even though it looks expensive.
List – Best Touchscreen Laptops Under $400, $500, $600
Price Range $400:
12. Dell Inspiron 3168 -11-inch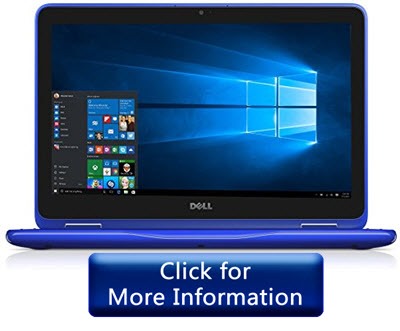 Dell Inspiron's low-end laptops are underrated. The new Dell Inspiron 3168 is a very reasonably priced touch-screen laptop. It is a flip-and-fold design so that you can use it as a laptop, tablet, or tablet with a stand. With a glossy plastic body that comes in four different colors, the Dell Inspiron 3168 has a fairly sturdy chassis. The Intel Pentium processor and 4GB RAM are powerful enough for performing day-to-day tasks, media consumption, or playing some light games from the Windows Store. A 500GB hard drive is also big enough for your storage needs.
The touchscreen display is very precise but the display itself is a bit dull, and for a touchscreen laptop under $400 the color accuracy is not very impressive. Other than that, the Dell Inspiron 3168 is a very good touch-screen laptop that doesn't break the bank.
The Dell Inspiron 3168 comes with these hardware specifications:
Intel Pentium N3710 (1.6GHz, turbo up to 2.56 GHz
4GB DDR3 RAM
500GB hard drive
11.6-inch 1366×768 touchscreen display
Pros
Competitive low price
Impressive speakers
Plenty of ports
Cons
The display is a little dull
5 hours of battery life may not be ideal for some users
11. Lenovo Flex 4
Lenovo makes great flip-and-fold 360-degree laptops, and the Lenovo Flex 4 2-in-1 is a very good touch-screen laptop for around $400 that is slim, lightweight and it's neither too big nor too small. So, the Lenovo Flex 4 2-in-1 is great for home office work and for home entertainment as well. The screen easily folds completely to the back to be used as a tablet and in a tent-like formation, the laptop holds itself perfectly well. When portable, the battery of the Lenovo Flex 4 can run up to 8 hours. This laptop can be charged 80% in just 1 hour, making this model suitable for people who are frequently moving.
The display is very sharp but not as sharp as higher-end laptops. The resolution of the display is small, but it may be fine for most users. The display has 10-point multi-touch which is very accurate and precise.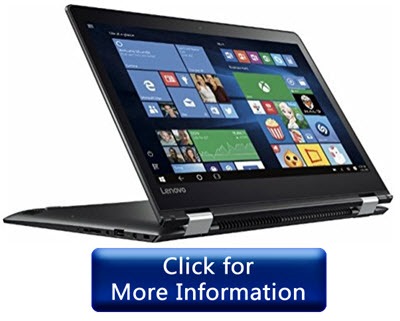 The Lenovo Flex 4 2-in-1 touchscreen laptop comes with:
8th Gen Intel Core i3 Processor (2.10GHz up to 3.9GHz)
4GB DDR4 RAM
128GB SSD hard drive
14-inch 1366×768 display
Pros
Thin, light, and portable design
The good battery life of up to 8 hours
Cons
Display issues in all viewing angles
The mouse touchpad is not very good
10. HP 15.6-Inch HD Touchscreen Laptop
HP has always been good at developing a laptop with great specifications. This laptop is not an exception to its quality work at a budget-friendly price.
HP 15.6-inch HD laptop comes at a very low price yet is equipped with many decent specs. The touch display has a 1366×768 pixel resolution and provides 10-finger multi-touch support. Inside the beautiful black chassis, this laptop packs the Intel Quad-Core Pentium Silver Processor N5000 with the ability to turbo boost up to 2.7GHz, Intel HD Graphics 620, 4GB RAM, and 1TB mechanical hard drive.
Overall, HP provided the best that we could for such a low price. The price just falls under $300.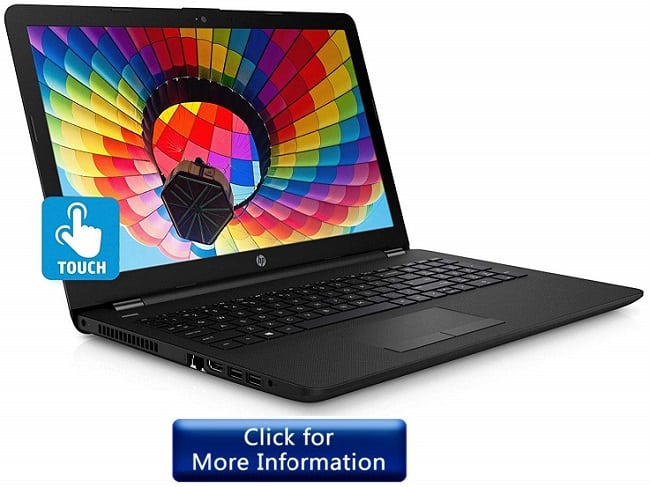 The HP 15.6-Inch HD Laptop comes with:
15.6-inch, 1366×768 full HD LED touchscreen with 10-finger multi-touch support.

RAM – 4GB SDRAM

1TB Mechanical hard drive

Battery life – Up to 7 hours
Pros
Budget-friendly laptop

Good performance with decent speed

Good battery backup
Cons
It does not have a DVD player

Do not have SSD, which may cause some lags
9. 
Dell Inspiron 15 6″ HD Touchscreen Flagship Premium
Dell is a US-based company with a good track record for building the best laptops and desktop PCs. The laptop we are discussing here is named the 'Flagship Premium' product. No wonder it will be packed with several useful specs.
This weighs about 5.07 pounds and does not go heavy on your briefcase. You can easily carry it around. The 15.6″ display brings the beauty of 1366×768 pixels resolutions with LED-backlit and the power of the touchscreen. It doesn't stop there; with the help of integrated Intel HD Graphics 620, it delivers darker blacks and sharp colours that stand out and makes an amazing graphics experience.
Also, this touchscreen laptop is powered by the 8th Gen Intel i5 processor. Gettings a touch screen laptop with an i5 processor for around $400 is a great deal on the market. Here is another point; guess what? It comes with 256GB SSD storage that allows the Windows OS and other applications to work faster and users to store more data.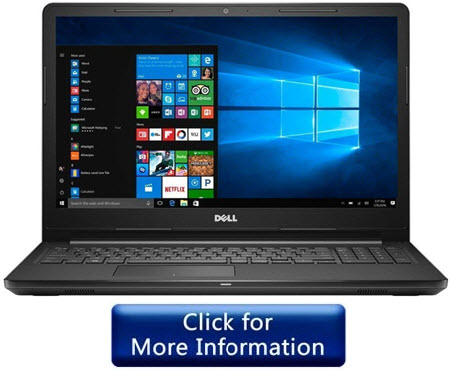 Dell Flagship Notebook comes with:
Display – 15.6-inch LED-backlit (1366×768) Touchscreen

Processor – 8th Gen Intel i5 dual-core processor

RAM – 8GB 

256GB SSD and Integrated display card
Pros
Built using SSD storage for faster performance.

Powerful processor for the money
Cons
Not for intensive work.

No DVD drive
Sale
Read Also: Most expensive laptops in the world
Touchscreen Laptops under $500
8. 
HP 15-Inch HD Touchscreen Laptop, 10th Gen Intel Core i5
HP has always been keen to focus on small details while building computers. As a result of their perfection, we have the 'HP Pavilion  Business Laptop' with an elegant design encased in the beautiful silver chassis.
The major difference between this laptop and others in this list is the processor type. It has the latest 10th Gen i5 processor, which is pretty decent.
This beauty brought ease to work with its 10th Gen Intel i5  processor that turbo boosts up to 3.4GHz. Along with the Intel UHD Graphics 620, the 15.6-inch diagonal HD touchscreen allows users to enjoy the beauty of high-definition videos, graphics-intensive games, and much more. The variant we are talking about has 8GB RAM and 512GB SSD. 512GB SSD gives the freedom to store plenty of data on this laptop.  
This model has two mics and advanced noise reduction software to improve the video chat or recording. It can meet your multimedia, professional and educational requirements.
Overall, it is a high-quality, budget laptop that can complete the load of work without compromising the performance and graphics and is easy to carry around.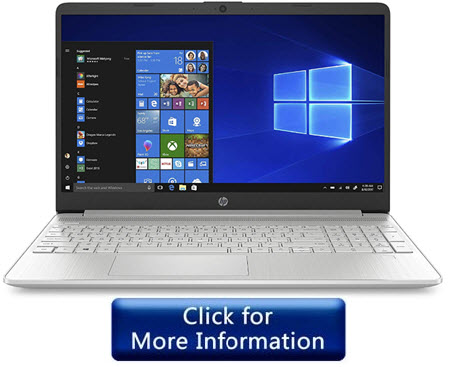 The HP 15-Inch Laptop comes with:
10th Gen Intel i5 processor (base speed 1.20GHz, boost up to 3.4GHz)

8 GB RAM with integrated Intel display

512GB SSD

Battery life – Up to 12 hours and 30 minutes
Pros
Elegant design, and a lightweight laptop that catches the attention.

Faster disk with more space (512GB SSD)

Large display with HD experience at a fairly good price.

Long battery life provides the freedom to work outside.
Cons
Missing a good display card

RAM not upgradeable
Sale
7. Dell Inspiron 15 Laptop
If you are looking for a laptop that fulfils your desire for a touchscreen while not compromising on the speed and other functions at a fairly low price, then the 'Dell Inspiron 15 Touchscreen laptop is built for you.
This time Dell managed to keep the price below the $500 mark while providing good specs. It comes with the 7th Gen Intel Core i5 processor with turbo boost support, 8GB RAM, 256GB SSD storage, and a 15.6-inch diagonal touch screen with WLED-backlit and 1366×768 pixels resolution. The touch screen works great with Windows 10. The Intel Core i5 processor is powerful enough for multitasking, web browsing, home office work, and streaming movies and TV shows.
It weighs around 6.5 pounds which is, we believe, a bit heavy than what you can expect from a laptop, and it might slow you down if you carry it all the time. The keys of a keyboard are flat and a bit low, which is fine, and you can always connect the external keyboard using one of the ports.  Battery life isn't that great, and if you do intensive work, it drains fast and has an average life of 5 hours.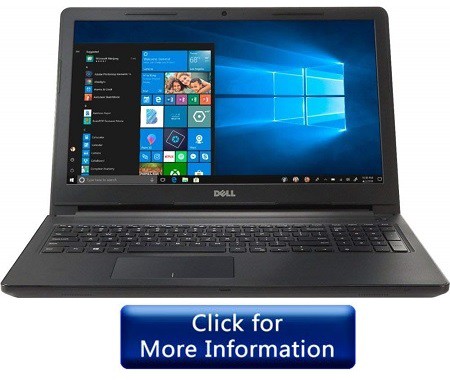 The Dell Inspiron 15 comes with:
15.6-inch full HD touchscreen display with 1366×768 pixels resolution

7th Gen Intel Core i5 processor

RAM – 8GB

Hard Drive – 256GB SSD

Battery life – 5 hours

Weight – 6.58 pounds
Pros
Good specs at a fairly low price

Good performance
Cons
Heavy laptop

It does not have a DVD drive

The short life of batteries
Sale
6. 
Asus Chromebook Flip C302CA-DH54
Chromebooks are the rage nowadays. They are affordable, well-designed, and have enough specs for the average user especially suitable for students.
Asus Chromebook flip has a sleek, lightweight design and weighs about 2.65 pounds, so it can be easily moved with you. Its extremely bright display allows you to use it outside in daylight and provides 1080p resolutions. It has a responsive touchscreen, and the touchpad provides a glassy-smooth surface for a better user experience. It can flip 360 degrees and be used as a laptop or tablet. It comes with 4GB DDR3 RAM and 64GB Flash storage, a perfect combination for basic laptop users and college-going students. 
Overall, Asus Chromebook is a perfect fit for the college-going student who loves to stay updated with new technology and wants a budget-friendly touchscreen laptop that can be used as a tablet. It is highly recommended for business users. For any compatibility issues with Google Docs, you can use Microsoft Office 365 online version.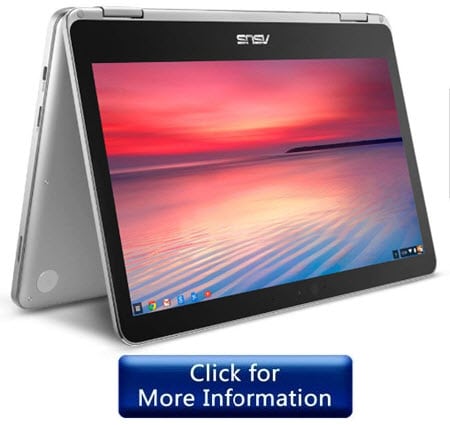 This Asus Chromebook Flip comes with these hardware specifications:
12.5-inch Full HD touchscreen with 1080p resolution

Intel Core m5 processor

64GB SSD hard drive

RAM – 4GB

Battery life – 10 hrs

Weight – 2.6 pounds

Two USB-C ports & one micro-sd slot
Pros
Sturdy and lightweight design good to carry around.

Bright display that allows the user to work in outdoor settings

Good battery life that runs up to the 10 hours

It can be used as a laptop or tablet
Cons
Some user interface elements are not user-friendly

Fewer connectivity options with just two USB-C ports
5. 
Latest_Dell Inspiron 2-in-1 5000 14.0″ Laptop
Dell has taken the lead with the 2-in-1 Dell Inspiron laptops. The latest Dell Inspiron 2-in-1 5000 looks very premium for its price range, and everything on it, from the touchscreen display to the keyboard and its performance, is very impressive. Because of its small size and lightweight, the Dell Inspiron 5000 is very convenient to carry. The 8th Gen Intel Core i3 processor is great for running your home office applications, web browsing, or media consumption.
As said before, the Dell Inspiron 5000 is a 2-in-1 laptop that can be used as a laptop and a tablet. The display is very clear and sharp, and the Windows 10 touchscreen drivers make the touchscreen itself great.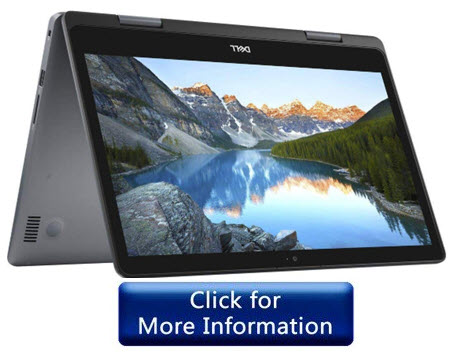 This is the configuration of the Dell Inspiron 5000:
Intel Core i3-8145U (Up to 3.9 GHz)
8GB DDR4 RAM
256GB SSD
14.0-inch HD touch display
Intel UHD 620 display
Pros
The display has good contrast and viewing angles
Thin and light design
Great build quality
Cons
It is only an i3 processor
The keyboard is not backlit
Here is a good video about touchscreen laptops:
Price Range $600:
4. 
ASUS VivoBook Flip 14
ASUS VivoBook line of laptops is the thinnest and light Windows laptop available. They are the most portable and have the most premium design and build. This ASUS VivoBook is a really good touchscreen laptop for around 600 dollars if you need a very thin and lightweight laptop. The ASUS VivoBook Flip TP412UA-DB51T weighs just under 3.5 lbs and is just under half an inch thick, which makes it a very portable touchscreen laptop. The 2-in-1 design with this laptop works well so that you can have it in tablet or laptop mode.
The 8th Gen i5 processor is powerful and efficient enough to handle most tasks on this tiny stylish touchscreen laptop. It can easily manage web browsing, word processing, entertainment, and even basic gaming. The touchscreen display is very bright and has good color accuracy, so it will look good when watching TV shows or movies.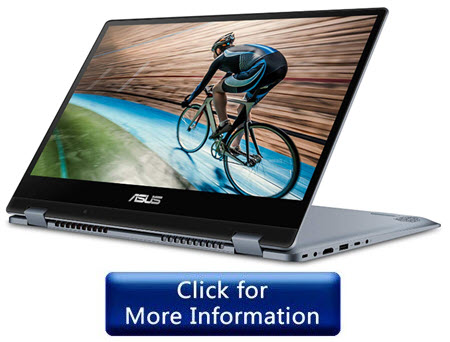 This ASUS VivoBook comes with these hardware specifications:
8th Gen i5 processor (up to 3.4GHz)
8GB DDR4 RAM
256GB solid-state drive
14″ Full HD touchscreen
Pros
Thin and light design
It stays cool even with a fanless design
Excellent ergonomic design
Cons
It comes installed with bloatware
The sound from the speakers is very weak
3. New HP Premium High-Performance Touchscreen Laptop
One more gem by HP that falls just short of the $600. Packed in silver-grey shade chassis, this can be a good buy for those looking for decent performance with good RAM.
It has 12GB RAM accompanied by a 1TB ATA hard drive, which means it will provide good space, but if you want to play a demanding game or perform intensive tasks that demand a lot of data processing, this laptop may slow down a bit. The variant that we are discussing here has 12GB RAM, but the laptop is also available with 4 and 8GB RAM.  It has convincing graphics with an Intel HD Graphics 620 and can also have the super-multi DVD/CD burner, often lacking in new laptops. It provides good connectivity with HDMI, USB 3.1, and USB 2.0 ports, and a multi-format digital card reader.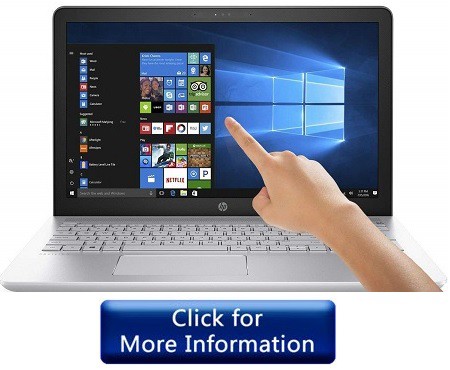 This HP Laptop comes with :
Display 15.6-inch full HD

Processor – Intel Dual Core i5-7200U

RAM – 12GB (Also available in 4 & 8GB)

Graphics – Intel HD Graphics 620

Hard Drive – 1TB ATA mechanical hard drive

Battery life – Up to 9 hrs

Weight – 4.6 pounds
Pros
Good RAM & Hard Drive at a competitive price

Long battery life

Better connectivity with multiple ports
Cons
Has a mechanical hard drive, which may slow down while doing intensive work

Could not handle graphic-intensive games
2. Dell Inspiron 5570
This Dell Inspiron 5570 is another variant of their latest model, 5593. It has a 15.6-inch full HD touchscreen panel, which is impressive because it is precise. The overall design and feel of the Dell Inspiron 5570 are very premium, and it has a very good thin and lightweight design. It has the 8th Gen Quad-Core i5 processor. The best type of processor you can get under this budget. The Quad-Core i5 processor with 16GB RAM and 512GB SSD can make this laptop worthy.
Even under load, there is not a lot of noise from the cooling fan, and the temperature also does not go very hot. Due to its performance, the Dell Inspiron 5570 is great for work, college, programming, and some light gaming. For additional disk space requirements, you get a 1TB normal hard disk in this model. 512GB SSD + 1TB HDD will fulfil all data storage demands on this laptop.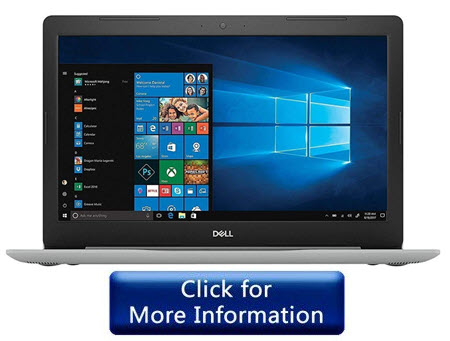 This configuration of the Dell Inspiron 5570 comes with:
8th Gen Quad-Core i5-8250U (Turbo up to 3.4GHz)
16GB DDR4 RAM
512GB + 1TB hard drive
15.6-inch 1080p touchscreen display
Pros
Best build quality with thin and light design
Excellent hardware configuration
Great mouse touchpad
Cons
Battery life is short
Missing dedicated display card
1. Lenovo Yoga 710
Lenovo Yoga 710 is a well-designed, compact, classic laptop that can be used as a tablet and provides a touchscreen experience.
Though it goes just above $600, it is packed with a few valuable specs worth buying at this price. It comes with the 7th generation Intel Dual Core i5 processor, which can turbo boost up to 3.10GHz, and has a 256GB solid-state drive. The 15.6-inch display has 1920×1080 pixel resolutions with full HD features, and the screen is 10-point multitouch-enabled. It also has an LED backlight and can flip and fold at a 360-degree angle. It has sufficient ports for better connectivity, but the DVD/CD drive is removed to keep it compact.
Overall, the Lenovo Yoga 710 is an ultrathin, lightweight multipoint touchscreen laptop that can be converted into a tablet and has a good battery backup of approximately 9 hrs.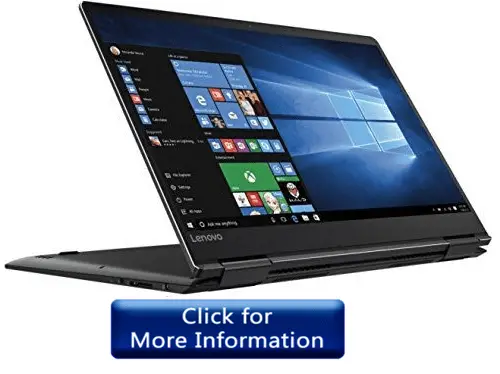 The Lenovo Yoga 710 comes with:
Display – 15.6" Full HD with 1920×1080 resolution and touchscreen-enabled

RAM – 8GB DDR4

Hard Drive – 256GB SSD

Battery Life – 9hrs

Weight – 4.4 pounds
Pros
Value for money

Bright and better-sized display

Long battery life
Cons
Do not have a DVD/CD drive

Some users experienced the flickering of the screen
While tablets are easy to carry around, not everyone prefers them. So here are the top 10 best touchscreen laptops in 2022 in several price ranges for those who prefer a touchscreen display on their laptops. Some of these traditional laptops, while some are 2-in-1, which means you can use them as tablets or laptops with Windows 10.