Having multiple virtual desktops can help users to manage similar tasks, opened files, and web browsing in a Windows 10 computer efficiently. You can easily switch the desktops whenever you want. If you're going to hide something or fake someone, you can set up virtual desktops and arrange the programs/files where you can switch quickly. In this guide, let me show how to create multiple virtual desktops on your laptop or desktop PCs and manage them well.
Creating virtual desktops in Windows 10 is easy, and everyone can do it, but knowing to manage those desktops well make you a professional by using the feature on Windows 10 OS.  Also here we discuss possible issues, limitations, and solutions.
We can use the task view button to create and manage virtual desktops. In some cases, you may not see the task view button in the taskbar.
How to get the Task View Button on Windows 10? Disable and Enable it
Below is the task view button in Windows 10 and it should appear by default.

If you do not see this button, right click on the taskbar and enable it as shown below.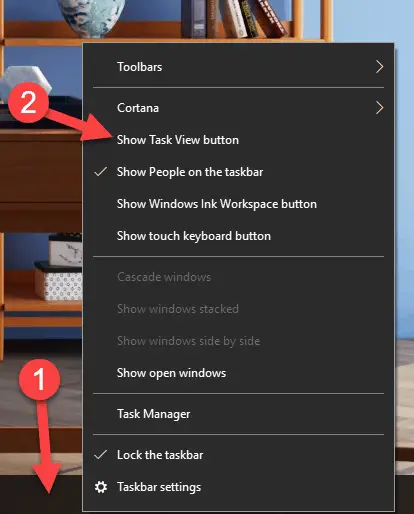 There should not be any reason to disable the button, but if you want, you can use the same steps to disable the Task view.
Windows key + tab keys work as shortcut for the task view button.
Once you get the task view button (or without that by using the keyboard shortcuts), you can proceed to the next steps.
How to Create Multiple Fake Virtual Desktops in Windows 10
Click on the Task View button (or press Windows key + Tab).
Click New Desktop at top left corner.

3. Once you created the 2nd virtual desktop, you will get another option ( + sign) to create multiple desktops.

Switch between Virtual Desktops
From the task view, you can click the desktop to switch your view.
Also, for the quick shift between virtual desktops, press Ctrl + Windows key + Left or Right arrows to move across desktops.
Limitations of Windows 10 Virtual Desktops
This is just a virtual desktop from the same user profile; hence, it will not act as complete different user profiles or see the major difference between the virtual desktops.
The more virtual desktops you add, the more computer resources will be in use. I felt slowness in switching the desktops and reposnse from the each programs in different desktops. Obviously, it gives more stress to the computer hardware. If your computer has limited resources, then you should be aware of duplicating screens and windows.
Also, some of the programs can open in a single virtual desktop only. For example, Windows Apps can be opened on a single desktop only. You can't open the 'News' app in Desktop 1 and Desktop 2, it will not work. You should close it from the one desktop to open in another desktop. Meanwhile, some programs can be opened multiple times in several virtual desktops. For example, you can open web browsers in each desktop.
How to Move windows/files Between Virtual Desktops
If you have opened a file or program in a desktop, you do not need to close and reopen the same on another desktop, instead you can easily move the opened windows/files/programs and apps between the virtual desktops.
If you need to move an opened Excel file from Desktop 1 to Desktop 2, simply press Task View or (Windows key + tab) then drag and drop the window/file to another desktop.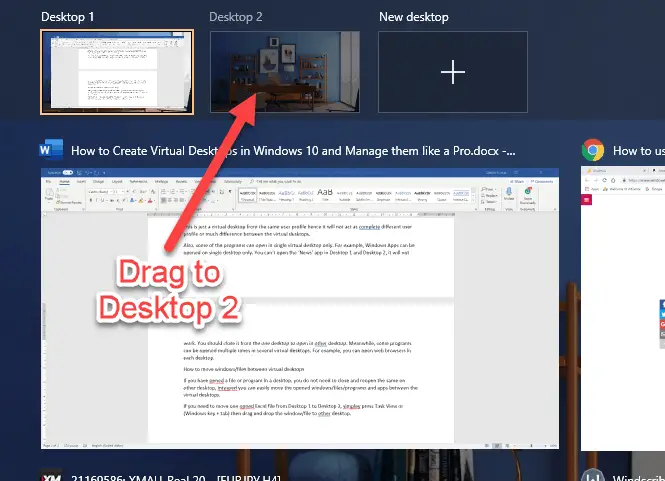 There is another way, right-click on the opened window and select the desktop to move.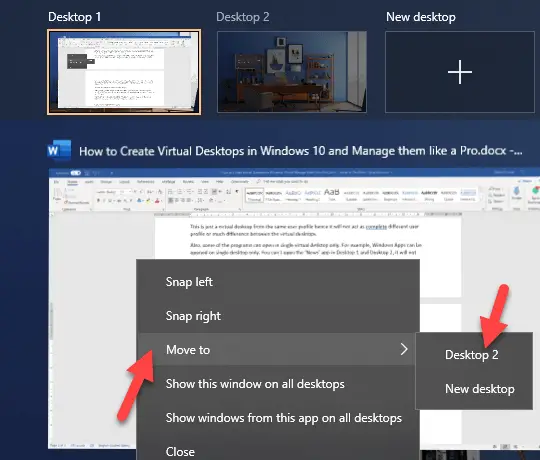 Addionatil Tips: Sometimes you may need to see a particular program or file on all the virtual desktops. Let's say; you have two virtual desktops, one for official work and another one for your personal/fun work at the office. But if you want to see the Office Outlook on both virtual desktops to view the emails, then the below method will be useful.
Right click on the opened window and select show on all desktops as shown below.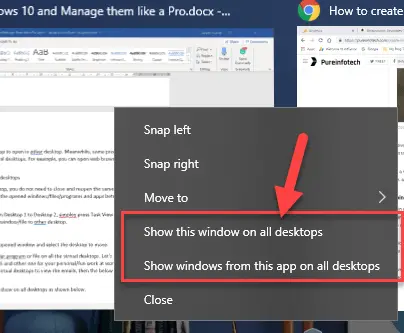 This will duplicate the windows across all the virtual desktops on Windows 10.
Close a Virtual Desktop
After clicking the Task View, close the virtual desktop by clicking the X button.
The apps, programs, and opened windows in the virtual desktop will move to the previous desktop while closing.
Hope this guide with important points give idea about creating, managing and closing the virtual desktops in Windows 10.