By any chance if you are getting 'DNS Server Not Found' error when you try to browse internet through WiFi after upgrading to Windows 8.1, follow these steps to fix it. Upgrading an OS to its next version always sounds good, a step ahead of the monotonous usage and advanced features. But upgrading a software never comes clean especially when it comes to Windows. Glitches, lags, incompatibilities and unsmooth flow of working should be taken for granted when you make an upgrade to a newer version of Windows. As we all know, Windows 8.1 is rolling out, the new, advanced and beautiful version of its predecessor Windows 8.
We have decided to target our focus of lens on the common problems people face after upgrading to Windows 8.1. For today, we will tackle down the Wi-Fi stall problem in Windows 8.1. Many people get "DNS server not found" error when they try to connect to Wi-Fi after upgrading to Windows 8.1 from Windows 8. Also. Many users have reported that they simply don't get any sort of error and the Wi-Fi also doesn't connect, making things uglier.
As for now, we are trying to tackle the after-upgrade issues of Windows 8.1 on our own because users around the world still await anxiously for some update mesh that can waive off the problems and issues of Windows 8.1. Third party software, apps, work around the registry tweaks are here to solve the issues so we have decided to avail the tweak nerve of ours and give our fans a solution to the problems.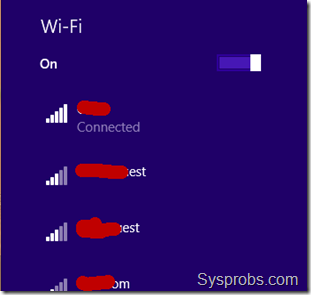 Most of the users have touted that this specific Wi-Fi stalling problem occurs after making an upgrade from Windows 8 to windows 8.1. Luckily, we have figured out a solution for this nudge.
Changing Public DNS servers, restarting internet routers and restarting the computer didn't work for us. So "layman solutions" are not working options in this case. There can be multiple way arounds for this problem but the easiest of all lies in tweaking up the Wi-Fi drivers. How and from where? Read on to find out. Follow the simple steps.
How to Fix DNS Server Not Found Error on Windows 8.1
The WiFi adapter driver is the culprit for this issue. We must upgrade or reinstall WiFi driver files as explained below.
1) Open Device Manager in your Windows and select 'Network adapters'
You can use Computer management once you get back the My computer icon on the desktop, or open from Control panel.
2) Now Double Click your WiFi Network Adapter name
3) Go to "Driver" tab and Hit "Update Driver" option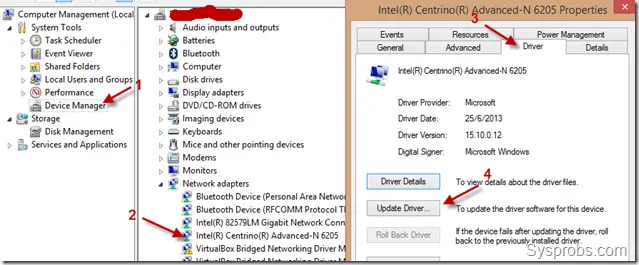 4) Click 'Browse my computer for driver software'
5) Click 'Let me pick from a list of device drivers on my computer' option
6) Select the your driver entry from the list, and click Ok
Always remember to disable the compatible hardware check box for searching the previous versions of the drivers because in most of the cases, the previous versions of Windows drivers work perfectly to solve the glitches and driver related issues.
After upgrading the driver, restart your machine and things should work smoothly now.