This guide is part of Sysprobs Mac on Windows series. In this article we will talk about working pre installed VMware image of Mac Lion 10.7.3. This image is working fine on normal X86 Intel based computer with Windows 7. The good thing is, you can get the latest features of Lion 10.7.3 without struggling with kernel panic or boot loaders issues.
This pre installed image is created and uploaded by ZackehSoul who is having a blog about IPhone, Android and Hackintosh contents. You can follow ZackehSoul on twitter for more updates and the original source of article is available here.
Sysprobs earlier published two guides about fresh installation of Lion OS X on VMware and 10.7.1 VMware image. I wanted to publish another guide on updating 10.7.0 and 10.7.1 to latest 10.7.3, but after seeing this pre installed image, I think this will be the better and easy way to have it.
The Lion OS X 10.7.3 pre installed VMware image can be downloaded either by torrent client or direct file hosting site.  I'm giving the exact download links (as requested by owner) which will open after showing ads.
Torrent download link ( Get it from our Facebook fan page – Like It!)
How to Open and Run it on Windows 7 Computer?
1) The download is having set of required files with VMware disk and configuration files. It is compressed by 7-zip utility and in EXE format, so if your Windows OS is not extracting this file, you can download 7-zip utility from official site here.
Windows 7 extracts it without additional software installation. Make sure the destinations is having enough disk space (may be around 10GB for future use too).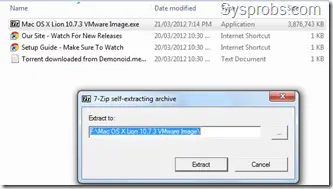 2) We have to unlock VMware workstation to be able to run Mac OS X as guest. It can be done by 'VMware unlocker'.
The same download is having VMware unlockers for 7.1.x and 8.x series. Incase these patches do not work or you want to know more about how to unlock VMware workstation to run Mac OS X guests, check our earlier guide on VMware Unlocker 8.0.x
Once the patch is applied successfully, make sure 'Apple Mac OS X' OS type is appearing under guest Operating Systems.
3) Most of the Mac Operating Systems required Hardware Virtualization Technology (VT) supported processor on host. Your physical computer should have VT supported processor and VT should be enabled in motherboard BIOS (if  it was disabled earlier).
Read our earlier guide on how to enable and check VT on Intel or AMD computers
If your physical computer is not having VT supported processor, there is a patch available to bypass VT check. So, VMware will not check the VT on processor for guest Operating system. This download is having VMware Unlocker – Hardware Virtualization Bypasser, which will do the bypass job. Even though I have not checked this bypass unlocker, you can try and let me know the outcome (if your processor is not Hardware Virtualization Technology supported).
4) After completing above two steps, open the pre configured virtual machine file of Lion OS X 10.7.3.
Go to 'File' on menu and select Open, browse the Mac OS X Lion.vmx  and open it.
You can modify the virtual machine settings before power it on. Increase the number of processors (depends on  physical processor cores) and size of RAM.  I increased to two processors and 2GB of RAM.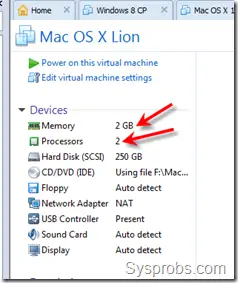 5) Power on the virtual machine. If the all steps are correct (specifically step 2 and 3), you should be seeing the working 10.7.3 Lion on VMware now.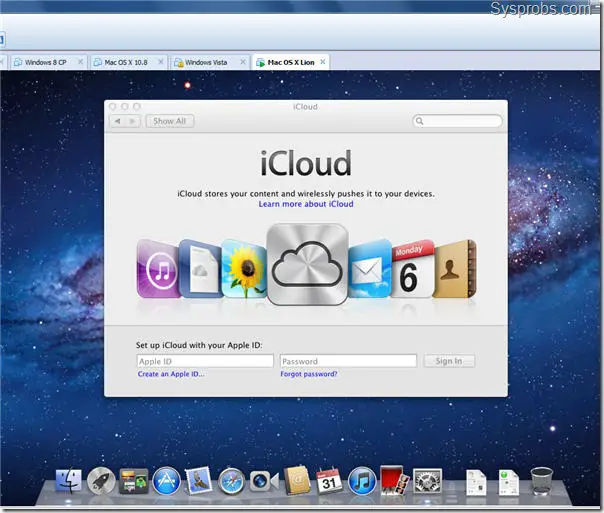 Screen Resolution and Display Improvement
I do not understand the exact reason why the VMware tools is not installed in this image. Anyhow, darwin.iso file is included in this download, it can be used to install VMware tools on Lion OS X 10.7.3 to get more display resolutions and better performance.
I recommend to take a snapshot before proceed further steps.
Attach the darwin.iso file to CD/DVD drive of working virtual machine. darwin.iso file is located under VMware Unlocker – Mac OS X Guest\VMware 8.x Series\Tools in extracted location.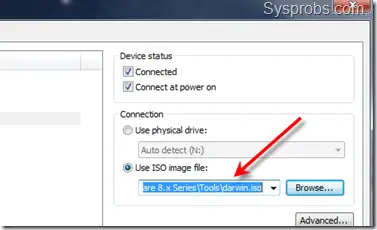 Once it is mounted inside guest OS automatically, execute the 'install VMware tools' file.
The 'Lion user' password is nothing (blank password).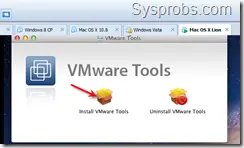 Restart the virtual machine after installation completed. After reboot you must be seeing the larger screen and more display screen resolution sizes.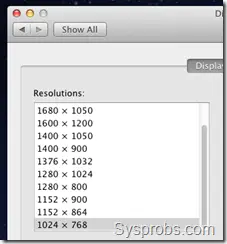 Sound and Network
Both worked out of the box, no additional settings required.
 VMware Shared Folder to share data
After the VMware tools installation VMware shared folders can be setup to share data between host and guest OS.
Setup is very similar to earlier Mac OS X guests, check our earlier guide.
 Original Video by owner
Feel free to leave comments on owner's original post or here below.