If you are a fan of the dark mode on Windows 10 or macOS, you will love this post. Google realized this color change trend, and they introduced dark mode in their Google Chrome browser. As usual, there are few confusions in applying this change. In this guide let me show you how to enable and disable dark mode for Google Chrome browser on Windows 10 (Few steps are applicable for Windows 8.1 and 7 also)
Few certain requirements must be met to get the dark mode in Chrome.
The latest version of Chrome. Version 74 for later.
The latest Windows 10 which support dark color theme (Windows 10 dark mode)
Also, I have mentioned a few workarounds and troubleshooting tips in this guide.
How does the Google Chrome Dark Mode work?
With the latest Chrome 74 version, it can read your Windows 10 color settings (dark or light mode) and changes automatically. For example, if you are using dark mode in Windows 10, your Chrome will change to dark theme automatically once you have updated the browser.
As of now, there are no separate methods available to enable or disable dark mode for Chrome browser when you use different Windows color mode. For example, when you use light (normal) Windows color mode, the latest Chrome will not change to dark mode by its self. There are no settings available to enable the dark mode forcibly. But there is a workaround, and I will be showing it below.
Enable and Disable Google Chrome Dark mode on Windows 10
Let's see few scenarios.
1) Dark mode Windows 10 and Chrome
It is easy. You must enable the Windows 10 dark mode first, then update the Google Chrome to the latest version.
Enable Dark mode in Windows 10
a) Search for colors in Windows search and visit Colors settings.
b) Enable the dark colors for apps.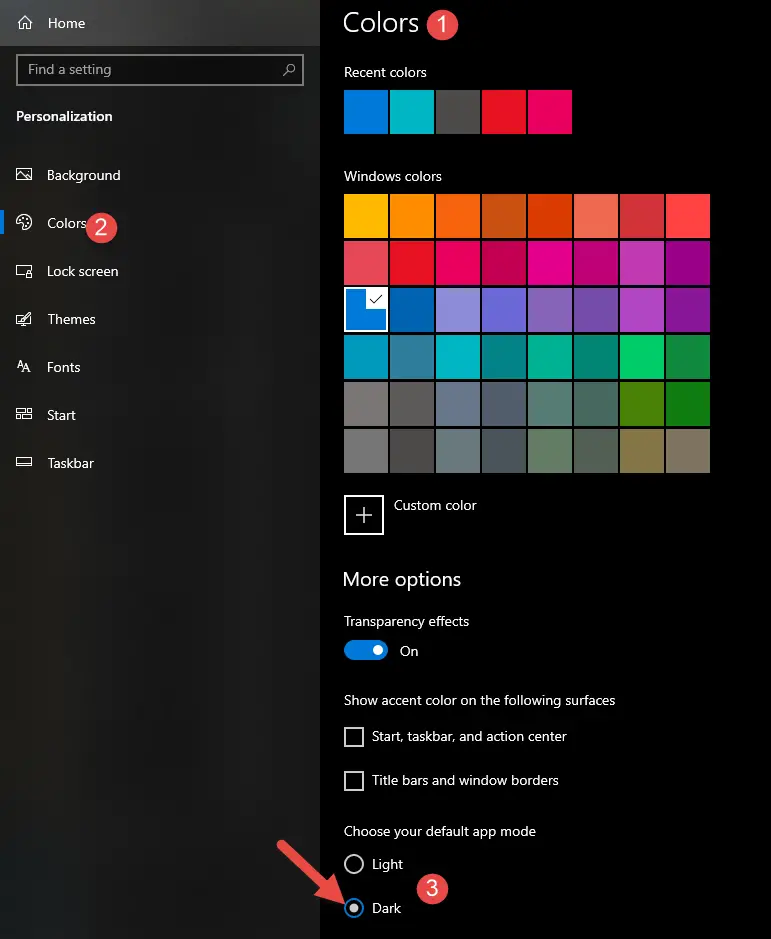 c) Now your Windows, file explorer and relevant apps will change to dark mode in Windows OS. If you have the latest Chrome browser, it will also change automatically.
Troubleshooting steps if Chrome not Changing to Dark mode
Even after changing the Windows 10 colors to dark, if Chrome is not changing to dark mode, try below steps.
Update the Chrome browser. Make sure it can download the latest version via the direct internet.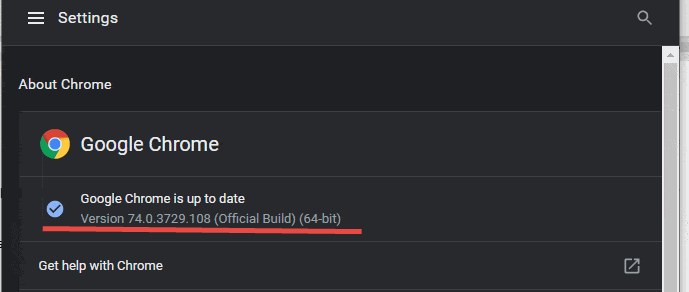 It should be the build 74 or latest versions.
After the update, it will close and reopen. That should work most of the time.
By any chance, Chrome can't close it completely and reopen; you can kill the process and reopen Chrome.
Open task manager and end the Google Chrome browser process. Reopening the browser should bring back the dark mode of chrome.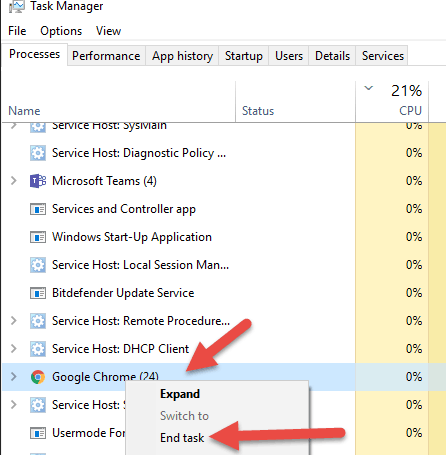 2) Windows 10 Dark mode and Chrome Light Mode
As mentioned earlier, when you change the Windows 10 apps color to dark mode, the Chrome read the Windows settings and change to dark mode. How about having Windows 10 dark mode and Chrome Light mode/theme?
Technically it can't be done with any settings other than changing the Chrome browser theme to something else.
a) Go to Settings of the browser, then themes.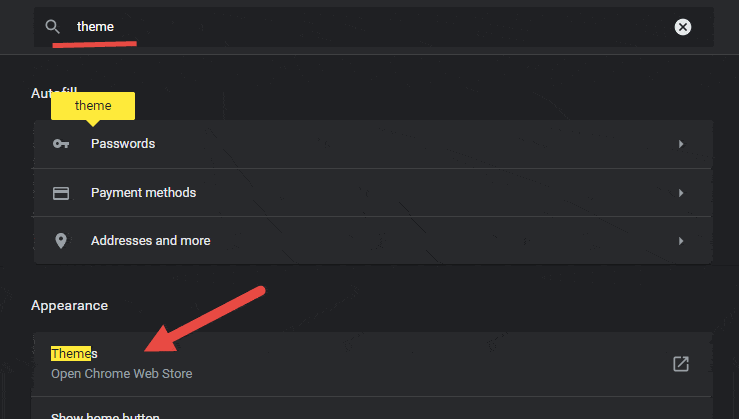 b) Select a white/light appropriate theme you like. Do not select the 'Classic' theme; it is the default theme which takes the colors settings from Windows settings.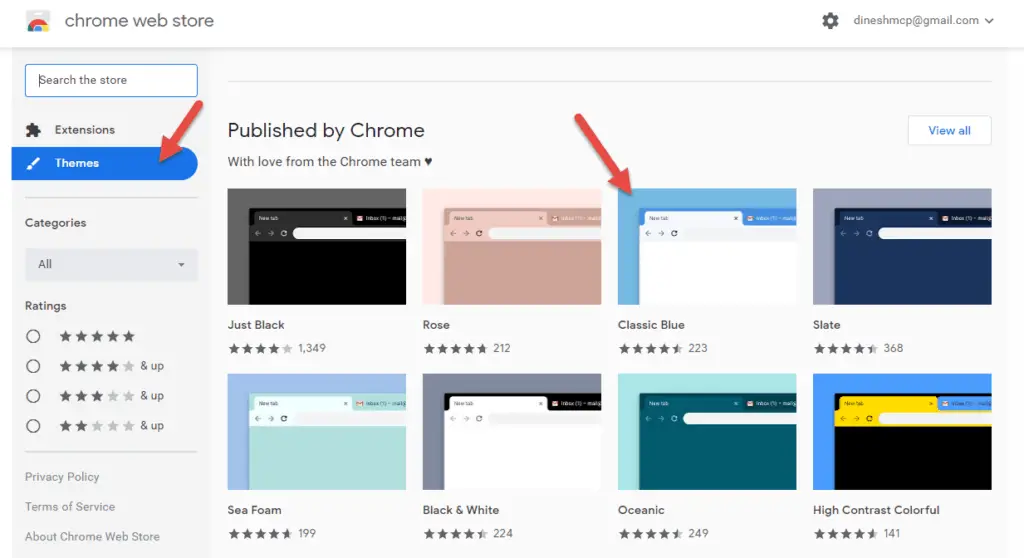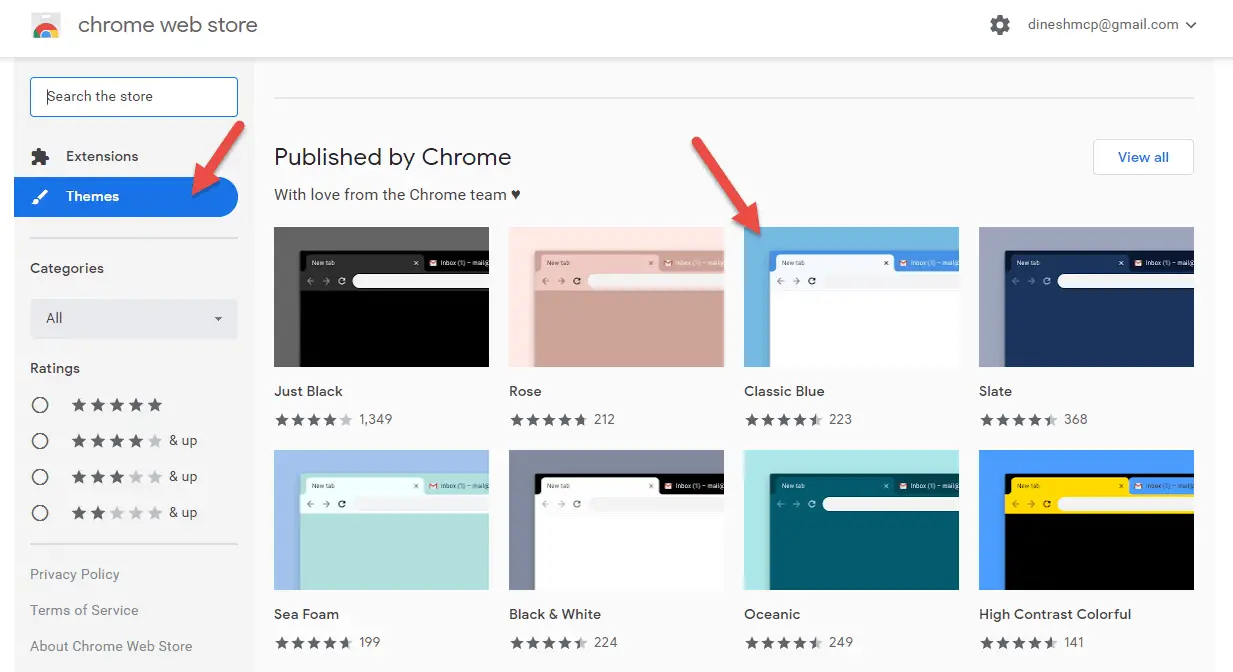 I selected the 'Classic Blue' theme as below. Click Add to Chrome to activate the theme.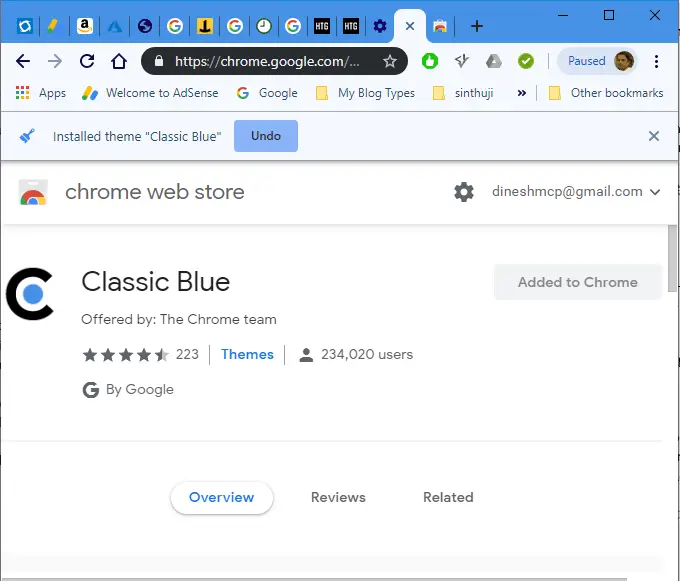 That was the Google Chrome light theme on Windows 10 dark mode.
3) Windows 10 Normal Mode and Google Chrome Dark mode
Some of you may not like to change the entire Windows OS to dark mode to have Chrome dark mode because it may look different when you open the file explorer and other apps on Windows.  In this case, we can do the following tricks to activate Chrome dark mode when Windows OS stay with the default white color.
Force the dark mode in Chrome
We can add a switch for the application and force the Chrome to open the dark mode even the Windows colors stay with the default white color.
To do that, right click on the Chrome shortcut, then Properties.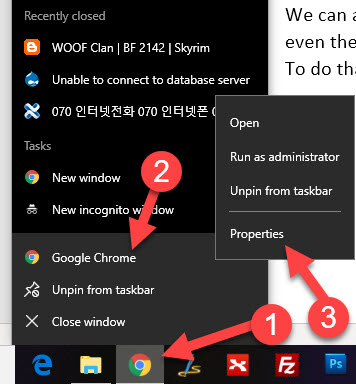 In the application target path, enter the following string.
--force-dark-mode
After adding, my system looks like this.
"C:\Program Files (x86)\Google\Chrome\Application\chrome.exe" –force-dark-mode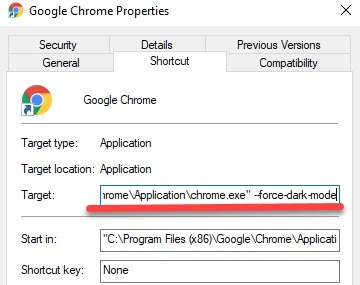 After the change, you may need to close the Chrome browser completely and open again.
Troubleshooting Tips
It did not work completely for me. It was not a full dark mode version of Chrome. The following steps helped to get the correct theme.
Make sure you have the latest version of Chrome, Version 74.0.3729.131 or later.
The browser theme should be set to default (which is the classic theme). When you apply dark mode, but the browser has a specific theme then it is going to override the settings, and you will get the applied theme colors only. Mine was set to 'Watercolor' theme, and once I reset it, I go the working dark mode.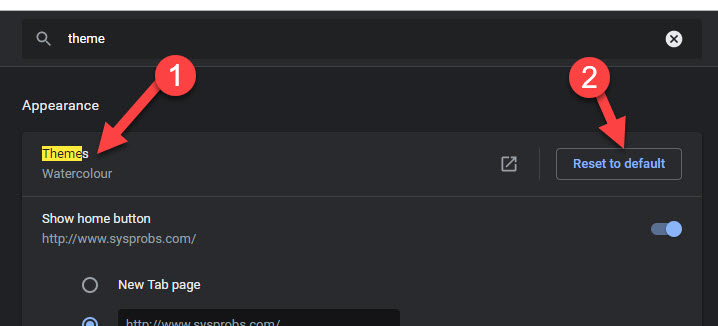 Here is the working Chrome dark mode on the default Windows 10 white color.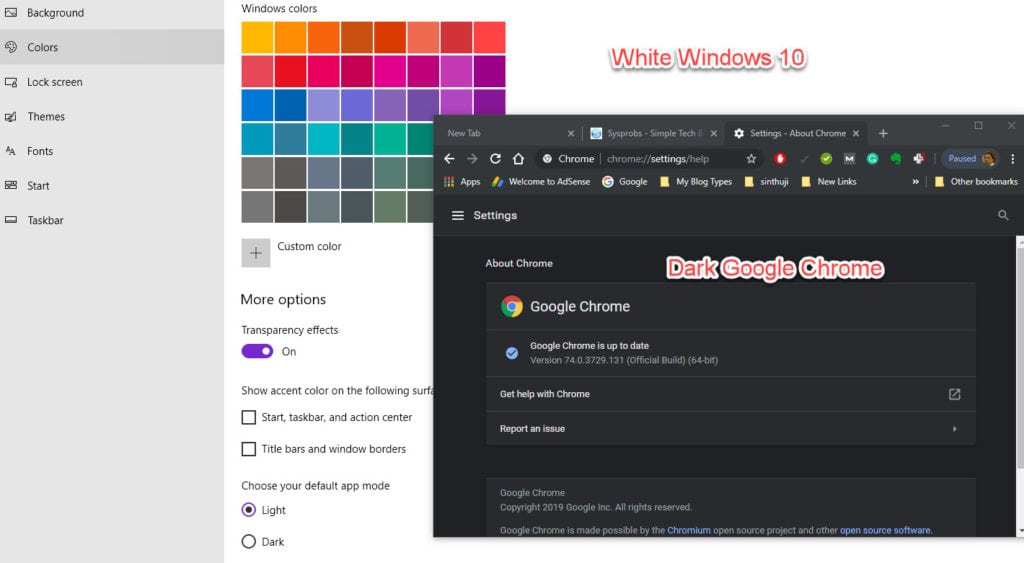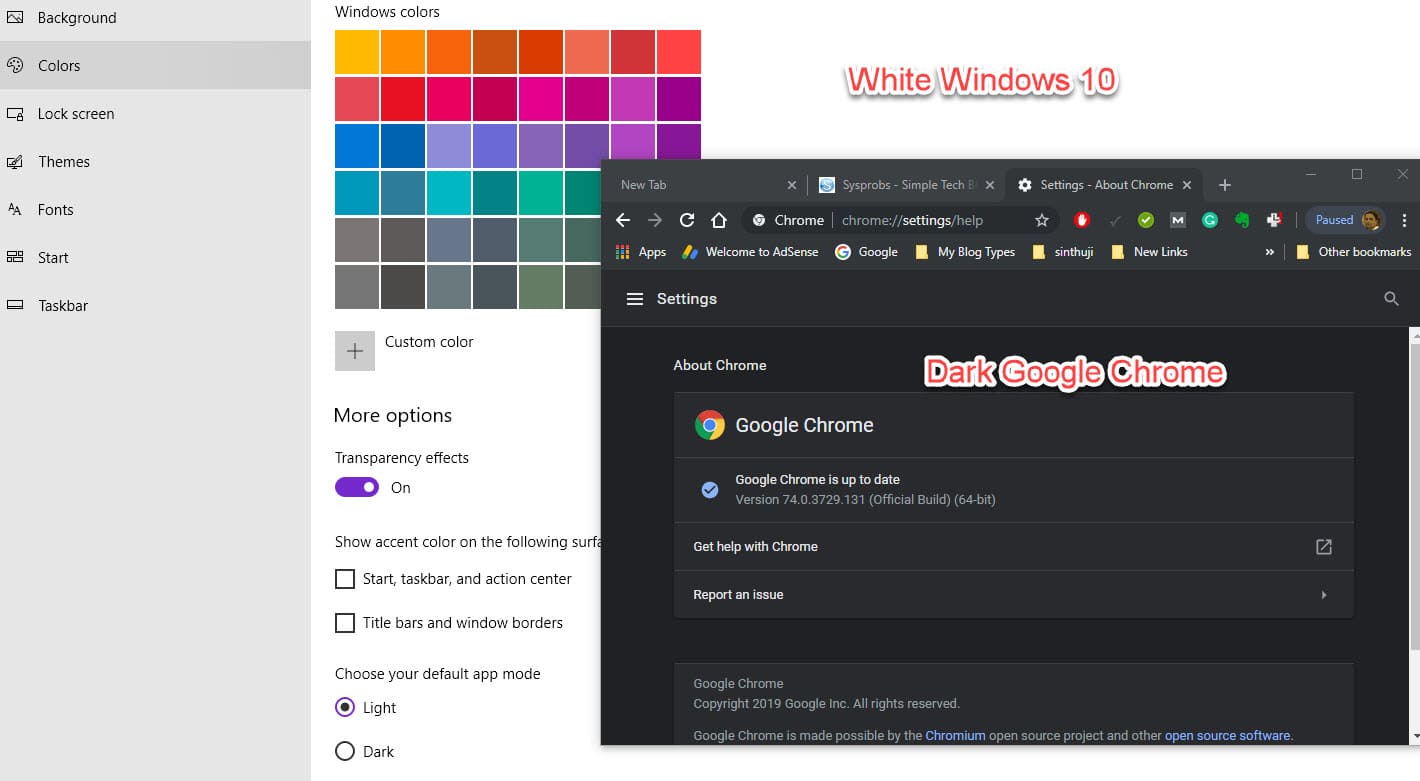 Try with the Themes
If you do not want to do anything mentioned earlier, but you are happy with the available themes, then you can get the dark or light themes. Also, this works without having the latest Chrome version or Windows 10. This method can be used in Windows 8.1 and Windows 7 older versions.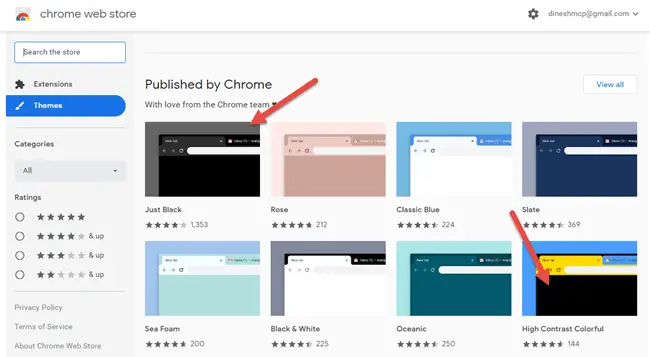 Select the appropriate dark theme and enjoy.
With the all above possible scenarios, methods, and troubleshooting tips, I'm sure you will have the working dark mode Chrome on your Windows 10 computer. Do let us know the issues you faced or how you made it work.