If you have an iOS device, then it is certain that you have come across iTunes error 0xE800000A and it won't let you connect your device to PC. It is a prevalent system issue related to iPhones. It majorly occurs in Windows PC. When you connect your Apple device like iPhone or iPad to your PC, the error usually occurs as the following term: "iTunes could not connect to this iPhone. An unknown error has occurred (0xE80000A)."
You might be wondering that what does this error code mean. This error occurs mostly when your PC cannot recognize your iOS device successfully. In this post, you will know about some reasons for this error. Of course, understanding the causes will help you to get the solutions to fix iTunes error 0xE80000A.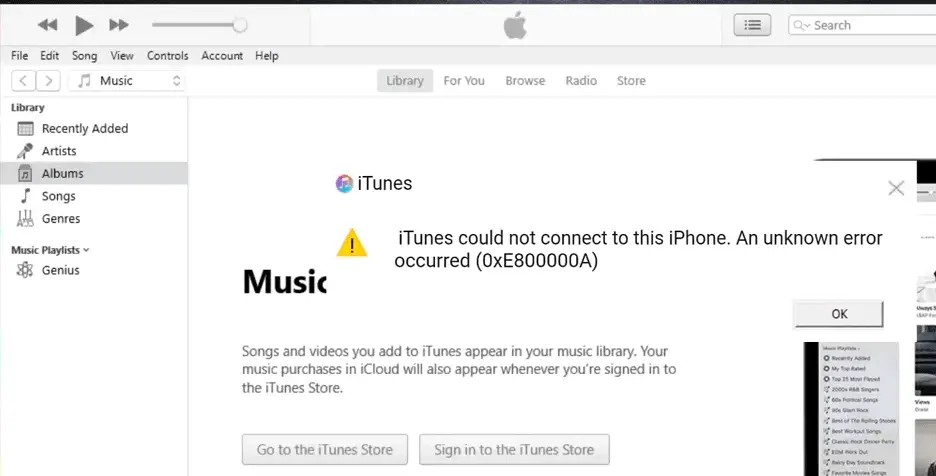 The Following are Reasons for Error 0xE80000A
These points will help you in getting an understanding of some common causes of this error.
Hardware issues like Damaged Apple USB cable/port.
Software issue like iTunes, your iTunes is not the latest version or the iTunes software is installed incompletely.
The problem in your iDevice: Your iOS or iPadOS device is locked, your device is turned off or Influenced by your other devices plugging on PC.
Some processes in your system background might be disturbing the connectivity.
You refuse the option to "Trust the Computer" on your iDevice.
Your computer has something wrong, e.g., corrupted file.
Poor network.
Now, after you have understood the scope of all the reasons why Error 0xE80000A occurs, we can discuss how one can fix this iTunes error? If this error's window prompts again and again on your screen, then it must be a very irritating sight, and your iDevice will become equal to a useless one if you aren't able to resolve this error. Don't worry, Sysprobs got you covered, in this article, we will show you some easy ways to solve this error.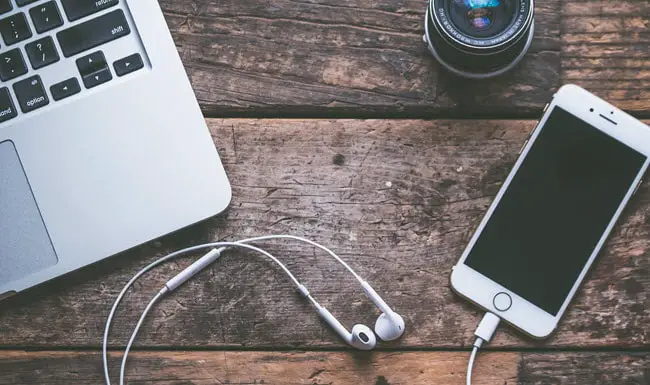 4 Methods to Fix 0xE80000A Error in Windows 10
First method: Try updating all the software like Windows, iTunes and iOS.
Check Windows Updates:
When you get the prompt while connecting your iDevice, "iTunes could not connect to this iPhone an unknown error occurred 0xe80000a," sometimes you can fix it by just a simple update. Many times a compatibility issue arrives that kind of problem can cause iTunes Error 0xe80000a. To update Windows or check if your Windows is up to date, follow these steps:
Click the Windows tab at the bottom of your PC and click on settings.
In the settings window, go to the last option, which is "Update and security".
Select Windows Update from the list.
Click Update option and wait for PC to find the latest updates.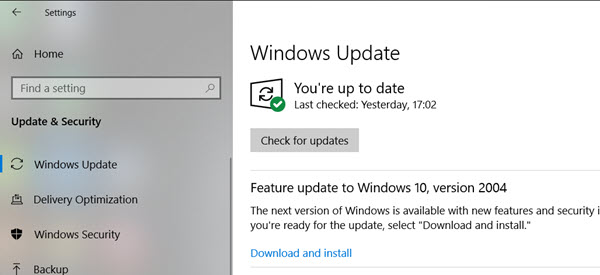 If your PC is up-to-date, then there's no problem, otherwise.
Wait for the update to install and restart your PC.
Connect your iPhone to your PC and try opening iTunes.
Check iTunes updates:
Whenever a new update is available, iTunes will usually prompt you. When you open iTunes, the application automatically checks for the updates. But if it doesn't, you can find it manually or just check if your version is up to date. Many times due to the incompatibility of the iTunes version, the error can come up. You can update by following the steps below.
Open iTunes.
Click "Help" which is at the menu bar in the top-right of the window. 
Click "Check for updates."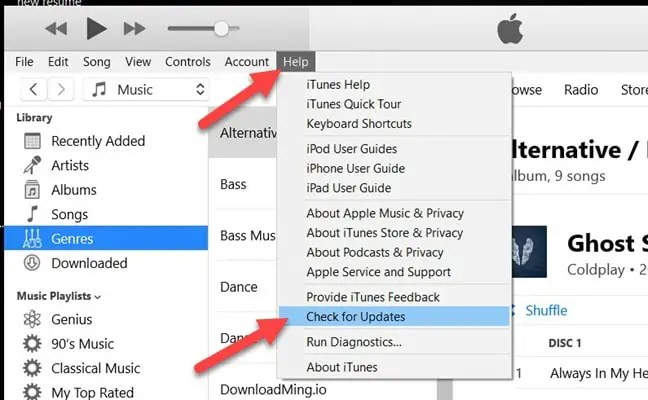 If an update is available for iTunes, a pop-up will appear. Click "Download iTunes" to begin. If your iTunes is up to date, then you can skip this option to fix iTunes error 0xE80000A.
After clicking on the download iTunes option an application named "Apple Software Update" will open.  In the application, ensure to check the "Update" box, then click "Install 1 item". Accept the update if Windows asks you for admin permissions to install it.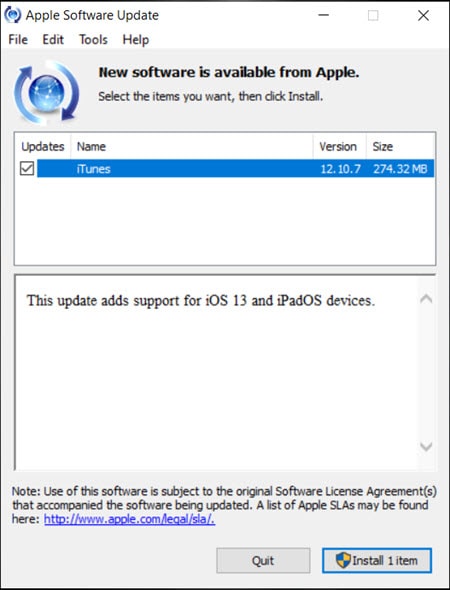 First, the program will download and after it finishes the install, click on "Yes" to restart your PC, restarting is essential so that the changes can be done in the application. Without restart, the app won't update.  
If it still doesn't work, then you can try to reinstall iTunes also.
Check iOS Updates:
The incompatibility issue can also be related to iOS if your device is not updated. iOS devices are the easiest to update. Just go to the Settings app on your iPhone, tap General, and then tap Software Update. If your device is up to date, then you can choose other fixes, if it isn't up-to-date then update the device.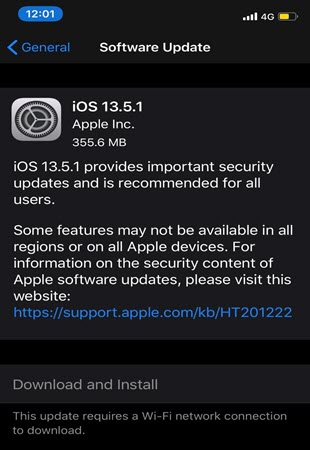 Second Method: The Lockdown Folder
A hidden folder is created when you install iTunes. This lockdown folder contains certificate UDID data for iOS devices that are synced to that computer. These certificates are required when one needs to sync an iPhone, iPad, or iPod touch with his/her PC, but sometimes if a person faces a problem, they can manually access the lockdown folder contents.
Moreover, for users who focus on security, opening the lockdown certificates can allow access to an iOS device on a different PC, just by copying the necessary files to a different machine. But it's not that easy, files in lockdown folder are encrypted. Furthermore, the backup of all the iOS devices is kept in lockdown folder in an encrypted format.
The editing of this folder is clearly for advanced users, for troubleshooting purposes like we are resolving iTunes error 0xE80000A. If you just tamper with lockdown folder then beware that you might tamper some critical data or you might not be able to connect your device to your computer again.
Below are the steps to fix iTunes error 0xE80000A via lockdown folder method:
iTunes automatically create the iOS lockdown folder location, and it varies according to the Operating System, here are the addresses where you can find it in OS X and Windows OS.
In OSX: /private/var/db/lockdown/
In OSX: /private/var/db/lockdown/
Steps:
First, disconnect your iOS device and exit iTunes.
Hit the Windows + R buttons on your keyboard.
Type %ProgramData% into the box then press OK.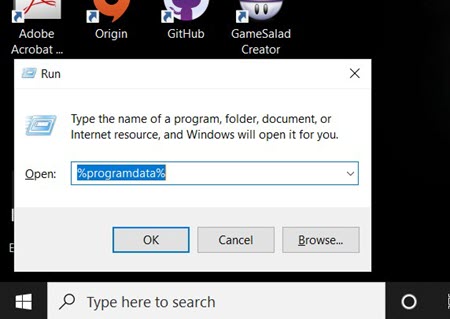 A window will pop up in which go to Apple folder.
In apple folder, you'll see a folder named Lockdown Right-click the folder named Lockdown within the Apple directory and click Rename.
Now rename the folder to Lockdown.old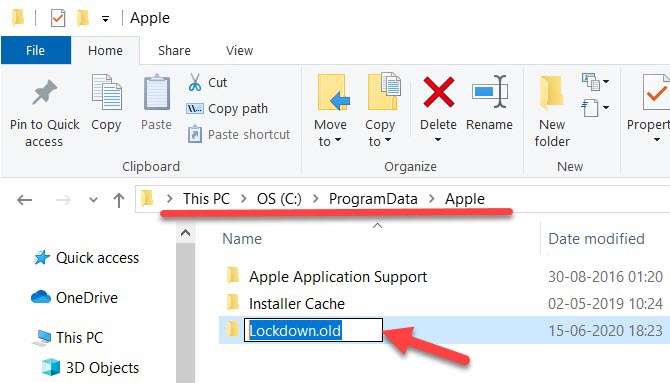 Remember we are renaming the folder so that when you connect, iTunes can make a new lockdown folder, the old folder might have some corrupt files that's why it became inaccessible. Do not delete the old folder as it may contain your old backups and UDID certificates.
Connect your iDevice to the PC, now if you see a new folder will again be made by iTunes named lockdown with new UDID certificates. The iTunes error 0xE80000A will get fixed by now.
Third Method: Disable Antivirus
Many users have reported that disabling the anti-virus has helped them. If you have installed anti-virus software to prevent malware or corrupt files in your PC, then it might be possible that the anti-virus isn't allowing iTunes to transfer the data to your PC hence showing iTunes error 0xe80000A. You can try to disable security, and the issue might get resolved by this action. Now, after you restart the iTunes application, there is not a standard method to turn off the anti-virus because all anti-virus works differently, so you can go to the settings and disable it.
In my case, I use Windows defender. Windows Defender can be deactivated until you restart your computer by changing the settings. You can also prevent it from turning itself back on until you allow it again from the Windows Registry Editor, but that would be a long process and also make your PC more prone to viruses. Additionally, using the Registry Editor without the knowledge and tampering it harm or even break your PC. You can try to turn it off by following the steps below:
Open Windows Start menu in the bottom left corner.
Type Windows Security or go to settings.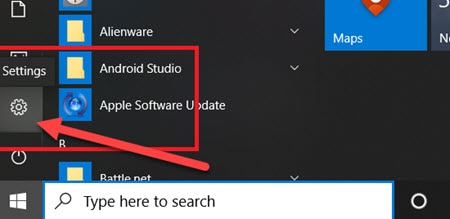 Go to "Updates & Security" option at the bottom.
On the right, a list will be present, select windows security.
Then click on "Virus & threat protection".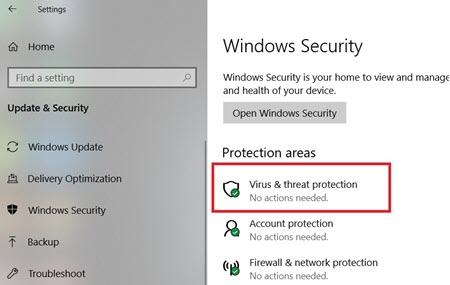 A new window will open, in this window select "Manage settings" under "Virus & threat protection settings".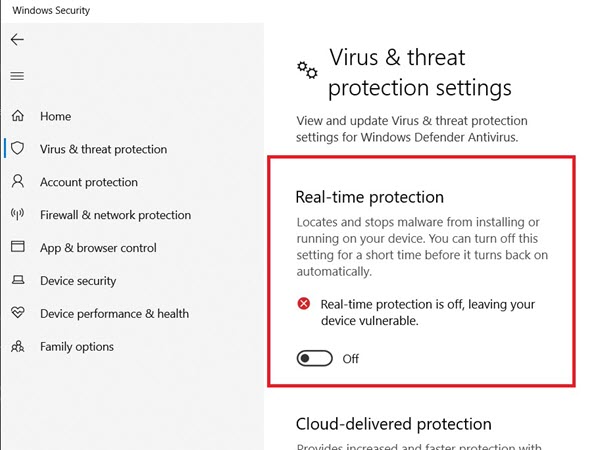 And finally, turn off the "Real-time protection" option.
Fourth method: Manually fix the iTunes error 0xe80000A by Task Manager
Disconnect your iOS device from the PC and quit iTunes.
Press "Alt + Ctrl + Del" keys on your keyboard at the same time and choose task manager from the options.
After the Task Manager opens, sort all the processes by Name and kill every process that starts with "Apple" or "iTunes".  Simply right-click on the process and select "End Task" to kill it. Make sure that you kill the "AppleMobileDeviceHelper.exe" process.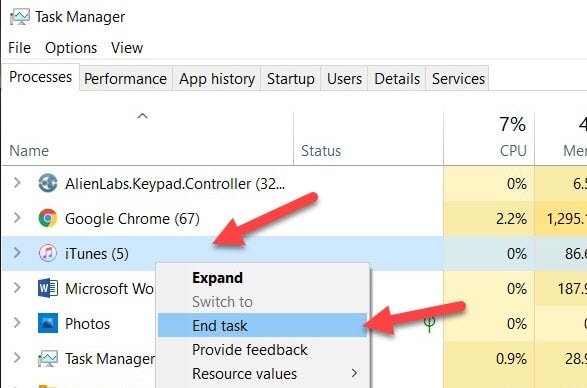 Press "Win + R" keys on your keyboard.
When the Run window appears, Copy and Paste the following command in the text box.
If you have a 32-bit OS, then copy and paste this command:
"%ProgramFiles%\Common Files\Apple\Mobile Device Support\AppleMobileDeviceHelper.exe"
If you have a 64-bit Operating System, copy and paste this command:
"%ProgramFiles(x86)%\Common Files \Apple Mobile Device  Support\AppleMobileDeviceHelper.exe"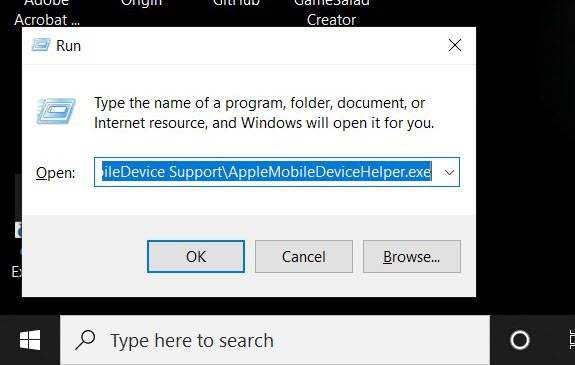 Open iTunes again after following the above steps and connect your iOS device.
Frequently Asked Questions (FAQs)
What is iTunes error code 0xE80000A?
It is an error related to the connectivity of your iOS device to PC. It's a prevalent system issue in iPhone. This error doesn't let you transfer data from your iOS device to your PC. It majorly occurs in Windows operating system. Whenever you connect your Apple device to your PC, the error occurs as a window in the term: "iTunes could not connect to this iPhone. An unknown error has occurred (0xE80000A)."
How do I fix error 0xE800000a in iTunes?
The following methods can fix the error 0xE800000a in iTunes:
1) Update all the software and OS like iTunes, Windows OS and iOS.
2) The lockdown folder: rename the lockdown folder.
3) Disable Anti-virus.
4) Task manager.
5) Change the USB port.
How do I fix iTunes errors?
Many times the software files get corrupted. They can be easily fixed by either re-installing it or repairing iTunes Errors by keeping all the software and OS up to date. If the error persists, you can troubleshoot the error code 0xE800000a as explained in the post above.
Why the iPhone cannot connect to iTunes?
here can be various reasons because of which your iPhone cannot connect to iTunes. Mostly it is because of faulty lightning cable or at the same time more than one device is connected to the PC. If these aren't the cases, then you can try resolving software problems. These problems can be resolved by keeping the software up to date and also keeping the PC's memory free to some extent.
What does the unknown error mean?
iTunes unknown errors can mostly be fixed by just restarting the PC or by uninstalling iTunes and reinstalling it again. If the error still doesn't fix, then you can try the above methods.
Conclusion
By now, hopefully, the iTunes error 0xE80000A must be fixed. But if it still isn't fixed, then you can contact Apple support. In my opinion, to deal with this error, my first option is to inspect hardware because Apple lightning cable becomes useless very early. Also, switching another PC is a good option. If the device has nothing wrong, then one can check for iTunes. And the last resort would be Lockdown folder method because that's the trickiest.