I'm not sure what is the connection between Windows 10 update issue and non-working start menu/search/taskbar in Windows 10, but the below solution worked for both issues. The error 0x80080008 while downloading Windows 10 update was fixed and started downloading and installing the updates successfully.
Also, the following issues fixed by the same single command.
Nonworking start menu in all user profiles,
Difficulty in shutting down the computer (because the power button can't be accessed from the Start menu)
Accessing notification area buttons/icons.
You can try the following steps if you have similar symptoms or problems such as 0x80080008 error or non-working start menu. We have earlier mentioned a few solutions related to Windows 10 network limited connectivity issue here.
0x80080008 Update Stuck Issue on Windows 10
The Windows update will not work with the following error. Restarting the computer or the update services may not help.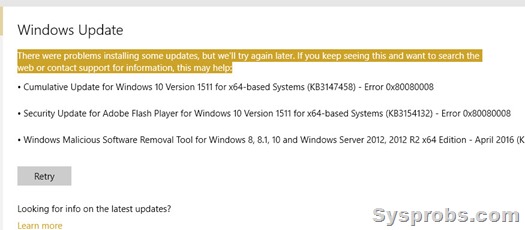 Other problems you may face with the taskbar in Windows 10, such as nonworking or frozen start menu and buttons, difficulty in shutting down the computer or accessing the power button and changing the wireless connectivity from the notification area. If you face these issues with the combination of Windows 10 update error, then you can try the below solution.
Solutions
If you do not have start menu or button problem along with Windows 10 update issue, then you can try the first step, but if you have both issues, I suggest you try the 2nd method straight away. Because the first method did not work for me, and 2nd worked well and solved both issues.
1) Try Windows Update troubleshooter by Microsoft. You can download the update diagnostic fix from Microsoft site here. Once you run, it should detect and fix the update problem if it can be fixed automatically.
2) Though there are several methods mentioned in other websites to fix this issue, the below method worked for most of the users (including me).
This will restore the Windows 10 base installation health. Your files, programs, and nothing will be changed, except for some Windows 10 service/package health.
Open the command prompt as administrator (Right Click CMD and select 'Run as administrator') and type the following command.
dism.exe /online /cleanup-image /restorehealth

Restart the computer after the above command executed successfully.
Now the Windows 10 update issue should disappear. Updates will be downloaded and installed properly now. Also, the start menu, shortcut icons, power buttons, and notification area will start responding normally.
Hope this simple guide would be helpful to solve this issue. Let us know if this really help!