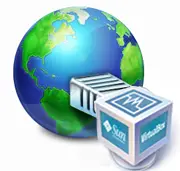 This step by step method explains how you can install FreeNAS iSCSI disks in Sun VirtualBox, and then connect these iSCSI target disks to Windows 7. This will help whenever you want to use iSCSI disks inside VirtualBox virtual machines. To avoid buying hardware NAS (Network Assess Storage) devices and connect to VirtualBox, this FreeNAS software will help to get same functions without any cost. It's good for testing and learning purpose.
To install FreeNAS 0.7 in Sun VirtualBox 3.1, follow the easy steps.
1)      Click on New and press Next in VirtualBox console.
2)      Give a name to virtual machine, select operating system – BSD and version is FreeBSD, as shown below.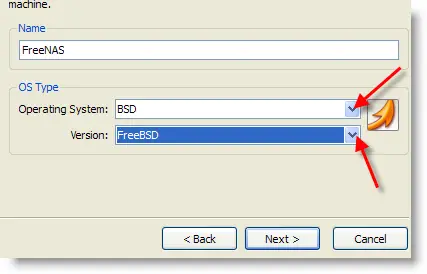 3)      Adjust memory size in next screen, I recommend to set 512MB if you can, otherwise set 256MB.
4)      You have to create disk for installation on next screen. Installation disk cannot be used as iSCSI disk. Additional disks for iSCSI disks can be added later. Now, select for FreeNAS installation only. 2GB is much enough . Select 'Create new hard disk' and click next.
5)      Select 'Dynamically expanding storage' and press next.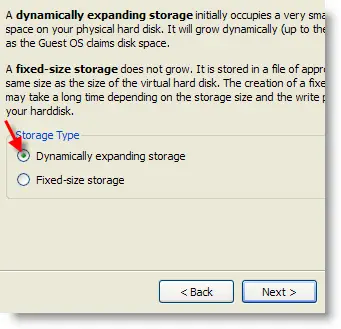 6)      As mentioned earlier set 2GB hard disk and choose the hard disk location in next screen.
7)      Click Finish to create FreeNAS virtual machine in Sun VirtualBox, now let's begin the installation.
8)      I assumed you already download FreeNAS latest version of ISO image. If not, download it from here.
9)      Make sure you added FreeNAS ISO image to VirtualBox media manager. (In VirtualBox console, go to File -> Media Manager -> CD&DVD Images -> Add).

10)   Now click on 'Storage' option under FreeNAS virtual machine which you created before and mount this image to CD.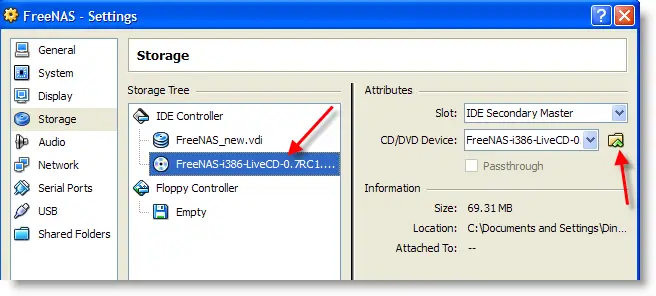 11)   Press OK and start FreeNAS virtual machine
12)   You do not need to do anything till get the following screen.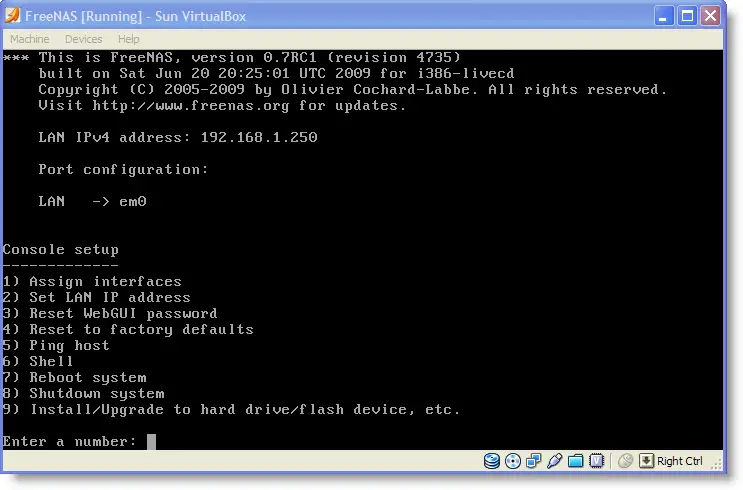 13)   I recommend installing FreeNAS permanently on hard disk by pressing No-9 option. Installation with additional steps and configuring IP address to FreeNAS are already covered in NAS in VMware, please read it.
14)   I have added two 5GB hard disks separately to FreeNAS virtual machine. These disks will be used as iSCSI disks for Windows 7 virtual machine inside Sun VirtualBox.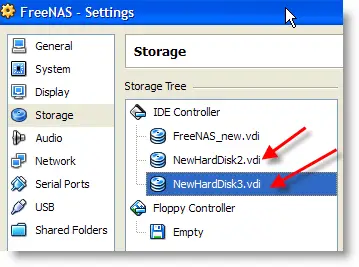 15)   Configuring disks as iSCSI target disks in FreeNAS is already covered in NAS in VMware. Make sure you can access FreeNAS web interface from any virtual machine or host, then do the required settings mentioned in NAS in VMware post.
User name is – admin
Password is – freenas
16)   So, after successfully configured two 5GB disks as iSCSI target disks in FreeNAS, my iSCSI targets settings display as below. All settings should be correct and come to this screen without any errors when you setting up.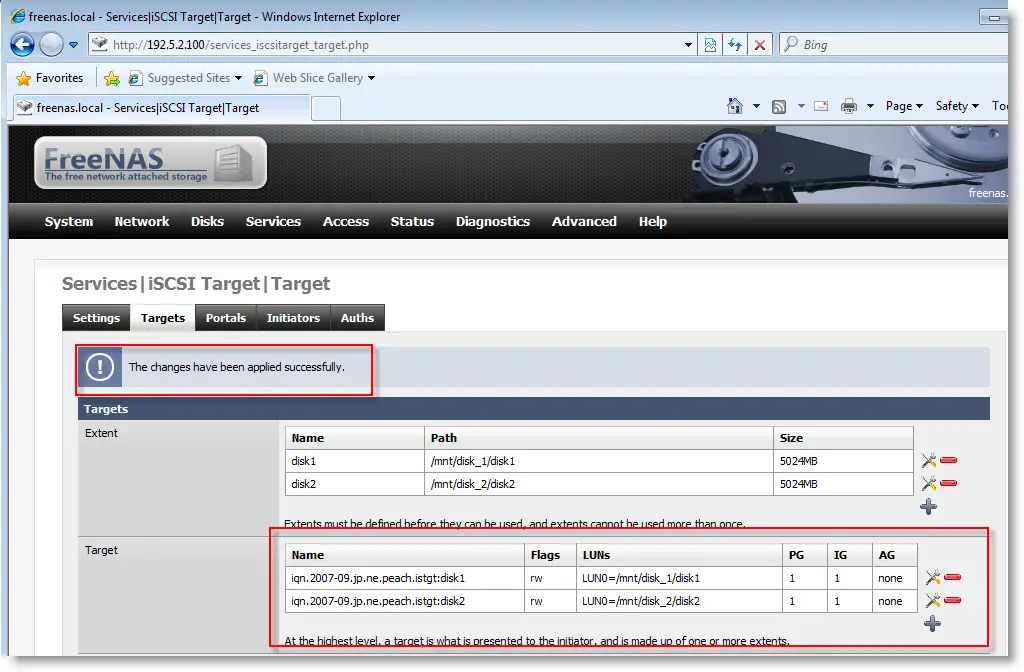 17)   This means, all configurations done in FreeNAS side. Now I 'm going to connect these two 5GB iSCSI disks to Windows 7 which is running as a virtual machine in VirtualBox. I configured FreeNAS and Windows 7 network type as 'Internal Network'. Both machines can communicate.

18)   In Windows 7 virtual machine, go to ' iSCSI Initiator' in Administrative Tools.  Entre IP address of FreeNAS and click quick connect. In next screen, select each disk and press connect.

You can see the disks under Discovered Targets in same screen.
19)   Go to ' Volumes and Devices' tab and press Auto configure. It will bring both disks under volume list.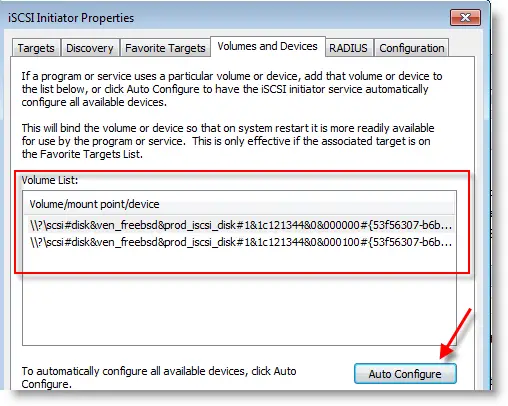 20)   That's it. Go to disk management in computer management.  Both newly added iSCSI disks from FreeNAS VirtualBox can be seen.  Initialize the disks, create partition and format.
21)   As you can see below, my two disks are ready in Windows 7.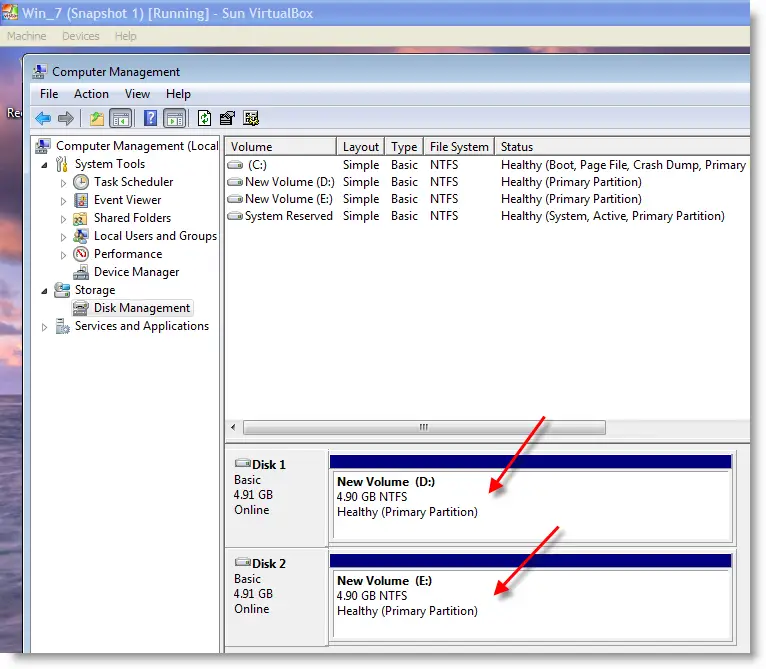 These steps about installing and configuring FreeNAS in Sun VirtualBox, and setting up iSCSI disks in VirtualBox, will be helpful to play around with MS clusters in Sun VirtualBox. I already covered about setting up Windows 2008 R2 cluster in VMware workstation with same iSCSI disks by FreeNAS.
If anybody gets time, try the same windows 2008 R2 cluster in Sun VirtualBox with these iSCSI disks. Let me know.  Anyhow, I will be updating my blog about this later.