Google trips app had been my favorite trip planner for the last many years. It helped to view the reservations of flights and hotels in one place for a particular trip. It learns the places (from Gmail) we are planning to go and give more information about them, tourist attractions and even suggest for a day or 2 days plans. You have the option to download the Google map of the place offline. Ultimately, it has most of the suitable features (which built on Google ecosystem) for any kind travelers, and mainly it works offline. As Google shuts down the Google Trips for some reasons, what are the alternatives for it? Which travel app can replace it on our Android and iOS devices?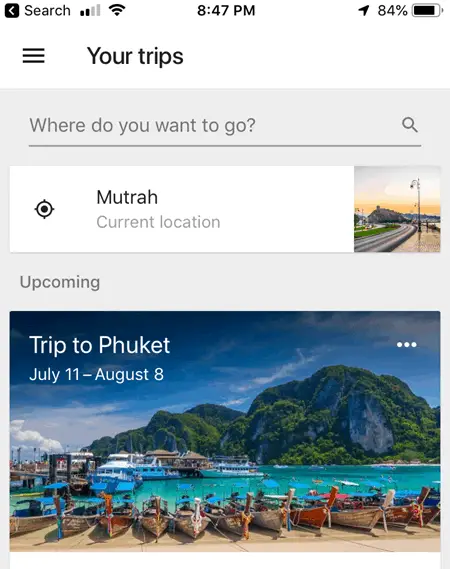 Though the Google Trips app is going off, most of the features can be accessed via a web browser by visiting google.com/travel. Make sure you have logged in with the correct Google account to view them (if you have multiple Google accounts). But the tricky part is, it needs the Internet connection to work, not like a Google Trips app which can work and give all the information about your trip offline. You must have the working Internet while traveling to make it work on the web browser.
I'm not sure whether I will be using the online version through the Internet browser, because I may not have the Internet connection on-the-move at different countries. Hence looking for some best Google Trips app alternatives and replacement options that can work offline for my trips.
Working Google Trips App (what it can do?)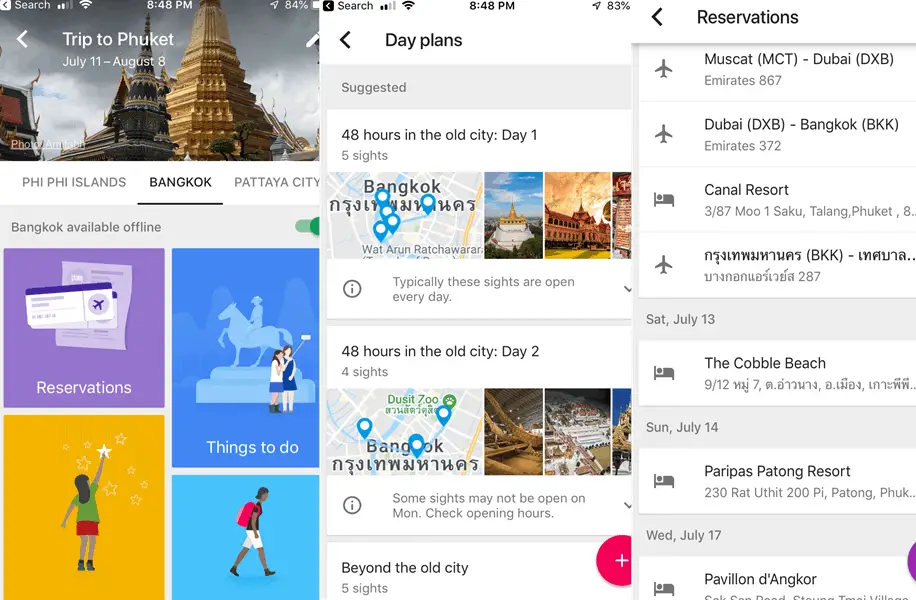 How it will work on the web (at the moment while writing this article)?
It is not that bad, still the online version of Google Trips can provide good and useful information about the trip, but it has to be online.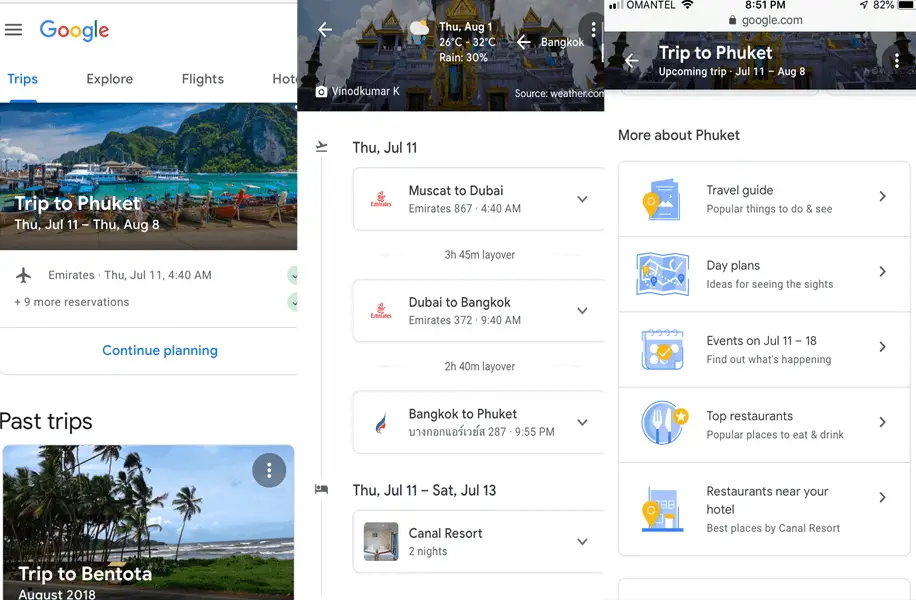 Top 3 Google Trips App Alternatives and Replacements for iOS and Android Devices
You may find several apps that can do a similar job. In the end, you need to stay with one or two apps to plan and manage your trips. After seeing several possible replacements, I predict the following apps that can be great alternatives for Google Trips app.
Triplt is a popular app to manage and organize your trips, which involves flight, hotel, and car bookings. Google Trips can talk to Gmail email only, but with Triplt you can connect various email services to read your booking confirmations related to the trip. Based on the trip-related emails, it organizes your journey and gives information in a proper format.
Technically it has more significant features than Google Trips app you will enjoy during the trip. Unfortunately, not all features are included in the free version. You need to get the premium version, which costs around 49$ per year to get all services.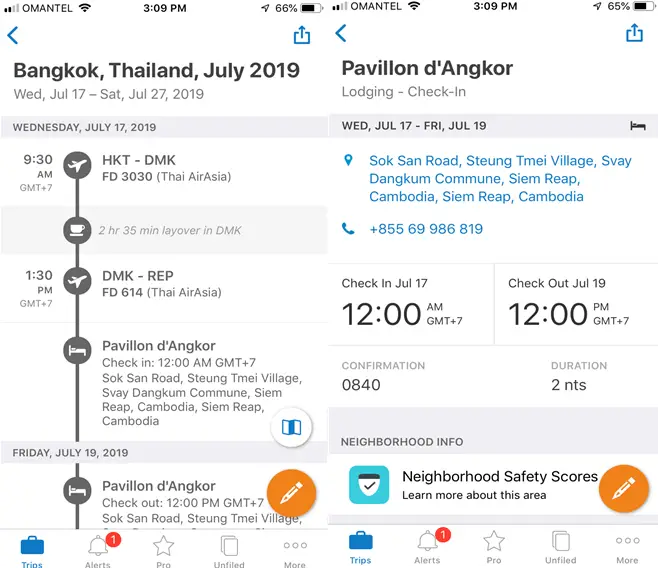 I need to see how Triplt works with my future trips. I connected my email to gather my past trips. It found the recent trip as two trips (whereas it is a single trip with two countries, many locations and flights. Meanwhile Google Trips identified as single trip).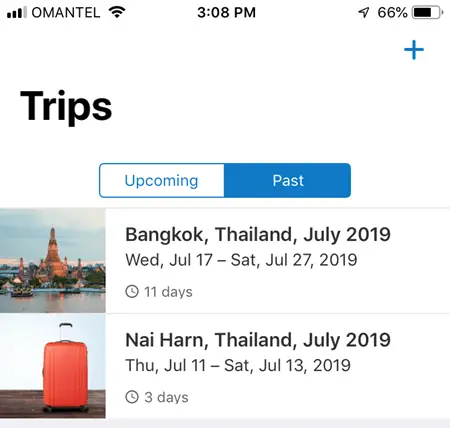 You can share your trip plan with others and invite them to join as well. Triplt is one of the best and first Google Trips alternative you can try. It needs some time to learn and familiarize with the app if you are switching over from Google Trips app. At the moment (or I could not find), Triplt can't suggest the best and must-see places or any day plans for the destination.  You may need to use another app to find out the must-see places.
Sygic Travel is a great app to build a day plan for the places you need to visit. It has information about more than 50 million places such as sights, parks, cafes, beaches..etc. whatever you need to know during the trip. It gathers information from in-house editors, Wikipedia, and other sources to provide maximum details about the places. It becomes handy to know and learn about the places before you visit them and make the trip fruitful.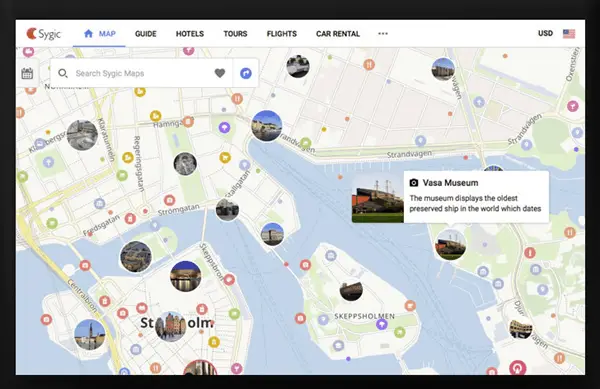 It doesn't read the emails to show about the flights and hotels booking, but it can help to know about the places and plan a daily trip. It has a premium version that allows using offline maps, which is necessary. City guide and accommodations/hotels/cars search are part of it. The app has powerful filters inside to view what you want to see only. You can use Sygic travel app with another travel app which can read and give the flight/hotel bookings under a single view.
If you are a fan of Lonely Planet travel guides and destination recommendations, then this app is for you. Though you may not find the travel guide for all the places since it is written by the experts who really traveled and lived there, but you will discover for major places.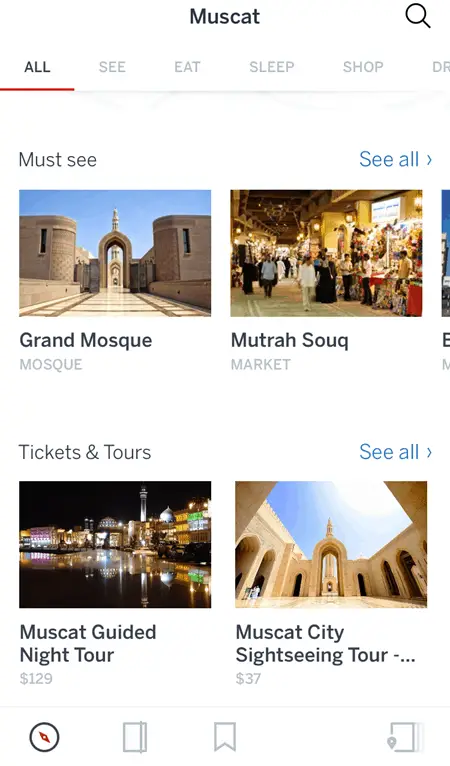 It helps to find the restaurants, attractions and many other places based on filters near your location. Most of the things of the app work offline. It is one of the must-have apps that can work as part of replacing Google Trips app. But definitely, you need to try this app with one more app which can manage your itinerary once Google Trips app stops working. As you aware, Lonely Planet travel guides and recommendations are authentic and well researched, it will be advantageous during your trip.
Other Possible Options
Here are some more apps you can try before settling down with the final travel app. Each has positives and negatives every side. You try them for future trips and see how it works. Even if it can understand your past trips, let it access and compare the details it gives with the Google Trips app, so you will get some idea how good these apps are compared to Google Trips app.
I'm sure one or the combination of two apps from the above list can be the best alternative for Google Trips app. It is recommended to explore the free versions of the app, which can give the same features and experience like Google Trips. Better to look for a single travel app that can work offline, gather your flight/hotel bookings and show in one place related to the particular trip and suggest the must-see places with travel plans. If you used Google Trips app in the past, I'm sure you would know the feature that you are looking. If a travel app can full fill your expectations with additional features without any costs (or fewer costs to get premium version), then that is the best Google Trips alternatives to get on your smartphone.
Do share if you find any other apps as better alternative in this subject.