Sysprobs earlier published an article about how to move a working virtual machine from VMware workstation to ESXi (vSphere) with older versions. After seeing few comments in the earlier article that people are looking the same for latest VMware products, I decided to re write the similar guide on how to move/export virtual machine from latest VMware workstation 8 to vSphere 5 (ESXi 5)
The reason for moving/exporting a virtual machine is depending on your purpose, that can be either in testing or production environment. The most important reason is 'Time saving'. You would be having a well working and configured virtual machine (Mostly a server OS such as Windows 2008 or R2 or Redhad Linux) in VMware workstation or VMware Player and now you want to use the same server OS in vSphere server virtualization software. Instead of installing OS, patching it, mainly doing the exact configuration and transferring the data, you could simply move or export the existing working virtual machine from VMware workstation to your server virtualization software vSphere.
Move is not real move (Export too)
In fact, you are not going to move the working virtual machine completely from VMware workstation. The existing virtual machine will remain in same host, so its some kind of cloning or copying a virtual machine to different platform, in this came its is vSphere 5.
I will be exporting a working Windows Vista virtual machine from VMware workstation 8 to vSphere 5.
Here is the working Windows Vista VM.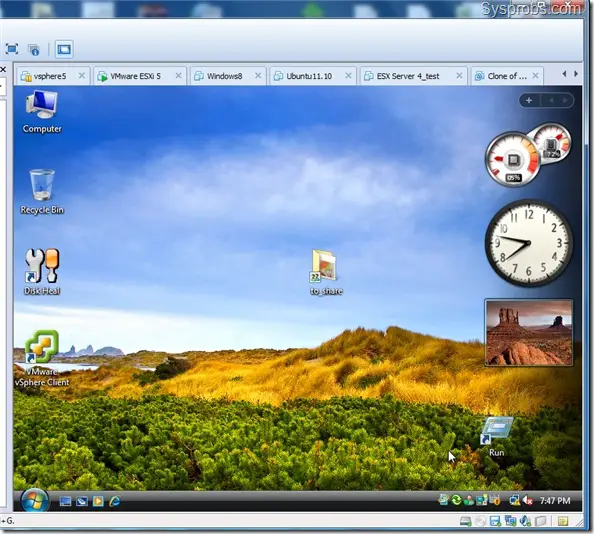 How to Start?
The virtual machine should be powered off or in 'Suspended' state. This method will not work with powered on (running) virtual machines.
My Suggestions;
a) Uninstall the VMware tools from virtual machine
b) Uninstall any antivirus software if installed.
1) You need to have the VMware vCenter Converter Standalone for this purpose. This software should have been installed in the same host where VMware workstation is running, or it can be installed on other networked computer which should be able to access the virtual machine files in VMware workstation host computer.
VMware workstation 8 comes with vCenter Converter Standalone 5.0, but it should be installed at first time. By clicking 'Virtualize a physical machine' in home screen or in 'File' menu.
Here is the direct download link for VMware vCenter Converter Stand Alone 5.0 ( Official site)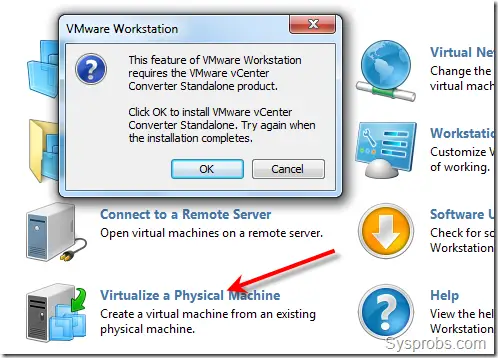 2) After vCenter standalone installation completed, open it and select 'Connect to local server' option.
Click on 'Convert machine' in next screen.

3) Since we are going to convert and export the VMware workstation virtual machine, make sure to select the correct source option as shown below.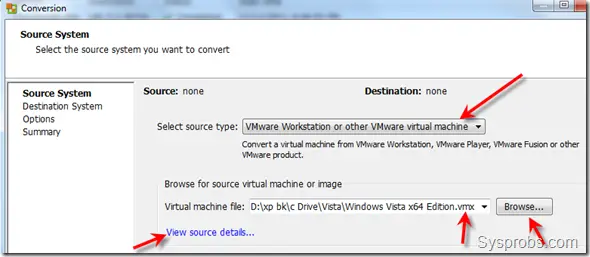 Browse the VMX file of virtual machine you like to export to vSphere. The VMX file will contain the all details of virtual machine. If the file is accessible and all the information are correct, then you should go to next screen without any issues.
To cross check, click on 'View Source details', that should bring the complete details of virtual machine.
4) Next is selecting the destination type. Select 'VMware Infrastructure virtual machine' option to export to ESXi 5 (vSpeher5). Provide the vSphere server IP and root authentication.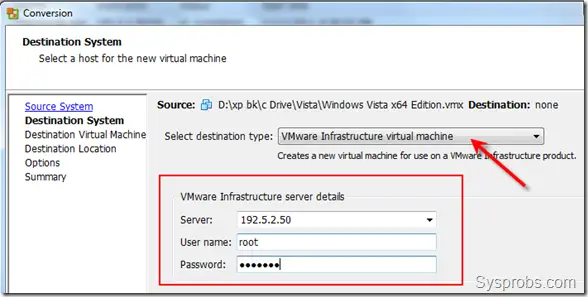 5) Name the virtual machine which will be used and shown in vSphere server.
6) Storage option is next. If the vSphere 5 is having more datastores, then you can select it here. The all files related to exporting virtual machine will be stored in selected datastore. So make sure it's having enough space.
It's always better to convert the virtual machine in higher machine version to get more features. So, I select Version 8.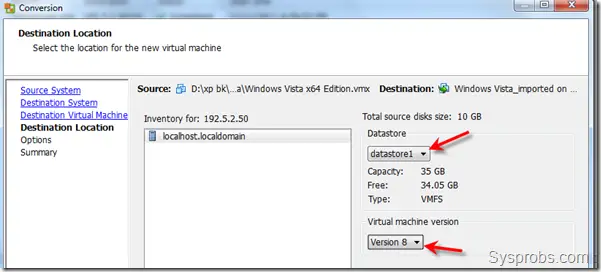 7) Next options screen is very important. Here you can modify and configure the settings of virtual machine before begin the convert and export.
Even you can adjust the disk and partition size, RAM size and processor cores, install VMware tools for vSphere 5 and automatically power on the virtual machine after imported into vSpeher server. More options are available, just click on 'Edit' to get them.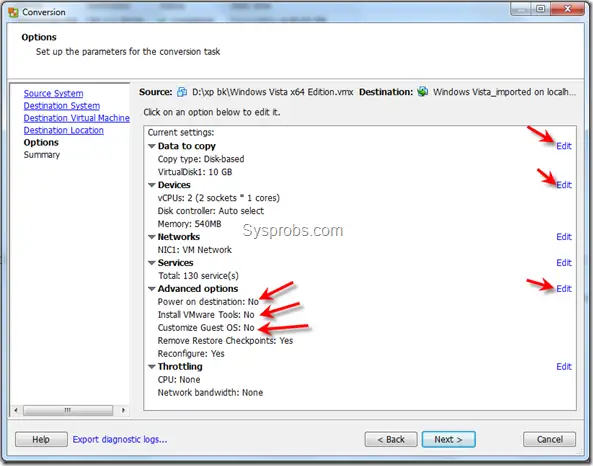 8.) Press Next in Summary screen. The conversion and export will start immediately.

That's it; you should not see any errors after the conversation if everything correct.
9) Now go to the VMware vSphere 5 server and look for the imported virtual machine.
Power it on. Because of we changed the virtualization platform, the guest OS will install some drivers at first time. Let is install and restart the virtual machine.
Do not forget to install VMware tools inside guest from vSphere 5.
Here is the same Windows vista virtual machine running inside ESXi 5 server.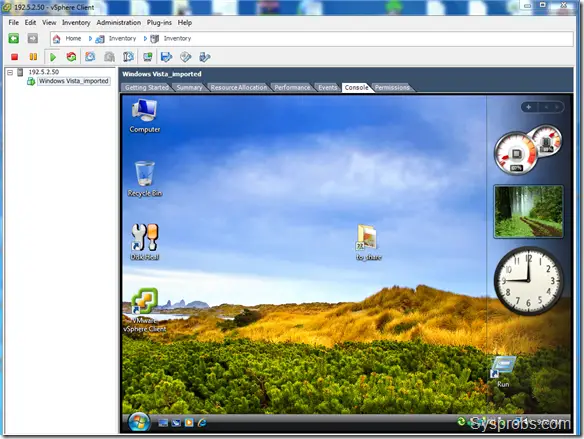 Based on the guest OS license type, you may need to activate the OS again, because it will detect as running on different hardware which would have created different ID.
Any issue or successful attempts? Feel free to drop them in comments area.