Windows 10 and Windows 8.1 have a great built-in feature to mount (open) and burn ISO files to DVD/CD without installing any other third party CD writing software. If you are a person wants to do most of the computer tasks without installing extra software, then this would be an ideal way of dealing with ISO files. Find below simple steps about how to burn and mount ISO files in Windows10 and 8.1 without any CD/DVD writing software.
We have already covered several how-to guides and troubleshooting tips about Windows 8.1 here.  If you are looking for ways to make your Windows computer faster, here are the 28 simple steps to follow.
To open or burn an ISO file to disk, the built-in disk image tool does the job easily within the same Windows Explorer.
How to Mount or Burn ISO in Windows 10/8.1
Simply right-click on the ISO file in Windows, you will get the option to mount or burn. Mounting ISO will allow you to browse the content and use it as a normal CD/DVD on your computer. This will help you to execute the installation files without writing them to CD/DVD.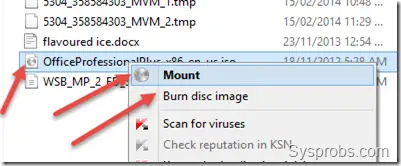 Once you clicked 'Mount', you can see an additional virtual CD/DVD drive on My computer with mounted files and folders from a particular ISO file.
This method will help to install and update Operating Systems, install other programs that come as CD/DVD but zipped as ISO file on Windows OS.

Do not forget to unmount (Eject) the mounted ISO file. To do that, right-click on the mounted CD/DVD drive and press eject. When an ISO file is mounted and in use, it can't be used for another purpose.
Burn ISO DVD in Windows 10
If you like to burn particular ISO file content, simply click on the 'Burn disk image' option. A dialog box will open to select CD/DVD writer (if you have more than one drive.) It's a simple and easy process compared to other CD writing software. Insert the empty disk and start writing. The speed of burning is pretty good, definitely, it will be enough for most of the users.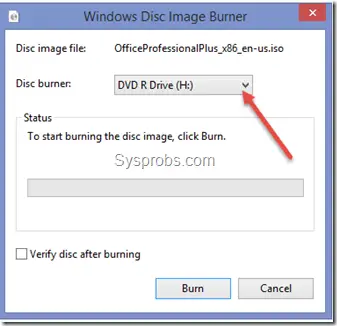 You can select the 'Verify disc after burning' option if you like to verify the content of the burned CD with the ISO file content. Verification will take some time, but that is the best practice if the content is very important.
Unfortunately, Windows 10 doesn't have any built-in tool to do the reverse action. You can't copy a DVD/CD to the local hard disk as an ISO file. There are few free tools available that can convert your favorite video, audio, and any other CD/DVD to ISO file format.