Deleting temporary files in Windows 10 is one of the best ways to clean up some disk space and optimize the System.  Temporary files located at "TEMP" folder under each user profile. As the name suggests, those are just temporary files that used by Windows OS and other installed programs. Since it is not the critical system or user files, it is safe to delete them whenever wanted.  To learn more about Temporary files, you can visit the Microsoft website here. In this article let me show the 3 ways delete temporary files in Windows 10. Any home or novice computer users can use the below methods easily.
Deleting TEMP files on your computer may help in gaining lots of disk space depending on the data you have. If you are using less capacity SSD disk, you must do this regularly to get some free disk space.
How To Delete Temporary Files In Windows 10? 3 Steps Below
Step 1: Manual, short and Sweet
Since it is not so critical for system or application use, we can directly browse those files and delete them in the Windows Explorer. You will like this method than the other 2 steps.
From the Run command or search box on the Windows 10, type %TEMP% as below. By pressing the Enter key, you will land on the Temp folder under your user profile.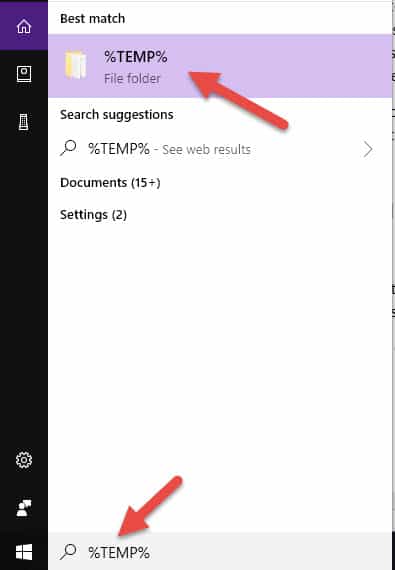 Select all files inside this folder and delete them all. If any program or Windows OS process using any of these files, you may not be able to delete them. It is fine in most of the case. This method will help in deleting the temporary files easily by seeing the file/folder structure.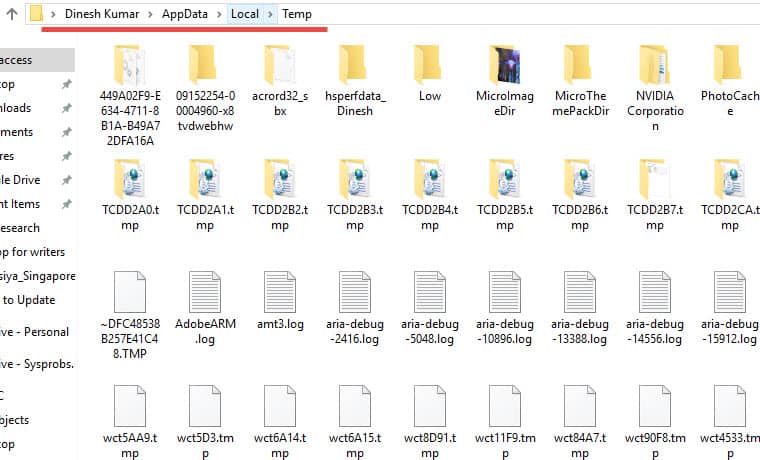 In the other two below steps, we will use the Windows OS built-in tools to clean up the temporary files safely on Windows 10.
Read Also:
Setup Gmail with Outlook 2016 with IMAP protocol
Step 2- Disk Cleanup tool
As we are aware that temp files are created under the user profile, we must know where the user profile is stored. Usually, it is in C drive. By any chance, you changed the installation partition, or you have multiple Windows installations, make sure to identify the exact disk where user profile resides. In my case, it is the C  drive.
Right Click on the C drive and click on Properties.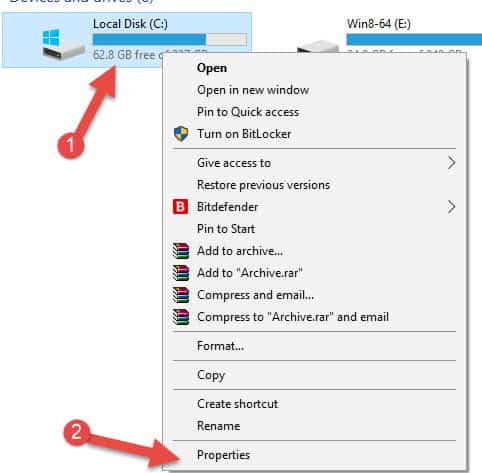 Under the General tab, open Disk Cleanup as below.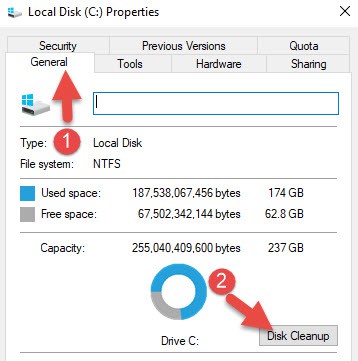 Depending on the data size, it will calculate the possible disk space savings by type. If you have administrative access, I suggest clicking on "Clean up system files" as shown below. So, it can gather more temporary files which related to OS which are safe to delete.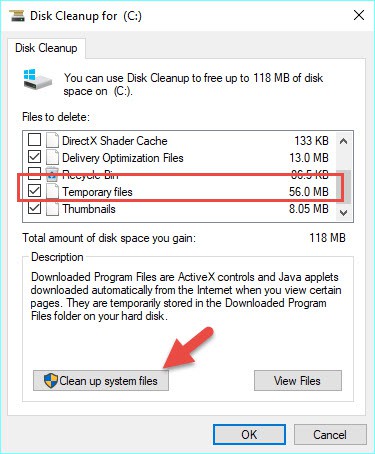 You could see the difference in size once the system files selected. It may help in cleaning up more disk space.
You can select (check or uncheck) the file types you like to delete now. As we intend to delete temporary files on Windows 10 in this example, make sure to select that. You can select all tick boxes and see how much space you will gain by executing the final step. Recommend to not selecting Recycle Bin here; you may need to refer back and recover other deleted files and folders from Recycle bin later.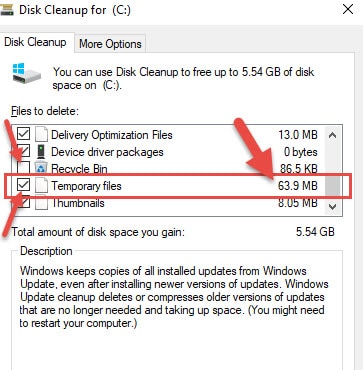 Once you press OK, the disk clean up tool will delete the all types of files you selected including the Temporary files on Windows 10.
This method is really helpful to delete other unwanted user and system related files with the temporary files by one tool.
Step 3 – By new Storage App in Windows 10
The storage app under the settings on Windows 10 is a great tool to maintain the disks on your PC.  As Microsoft gives importance to their new Settings apps and adds new features with their most of the major Windows updates, it is always better to familiar with these apps.
Storage app can be accessed under settings. Also, it can be easily reached by searching for Type "Storage" on search as below.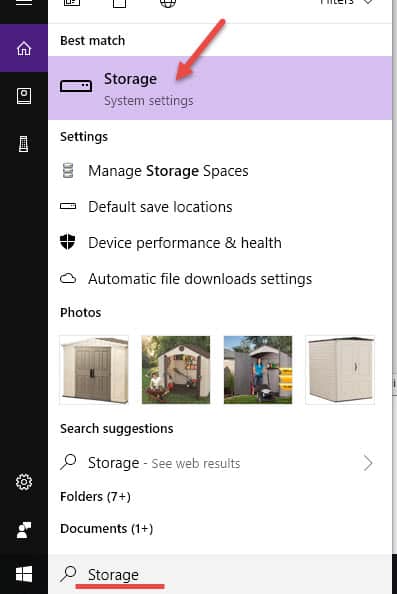 It will list the all partitions on your computer. Select the partition which has the Temporary files on your computer, in my case, it is C drive.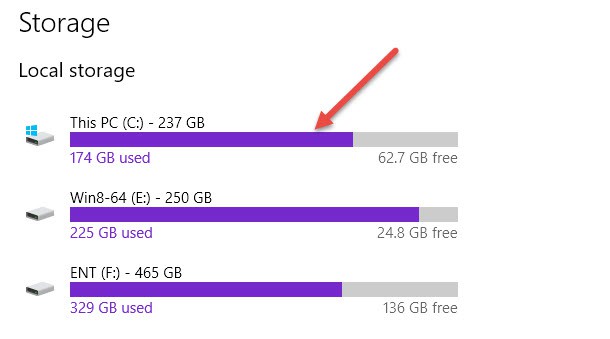 Depending on the data size, it will take some time to categorize and show the disk usage. We are targeting temp files here. So, click on it.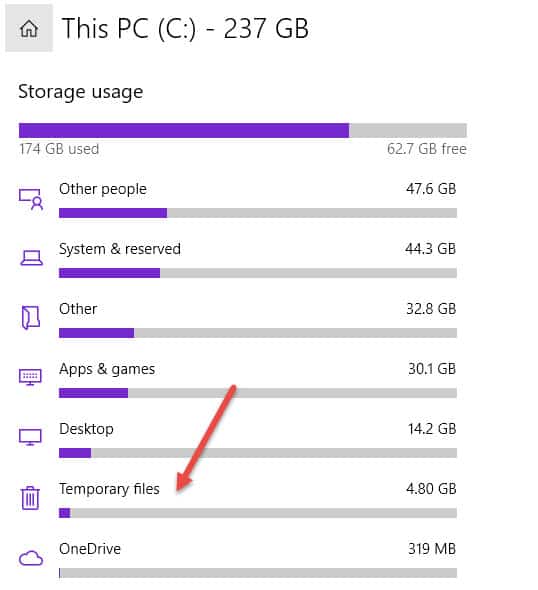 Again Windows will display each type of files which considered as temp files. You will get the similar option like Disk Cleanup tool we saw in step 2. Make sure that "Temporary files' is checked in this screen. Once you are sure about the selection, click on "Remove files." This will delete the all temporary files and folders in Windows 10 safely.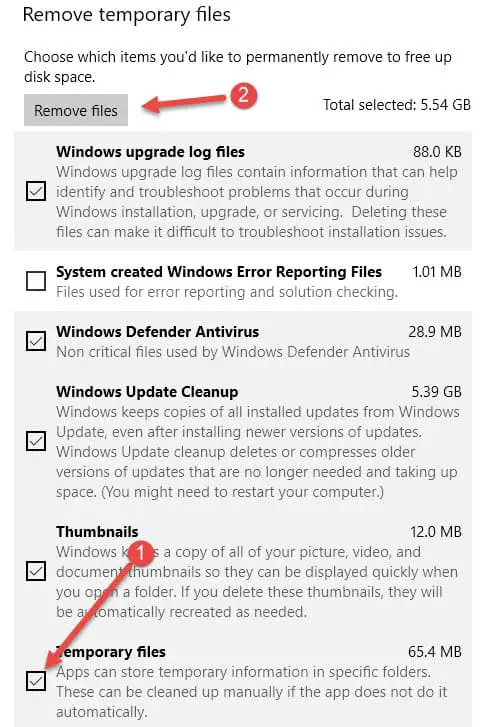 I hope you will love one (or all 3 steps) of the above steps on how to delete temporary files in windows 10 safely. As mentioned earlier, these are the simple and clear steps for any home or business computer user.  It is recommended to clean up the disk by this activity regularly to keep your Windows 10 and disk optimized.