If you ever wonder how to get the graphic equalizer on Windows Media Player 12 with Windows 10 or 8.1 computer to increase bass, Trubass and other sound settings, read the below guide. You might notice that the graphics Equalizer (EQ) is not available in the default view of Windows Media Player (WMP) 12. We can get it back by changing the view.
The 10 band equalizer is easy to use and can enhance the sound output dramatically. It becomes handy when you play the music which is in low sound/recording quality such as low bass and treble. The in-built equalizer of WMP 12 can be used to maximize the sound output quality and enjoy the efficiency of your speaker or headphone. Of course, if you are using other media players (which has a nice interface, skins, equalizer settings such as WinAmp), you do not need these steps.
Enable Equalizer on Windows Media Player 12 with Windows 10
1) As mentioned earlier, the default view of the WMP 12 will not show the equalizer. After opening the media player or while playing the music, click on 'Switch to Now Playing' as shown below.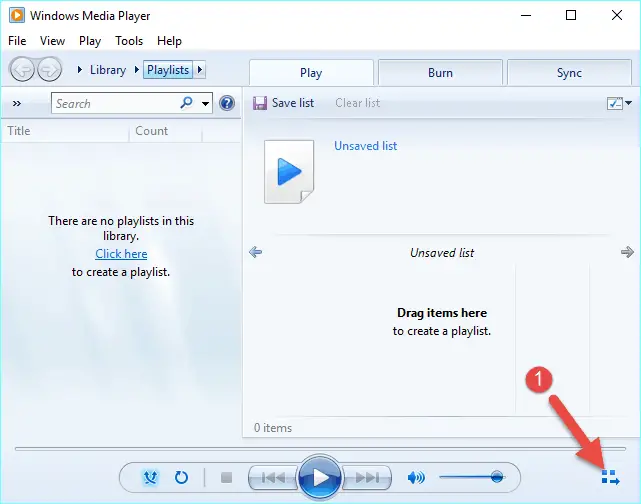 2) Right click on the empty space and hover the mouse to 'Enhancements,' then select 'Graphic Equalizer'.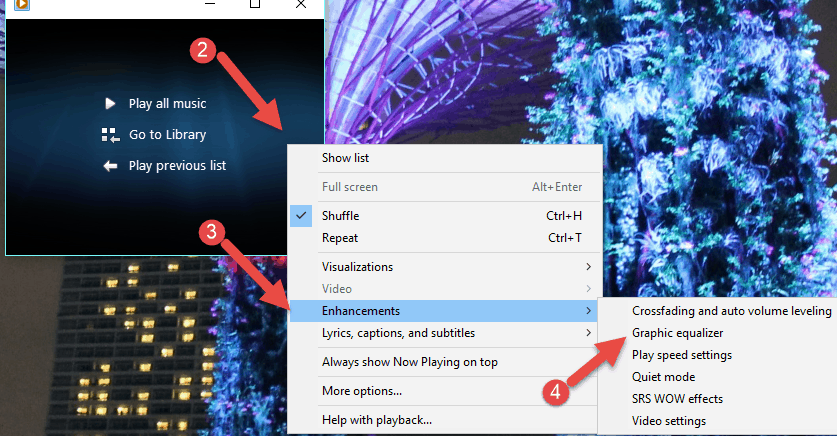 3) The Equalizer will open in a separate window. Make sure it is Turned on to get the active controllers. Here you can play around with the output quality if you are familiar with Windows Media players, it has some prebuilt EQ settings. You can select them from the drop-down Custom button.

4) To increase the bass on Windows 10 Media player, you need to increase the 31Hz up. The Reset button will reset all modifications you did on the equalizer. Also, you can turn it off completely if you do not like the enhanced sound output. You can save your customized equalizer settings based on your requirement and speakers/headphone so that can be applied next time quickly.
5) To increase the Trubass, we need to get the 'SRS Wow effects' similar to this step (Right Click-> Enhancements-> SRS WOW Effects).

Make sure it is turned on. Select the appropriate sound output device and adjust the Trubass as per your need.
That is the way of getting back the equalizer on Windows Media Player 12 with Windows 10 or earlier versions. Since it has this feature, we do not need to install any third party mp3/music players. Hope this guide is useful if so, leave comments below.