If you like to build apps for iPhone or iPad by using iOS SDK with Xcode and upload it to App store then officially you must have Apple hardware with OS X. Xcode the app development kit is not available for any other Operating Systems other than OS X. There are several reasons and compatibility issues behind it. Still if you insist to install Xcode on a Windows PC and see how the SDK framework/development kit is working, then this guide would be helpful. Here we show you how to install Xcode 5 on Windows 7 or Windows 8 (and 8.1) PC by using virtualized latest Mavericks OS X.
By using this method you can develop and simulate basic apps on your Windows PC. Sysprobs has already published several guides about installing Mac OS X on Windows desktop or laptop computer by VMware workstation and VirtualBox, you can find them here. By using one of these  methods the official Xcode can be installed on a normal PC.
This method is for testing and learning purpose only. Ultimately you must have an Apple hardware with OS X and original Apple developer ID to do App business professionally, if you are serious about it.
There are few online app development websites and cross platform frameworks available to develop and test iOS apps on Windows platform. But when it comes testing the app on real Apple device or upload it to Apple app store, you must use Xcode on Apple hardware.
What You Will Need to Install Xcode 5 on Windows 7 or 8/8.1
1) A working OS X virtual machine on VMware or VirtualBox
2) Downloaded Xcode 5 package from Apple site, you must have Apple ID to download Xcode from Apple store.
Steps to Install Xcode 5 on Windows 8/8.1 or 7 Desktop/Laptop
1) Use our earlier guide to install Mavericks OS X on VMware workstation with Windows OS as a virtual machine. The guide is very simple and shows how to download the pre-installed Mavericks VMware image and use it on Windows PC.
I have used the same method to demonstrate below steps. Here is the working Mavericks VMware virtual machine on my Windows 8 computer.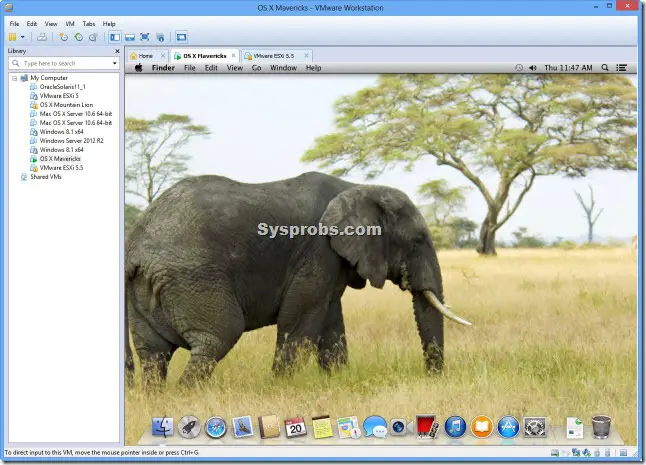 2) Make sure that the internet connectivity is working fine inside virtual machine. You should have Apple ID to login App store and download required app.
Search for 'xcode' on search box as shown below.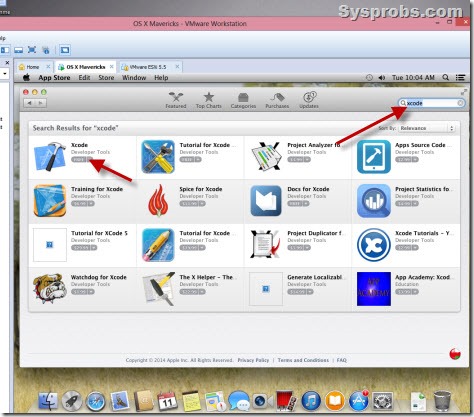 3) Click on 'Free' and 'Download', press OK for next confirmation dialog box.
Once installation is completed, open it up. You need to provide the root access privilege to install Xcode components and modify the system settings.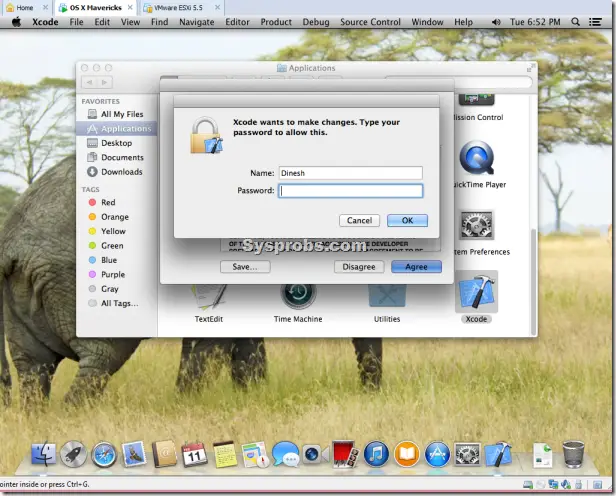 4) That's it guys, now we have successfully installed the latest Xcode on Windows 8 PC by using desktop virtualization software VMware workstation. This same method is applicable for VMware Player and VirtualBox also as long as you have proper working OS X virtual machine with internet connectivity.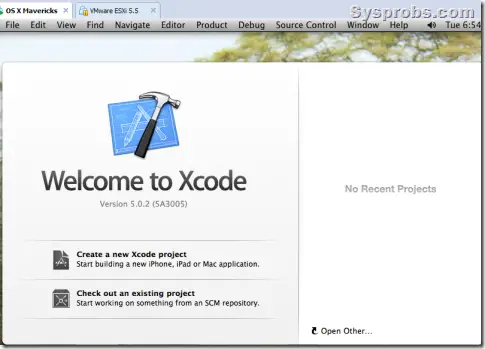 5) The performance of Xcode is not so bad. I could open, create a new app project and view it iOS emulator. All worked fine but little slow. As I said earlier this could be good for learning experience, understanding Xcode interface, options and features but not for serious app developers.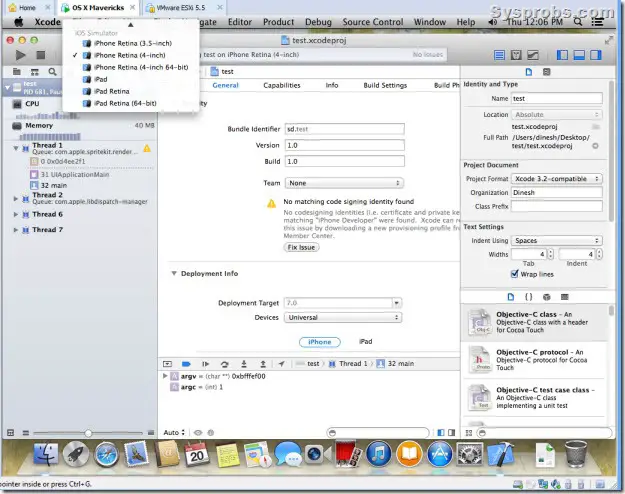 In future you may face issue on updating Xcode 5.0.2 to latest versions if you are running it on Windows 7 or Windows 8 ( and 8.1) as virtual machine as guided in this post.
Anyhow share your experience and installation difficulties about how to install Xcode 5 on Windows 7, 8 and 8.1.