Recovering deleted items/emails in Microsoft Office Outlook with Exchange server is possible. To make it work, your company exchange server administrator should enable 'deleted items recovery' on the server-side, which is a recommended setting. By default, each Microsoft Exchange server versions have different options to keep these deleted items, for example for 7 or 14 days. Exchange Server administrators can adjust this number to keep more data based on the real requirement. This simple guide shows you how to recover deleted items in Outlook 2016/2013 and Office 365 versions.
Make sure that your company exchange server is set to keep deleted items for a particular period of time, otherwise, this will not work. If you are using older versions of Outlook 2000 or 2003, a Windows registry modification required to see this feature. You can check more details here for Outlook 2000 and 2003
Recover Deleted Items in Outlook 2016/2013, Office 365
1) In this example, below Outlook 2013 client is not having any items inside Deleted Items folder, which meant they were deleted permanently from the client-side. The deleted folder also emptied.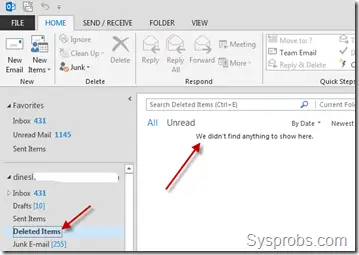 2) To get the deleted items from the Exchange server, Click on Folder in the menu,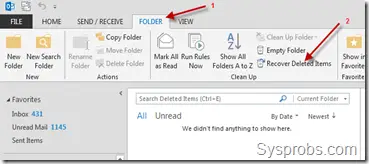 Click Recover Deleted Items as shown in the above screenshot.
3) Outlook will retrieve the items (which were deleted permanently from the client-side) from Microsoft Exchange server based on the settings how long it configured to keep them. If you have a mail folder to recover, it can be seen here, but you can't view inside to restore particular email. You need to restore the entire subfolder and then individual emails. Other normal deleted items will be listed here to recover directly.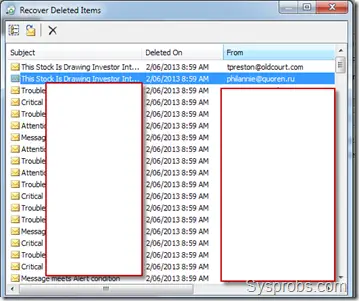 4) Select the items you want to recover and press Recover button at the top.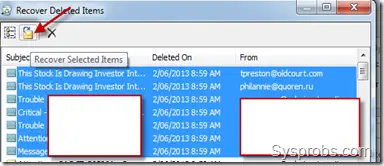 5) Remember: once you have recovered an item, it will be restored to Deleted Items folder only, not to the original location like inbox or other subfolders.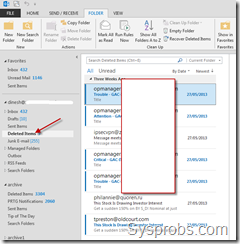 Now you need to go through the deleted items folder after the restore, then get your required email.
How to Recover Deleted Items in OWA (Outlook Web Access)
Yes, you can do the recovery by accessing OWA of your exchange mail server through WAN and LAN. Each exchange server versions have different interface and process of recovery, but it can be done by end-user easily if the settings of retaining deleted items were enabled in exchange server.
You can find the more detailed guide about recovering deleted items through OWA in several version of exchange server here.
Hope this simple guide is very useful to recover the deleted emails from your Outlook client even if they are not in the deleted folder. This method can work on any OS like Windows 10, 8,1 and Windows 7 and even on the Mac OS X as long as you have the Microsoft Office Outlook and deleted items recovery enabled on the email server.