By any chance, if you are in my state that your Outlook calendar filled up with 'Flag Day; United States' on the same day of every week and every month, here is the way to remove it. This method is applicable for all duplicate holidays and recurrence entries in your Outlook calendar. Most of the Outlook versions are supported like 2016, 2019 and Office 365.
You may find several guides about deleting holidays from the Outlook calendar. Unfortunately, this method did not help me, since I do not know how these 'Flag Day; United States' holidays came to my calendar every week and every month.
Though there are several suggestions and guides available to delete these types of recurrence holidays from the calendar, the method worked for me is pretty straightforward and easy.
Read Also: How to recover deleted items from Outlook 2016/2019 & Office 365
How to Remove Duplicate and Recurrence Holidays from Outlook Calendar
1) Go to the calendar of the Outlook 2013/2016 and Office 365.
2) Better to change the view to Month and see how these holidays are taken your calendar entries. It can be done by the below method.

3) Then right-click on the holiday you want to delete, and select 'Delete Series.' Selecting the 'Series' option will remove the all recurrence series of a particular holiday from your entire calendar. If you select the 'Occurrence' option, it will remove the holiday entry from the particular day only.  Our main intention is to remove the recurrence entries of this holiday, so select the 'Delete Series'.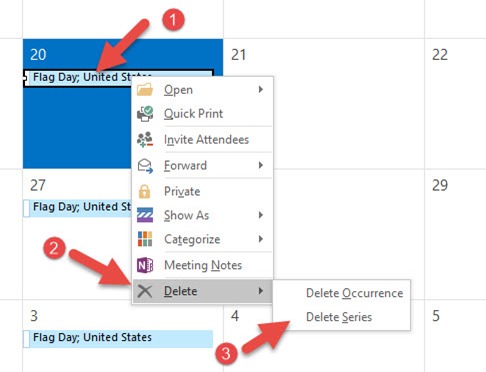 Once you deleted the series, you can notice that those recurrence holidays (like Flag Day; United States) would disappear from the calendar.
I know this is simple and straight forward steps. But usually when we see these types of abnormal stuff, immediately we try different advanced things/steps to solve them and forget the basic steps. This is one of the basic steps you can take to delete the recurrence holidays from Microsoft Outlook.