Strikethrough text in a document is one of the commonly used features. Most of the word processing online and offline applications have this format option. Let me show the all possible ways to add strikethrough in Google Docs.
Since the Google docs work online through a web browser, you can follow the below same methods on your Windows, Linux, or Mac computers if you use the proper web browser.
Main Steps at Glance
Login to your Google docs with appropriate credentials.
Open a document or create a new one.
Select the texts/sentences you need to add strikethrough.
Go to Format, Text and select Strikethrough.
Details steps with Screenshots to Add Strikethrough In Google Docs
1) Once you login to Google docs portal by a web browser, open an existing document or create a new file. I am using Google Chrome on Windows 10 computer to show these steps.
2) Select the texts or the sentence you need to add strikethrough. Then go to Format in the menu bar, Text and select Strikethrough.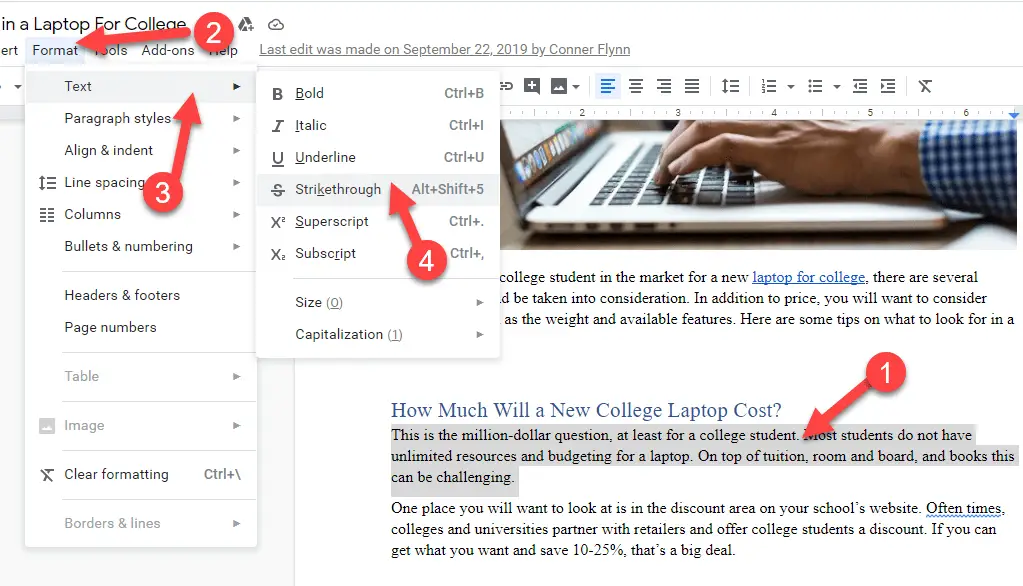 3) So it should appear like this once you have successfully added strikethrough in a Google Docs document.

Add Quickly by Keyboard Shortcut
There is a shortcut combination to add the strikethrough quickly by the keyboard.
Select the text/content and press Alt+Shift+5 in Windows OS
Mac users should use ⌘ + Shift + X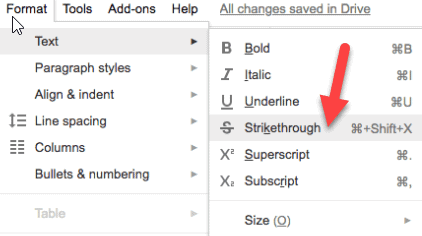 It is not magic, very simple and straight forward.
How to Remove Strikethrough
In case you need to remove the strikethrough from Google docs, we just need to do the same thing what we did to add.
Select the content which has the strikethrough format, then press Alt+Shift+5 or from the menu bar, select Format, Text and Strikethrough.

This will remove the strikethrough if it is already there on the selected texts.
Adding a line through texts is called as Strikethrough in most of the word processing applications. It is a handy tool when multiple users edit a single document. Especially in a collaboration environment, when someone edits a document other one proofreads. This feature is useful to draw a line through a few texts to notify the other users or get the attention to the particular sentence. Instead of deleting or modifying the original texts, we can strikethrough the words and write our replacement words.  This will indicate other all users about your changes against the original texts on the same Google docs document.