Text messages are the most convenient way to chat with your friends. Apart from this text, messages also contain essential information like bank account updates, OTPs and other crucial messages because it is not that every time one has an account on WhatsApp or have access to the internet connection.
The most common problem that people face when they buy a new Apple device like the iPhone is how to transfer data from the Android or old iPhone. Well, if you want to move the whole data as it is theniTunes is the best tool out there, it'll help you send your data in one go, but if you want to transfer just text messages or only photos specifically, then you try applications given in this post.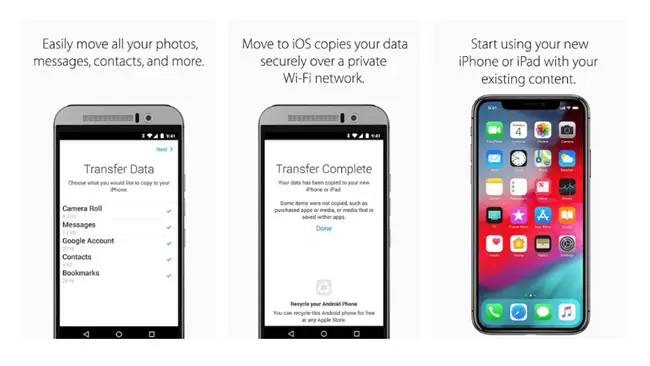 Let's take another requirement, and sometimes one just need to back up the data, they can do these kinds of tasks with these applications also. Coming back on to the process of how to transfer text messages from Android to iPhone can get little complicated than transferring other data, but don't worry, we have you covered in this article. There are some ways which are official and some using third-party apps that will allow easy transferring of messages from Android to iPhone.
Two Methods to Transfer Text Messages from Android to iPhone
First Method: Via Apple's official "Move to iOS" Application:
Transferring your messages, contacts, photos and accounts from your old Android phone to your new iPhone is now easy for Apple's official iOS app. This is Apple's first Android app; it allows you to create a common site for your old Android and new Apple device so you can transfer data over a direct WiFi connection.
This app transfers most of your data, but it can't be used to transfer your apps (as they're not compatible), songs, or any of your passwords. Moreover, you can only use this application to transfer data from an Android phone or tablet to an iPhone or iPad having iOS 9 or higher. 
Before you begin here are some points to consider:
Make sure that Wi-Fi is turned on, on both Android and iOS Devices.
Plug both the iOS device and your Android device to power.
Make sure that you have enough space on your iOS device so that the data can fit well on your new iOS device
Set up your iPhone as new. You'll see a page named Apps and data.
Select "Move data from Android" option.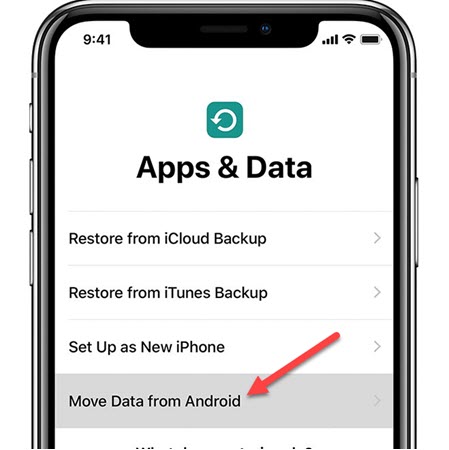 Install "Move to the iOS" application on your Android device via the Play store.
After installing, open the Move to iOS app and tap Continue. Read the terms and conditions that appear. After reading, tap on Agree option, then tap Next in the top right corner of the Find Your Code screen.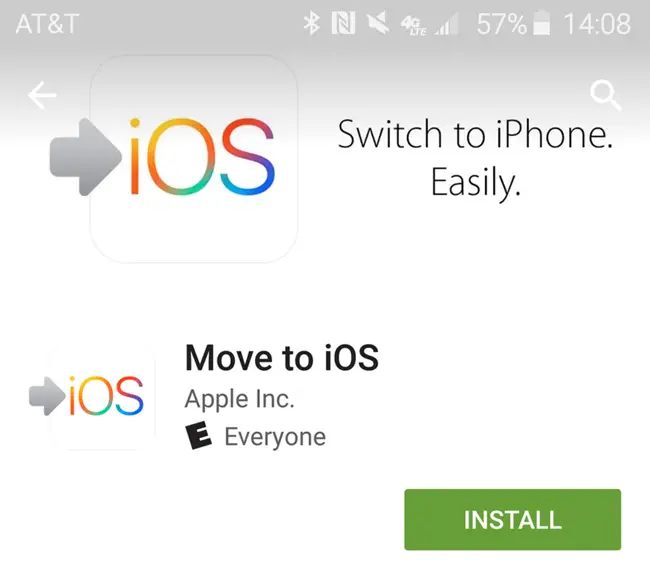 On your iPhone, there will be a code; this 10 or 6 digit code is needed to connect the two devices so content can be transferred.
Make sure that both the devices are on the same Wi-Fi network. If you get an alert about a weak internet connection on an Android device, you can ignore the warning.
In this step, your android device will ask to enter the code
Enter the code from the new iPhone to your Android device.
Select the content you want to move from your Android device and tap on the next option.
In our case, we want to change the text messages. Leave both devices on your iOS device until your Android prompts you to complete the loading menu. The entire transaction may take a few minutes, depending on the amount of content you are moving.
You can change besides text messages: contacts, camera photos and videos, web bookmarks, calendars and mail accounts.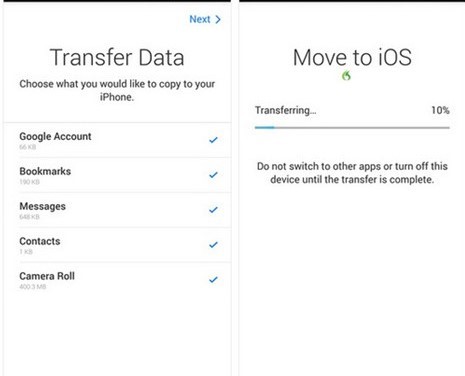 When the loading menu on your iPhone is complete, tap Done on your Android device to indicate that the transfer is complete. Tap Continue on your iPhone.
With the steps above, you can transfer text messages or other data via WiFi into one application, but make sure both devices are on the same WiFi.
On the Android operating system, the iOS app is supported on all phones and tablets running Android 4.0 and later.
Second Method: Via a PC application named "Dr.fone"
Setting up a new iPhone is an easy process if you switch from Android via a third-party app like Doctor Phone. Multimedia files such as images, music and video clips are easy to convert to cross-platform devices such as Android or iOS.
However, the tricky part is moving contacts and text messages, especially due to the incompatibility between the cross-platform Android and the iPhone. Although it is possible to transfer text messages from Android to iPhone, regular methods can be slow and require more editing than normal transfer.
If you have other requirements too like you want to save a backup of your phone when transferring data, you can opt for the desktop application Doctor Phone. This app is very easy to use; with this app, you can transfer text messages from an Android device to an iOS device in seconds.
The Dr.fone app does your task of transferring Messages from Android to iOS in a pretty simple manner, but that is not the only functionality, this tools also allow you to perform other functions like:
Backup or export Android/iOS WhatsApp chat to PC/desktop.
Backup iOS/Android Data to the PC/Desktop.
Restore iOS/Android backup to iPhone, iPad, and Android.
Restore WhatsApp chats in iOS and Android devices.
Security while transferring your WhatsApp chats between an iOS and Android phone.
The following steps will guide you through transferring text messages from Android to iPhone – via Phone Transfer option:
Step 1: Download the Dr.Fone Application and install it on your PC be it Windows or Mac computer. Launch the desktop application by double-clicking on the desktop shortcut, or it'll autorun after installing.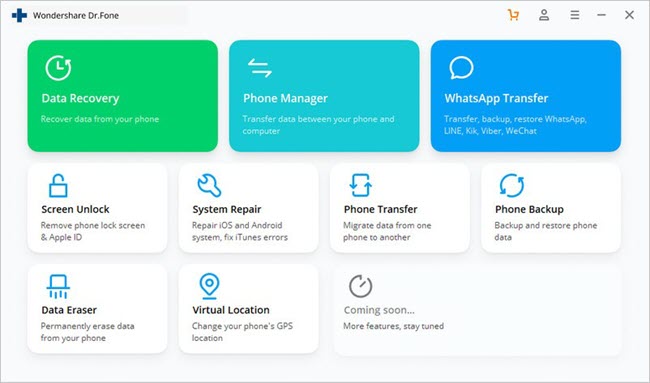 Step 2: Connect both the devices, i.e. Android and iPhone, to the computer with the help of USB cables. Wait for them to be detected by the software.
Step 3: Click the 'Switch' tab from the app window. Select the Android phone as the source and iPhone as the destination because we want to transfer from Android to iPhone. You can select the 'Flip' button if you have changed the selection.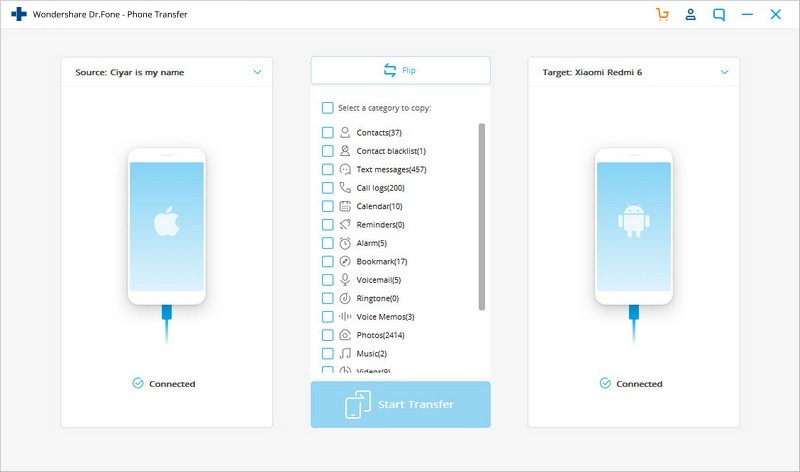 Step 4: In this list, you can select the things that you want to transfer, in this case, we need to tap on 'Messages' and select the ones you want to selectively transfer. Click on 'Start Transfer' option and then wait for some time. Click 'OK' after the transfer process of files is over.
With the above method, you can easily transfer text messages from Android to iPhone or iPad. Keep in mind that Dr fone is a paid software, but you may have limited functionality with the trial application, and if you prefer the application, you can purchase it for a small fee.
If you have any problems modifying the content in any way, there are some points you can check:
Do not disturb any of the devices during the transfer. For example, you need to place the Move iOS app across the screen on your Android device. The results will change if you open another app or receive a voice call while transferring to your Android device, your content will not change.
Turn off application that might affect your Wi-Fi connection because it might hinder the data transfer speed. If this happened, then go to Wi-Fi in Settings, touch and hold each of the networks, and delete the network. Then try the transfer process again.
If the transfer fails, try turning off the cellular data connection on the Android device. Try changing the files again.
Here is another method you can follow as described in the below video.