FreeNAS in my favorite OS (or Software) to create a Network Access Storage in the virtual testing environment. It's free and easy to install and configure. The latest and fully upgraded version 0.8 is available as beta currently (as of today). Since this new version slightly differs from earlier versions, I'm showing how to install FreeNAS 0.8 on VMware Player (Applicable for Workstation too) in this post.
FreeNAS can be used like a physical Network Storage in your physical or virtual environment.  Sysprobs released some of the famous articles with FreeNAS, VMware, VirtualBox and Windows 2008 R2 Failover Cluster.
Do check the following posts.
How to create iSCSI disk in FreeNAS
Windows 2008 R2 Failover cluster with FreeNAS iSCSI disks
Before continuing the installation steps, have a look what's new in FreeNAS 0.8
" We've redesigned the GUI to be easier to use and extend. We've upgraded many technologies in the system for improved hardware support, faster I/O, better modularity, and easier upgrades. We trust that you'll find the system easier to use and, in time, much more feature rich than the current FreeNAS offering.
The ISO now is only an installer. You can no longer run in live mode from a CD-ROM.
The installation types have changed; there's no longer an embedded or full install, nor can the image be installed on a data disk. You must now install FreeNAS onto a dedicated device. FreeNAS supports USB flash, CompactFlash, hard drives, SSD or any other mass storage device supported by FreeBSD.
FreeNAS 8.0 features ZFS version 14. "
More information available here
If you are using FreeNAS as the main storage in your production environment, DO NOT install or upgrade to the Beta version.
Steps to Install FreeNAS 0.8 on VMware
1) Download the correct version for your processor type. Latest Beta download link is here. (This link may change after final versions release)
2) Create a new virtual machine in VMware Player 3, OS type is FreeBSD.
3) Mount the download ISO file to CD ROM of the virtual machine.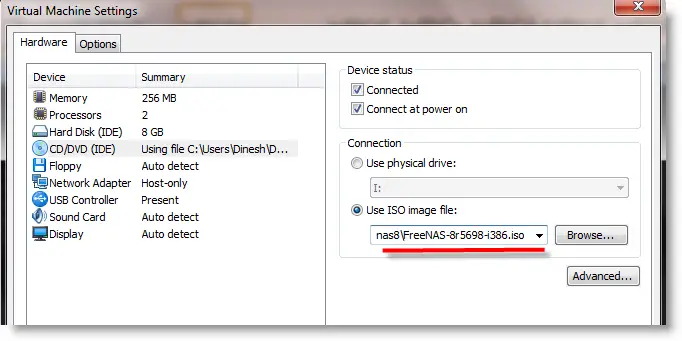 4) Set minimum 256 MB, recommended is the 512MB memory for VM. I suggest adding one virtual hard disk for OS and another one for storage purpose.
5) Start the virtual machine now.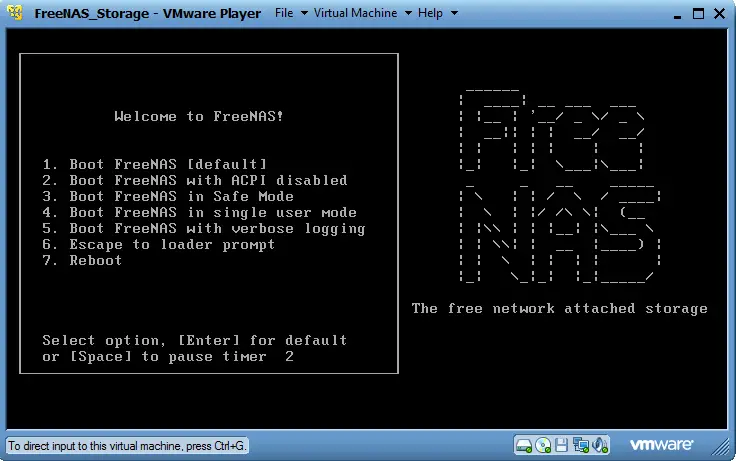 You can go with default option 1.
6) Select the Install option in next screen. As said earlier, this version doesn't support to run from the Live CD. FreeNAS 0.8 should be installed on any of the disks.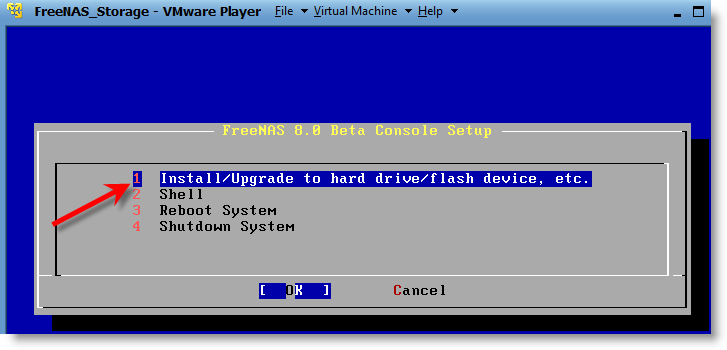 Select the virtual hard disk to install in next screen. Press Yes to start.
7) Once successfully installed FreeNAS 0.8 on VMware Player with the following message, remove the mounted ISO file and restart.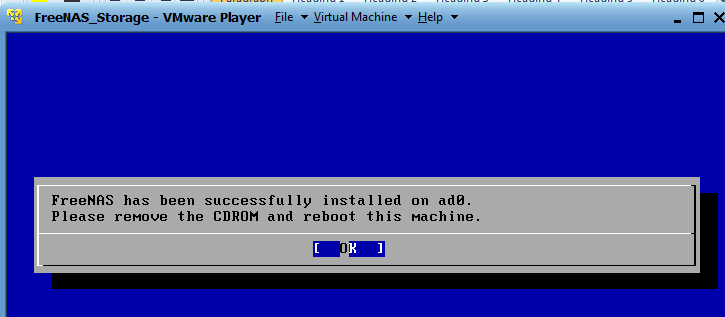 8.) You would be disappointed to see the first screen after the restart because there will not be any menu options to set up the network or admin logins.
Log in to FreeNAS, with root login and freenas password.
Make sure VMware network is connected to the virtual machine and it's in any type of networks where host and guest can communicate.
9) Once login to OS, type ifconfig to see the IP address.
The below screenshot shows the IP of my FreeNAS VM.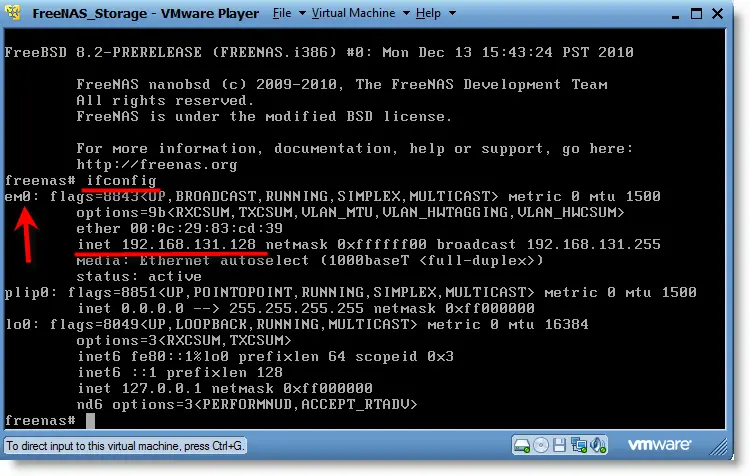 10) Make sure that your host computer can communicate to above IP. Access this IP from the Internet browser.
User name for GUI access is admin and password freenas
11) You will land in a completely different interface here. It's totally changed from earlier FreeNAS versions.
The first thing you have to do is, change the time zone in the first screen.
How to change IP address in FreeNAS 0.8?
12) Go to Network, select Interfaces, and Click Add Interface.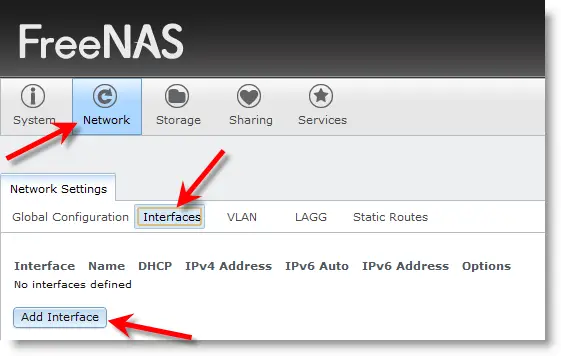 13) Select the interface from the dropdown box, by default your first network adapter will be listed as em0. Select it and give the static IP with the name as shown below.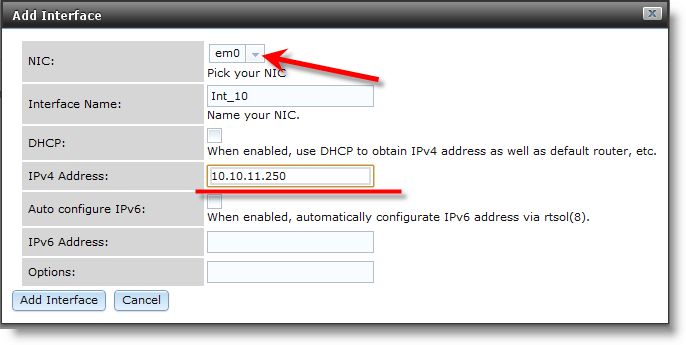 Click Add Interface. The network will be lost between guest and host now. Configure the host's network to be able to communicate with guest FreeNAS.
14) Now, you can access the FreeNAS 0.8 in VMware from the host or other networked computers by newly assigned static IP.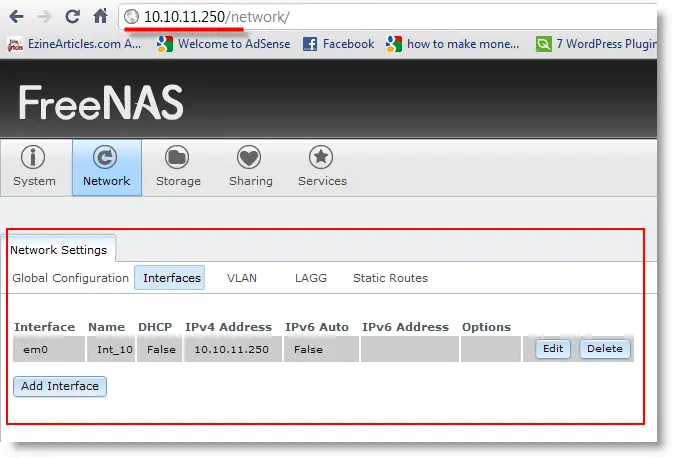 That's the end of How to Install FreeNAS 0.8 on VMware.
If you have time to play around with storage creations and settings in the new version with the new interface, please share them here.
FreeNAS is an ideal solution to make your old computer or virtual machine as storage for production and testing environment. Stay tuned with Sysprobs for more articles on this new beta and final versions.
Do share your issues, comments and successful experience with this free product.
Have fun