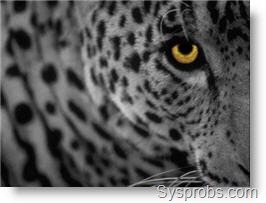 We have released several famous posts on installing Leopard, Snow Leopard on VMware and VirtualBox on your Intel and AMD computers. All articles are available under Mac on Windows. These methods go with original retail Mac DVD or ISO (Original vanilla kernel), hackintosh versions and pre installed VMware images.  Several users who don't have hardware Virtualization Technology (VT) supported processor (Mostly old type), requested to know the possibility of running  Mac OS X Leopard without VT. Let me show how to install Mac OS X Leopard without VT on VMware as a virtual machine on a PC.
You must have noticed, I'm talking about "Leopard" which is OS X 10.5, the latest 10.6 "Snow Leopard" can not be installed without VT. I almost looked everywhere and tried all methods but no luck with this. If any of you managed to install and found any useful resources to achieve this, please share with us in comments area to install snow leopard without VT.
Hackintosh version of iAtkos works on VMware without Virtualization Technology. Instead of downloading the ISO and installing with some 'magics' , here we will see how to do it with pre installed VMware image which works on non VT supported computers.
Sysprobs already covered three articles with this pre installed image where you can import and use on VMware and VirtualBox. Unfortunately the image required VT to run on VirtualBox, so leave that option. It works well on VMware workstation and VMPlayer.
How to Install Leopard on VMware without VT- Steps
1) Download the pre installed image. ( Its a torrent download)
2) Just follow the steps to install on,
Incase your processor supports VT and its already enabled, but still you want to use this method, then VT should be disabled in physical computer BIOS.
Read more information about how to enable or disable VT in BIOS and confirm it.
OR latest VMware products have option to disable Virtualization Technology for specific virtual machine by selecting kernel paravirtualization option as shown below.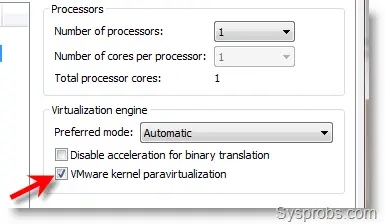 Importing this pre installed image and running is very simple as shown in previous guides. If you face any difficulties, please check the comments area of both posts with useful inputs from readers. Also share your issues here, I will try to help you.
Important Post Installation Configuration and Setups
1) Root password ( username – Mac admin)  is ' password'
2) To increase screen resolution of Leopard on VMware, follow the steps already mentioned here by installing VMware SVGA driver.
This driver works well to get multiple screen resolution size options including wider screen.
3) Sound is a problem.
Here is the VMware sound driver for leopard which works little bit.
Download the package, install and restart the virtual machine. Speaker icon appeared and sound output is there after the installation.
4) USB devices and network work fine in this method.
I suggest to stay with 10.5.5 version only, some users reported successful combo update and failure too. What ever you do, take a snapshot.
Here is the working leopard on VMware.

OK, I'm showing these all methods on my home PC with VT support but I disabled in processor settings. Virtualization Technology should be disabled on BIOS or processor settings for this method.
I use the same method to run Mac OS X 10.5 leopard on VMware at office with Dell Optiplex computer which doesn't have VT. So I can confirm this will work on Intel ( and sometimes AMD also) computers without Virtualization Technology.
Have fun.
Subscribe to news letter and download a free eBook soon.