Have you tried the latest Linux OS Natty Narwhal Ubuntu 11.04?, its having some major changes from previous 10.10 version, but its still a beta. The final and full version to be released by April 2011. If you like to install and work with this new OS, then it's advisable to install in any of  the desktop virtualization software such as VMware or VirtualBox without disturbing existing OS. This guide shows how to install Ubuntu 11.04 on VMware by easy install method with working VMware tools.
Its not recommended to update your current version or install in production use since it's a beta version yet.
See Also,
Install Ubuntu 10.10 on VMware
Install Ubuntu 10.10 on VirtualBox
Installation Steps on Ubuntu 11.04 on VirtualBox
1) Download the correct Ubuntu 11.04 ISO version for your host computer processor type (32Bit or 64 Bit)
2) Create a new virtual machine and select the download ISO file here. VMware workstation 7 detects the correct OS version from ISO file which helps to do this installation in easy install method like an unattended install.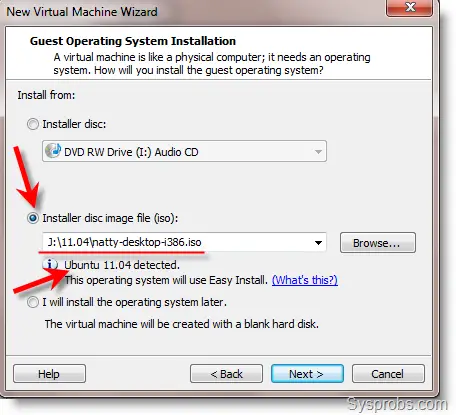 3) Provide the user name and password in next screen. These user credentials will be set as default user profile by easy install. Select the virtual machine location in next screen.
4) Installation will start, create and format the partitions automatically. Restart the virtual machine when prompts.
5) VMware tools will be installed with following screen.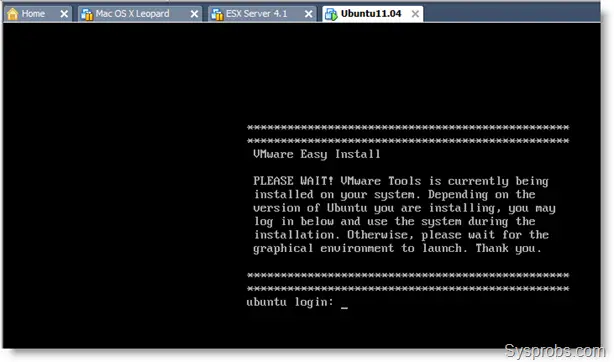 You do not need to type any login or password here. Just wait for some time.
6) You will be able to land on Ubuntu 11.04 desktop after VMware tools installation.
The below screen shot shows the running Natty Narwhal Ubuntu 11.04 on VMware workstation with installed VMware Tools (Multiple screen resolution sizes) by easy install.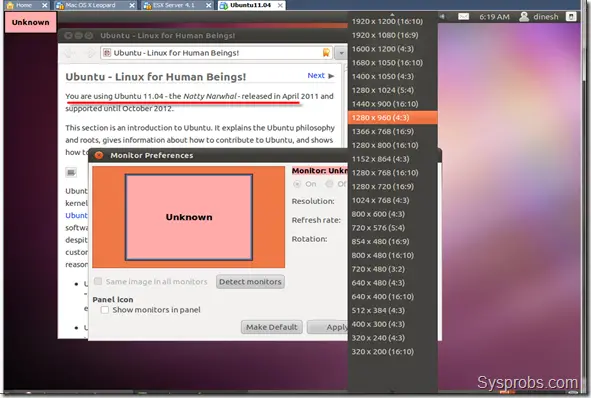 7) Network, Sound, Unity mode, full screen view work well in Ubuntu 11.04 Virtual Machine because of VMware Tools.
How to Install VMware Tools Manually in Ubuntu 11.04 (Natty Narwhal)
By any chance VMware tools can not be installed by easy install and you need to install it manually, then follow the steps.
1) Select 'Install VMware Tools' option in 'VM' menu of VMware workstation or VMPlayer. This will mount the built in VMware tools for Linux ISO file.
2) Extract the VMwareTools-8.4.3….tar.gz file to a folder (Right Click and select Extract to). In this example I'm extracting to a folder called 'vmware tools' in 'Desktop' folder.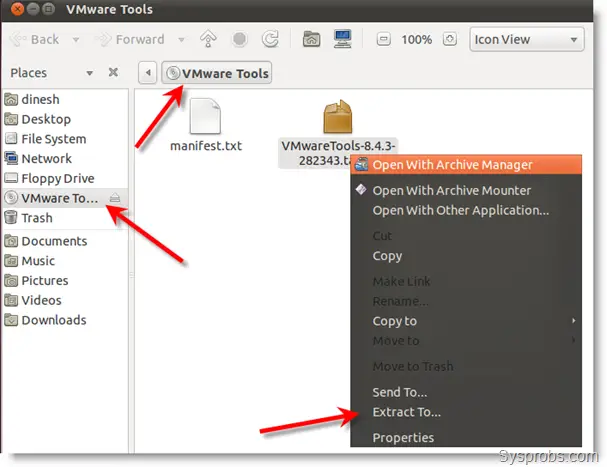 3) After the extraction, open terminal. (Start –> Accessories –> Terminal).  Go to the extracted folder by change directory (cd) command.

4) Now type,
sudo ./vmware-install.pl
This will prompt for password, provide your password here. (Since you have root access, your password works here too)
You may have to type 'yes' or just press ENTER key for default values. Successful VMware tools installation will appear at the end and prompting for restart.
5) Restart the Ubuntu 11.04 guest virtual machine and enjoy the additional features by VMware tools.
I will be writing about setting up VMware shared folders in Ubuntu 11.04 guest in VMware workstation and VMPlayer in future.
If you face any difficulties with above two methods, feel free to drop in comments area below.
Have Fun